Cancellation and refund policy
No cancellation fee, cancel any time
Click button below to make a payment.
PRIVATE Calligraphy Kyoto Japan – Shodo Experience in Kyoto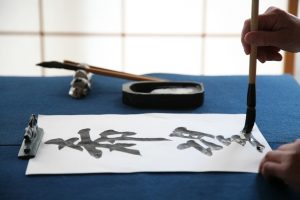 Calligraphy Kyoto.  Enjoy a unique Japanese cultural activity of SHODO calligraphy in Kyoto. A shodo expert will kindly explain the connection between meditation and Japanese calligraphy and teach you how to use the brush to create strokes like the Japanese. Enjoy cultural activity of Japan on a 60-minute calligraphy class in Kyoto. Lessons will be held in order of hiragana, katakana, kanji. Kind Japanese teachers will instruct you in the tatami-style room.
You will experience:
Create fantastic memories of your trip to Japan
Opportunities for taking photographs will be highlighted throughout
Special experience of Japanese culture
Enjoyable experience with children
Learning about the history of Japanese culture
This is a private session, there will be no strangers in the workshop

With the guidance of a kind calligraphy instructor, you will learn the history of kanji from China and the history of hiragana and katakana which are made from kanji. It is also important to know how to hold the brush and the posture when writing. You will practice handwriting on a calligraphy paper with a brush. You can practice a lot at will.
After practicing the foundation of vertical and horizontal lines like 一, 川 (one, river), next you will challenge your favorite kanji character. Positive feelings such as 愛(love), 福(fortune) and 幸(happiness) are popular.
Finally, from the origin and pronunciation of the name, you will get to know the kanji of your name and finish your work. Please enjoy your writing freely. Commemorative photo shooting calligraphy can be done in a traditional Japanese style room! ※ The staff will assist you to shoot a few photos with your camera.

We practice Shodo on tatami mats, but there are zabutons (cushions) for Seiza sitting so please relax even if you are not good at sitting straight on the tatami.

HIGHLIGHTS
*Create fantastic memories of your trip to Japan
*Opportunities for taking photographs will be highlighted throughout
*Special experience of Japanese culture
*Enjoyable experience with children
*Learning about the history of Japanese culture

Learning about a country through cultural workshops and activities will give you a better understanding of our intricate history, valued social principals and holistic way of life. By learning about Japan and its people, you will be immersed in different perspectives and approaches that are unique to this country. Maikoya offers you opportunities to understand this culture through local instructors and guides. There is no better way to learn about a new place from the viewpoints of those who grew up and live in this amazing country. What better way to spend a day than learning a traditional, beautiful new activity with a knowledgeable tutor in a picturesque setting? You wouldn't find friendlier people to help you experience Japan in all its splendor.

Children must be accompanied by an adult.
Adult pricing applies to all travelers.
Included

Not Included

Maps

Organizer




Kyoto Samurai & Ninja Museum

"Kyoto samurai & ninja museum. Kyoto's best rated samurai, ninja, martial arts and history museum. Our samurai souvenir gift shop also has swords, katana, tabi socks, tabi shoes. A samurai village and samurai house feeling including a ninja dojo inside the museum. The ninja park for kids and a separate kimono tea ceremony room for families also available. Samurai and Kyoto have always been associated throughout history. From the early Heian period to the collapse of the Tokugawa shogunate the samurai and ninja always roamed the streets of Kyoto. Now they are back!  Japan's largest experience based museum dedicated to the glorious history of brave samurai warriors, everlasting ninja fighters and the martial arts.

Located in the heart of Kyoto.

---

Address: Teramachi Utanokoji building 2F, 292, Higashidaimonjicho, Nakagyo-ku, Kyoto, Japan 〒604-8043 google map 

---

Phone: 075-585-5410

---

After booking online you will get your voucher instantly via email! Frequently Asked Questions FAQ 1- Is there a samurai show every day and every hour? Yes we continuously have samurai shows all the time. If sensei is not there, you are given voucher to come watch the samurai show on another day. 2- Is there are samurai gift shop in the museum? Yes, we have many samurai and ninja goods for sale. 3- Do you sell real or replica swords? Yes we sell both new and antique swords. We also ship them overseas for a small fee if you ask. 4- Do I need a reservation? We accept walk ins but it is cheaper to buy tickets online. Additionally, if you are visiting as a group, we can serve you better when we know what time you'll show up.