Tea Ceremony and Kimono Experience Kyoto MAIKOYA at NISHIKI
Price
▶
Travel with confidence - book today to enjoy effortless planning and relaxation.
If you are unable to select dates or times on the calendar, it means that we are fully booked.
Please consider checking for a private tea ceremony as well.
Alternatively, our other award winning teahouses in GION Kyoto and Asakusa TOKYO may have an availability.
Kyoto Tea Ceremony in Japan is one of the best and memorable experiences you can have! Kimonos would normally be worn during traditional tea ceremonies. Maikoya Kyoto offers an authentic matcha tea ceremony in the heart of Japan's cultural capital, Kyoto!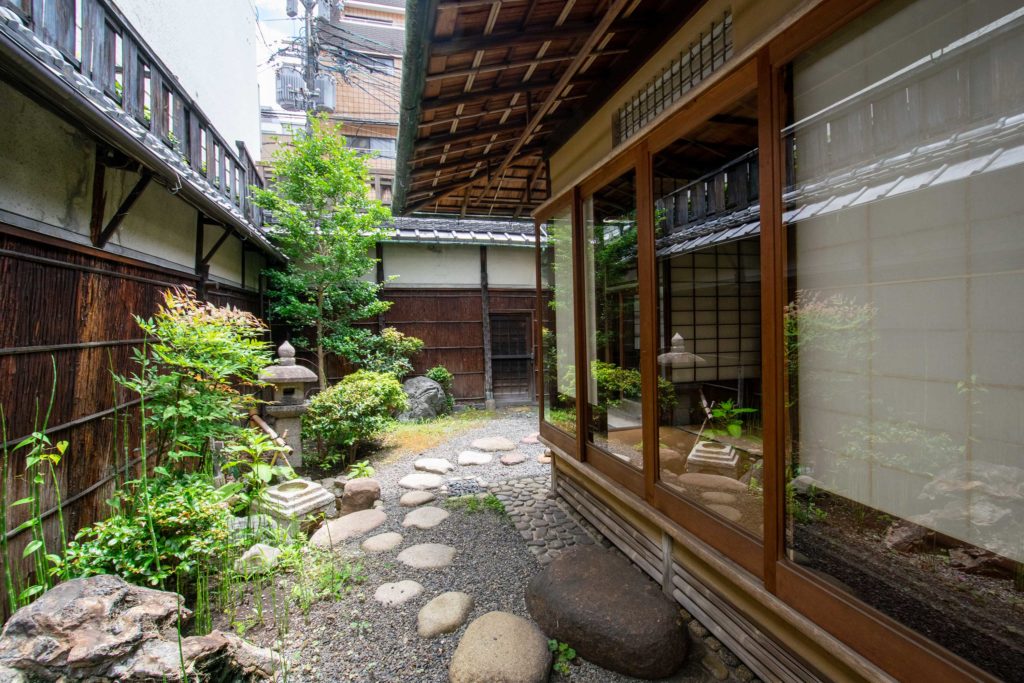 Location
KIMONO TEA CEREMONY KYOTO MAIKOYA at NISHIKI
329 Ebiyacho, Gokomachi-dori Sanjo sagaru, Nakagyo-ku, Kyoto
京都市中京区御幸町通三条下る海老屋町329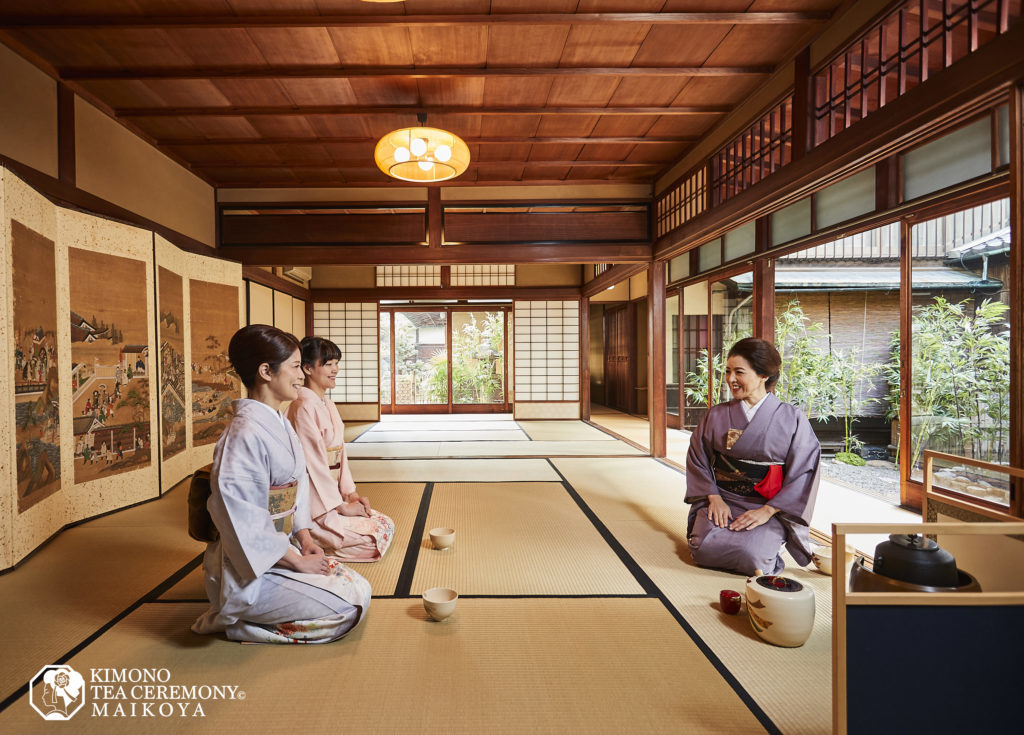 Important Information
Children under 7 can not enter the tea ceremony venue.
Lasts approximately 90 – 120 minutes
Your appointment time is the starting time for kimono dressing. The tea ceremony is scheduled to start in about 30 minutes, but it depends on the situation. You will have to wait until all participants are dressed in kimonos. Also, if you arrive late at appointment time, you can wear the kimono after the tea ceremony is over.
Tea ceremony is a gathering to respect others and spend a relaxing time. Please make a reservation with plenty of time.
Traditional Tea Ceremony with Kimono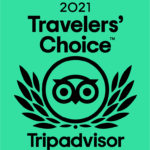 Our award-winning cultural experiences are some of the best in the country, earning a place in TripAdvisor's list for Traveler's Choice Award and Japan's Top Experiences for five consecutive years. (2018-2022)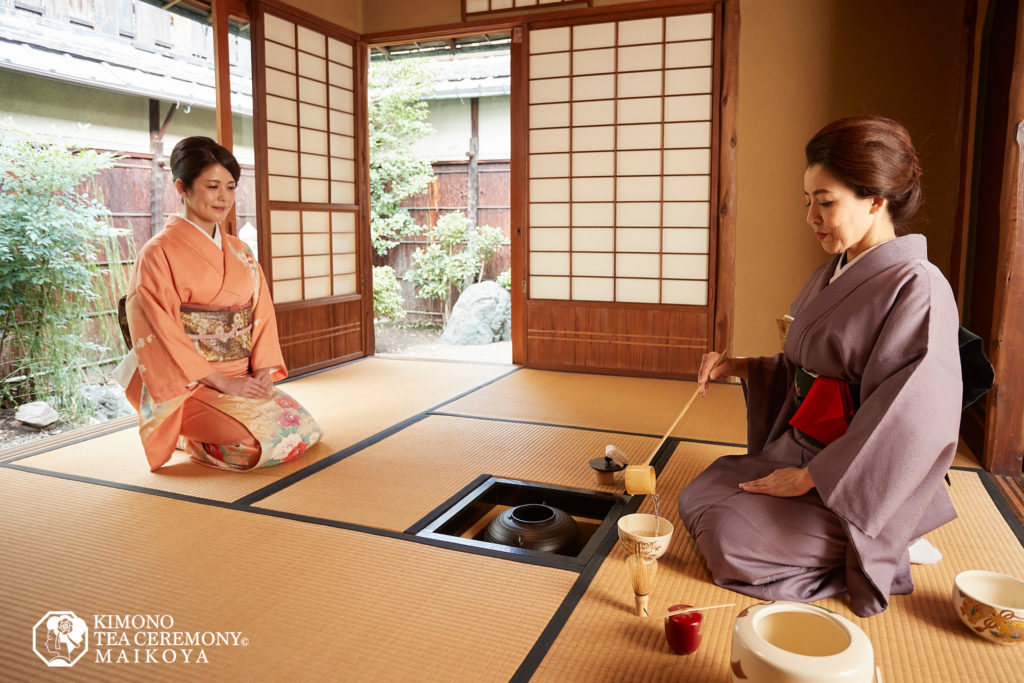 Tea Ceremony
Our award-winning tea ceremonies are not only enjoyable but also a comprehensive educational experience. Our expert tea master and host, and friendly staff will demonstrate the process during the tea ceremony while explaining the significance behind it the steps and the tools. You will get to learn about tea ceremony history, Kyoto, and tea ceremony etiquette.
During the tea ceremony, you will not only observe how to make matcha green tea but you will also be guided on the process of making your own by the tea master. You will be using high-quality matcha powder that will produce a brilliant cup of green matcha.
---

Kimono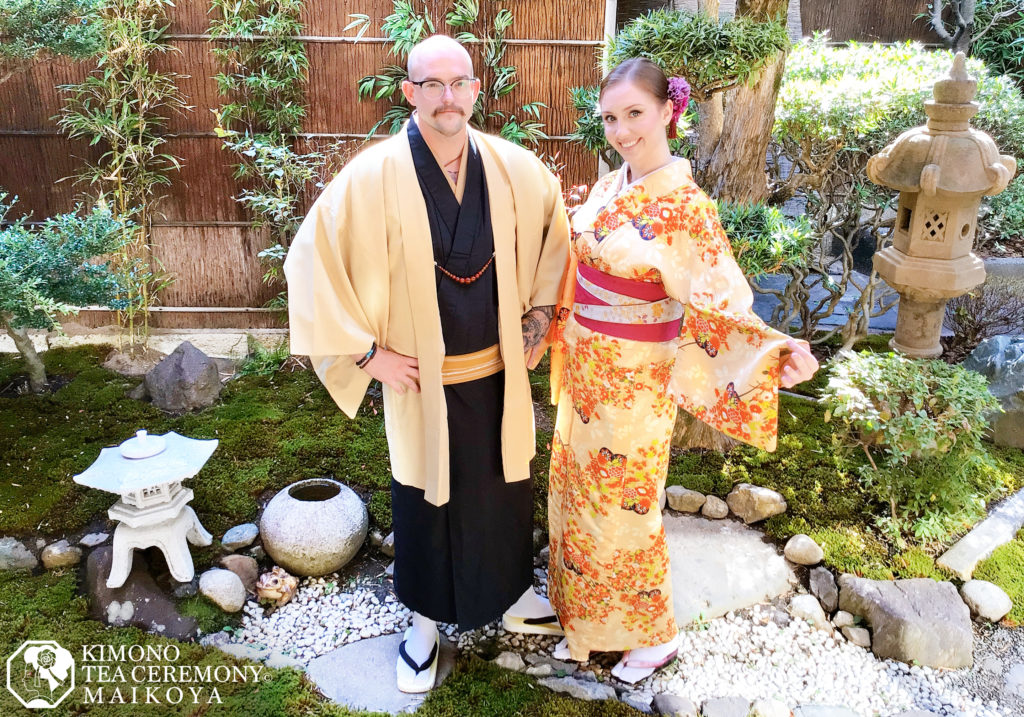 MAIKOYA is the only facility in Kyoto where you can experience real kimono and tea ceremony in the same place.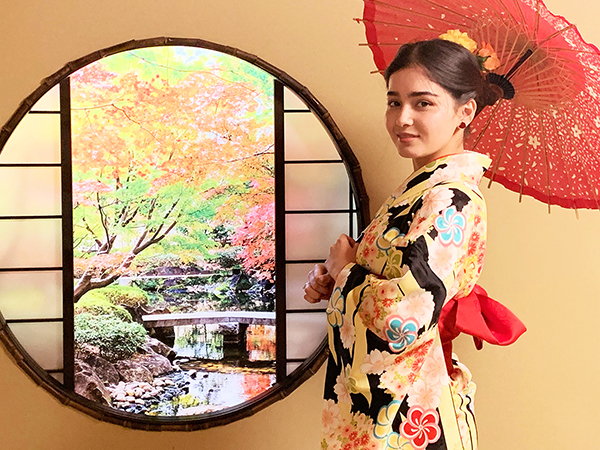 A selection of beautiful kimonos is available for you to choose from, and our staff will make sure you look your best for your unique Japanese experience. Ladies will be treated to get their hair and makeup done to match their kimono and traditional Japanese look!
You can take many photos by wearing an authentic kimono in the beautiful Japanese gardens of Maikoya. You can even wear your kimonos outside after your tea ceremony, and take a stroll down the historical Gion District.
---

The historical scenic townhouse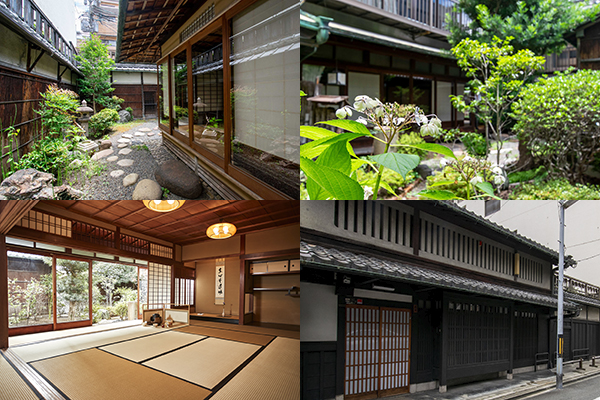 Our tea ceremonies are held in a historic machiya that has been registered as a Tangible Cultural Property, located conveniently in central Kyoto. The traditional townhouse is just a few minutes away from the Gion-Shijo train station and nearby popular destinations such as the Nishiki Market, the Kawaramachi, and the Kiyomizu Temple. Everyone is welcome to take pictures in the tea room and the garden, along with our unique backdrops! After all, who wouldn't want to preserve the memory of a cultural experience?
---

The foundations of Zen philosophy
You don't even need to worry about the language barrier! All of our staff is fluent in English and can answer and explain anything about the ceremony. Asking questions during the tea ceremony is welcome.
Our staff will teach you about the foundations of Zen philosophy that have influenced the Japanese tea ceremony: Wa, Kei, Sei, Jaku, which translates into harmony, respect, purity, and tranquility.
---

Japanese sweets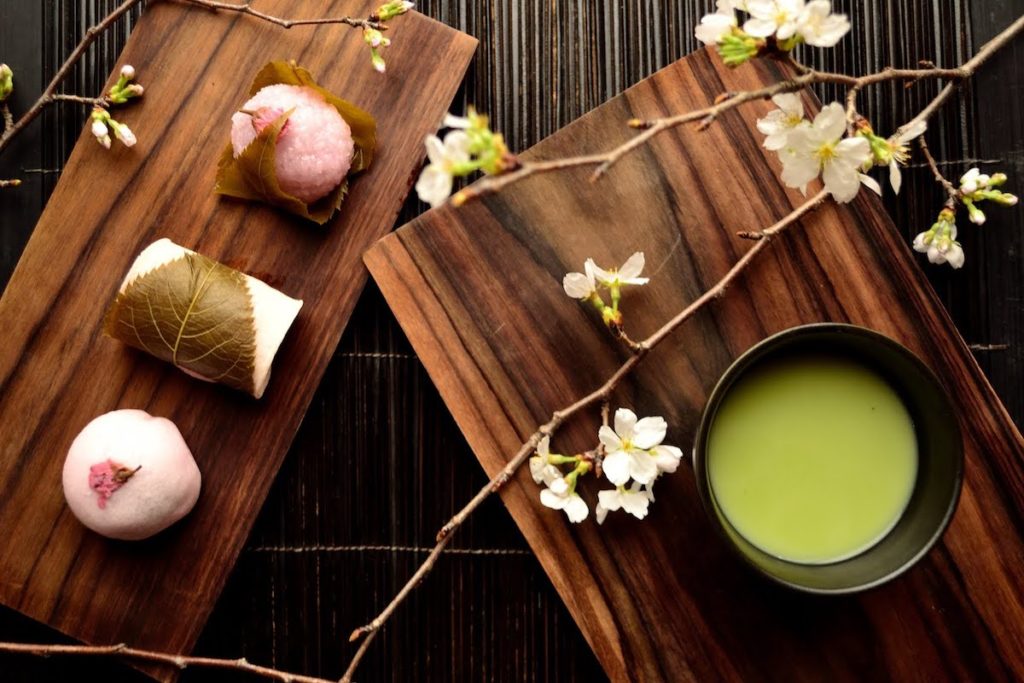 You will also be sampling traditional Japanese sweets called wagashi, which will vary in flavors, shapes, and colors according to the season. Each experience at Kimono Tea Ceremony Maikoya is unique just by the snacks served at each session, not just by the personalization for each guest.
You can sit comfortably, in any appropriate way you prefer.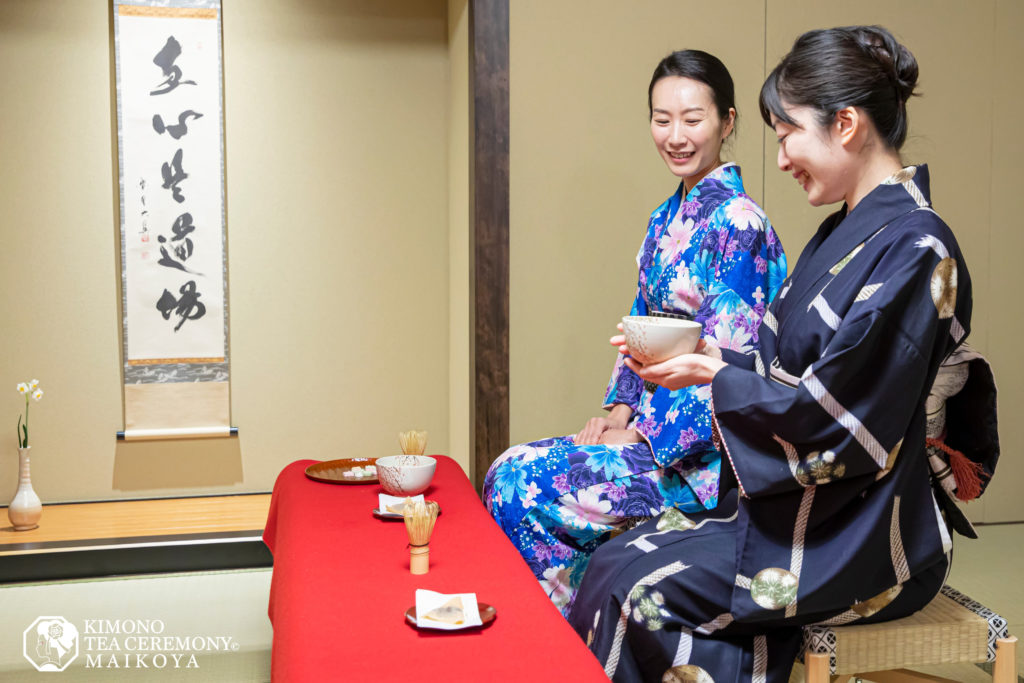 While the tea ceremony is traditionally performed while everyone sits on the tatami mat, we encourage getting comfortable and crossing your legs if you'd like. Bamboo chairs are also provided upon request.
You don't have to worry if you need to cancel or postpone your appointment with us.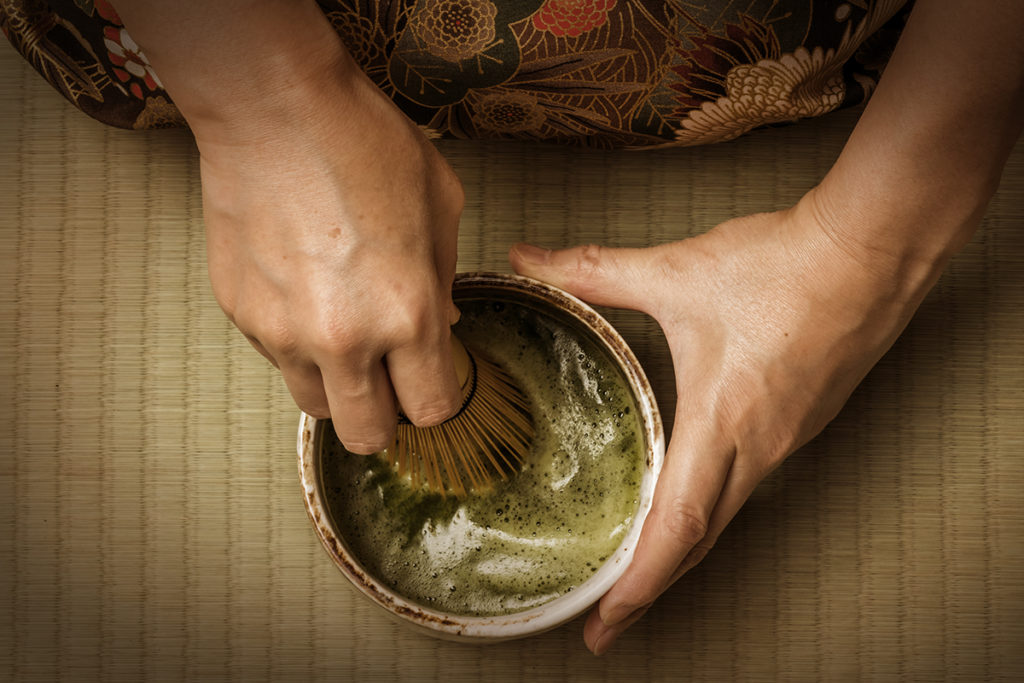 What is a tea ceremony?
The Japanese tea ceremony, also known as sado, chado, or chanoyu, is a centuries-old tradition of preparing and serving powdered matcha green tea, stemming from the practice of Buddhism in China. This is a ritualistic way of making matcha, a type of powdered tea unique to Japan, which is made from dried tea leaves and produces a bright green color.
This is a rare treat for visitors who want to experience the true culture and essence of Japan!
Do you want to know more? Visit our blog for more information! Click here.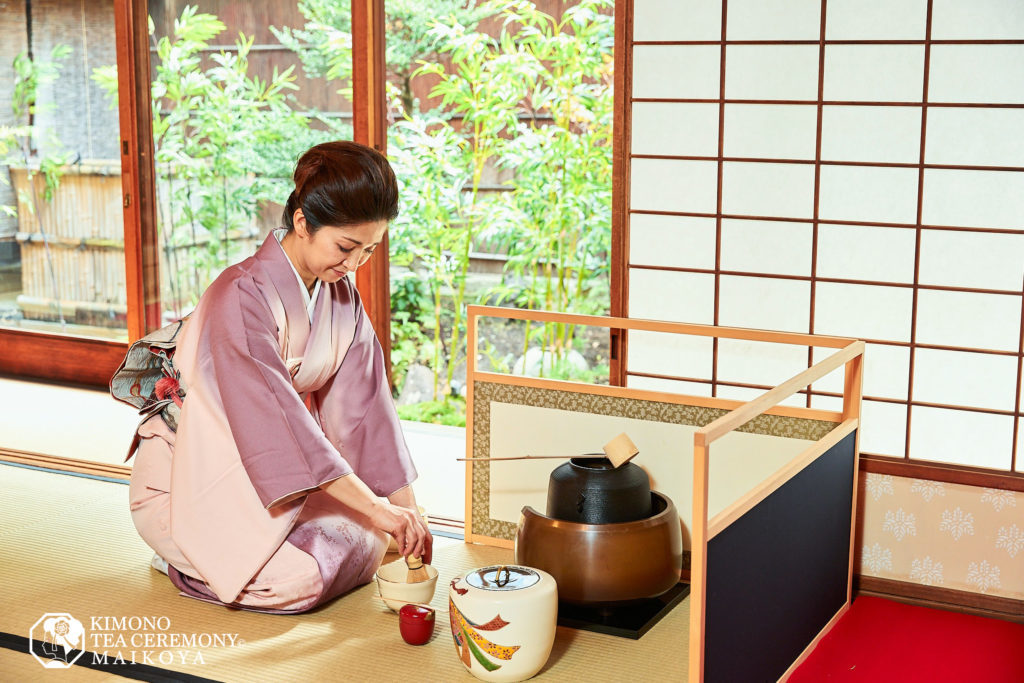 How is the tea ceremony performed at Maikoya?
The tea ceremony begins by being welcomed into the tea room by the host, also called the "teishu", where the tools and utensils are laid out ready to be used for the ritual. While everyone is expected to sit on the tatami mats arranged on the floor, wooden chairs are provided for those who choose not to. Comfort is prioritized at Maikoya, so you are welcome to sit however you like!
The matcha is typically prepared in a quiet and calm environment, but guests are encouraged to ask questions and learn more about the ritual. If there are none, the host will explain the process from time to time, providing introductions and demonstrations so you can familiarize yourself with the tools and steps during the ceremony.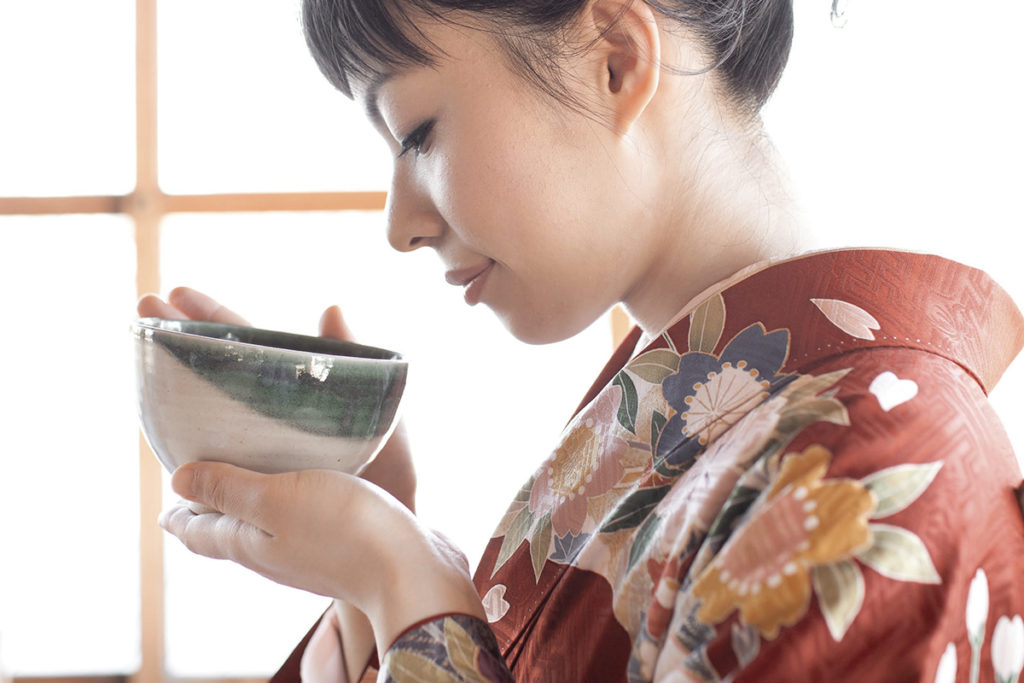 Tea ceremony tools and utensils are taken great care of, with the host wiping them gently with a silk cloth to make sure they are clean. Some of the items used in the ancient tradition are important artifacts that have been used for generations. After preparing the items, the host will carefully measure the matcha powder and hot water, demonstrating the step before teaching you the mesmerizing process of whipping the matcha until it creates a thick foam.
After the tea is prepared, you will get to taste the matcha and the product of your hard work! The matcha tasting and preparation is participated in by everyone in your group if you booked for multiple people.
It's a feast to the eyes, to your ears, and mind when a person preparing the hot water. Listening as the water dancing against the hot cast iron. It's like a river murmuring. Incense would be lit and the smoke travels across your eyes like a silver dragon flying across the sky. She paused briefly as she flexed her wrist signifying the end of cleansing the bamboo ladle. So beautiful and therapeutic to gaze at. Her every move freezes time, space in all dimensions. You forget all your earthly frivolous needs.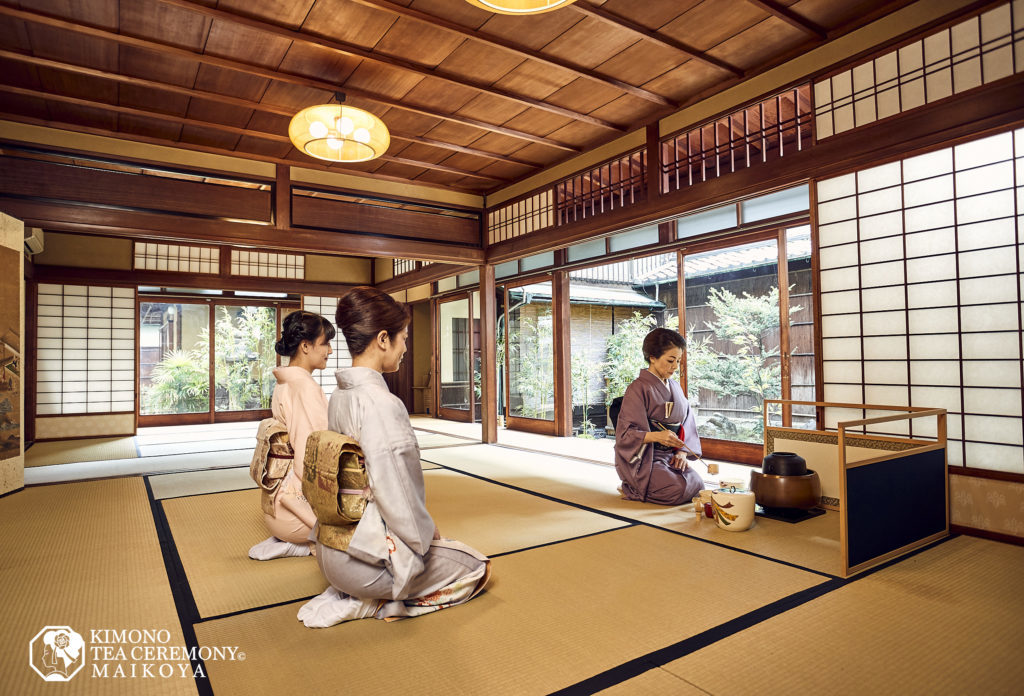 You can easily book a high demand tea ceremony experience online
Maikoya Kyoto is one of the best cultural experience providers in Japan. Our award-winning tea ceremony is in high demand, so make sure to book before all our slots are out! Be sure to book with us using the reservation window on the top of this page. An email confirmation will be sent to your email, including a set of directions and instructions on how to get to Maikoya Kyoto.
We are confident that this experience will be your best takeaway from Japan. You can easily make a reservation with us now by choosing the best date for you. You can also opt for a private ceremony for groups and individuals.
There is a tea ceremony every hour at the Maikoya teahouse from 10AM to 6PM and can last about 90 to 120 minutes. Book your tea ceremony with us online! Just click on the reservation at the top of this page.
---
More Kyoto Experiences by Maikoya
PRIVATE Geisha Tea Ceremony and Geisha Performance in Kyoto(Includes Kimono Wearing)
Geisha (Maiko) Tea Ceremony & Show in Kyoto (Includes Kimono Wearing)
Geishas and maikos are highly trained in traditional Japanese arts, most especially the tea ceremony. This is one of our special workshops that will allow you to experience the ancient traditions up close, and even enjoy a geisha performance. As one of our most booked cultural packages, geisha tea ceremonies are also made available online!.
Sweets Making & Kimono Tea Ceremony in Kyoto
This combination package will teach you how to make traditional Japanese sweets known as "wagashi" and enjoy the treats during the following tea ceremony. An experienced instructor will guide you on how to make delectable and beautiful snacks that are usually prepared ahead of time during a regular tea ceremony.
---
Business Hours
10:00 – 18:30
We are open from 10 AM to 6 PM. Our tea ceremonies are available every hour.  Just fill in the form on the top of this page – It's that easy!
---
Address
329, Ebiyacho, Nakagyo Ward, Kyoto 604-8076, Japan
We are located nearby a number of historical attractions in Gion District in downtown Kyoto! Our teahouse is situated halfway between the Nishiki Market and the Kamo River. The closest station is the Hankyu Kawaramachi Station, while the Gion-Shiji-Keihan Station is 5-minutes away.
---
Things to do near Maikoya Kyoto
Kiyomizudera Temple: This UNESCO World Heritage Site is one of the oldest Buddhist temples in Japan and the most visited tourist spot in Kyoto, located near the Yasaka Shrine and the Gion District. 
Fushimi Inari Shrine: As Kyoto's most important shrine, this site is one of the most photographed spots in Japan, with a thousand red Shinto shrines neatly lined up to form a torii tunnel. 
Rokuon-ji Temple (Kinkakuji): Also known as the Golden Pavilion, or the Temple of the Golden Pavilion, is an extravagant three-story Zen temple with its top two floors completely covered by gold.
Arashiyama Bamboo Forest: The bamboo grove is one of the most famous sites in Kyoto, being home to the intimidating beauty of towering bamboo trees all along the winding paths.
Iwatayama Monkey Park: Also referred to as Arashiyama Monkey Park, this nature reserve is home to wild Macaque monkeys.
Nijo Castle: This former imperial castle is a designated UNESCO World Heritage site, and served as the residence of the shogun Tokugawa Ieyasu during the Edo Period. Among its attractions is a plum and cherry orchard that is highly sought after during the spring and autumn seasons.
The Samurai & Ninja Museum Kyoto: This is one of the leading samurai museums in Japan. The historical museum offers a variety of experiences that make for a more exciting educational trip, and Maikoya offers package experiences that combine it with a tea ceremony!
Nishiki Market: The Nishiki Market is the perfect destination to add to your itinerary and try out all the local snacks and delicacies in the area! You can also visit the popular Shijo-dori shopping district right across from it.
Teramachi Shopping Arcade: The Teramachi arcade is an upscale and picturesque street filled with a variety of art galleries, books, clothing and accessory shops, and even religious items – the perfect place to look for a souvenir to take home!
Kyoto Imperial Palace: The former Imperial residence is surrounded by the vast Kyoto Imperial Park, along with beautiful gardens. English guided tours are available on-site, and you can simply take a walk from our tea house to get there.
Ginkakuji (Silver Pavilion): Modeled after the Golden Pavilion, the Ginkakuji is the center of contemporary art and culture in Higashiya. You can find artifacts and other displays with relevance to the tea ceremony, noh theater, poetry, landscaping, and architecture.
Sanjusangendo (Rengeo-in): This historic wooden temple holds the record as Japan's longest wooden structure, and serves as a home to 1001 human-sized statues of the goddess Kannon.
Ryoanji: The former Fujiwara estate "The Temple of the Dragon at Peace" is home to the most famous Zen rock garden in Japan. There is also an art gallery on-site, as well as a park with a small pond and various walking trails. This is also a good place to try Yudofu, a Kyoto specialty tofu.
---
FAQs
What is the Japanese tea ceremony?
The Japanese tea ceremony is preparing, serving, and drinking tea in a ritualistic and ceremonial way.
Do I have to sit on the floor?
We can provide a seat for you so you can be comfortable! Our events are also wheelchair accessible and we provide assistance to give you a great experience.
Do you serve gluten-free snacks?
Our wagashi are gluten-free and nut-free treats made with rice flour and sweet red bean paste. These are also halal and kosher!
What to do during the tea ceremony?
The host will be guiding you through the ritual and instruct you on what to do.
What to wear for the tea ceremony?
The tea ceremony is traditionally performed while wearing a kimono. But depending on the type of package you have chosen, you can wear your casual clothes, or any of the kimonos you will pick. The staff will help you put it on and ladies' hair will be styled to suit it.
How long does a tea ceremony last?
This particular package can last up to 90 minutes, but others can reach up to 4 hours. You can read more about it on our site!
Who is served during the tea ceremony?
In the past, it used to only be practiced by elite zen monks, noble warlords, and the aristocracy. Today, anyone who is interested can observe the tea ceremony and participate as guests during events or at specialized establishments like the Kimono Tea Ceremony Maikoya.
Where is the Japanese tea ceremony held?
Tea ceremonies are usually held in tea houses, tea rooms, and Japanese tea gardens.
What happens during the tea ceremony at Maikoya Kyoto?
Before the tea ceremony, guests are given the choice to choose from the kimonos for the ceremony, and ladies are given appropriate hairstyles that match the designs of their kimono. The host or tea master will then prepare the ingredients and tools and begin making the matcha while explaining the process.
When did the Japanese tea ceremony start? Who invented it?
The Japanese tea ceremony originated in China, brought into Japan by Buddhist monks. Sen no Rikyu was considered the father of the tea ceremony, practicing the precursor to the present-day tea ceremony.
Why is the Japanese tea ceremony important?
The tea ceremony embodies the culture and sophistication of Japanese tradition, showing clearly the multiple steps it takes to make a single cup of tea. This practice was widely observed among the elite in old Japanese societies and aristocracy.
Other Tea Ceremony Experiences in Tokyo, Kyoto, Osaka
Our Kimono and Tea Ceremony is the most popular package in Kyoto but we also have other choices here and in Tokyo and Osaka.
Did you know we also have tea ceremonies hosted by geishas? Witness the ancient tradition and culture of Japan by booking a Geisha Tea Ceremony with us!
There are a number of other teahouses and tea rooms in Kyoto as well, such as Camellia Tea Kyoto, En Tea Ceremony, and Tea Ceremony Kyugetsu.
Looking for a different experience in Kyoto? Check out our Top 50 Experiences in Kyoto!
Review
Based on 12 reviews