Tea Ceremony and Kimono Experience Osaka
Price
▶
Minimum of 10 participants needed to reserve for this experience.
We celebrate our most recent award from TripAdvisor as Japan's Top Experiences, 2019, chosen by travelers' reviews. We are the only tea ceremony venue in Japan receiving this award.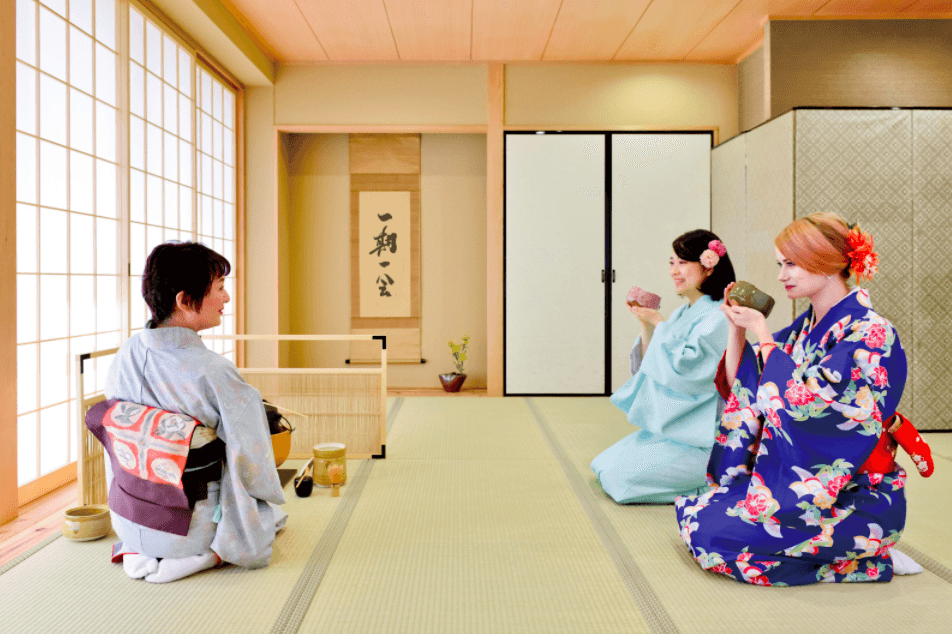 Kimono tea ceremony in Osaka by MAIKOYA. The tea ceremony is held in the traditional Japanese room conveniently located in downtown Osaka, walking distance from Dotonbori and 2 stops away from Umeda and Osaka Castle(OUR LOCATION). We have many beautiful kimonos to chose from and our friendly staff will explain everything in plain English. This once-in-a-lifetime activity involves:
Traditional Japanese tea ceremony experience 
Wearing a beautiful kimono including hairdo (simple style) and hairpins for ladies
Drinking matcha green tea
Eating wagashi Japanese sweets 
Once in a lifetime cultural experience with the combination of kimono wearing, zen, harmony, perfectionism, minimalism, meditation, Japanese green tea and Japanese sweets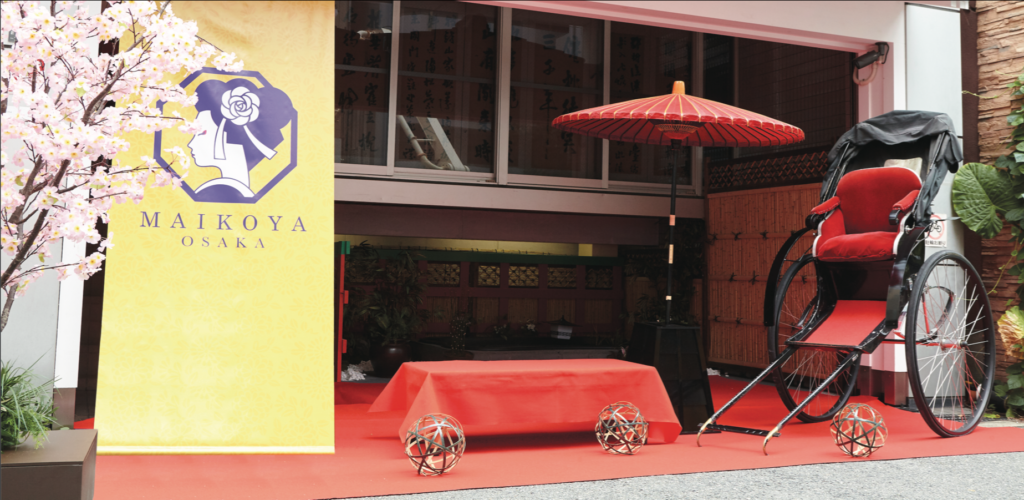 HIGHLIGHTS
You will make a green tea (Matcha) in an ancient style Japanese tea ceremony room wearing Kimono. In this workshop, a qualified instructor will walk you through step by step of traditional tea ceremony. This is a ritual-like activity where ceremonial tea is prepared and presented to promote physical and mental well-being, mindfulness and harmony. It is also called the Way of the Tea. You will learn the foundations of the zen philosophy: Wa, kei, sei, jaku, which roughly translate as harmony, respect, purity and tranquility. You will observe how your host perfectly and harmoniously use all the traditional utensils to make the perfect cup of tea in way that has been done the same for about 400 years. And, finally, you will make your own tea and enjoy Japanese traditional sweets.
Your tea ceremony experience will include:
An introduction to the Japanese tea ceremony and associated rituals
This is taught by a friendly instructor who speaks English
You will be encouraged to try traditional green matcha tea and Japanese styled sweets
Only traditional tea ceremony utensils will be used
The workshop will be taught to a small class of 6 or so people
Relax in a classroom decorated in traditional Japanese décor and architecture
Explanations of the ceremony's history and technique in simple English
Not only watching the demonstration but actually performing the ritual
Friendly staff will help you chose the best kimono and wear it in a traditional way
For ladies, we will give you the simple hairstyle matching with kimono
If you are interested, many photo ops in front of a number of backdrops in our facility before or after the ceremony
We also have tea ceremony artifacts and displays with detailed explanations in English that will help you better understand the subtle meanings and the rich history behind this unique tradition
Learn Japanese culture with all of your senses – especially your sense of wonder!
Just in case if you were wondering:
You are allowed to ask the host questions about tea ceremony, zen and other cultural rituals
You are allowed to take pictures in the tea ceremony room after the ceremony as well as the other rooms and in front of our unique backdrops
You are allowed to sit comfortably on the floor (without sitting on your knees on the tatami mat). We also provide bamboo chairs for those who prefer not to sit on the floor
We are confident that this experience will be your best souvenir from Japan. You can easily make a reservation now by choosing the best date for you. Additionally, if you'd like you can reserve a PRIVATE tea ceremony  here , or a tea ceremony session without wearing the kimono here .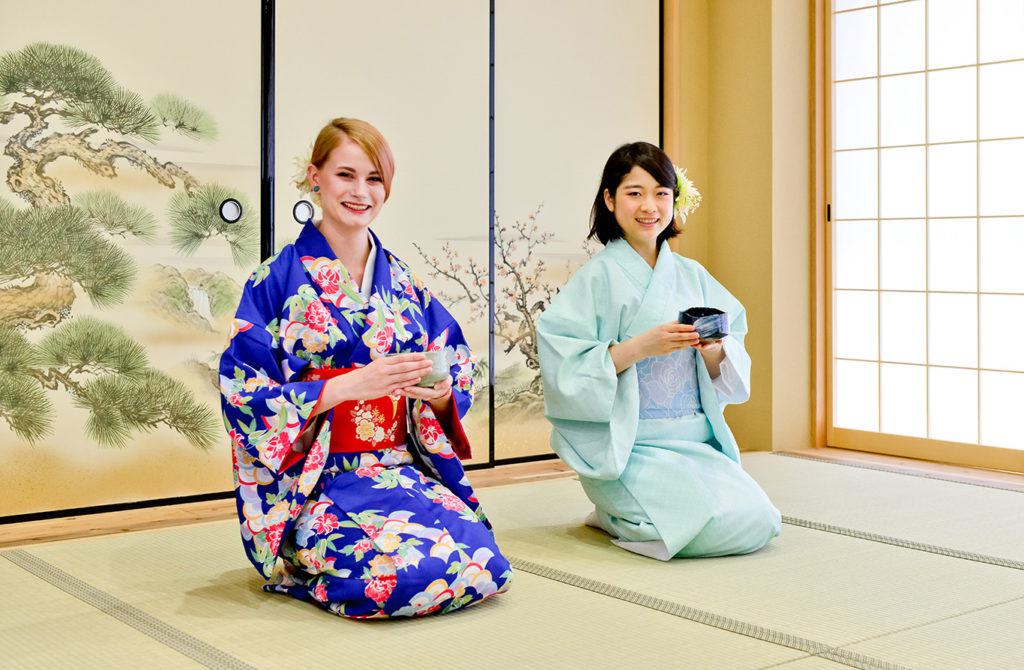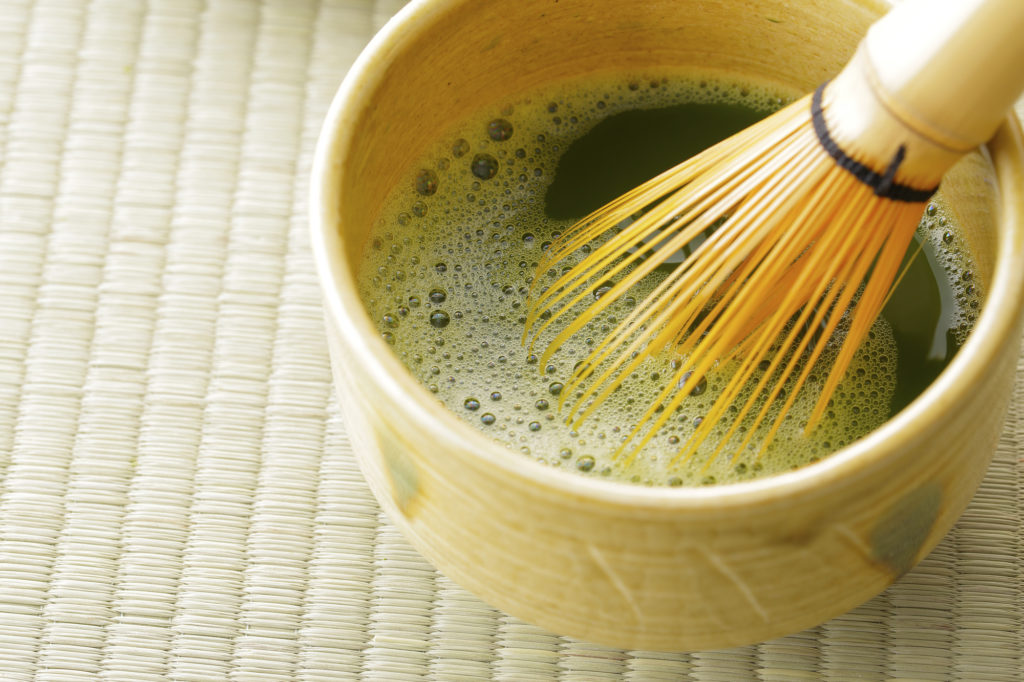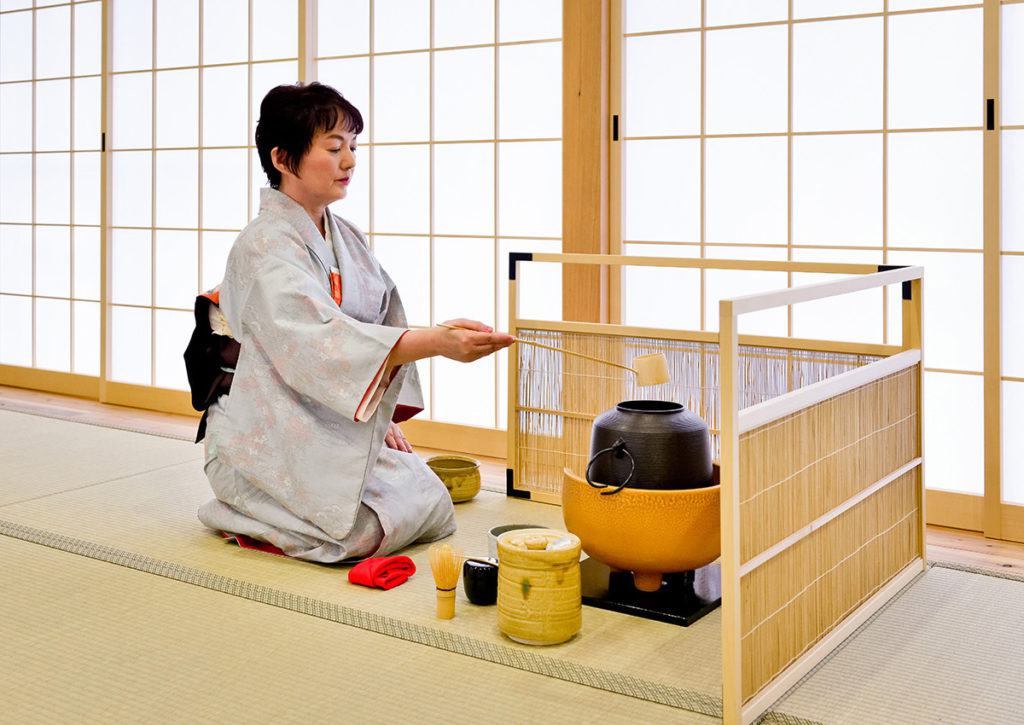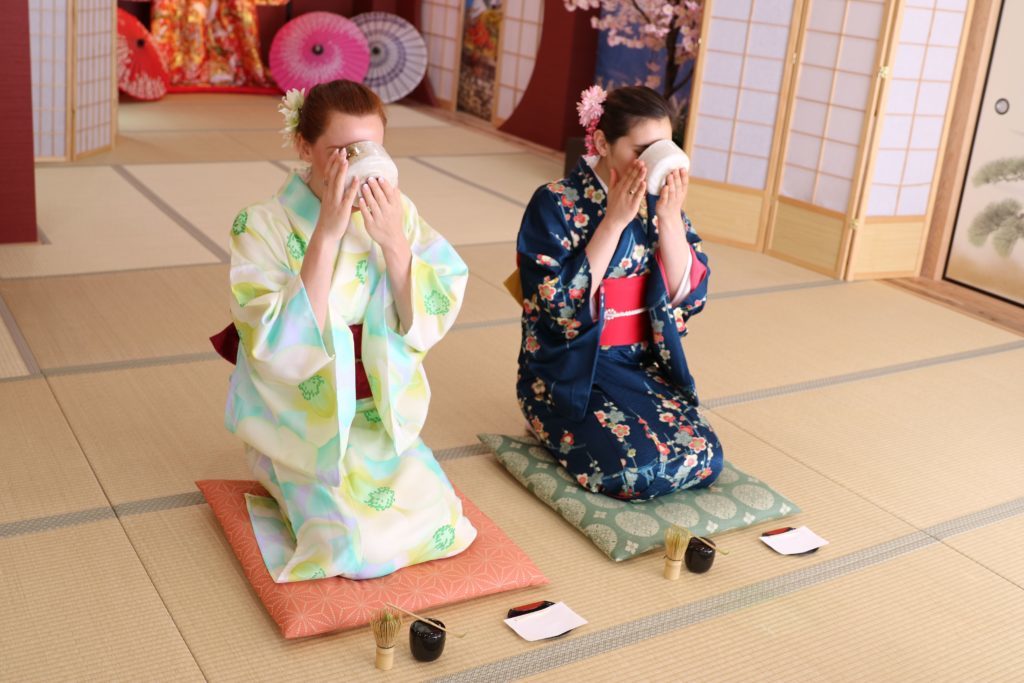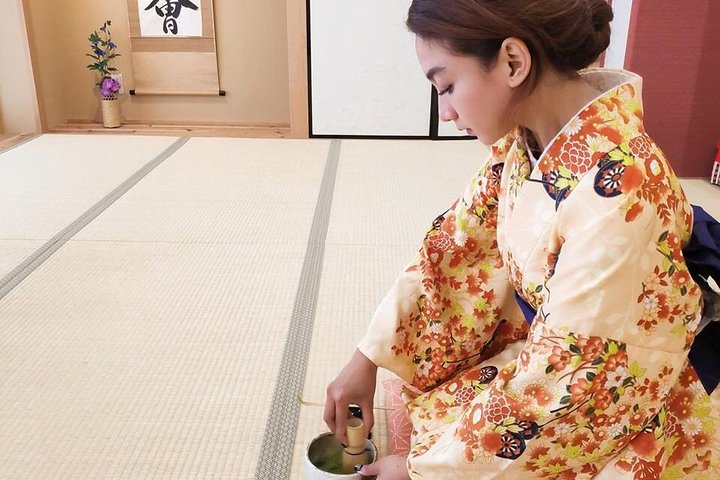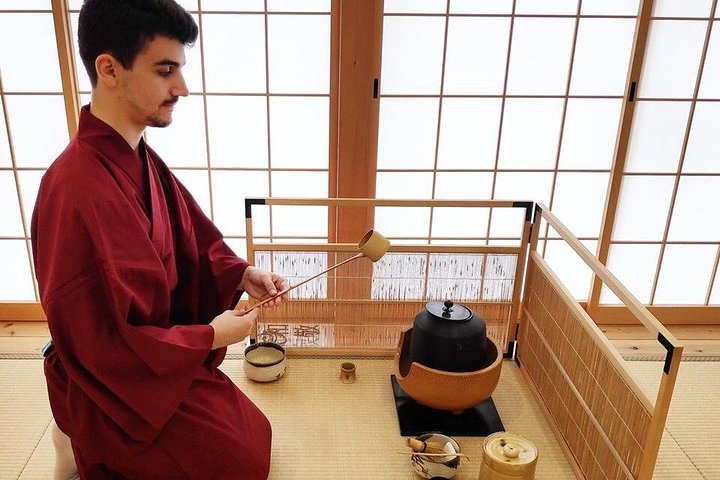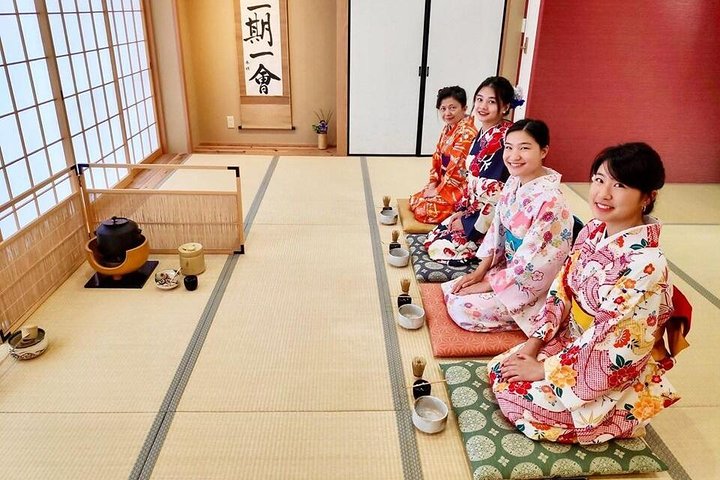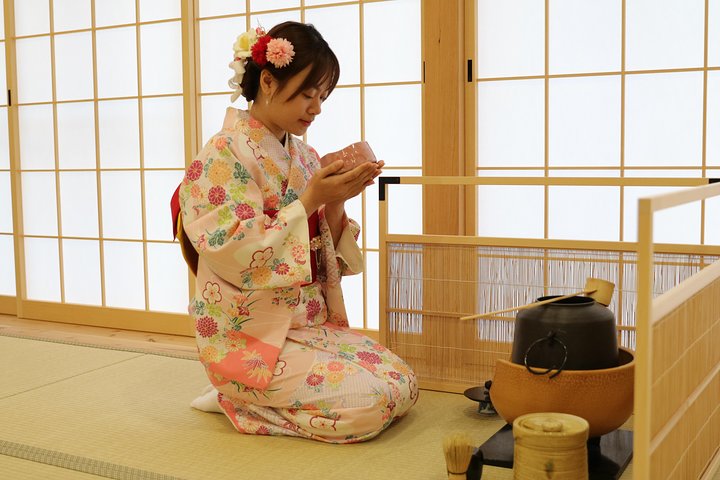 It's a feast to the eyes, to your ears and mind when a person preparing the hot water. Listening as the water dancing against the hot cast iron. It's like a river murmuring. Incense would be lit and the smoke travels across your eyes like a silver dragon flying across the sky. She paused briefly as she flexed her wrist signifying the end of cleansing the bamboo ladle. So beautiful and therapeutic to gaze at. Her every move freezes time, space in all dimensions. You forget all your earthly frivolous needs.