Geisha (Maiko) Tea Ceremony & Show in Kyoto (Includes Kimono Wearing)
Price
▶
The above is the unit price for 5 people. The fee for 4 people or fewer is 52,800 yen per group.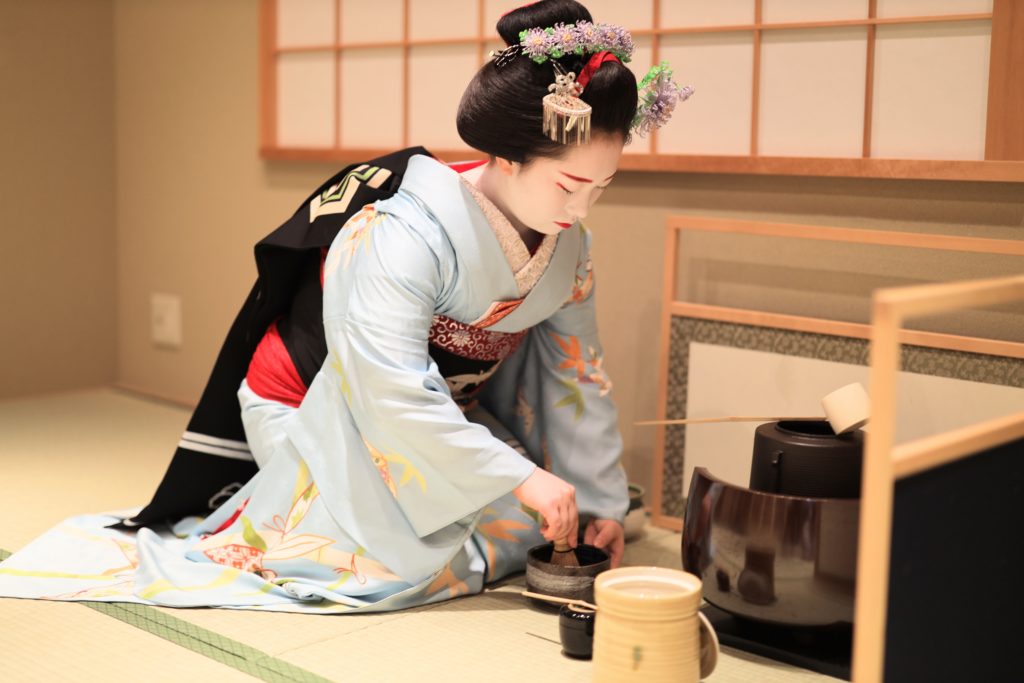 Get a chance to meet a Geisha at a tea ceremony and performance!
Enjoy an authentic traditional tea ceremony hosted by a real Kyoto geisha, also called a geiko, or their apprentice called a maiko! You will be introduced to the unique geisha culture of Kyoto, where young geiko women would serve tea to pilgrims visiting the historic temples in Eastern Kyoto.
The Japanese tea ceremony has served as a form of meditative art for the nobility and samurai from the Edo Period 300 years ago! This centuries-old tradition remains a significant part of geisha culture and training to this day.
Kimono Tea Ceremony Maikoya is the only venue and cultural experience provider that holds a geisha tea ceremony and geisha show every day!
Book with us online!
This session is private for COVID-19 measures.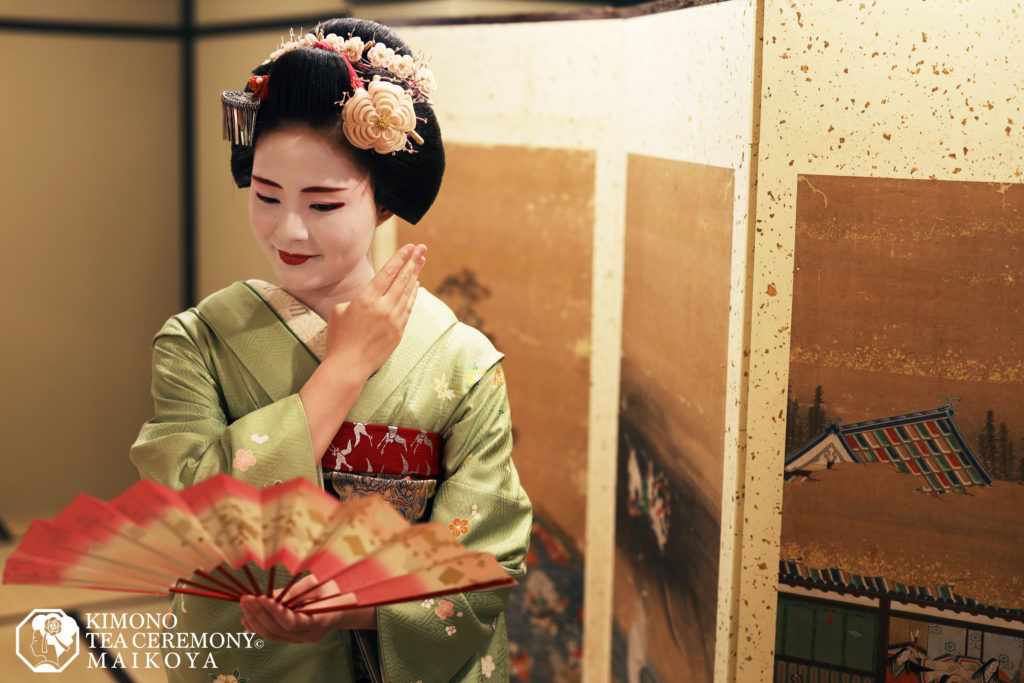 Geisha (Maiko) Tea Ceremony & Show in Kyoto
Lasts Approximately 90-120 minutes (whole package)
Inclusions:
Geisha Tea Ceremony

A geisha or maiko will be leading a tea ceremony and demonstrating the steps.

Matcha Tea and Utensils

You will be learning how to prepare matcha with the help of the geisha/maiko.

Wagashi or Japanese Sweets

The wagashi will feature beautiful designs and seasonal flavors unique to Japan.

Kimono

Our kimonos come in a variety of designs and sizes to choose from!

Presence of an Interpreter

You will be accompanied by an interpreter who can translate English and Japanese.

Introduction to Geisha Traditions and Tea Ceremony

This is so you have a better understanding of the culture.

Geisha Dance Performance

The geisha/maiko will be giving a short performance for you!

Photographs with Geisha

There will be many opportunities for you to take pictures, and ask questions about things you're curious about!

Gion Walking Tour in the Historic Geisha District

(

Currently un

available due to the COVID-19)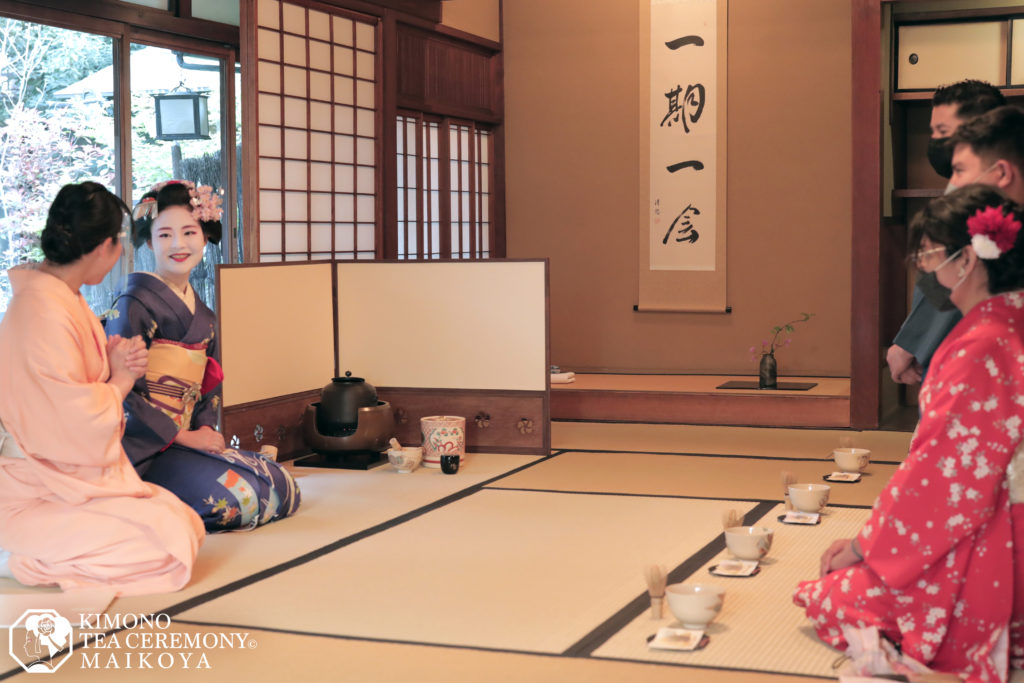 Regular price
1 ~ 4 people : 66,000 yen / group
5 people+ : 15,000yen / person
Enter the coupon code to get an additional discount!
From December 25th to January 10th, all geisha are on New Year holidays. An additional charge of 20,000 JPY is required for reservations during this period. After booking, we will send you an email about this payment.
Maikoya cancellation is easy, hassle-free, and flexible! Cancellation Policy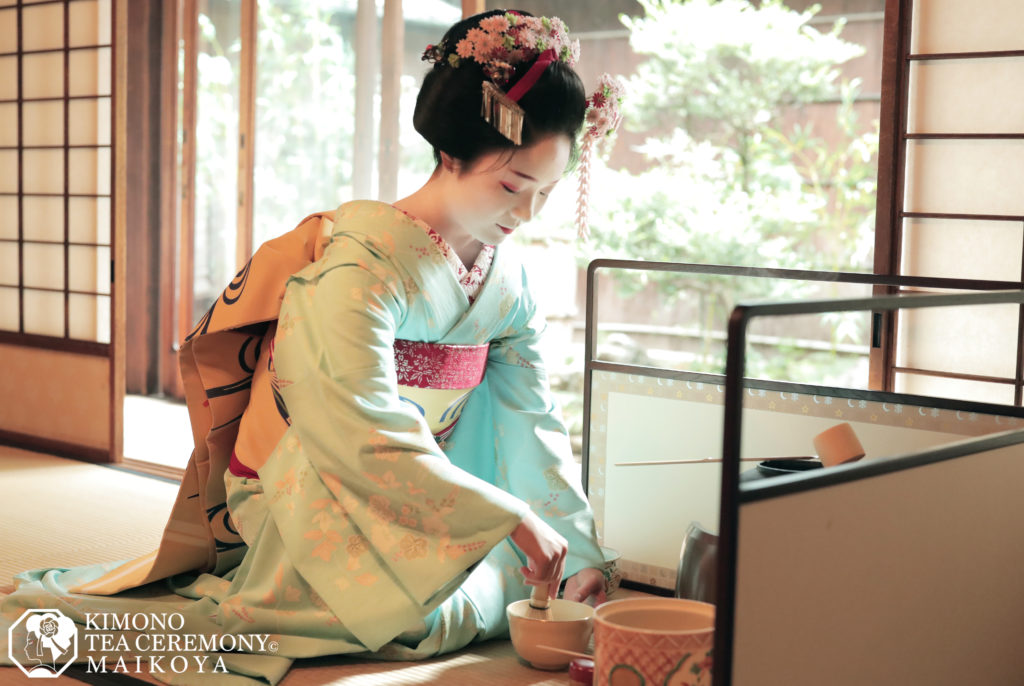 Geisha Maiko Tea Ceremony Kyoto
As part of their training, the geisha (maiko) in Kyoto learn how to conduct tea ceremonies and often hold tea ceremonies under sakura trees on special occasions.
At KIMONO TEA CEREMONY KYOTO MAIKOYA, we want to preserve the unique geisha culture of Kyoto by holding the geisha tea ceremony sessions for locals and travelers whenever possible.
Come and enjoy this once-in-a-lifetime experience before it is sold out!
In this workshop, a Maiko will walk you through step by step the traditional tea ceremony. This is a ritual-like activity where ceremonial tea is prepared and presented to promote well-being, mindfulness, and harmony. It is also called the Way of the Tea. The tea itself is powdered green tea and is called Matcha.
Although there will usually be a Maiko available for the tea ceremony and performance, a Geisha will occasionally be booked according to their availability.
---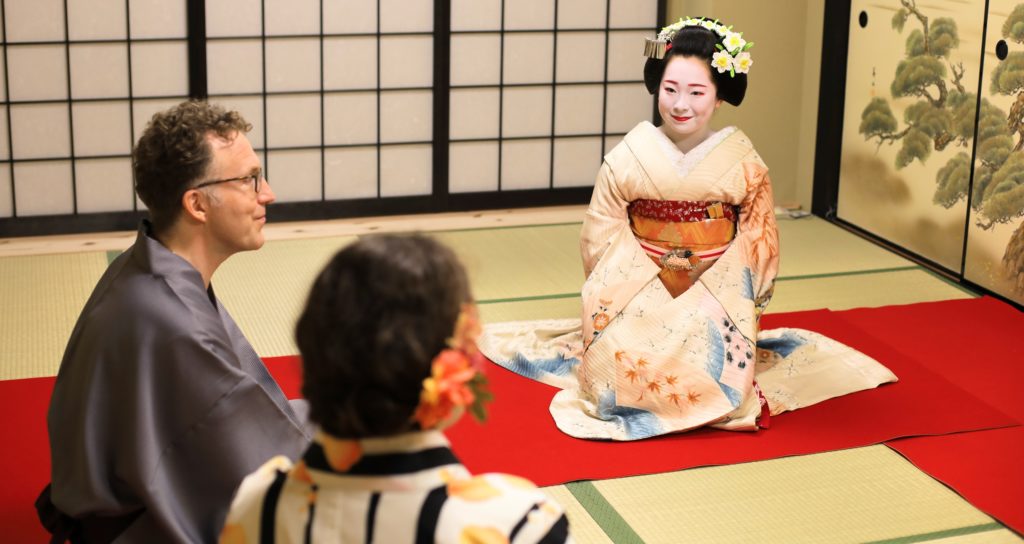 We are confident that this experience will be your best souvenir from Japan. You can easily make a reservation now by choosing the best date for you.
Additionally, if you'd like you can also reserve a PRIVATE tea ceremony.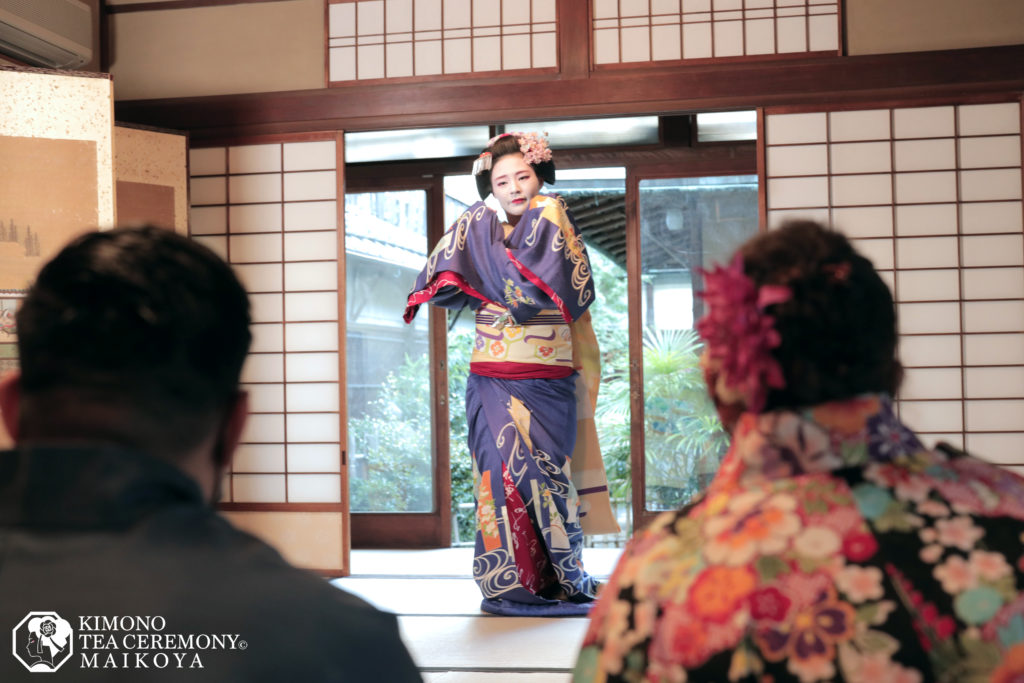 Kyoto Geisha Performance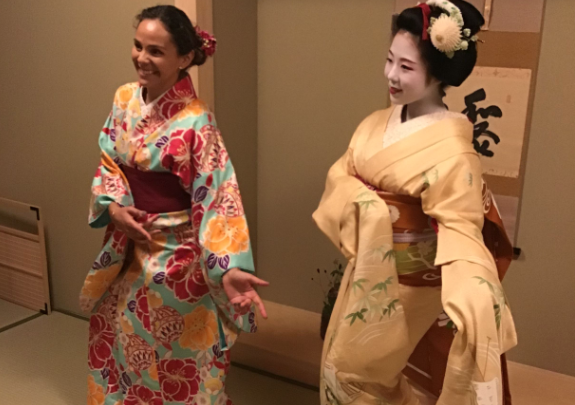 The Geisha or Maiko Performance will take place in a traditional Japanese-style room at Maikoya Kyoto near the Gion District.
The Geisha, sometimes Maiko, will perform a traditional Japanese dance in a room where you and other guests will be allowed to take pictures. Please keep in mind to take them appropriately without much distraction.
An MC will be present during the performance and explain the meanings and symbolisms of the outfits, and dance of the Geisha.
After the dance, you will be able to ask Geisha questions and take photos with her! There will be multiple genuine Geisha artifacts and displays in the building that you can also ask about. An interpreter will be present to help in case there are any difficulties with communicating.
If there is time left, you and the other audience members will get to play simple traditional games with the Geisha, such as ozashiki asobi.
If you are having difficulties or questions, contact us at info@mai-ko.com.
FAQs
What is a Geisha or Maiko?
The geisha are traditional Japanese performers who are well-versed in the arts like singing, dancing, calligraphy, and the tea ceremony. The maikos are geisha apprentices or geishas-in-training.
Can I take a picture with the geisha/maiko?
You can take pictures after the event and performance! Please remember to be respectful and ask for consent.
Are kids allowed during the event? Is there an age limit?
Children are welcome to join the event! The geishas are performers who cater to audiences of all ages. We suggest a minimum age of 3 years old but you can contact us if your child is younger so we can arrange things for you.
Can I take a video of the whole experience?
Media appearance for geisha and maiko are strictly controlled in Kyoto so we would advise against filming the whole performance and ceremony. However, you are more than welcome to take videos of yourself and the geisha after the performance. Make sure to ask for consent!
Do I have to sit on the floor?
We also provide desks and chairs upon request if it's more comfortable for you!
How long does the ceremony last?
The geisha tea ceremony, performance, and walking tour can last from 90 minutes to 2 hours.
Can I walk outside while wearing the kimono?
We charge a small rental fee if you would like to use our kimonos outside the teahouse. However, if the weather is not good, we may not give this option.
Do you have plus-size kimonos?
Yes! Our kimonos are meant to fit a variety of sizes. You can also contact us if you would like to make sure of an available fit.
Do you accept walk-ins?
Geisha tea ceremonies need to be booked in advance.
Do I need to wear a kimono?
No, but the option is included in your reservation.
Can I wear a kimono if I'm pregnant?
We will not require you to wear a kimono if it is uncomfortable for you. If you are in your first or second trimester, you can still choose to wear it.
Do you provide additional services like hair and makeup?
For the ladies, we provide hairstyling services along with kimono assistance. Makeup services are not available.
Can I walk outside while wearing the kimono?
We charge a small rental fee if you would like to use our kimonos outside the teahouse. However, if the weather is not good, we may not give this option.
Do you have a souvenir shop?
Yes. We provide matcha tea, tea ceremony sets, calligraphy sets, and much more available.
Are wagashi vegan/vegetarian, halal, or kosher?
Japanese Wagashi are vegan and vegetarian friendly! The plant-based treats are also halal and kosher. We highly recommend letting us know if you have any preferences or diets anyway just to make sure.
Do you have kimonos for kids?
Yes, we have smaller sizes for the kids. Make sure to let us know the age and height of your child in advance so we can reserve a kimono!
About Us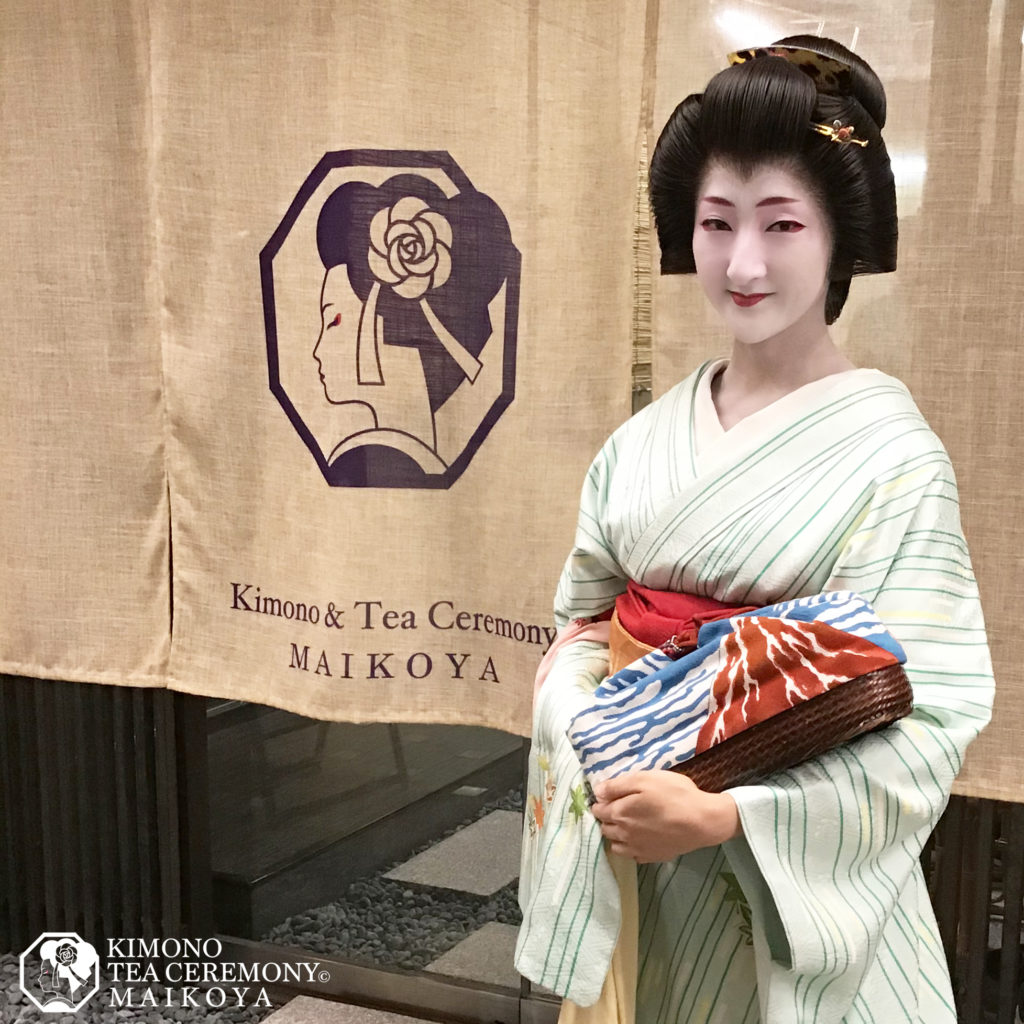 We own and operate Geisha Experience MAIKOYA. All of our guides speak fluent English and know how to make you feel at ease by always being patient and smiling constantly. We also provide handouts in different languages in case you have limited language skills. By participating in this tour you will have a local "friend" showing you around rather than being dragged to routine places by a stranger.
We know that travelers neither want a history lecture nor a fast facts trivia. They just want to feel like a local and learn the Japanese view of Geisha and Gion and the history. Our guests also often ask us about the souvenir shops, restrooms, hidden gems, transportation to their next stop and local favorite restaurants. So we prepared the perfect package tour with the best price that will make your trip to Japan extra rewarding.