Cancellation and refund policy
No cancellation fee, cancel any time
Click button below to make a payment.
Geisha (Maiko) Tea Ceremony & Show in Kyoto (Includes Kimono Wearing)
Enjoy participating in a traditional tea ceremony room led by an authentic Kyoto geisha (geiko/maiko). Your tea ceremony host will be a maiko (an apprentice geisha) who will introduce you to this Japanese ritual. The geisha culture was born in Kyoto where young women, called geiko, used to serve tea to pilgrims who are visiting historic temples in Eastern Kyoto. We are the only venue in Kyoto that holds geisha tea ceremony and geisha show every day.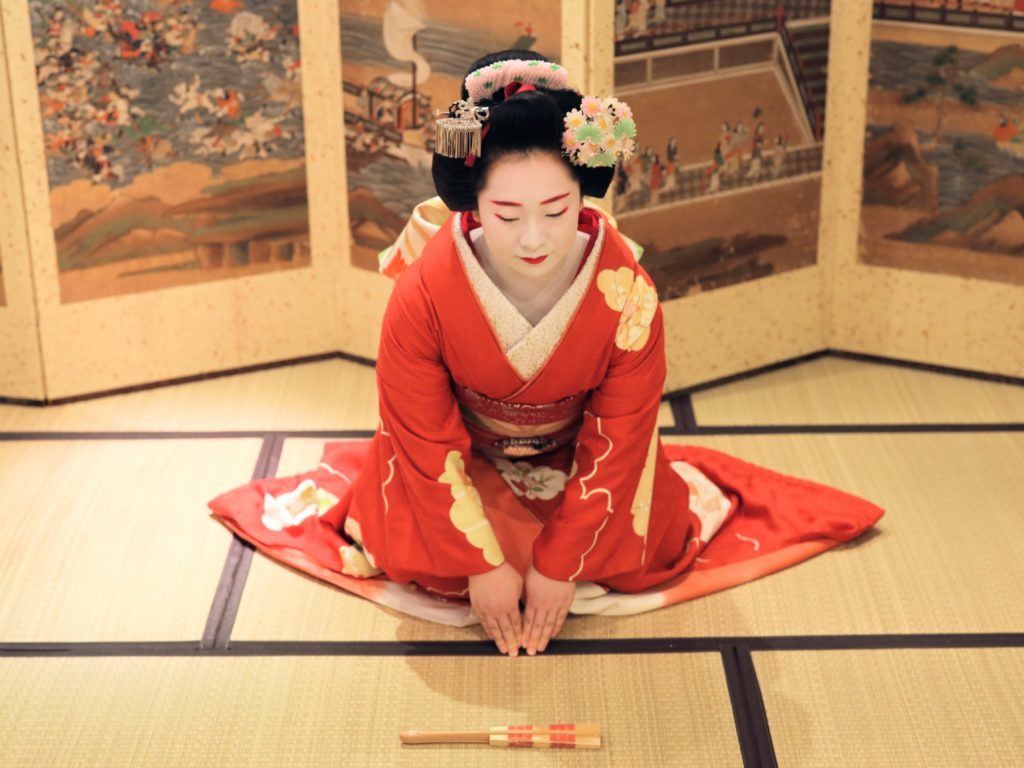 Your once in a lifetime geisha (maiko) tea ceremony experience includes:
Tea ceremony led by a real geisha (maiko)
Actual tea ceremony participation in the same room with the geisha (maiko)(not demonstration on the stage)
Making your own green tea
Trying Japanese sweets as part of the experience
Explanation of the history and the traditions of geisha (maiko) and also tea ceremony
Geisha dance performance
Kimono wearing opportunity and free kimono rental up to 7 hours
Opportunities for taking photographs with geisha (maiko) and asking questions to her
Presence of an interpreter
Gion walking tour in the historic geisha district 
Discovering the hidden gems of Gion and feeling like a local
As part of their training, the geisha (maiko) in Kyoto learn how to conduct tea ceremony and often hold tea ceremony under sakura trees on special occasions. At Geisha Experience Gion MAIKO CHAYA,  we want to preserve the unique geisha culture of Kyoto by holding the geisha tea ceremony sessions for locals and travelers whenever possible. Come and enjoy this once in a lifetime experience before it is sold out. In this workshop, a Maiko will walk you through step by step of the traditional tea ceremony. This is a ritual-like activity where ceremonial tea is prepared and presented to promote well-being, mindfulness, and harmony. It is also called the Way of the Tea. The tea itself is a powdered green tea and is called Matcha.
Just in case if you were wondering:
You are allowed to take pictures in the tea ceremony room after the ceremony as well as the other rooms and in front of our unique backdrops
You are allowed to sit comfortably on the floor (without sitting on your knees on the tatami mat). We also provide bamboo chairs for those who prefer not to sit on the floor
We are confident that this experience will be your best souvenir from Japan. You can easily make a reservation now by choosing the best date for you. Additionally, if you'd like you can reserve a PRIVATE tea ceremony here .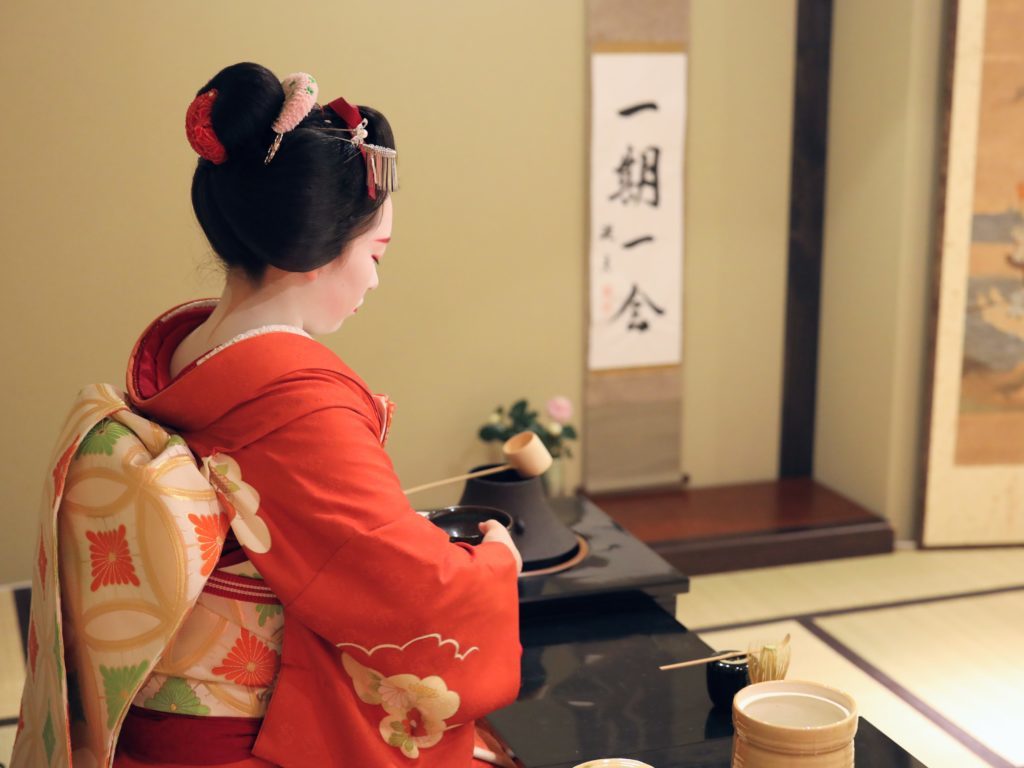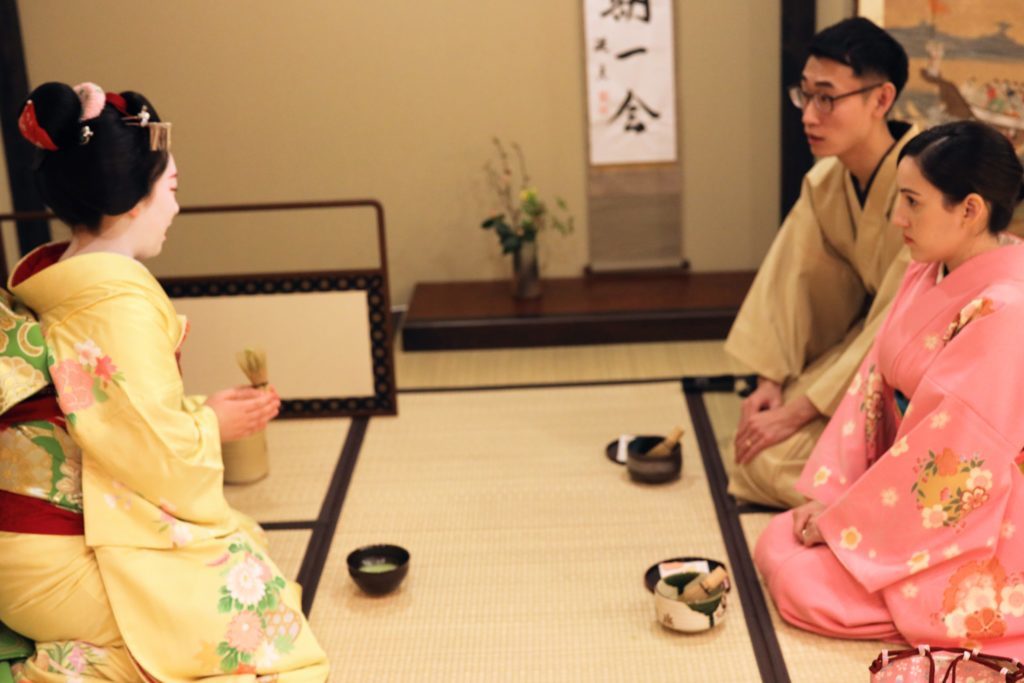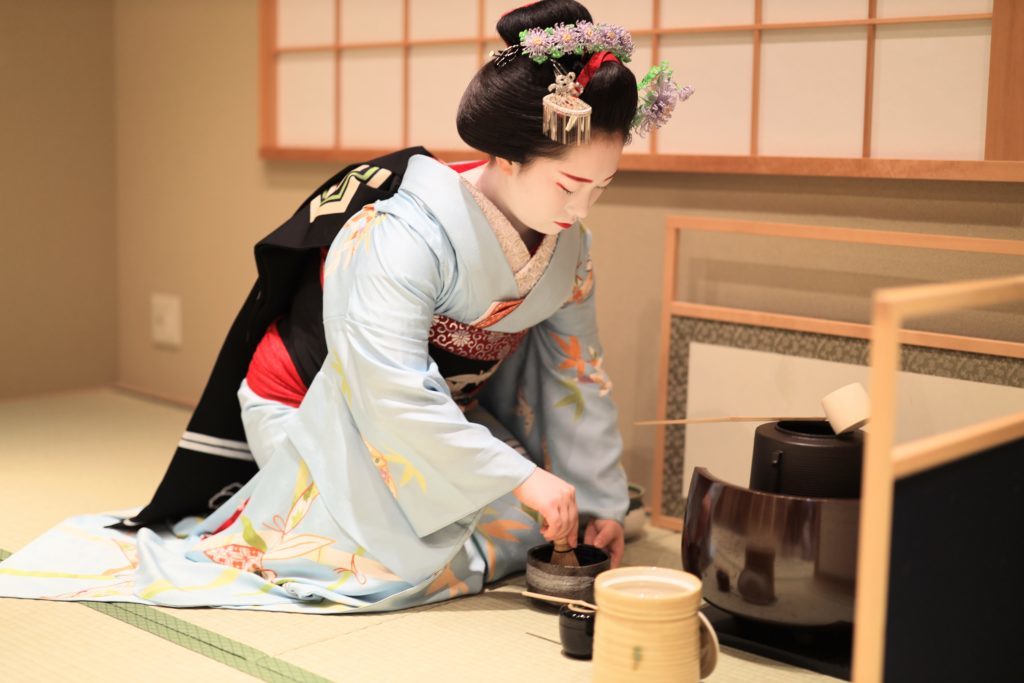 Gion Geisha Performance
The geisha performance lasts around 45 minutes
The geisha performance takes place at the traditional Japanese style room of the Geisha Museum conveniently located in the heart of Gion.
First, the geisha, sometimes apprentice geisha (called maiko), performs her traditional dance in a room with fewer than 20 people
You are allowed to take pictures during the performance
After the dance you get to ask geisha questions and you can take a picture with the geisha
If time left, some audience members get to play simple traditional games with the geisha (e.g. ozashiki asobi)
There are many genuine geisha artifacts and visuals in the building that explain things you may wonder about the mysterious world of a geisha
There is an MC hosting the performance who would also explain meaning and symbolism regarding the outfit and dance of the geisha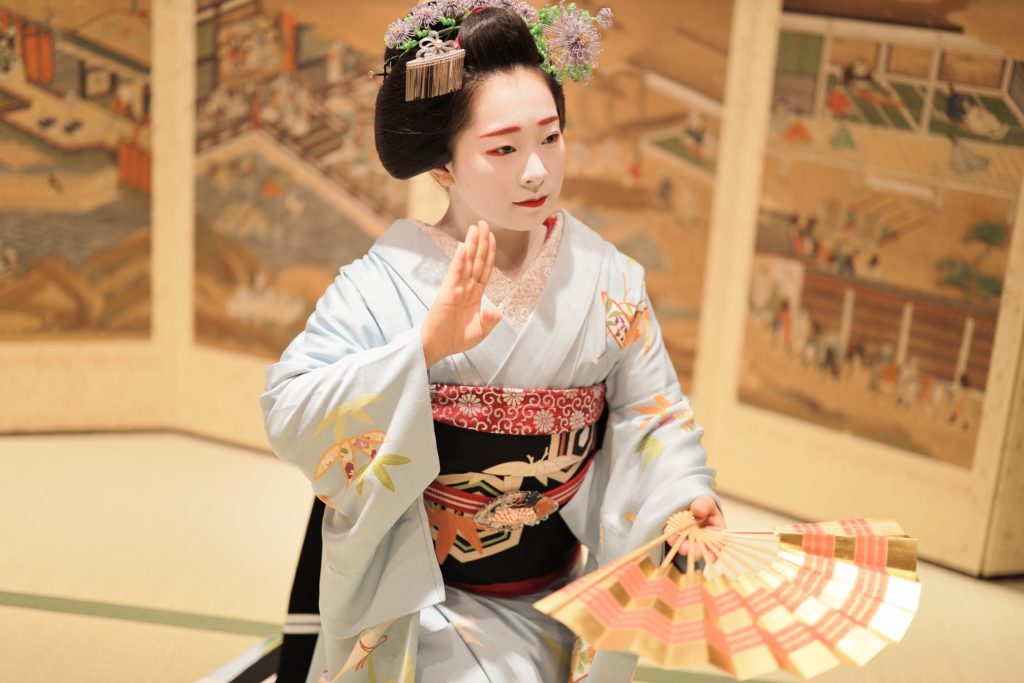 Gion Walking Tour Route
We will meet at the Gion Geisha Museum which is on Shijo Street between the historic Minamiza Kabuki theater and the famous Ichiriki Chaya House.
Walk towards the intersection of Shijo and Hanamikoji street.
Make a right to the southern part of Hanamikoji Street where the most elite and prestigious teahouses of Kyoto are located.
We will walk in front of the teahouses and pass by Gion Corner.
We will then briefly stop by the Kenninji temple and Yasui Konpiragu shrine where we talk about the difference between shrine and temple.
We will complete our tour at the geisha museum where we started.
The walking tour lasts about 30~45 minutes, just enough to learn what you may be wondering about the mysterious world of geisha and the historic Geisha neighborhoods. Whether it is the geisha kimono, the training of the apprentice geisha or the flaws of the movie "Memoirs of Geisha" you will learn a lot. Walking in the historic Gion geisha district will undoubtedly give you a feeling of time travel where every street has many stories to tell.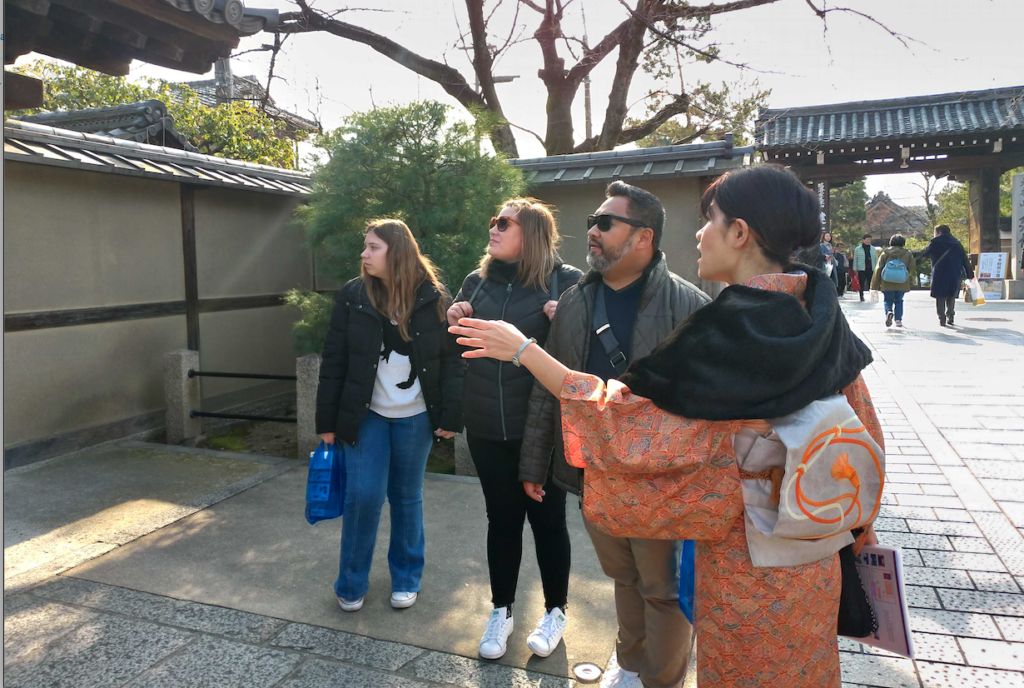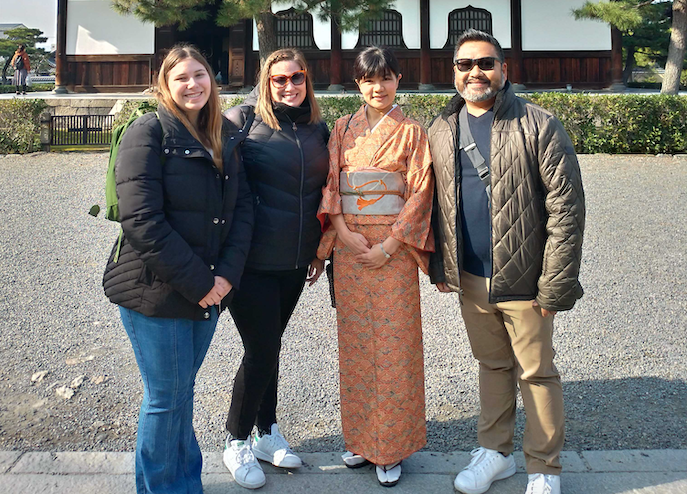 Disclaimer: Recently there are many incidents where tourists engage in irresponsible behavior in Gion which include
Blocking the way of the geisha to take a photo
Chasing and bothering the geisha
Touching the geishas kimono, hair, accessories
Trying to take a selfie with a geisha
Taking the photo of a geisha when she is with a guest
Littering on the streets of Gion
Eating fast food while walking in Gion
Smoking or drinking alcohol on the streets of Gion
Sitting on the streets of Gion
Please remember
The geisha are human beings, they are not objects. You have to respect the privacy of the geisha. You have to understand that you endanger yourself and the geisha in the narrow streets of Gion when you come too close. You have to understand that geisha's are likely on their way to work and they should not be late.
About Us
We own and operate Geisha Experience Gion MAIKO CHAYA and the Gion Geisha Museum. All of our guides speak fluent English and know how to make you feel at ease by always being patient and smiling constantly. We also provide handouts in different languages in case you have limited language skills. By participating in this tour you will have a local "friend" showing you around rather than being dragged to routine places by a stranger.
We know that travelers neither want a history lecture nor a fast facts trivia. They just want to feel like a local and learn the Japanese view of Geisha and Gion and the history. Our guests also often ask us about the souvenir shops, restrooms, hidden gems, transportation to their next stop and local favorite restaurants. So we prepared the perfect package tour with the best price that will make your trip to Japan extra rewarding.
Geisha Experience in Gion Book Now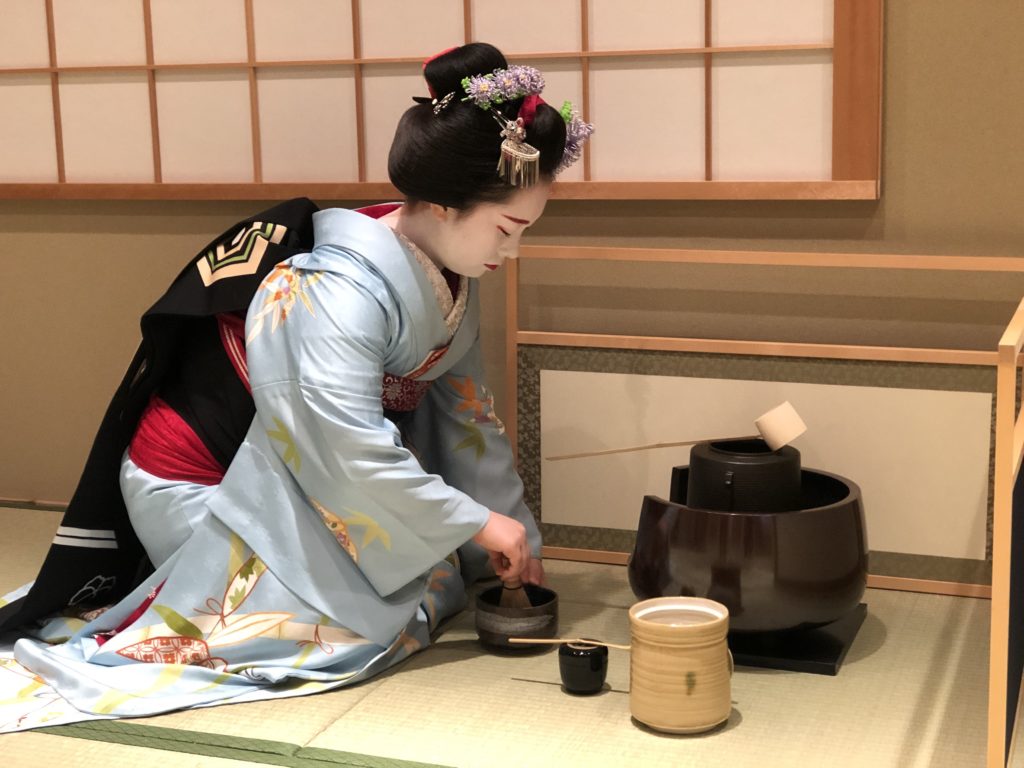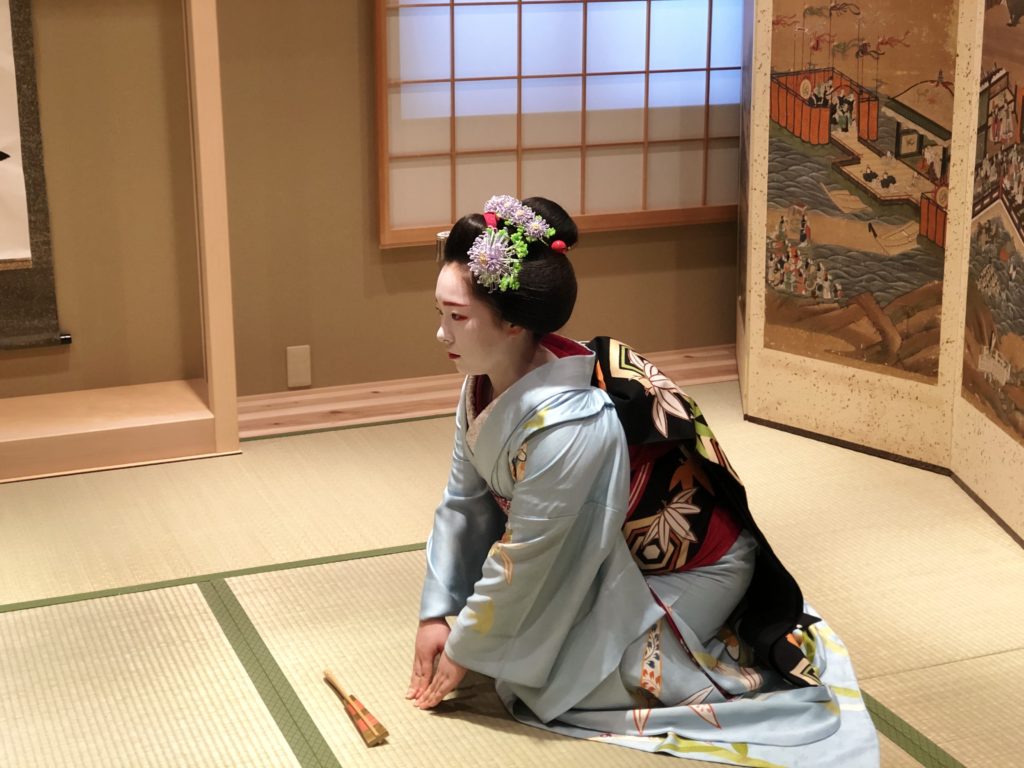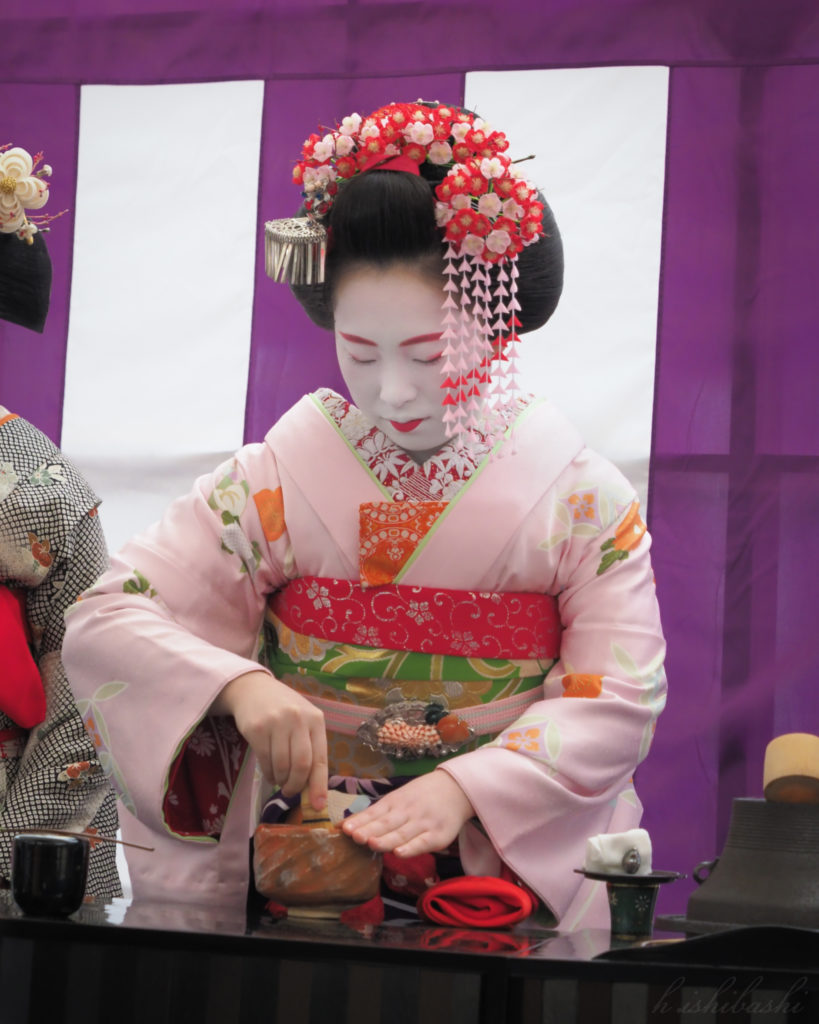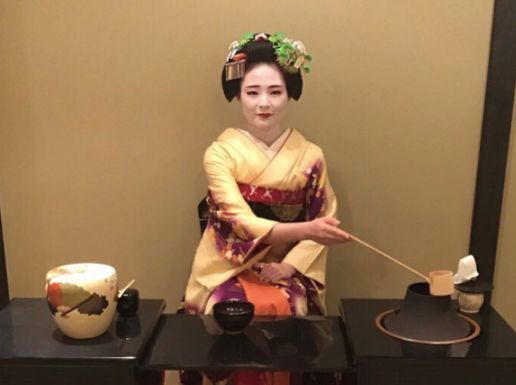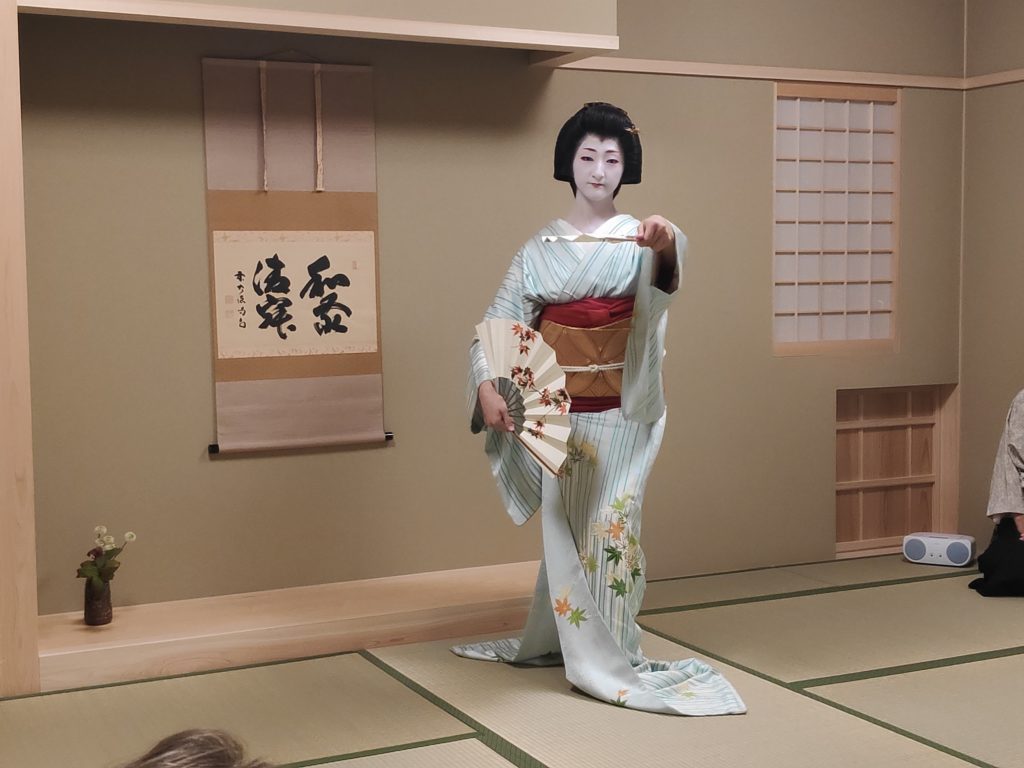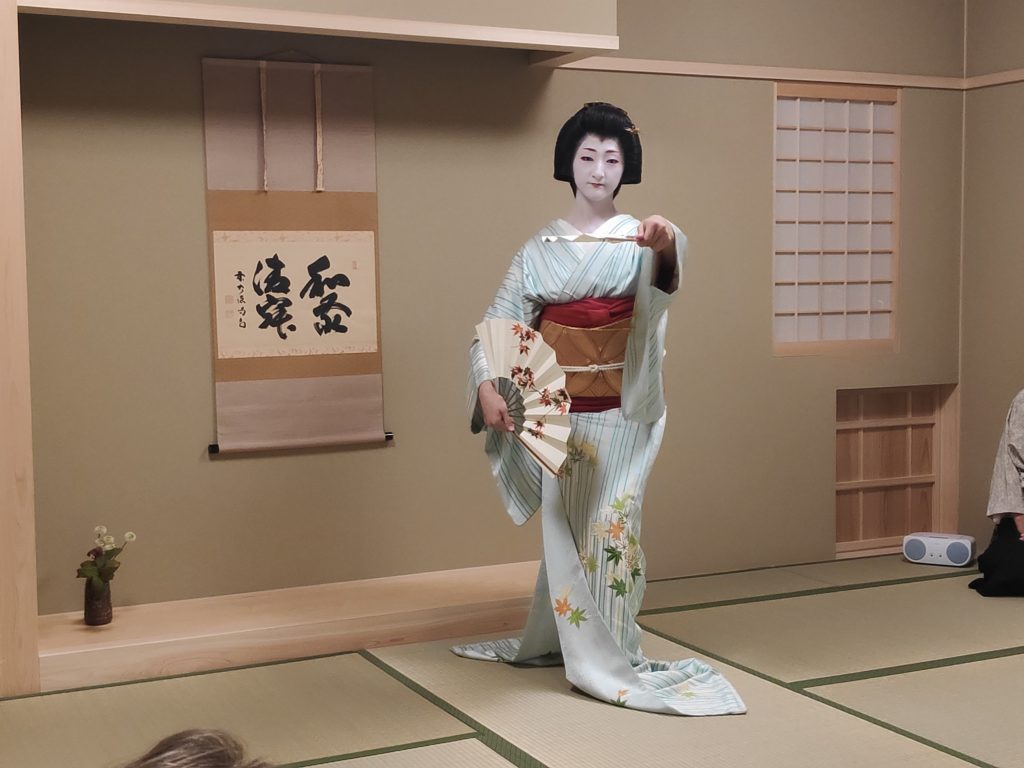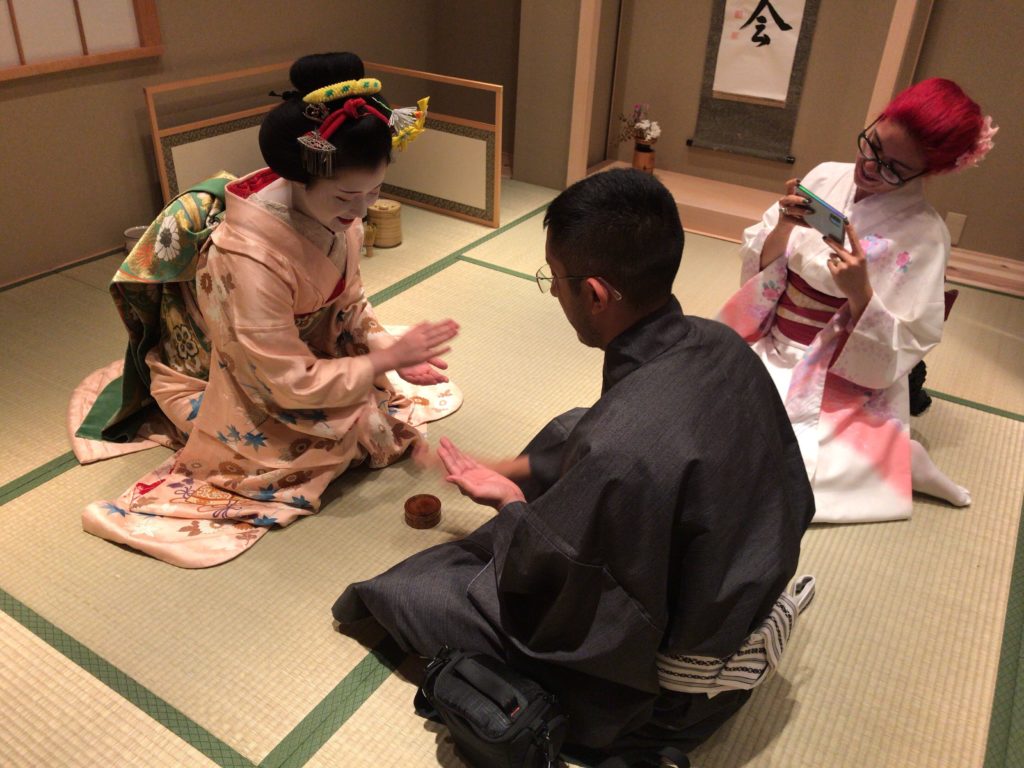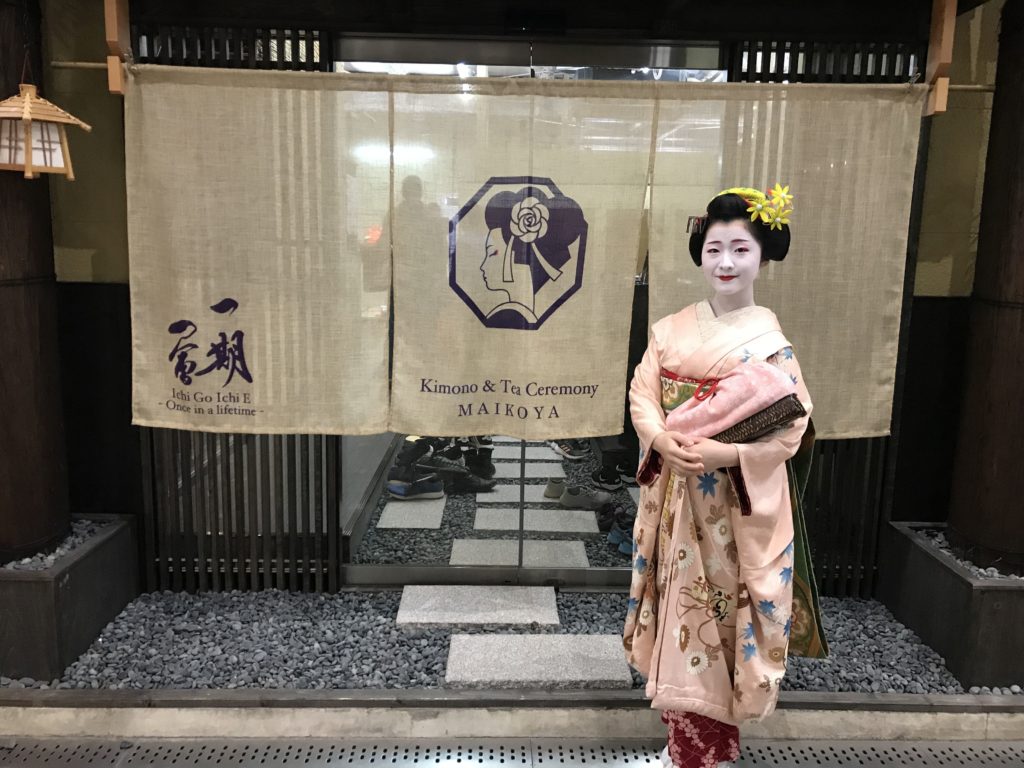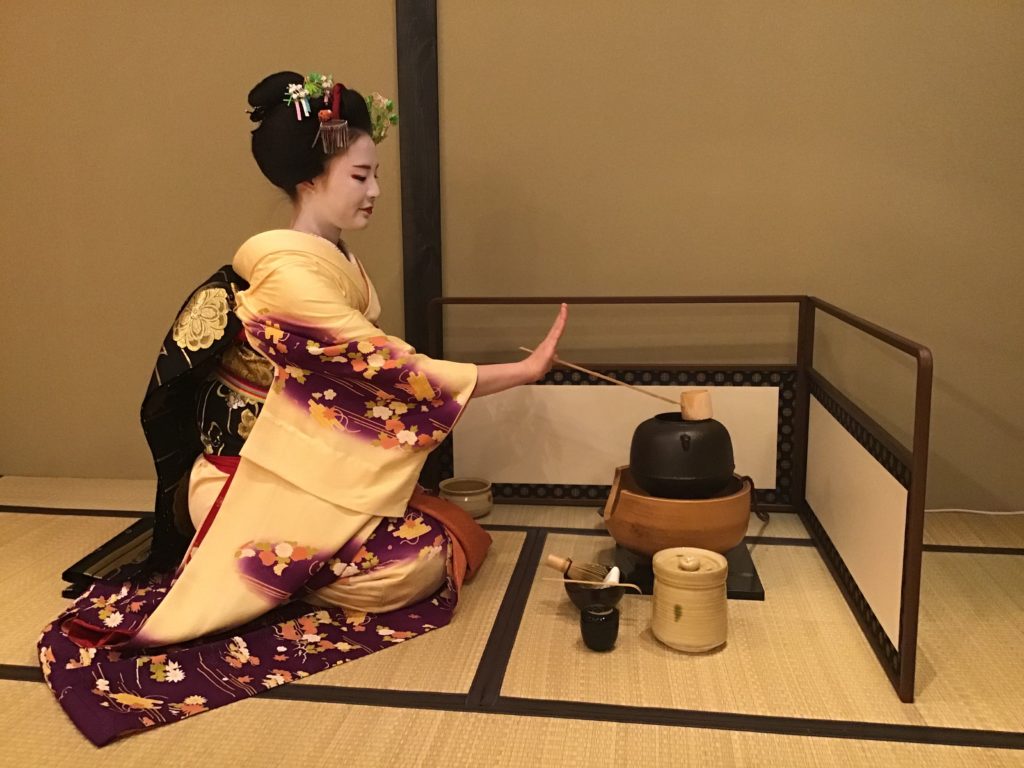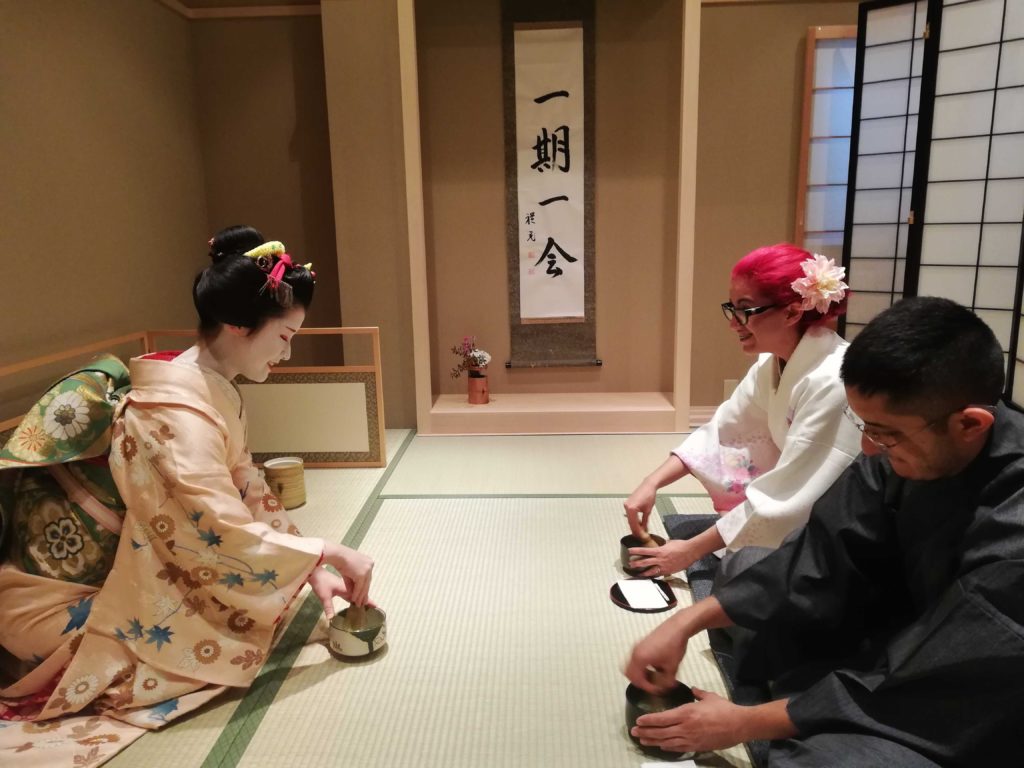 Review
Geisha (Maiko) Tea Ceremony & Show in Kyoto (Includes Kimono Wearing)
Included

Geisha (maiko) tea ceremony

Japanese green tea

Japanese sweets

Interpreter

Free Kimono wearing

Geisha dance performance

Geisha dance performance

Not Included

Transportation

Hotel pick-up

Maps

Organizer




Kimono Tea Ceremony Maikoya Kyoto

We are a cultural experience venue located in the heart of Kyoto, the cultural capital of Japan. We pride ourselves on providing authenthinc experiences in Kyoto. Founded on the four main pricinples of tea ceremony (Harmony, respect, purity and tranquility) Maikoya has gained recognition among both locals and foreigners. Maikoya also recently has been selected as one of the best tea ceremony venues in Japan by Tripadvisor. Learning about a country through cultural workshops and activities will give you a better understanding of our intricate history, valued social principals and holistic way of life. By learning about Japan and its people, you will be immersed in different perspectives and approaches that are unique to this country. Maikoya Kyoto offers you opportunities to understand this culture through local instructors and guides. There is no better way to learn about a new place from the viewpoints of those who grew up and live in this amazing country. What better way to spend an afternoon than learning a traditional, beautiful new art form with a knowledgeable tutor in a picturesque setting? You wouldn't find friendlier people to help you experience Japan in all its splendour.

---

Our address is Japan, 〒604-8006 Kyoto, Nakagyō-ku, Nakanocho, 565-4 JP Take Exit 9 at the Kawaramachi Station  google map

---

Our phone number is 075-606-5303

---

Our email address is kyoto@mai-ko.com

---

*** Please let us know the gender ratio and if you have any food allergies, Halal, gluten-free, vegan or vegetarian preferences.

Frequently Asked Questions FAQ

Do you accept walk-ins?

Yes, we accept walk-ins. However, it is chepaer to book online and you may need to wait if you show up without a reservation especially during the peak season.

Do I need to wear a kimono?

Traditional tea ceremony is usually conducted by wearing a kimono but since you may simply not be interested in it or you may be pregnant (earlier than 3rd trimester OK) we don't require you to wear a kimono.

Do I need to sit on my knees all the time or I can sit comfortably? Can I sit on the chair?

Yes you can sit comfortably without sitting on your knees. Yes we do provide chairs and desks if you need.

What is the etiquette for tea ceremony?

Please remember to --take your shoes off, --be quiet and not talk to your partner throughout the ceremony, —not use your cell phone (we allow photos before and after) but ideally you should forget worldly and materialistic thoughts.

Do you have kimonos for kids?

Please remember to --take your shoes off, --be quiet and not talk to your partner throughout the ceremony, —not use your cell phone (we allow photos before and after) but ideally you should forget worldly and materialistic thoughts.

Do you have plus size kimonos?

Yes we do have extra size kimonos. If you are a plus size please let us know when you reserve about your size.

Can I walk outside wearing the kimono for the rest of the day?

Yes! you can walk outside with additional fee JPY1000 by 6 pm!

Do you provide any hairdo services?

Yes (for females), we will make sure you look your best and your hair matches the traditional kimono style.

Do you only show activities or you explain the meanings, symbols etc?

Of course we explain all the meanings and symbols. We also answer many questions you may have (what tis the relationship between zen and tea ceremony, what is the relationship between zen and shodo, what is the difference between Shinto and Buddhism, etc.)

Do you have a souvenir shop where I can get matcha tea, tea ceremony set, calligraphy set, etc. to remember my experience?

Where can I buy a kimono?

We can recommend you a few nearby shops that sell 2nd hand, upscale and economy kimonos, yukatas, samues and hakamas.