Geisha & Maiko tea ceremony
Price
▶
Another 10% OFF for 10 or more people
The geisha tea ceremony is available in KYOTO everyday. Please click here  to reserve your spot.
The geisha tea ceremony is available in KYOTO everyday. Please click here  to reserve your spot.
The geisha tea ceremony is available in KYOTO everyday. Please click here  to reserve your spot.
HIGHLIGHTS
*Once in a lifetime experience
*Learn about the history and the traditions of geisha and also tea ceremony
*Opportunities for taking photographs will be highlighted throughout
The Japanese tea ceremony has many names in Japanese: Chanoyu, sado or ocha. It has a long history of a thousand years and has ties to the tea traders in China. Japanese monks first brought back tea leaves during the Chinese Tang dynasty (618 – 907 AD) and only used them in their temples for religious services. A priest called Myoan Eisai spread the belief that green tea could be used for medicine and by drinking it regularly you were ensured good health. Samurai in particular followed this practice and spread its popularity. Later, another priest called Murata Shukou, called the father of the tea ceremony, added more significance and rituals by making powdered tea so others could enjoy it. His focus on aesthetics became well known and heavily influences the tea ceremony that we know today.
Learning about a country through cultural workshops and activities will give you a better understanding of our intricate history, valued social principals and holistic way of life. By learning about Japan and its people, you will be immersed in different perspectives and approaches that are unique to this country. Maiko Kitchen offers you opportunities to understand this culture through local instructors and guides. There is no better way to learn about a new place from the viewpoints of those who grew up and live in this amazing country. What better way to spend a day than learning a traditional, beautiful new activity with a knowledgeable tutor in a picturesque setting? You wouldn't find friendlier people to help you experience Japan in all its splendor.
NOTE
Instead of sitting on the floor, we also give you an option to do the tea ceremony performed by sitting on a chair (It is called Ryurei-shiki in Japanese). Please mention the number of people who will need chairs when booking. You will see a box titled "order notes."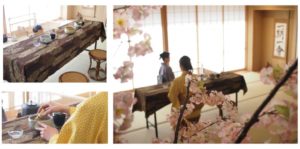 *This activity needs cancellation fee.
If you cancel within 2 day(s) of the scheduled departure, there is a 100 percent cancellation fee.
Tea ceremony no doubt is the most unique Japanese activity as it helps you understand Japanese history, values, religion, Japanese communication style and Japanese drinking culture at once. Did you know that you can enjoy tea ceremony experience more and learn more about the culture when your instructor is a geisha in training? In this workshop, a Maiko will walk you through step by step of traditional tea ceremony. This is a ritual-like activity where ceremonial tea is prepared and presented to promote well-being, mindfulness and harmony. It is also called the Way of the Tea. The tea itself is a powdered green tea and is called Matcha.
The activity involves
Traditional tea ceremony led by a geisha in training
Drinking matcha green tea
Eating Japanese sweets (wagashi)