GION ODORI 2020 Geisha Show Tickets
Price
▶
Another 10% OFF for 10 or more people
The Best Geisha Dance Show in Kyoto, 2020  GION Odori, will be held  in November

, 2020. 

For geisha shows and geisha experiences that are held 

EVERYDAY

 please check: Gion Geisha Show & Experience
*This Geisha Show ticket price is ¥8800. The ticket fee includes the geisha show performance AND Guided Gion Walking Tour.
GION ODORI includes
The annual geisha dance show is a century-old tradition which was launched in 1952.
Watching so many geisha (geiko) and maiko in various costumes on the stage makes this event a spectacular cultural experience. The geisha show is also a great opportunity to shoot memorable pictures.
The geisha (geiko) performance will  be held at the historic  theater
The ensemble consists of the dance performance of the Gion-district geisha. Gion district is considered to be the most prestigious geisha neighborhood.
The geisha show  lasts 1 hour.
We recommend double checking your show time and coming to the venue 20 minutes early.
You will pick your tickets at the Gion Geisha Show & Experience Maikoya
The walking tour is held separately and it lasts for 45 minutes.
The Gion walking tour is held at 2:30 and 4:30 everyday. The departure point for the walking tour is Gion Geisha Show & Experience Maikoya. You can join any walking tour on any day, by showing your digital voucher (the email you receive after reserving for this show).
These tickets are hard to get and thus they are nonrefundable. Please make sure you can attend the show before you make the reservation.
To be able to watch this popular geisha show in Kyoto is a dream come true of a geisha fan or anyone who is interested in the culture and history of Japan. In this unique event, the geisha (geiko) and apprentice geisha (maiko) will perform various dances to depict the well-known Japanese novel "the tale of Genji." The locals in Kyoto consider this event to be the the beginning of the exciting Spring season. There are multiple geisha dance events in Kyoto, but, locals prefer attending this special performance because the Gion geisha district is considered to be special
Geisha show, GION Odori

//embedr.flickr.com/assets/client-code.js
Geisha show, GION Odori

//embedr.flickr.com/assets/client-code.js
GION HIGASHI
Gion Higashi (祇園東), meaning "Eastern Gion," is the east most part of the original Gion district. It is the smallest of the five hanamachi that remains wedged between the gates of Yasaka Shrine and Gion Kobu. Due to its size it only puts on a single public dance each year in November called the Gion Odori (祇園をどり), which means "Dances of Gion". November happens to be the second most popular month for tourism in Kyoto as people flock to see the stunning maple leaves at the many temples within the city, so the Gion Odori makes an excellent companion to these wonderful sights. The symbol of Gion Higashi is simply eight interlinked dumplings.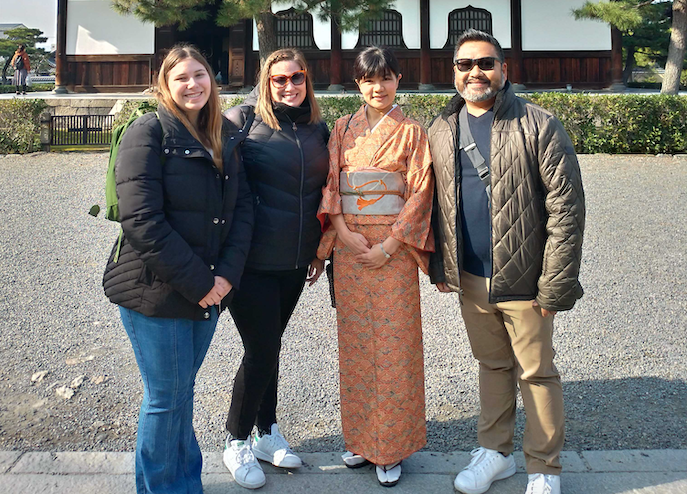 Gion walking tour by Maikoya
Review
Based on 15 reviews