Maiko Geisha Dinner Show ( Held on Mon. Tue. Thu. Sat.)
Price
▶
This experience is currently NOT available
※This Geisha Dance show is usually held on Mon, Tue, Thu, Sat.
However, it is currently NOT available due to COVID-19.
For geisha dinner show that is held EVERYDAY please click here.
What you can expect from this experience
The guests will be having a very rare opportunity whilst they are experiencing some of Kyoto's everyday moments.
The event takes for 2 hours during the evening in the beautiful Gion district in the middle of Kyoto, and after your busy daytime, it is a chance to enjoy a show and simply relax.
You will be discovering Japanese culture, and also Kyoto's organic traditions, such as what the difference between a Geiko and a Maiko is; what kimono is, and what tatami is? all by simply joining us.
You will also be gaining very rare experiences to chat with a Maiko who sits down just next to you and to play Ozashiki games and capture precious moments on your camera with a Maiko.
The time you will be spending at the event will be created by combining our guests, a Maiko, and our excellent staff.
How is this experience different from others
Basically, most tourists visit temples and shrines for sightseeing in Kyoto, which is not an interactive experience, so that is why there is not much communication between Kyoto people and tourists, as the language still makes things difficult to get to know more about Kyoto culture properly.
But here a totally different experience as you will have our staff, who have an excellent English skill, to hand offering wonderful hospitality for our guests.
The communication is the most important key for the guests.
It is a very local Kyoto-ish experience for you to enjoy – something very rare but also informal.
Your reservation includes
Maiko dance performance
8 Dishes Course (NOT Kaiseki)
Drink Including Alcohol  (all you can drink)
Ozashiki Game With Maiko
Photo Shooting
English MC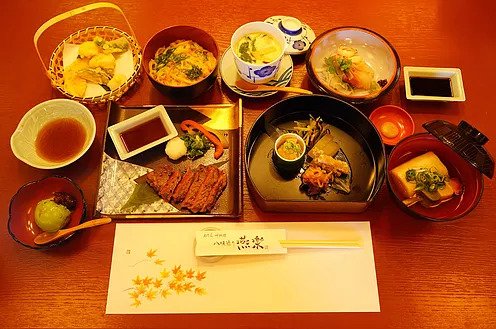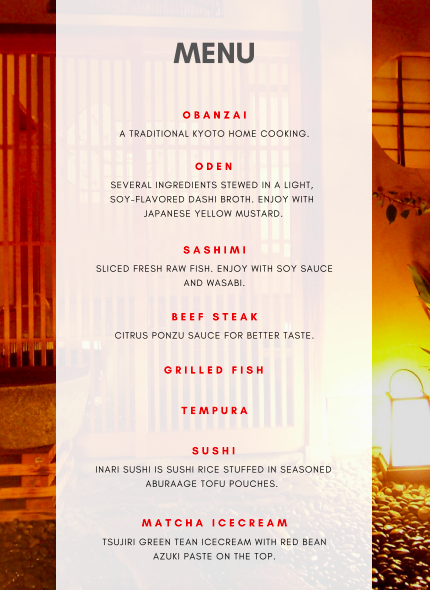 We can accept your food restrictions such as allergy, vegetarian, halal and more.
When you make a reservation, please fill out the food restriction column and then we will prepare the menu for you.
※No menu alternations, options for those with dietary requirements are available.
※No menu alternations, or options available for any food you may dislike.
Program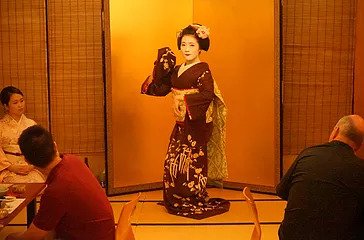 Maiko will perform an elegant and gorgeous dance for you in their beautiful kimono. We hope you will enjoy this performance which they practice daily to perfect. Please feel free to capture the special moment in pictures or videos.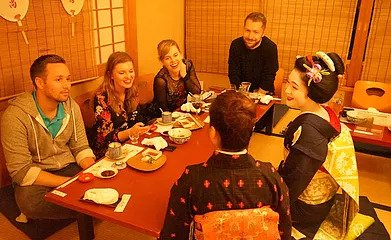 Maiko will take turns visiting each group. This is a valuable opportunity to speak with the girls, so feel free to ask them whatever is on your mind. Our guide will be translator for guests who cannot speak Japanese.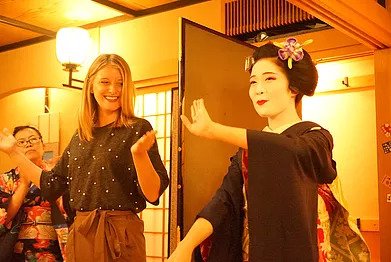 The Ozashiki asobi experience involves playing traditional games with Maiko. Rather than merely watching, you can have even more enjoyment from interacting with Maiko through these games. If you can beat Maiko in a game, you will receive a small gift, so please try your luck.
You are free to take pictures with Maiko. You may also take pictures and videos during the dance and ozashiki-asobi events. Be sure to take this opportunity to capture your exclusive Kyoto experience in picture and film. You' ll receive pictures taken by staff after the event.
Who are Geisha and Maiko?
Contrary to a still persistent misconception in some parts of the world, geisha are not, nor were they ever, prostitutes.
 They are in fact artisans – not courtesans – being highly trained practitioners of traditional Japanese arts and customs of hospitality. As accomplished performers, story-tellers, singers, dancers and musicians, their services have long been revered and coveted by the Japanese elite. Although geisha is today a generic term throughout Japan, these women are still known as geiko in Kyoto.
​Maiko, on the other hand, are apprentice geiko (who might otherwise be known as hangyoku in Tokyo). Much about the lengthy five-year training they undergo to become geiko remains a closely guarded secret.
We all look forward to meeting and chatting with you.
If the date you booked gets cancelled for any reason we will refund you right a way. Please check your email for any updates.
Please note that our cancellation policy is of 24 hours before, otherwise we will charge you a cancellation fee as below.
* 5000yen per person will be charged if you cancel from 7 to 1day prior to your reservation date.
* 100% of your total amount will be charged if you cancel from 24 hours  prior to your reservation date.
Review
Based on 15 reviews