PRIVATE Sake Tasting in Osaka
Price
▶
Another 10% OFF for 10 or more people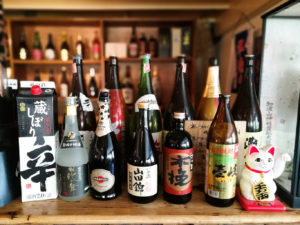 Enjoy sake in Osaka. We pride ourselves on providing authentic Japanese cultural experiences to tourists and residents alike. You will taste 3 kinds of Japanese sake and some nibbles selected from all over Japan. You will know the flavor depth and difference of sake.
HIGHLIGHTS
Try a diverse range of ingredients and flavors unique to Japan
A friendly host will explain and demonstrate correct cooking techniques
Held in a Japanese style traditional room
Opportunities for taking photographs will be highlighted throughout
Special experience to learn about Japanese sake
Sake is one of the first things that come to mind when people think about Japan. This rice-based alcoholic beverage has long been part of Japanese culture. It is drunk at many occasions, including religious ceremonies and traditional weddings. It is also quite popular as a social beverage when people go out with their friends. It is usually consumed chilled during the warm times of year and hot during the cold months.
Sake is made by fermenting rice in large vats and distilling it into a clear, alcoholic beverage, and there are small, local breweries all over Japan. As with beer microbreweries in the West, the local people of towns where sake breweries exist are very proud of their local products.
When you're in Osaka, you really must take part in a sake tasting event in order to fully complete your visit to the nation's food capital. You will not only sample many of Japan's most well-known sake brands but also learn from the staff about the rich history of sake brewing in Japan, and what makes each type of sake special.
Learning about a country through cultural workshops and activities will give you a better understanding of our intricate history, valued social principals and holistic way of life. By learning about Japan and its people, you will be immersed in different perspectives and approaches that are unique to this country. Maiko Kitchen offers you opportunities to understand this culture through local instructors and guides. There is no better way to learn about a new place from the viewpoints of those who grew up and live in this amazing country. What better way to spend a day than learning a traditional, beautiful new activity with a knowledgeable tutor in a picturesque setting? You wouldn't find friendlier people to help you experience Japan in all its splendor.
You will experience:
a) Three kinds of Japanese sake
b) Nibbles match sake
and have lots of fun!
You can taste more than 3 kinds of sake with additional cost.
Here are just a few of the sake brands you will be able to sample:
Koshino Kanbai – Niigata Prefecture
Michisakari – Gifu Prefecture
Senchu Hassaku – Kochi Prefecture
Born Tsuya – Fukui Prefecture
Futaho – Nara Prefecture
Sake is best enjoyed with some food. We will have a light meal that consists of 3 small dishes of pickles and the beef.
Do the sake tasting in the summer and have a nice taste of sake to make you forget about the outside heat. Or if you come during the winter months, our selection of hot sake will be sure to warm your body and spirits. A great opportunity to learn more about the drinking culture of Japan and enjoy the many tastes of sake with your friends.
Under 20 years old can not apply.
Adult pricing applies to all travelers
*** Please let us know if you have any food allergies, Halal, vegan or vegetarian preferences.
[Best_Wordpress_Gallery id = "16" gal_title = "All Galleries"]