PRIVATE Japanese Sweets Making and Tea Ceremony in Kyoto – MAIKOYA at NISHIKI
Price
▶
The above is the unit price for 7 people. The fee for 6 people or fewer is 50,400 yen per group.
Make your own wagashi for your tea ceremony!
Wagashi are traditional Japanese sweets that are best paired with matcha tea during a tea ceremony. Join our sweets-making workshop so you can learn how to make the treats for your tea ceremony after class!
Your private group will first be introduced to the basics for making the seasonal wagashi by our friendly instructor. After the session, you will be participating in an authentic, traditional Japanese tea ceremony where you will learn how to prepare a matcha green tea!
Kids are required to be accompanied by an adult for close supervision especially when using hot stoves and sharp knives during the preparation process.
*Children under 6 can not enter the tea ceremony venue. If you have a child under 6 in your party, you can not make the reservation for this experience.
Book with us online to reserve your class!
Sweets Making & Tea Ceremony in Kyoto
Lasts approximately 90 minutes
Workshop inclusions:
A Wearing traditional Japanese outfit (Not kimono)

 

In this workshop, you will have an opportunity to wear traditional Japanese clothes to use for the whole workshop and tea ceremony. Our staff will be assisting in putting it on.
* If you want to wear a kimono, please book a kimono rental 30 minutes in advance on the same day.

Traditional tools used in making wagashi

These are olds and other materials in traditional wagashi making.

Required ingredients

 

Basic and seasonal ingredients for the sweets workshop will be provided. You will be using rice flour, sweet red bean paste, coloring, as well as seasonal ingredients if available.

Tea ceremony utensils

You will be using a tea bowl, whisk, and tea cloth.

Matcha Tea Powder

Along with hot water, you will be having fresh matcha during the tea ceremony.
* We cannot accommodate food allergies, gluten-free or other special requests for ingredients.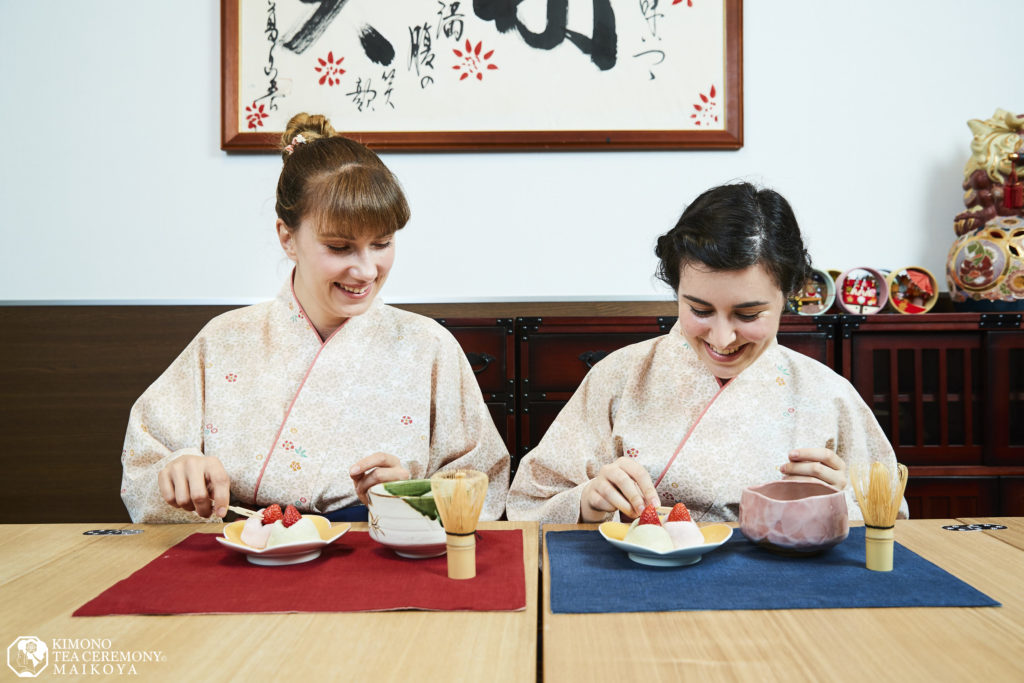 ---
You will be given an overview lesson on traditional Japanese sweets and the process of making them by an experienced instructor in English, and in Japanese, according to your preference.
After the sweets-making class, you will be participating in a traditional Japanese tea ceremony where you will learn a little bit about the ritual and learn how to create matcha tea from the fine powder and hot water. You can enjoy your beautifully created wagashi along with the matcha.
---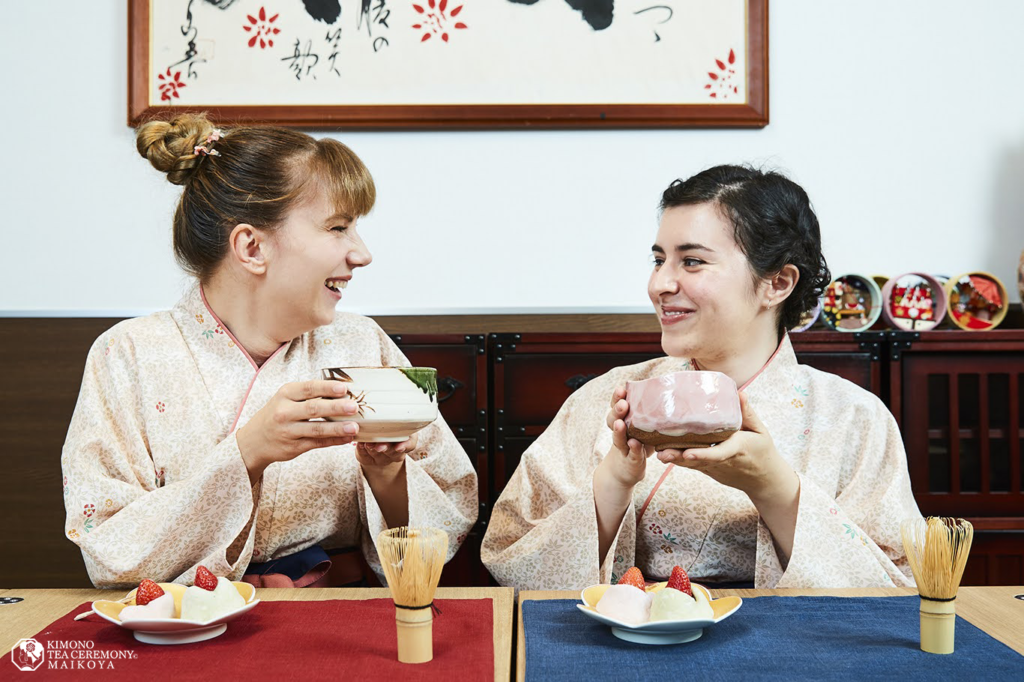 Book your PRIVATE Japanese Sweets Making and Tea Ceremony in Kyoto Maikoya on this page!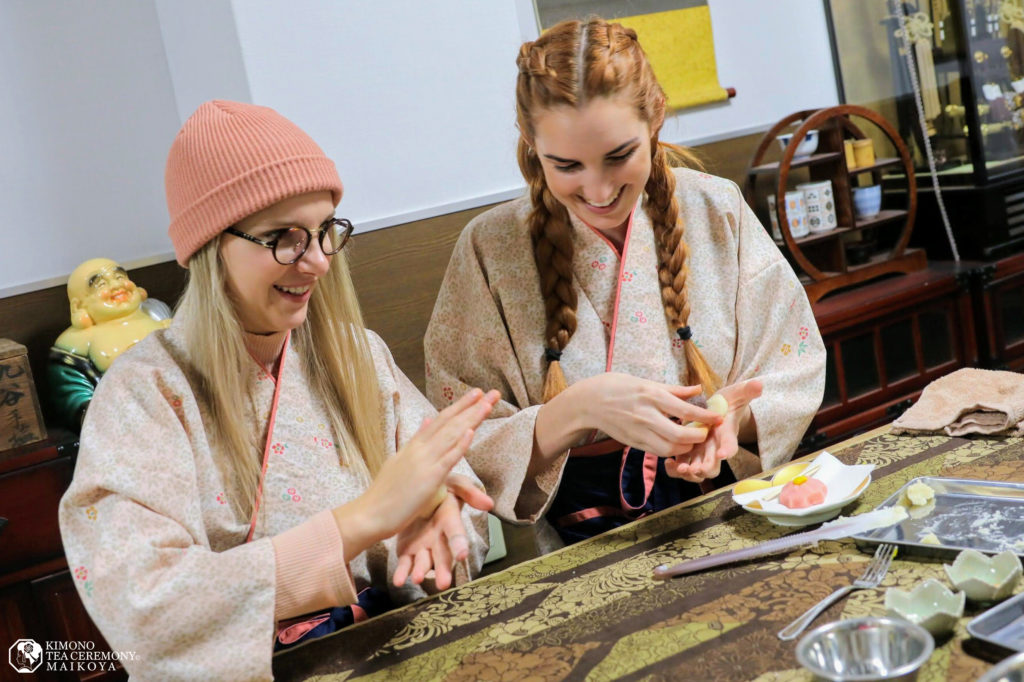 What can you expect during your workshop?
You will be putting on a traditional Japanese clothes before proceeding to the room where you will learn how to make the wagashi. Our workshops are held in a Japanese-style tatami room with historical and cultural designs.
You will be introduced to the wagashi and be given a basic overview of the subject so you can proceed with the hands-on class. The host is a professional with years of experience in making wagashi and performing the tea ceremony. You will be receiving instructions and guidance in English or Japanese, whichever you prefer.
The host will first be demonstrating the process then guide you to making your own. You will be learning about the proper etiquette along the way, and the ost will explain the symbolism and significance of the process and common designs.
The best part? You'll get to taste your creations!
After the class, you will be participating in an authentic Japanese tea ceremony. The instructor will be giving you an overview of the tradition along with the methods and a brief history of the tea ceremony.
You will be observing a demonstration and receive guidance as you learn to follow along. A great combination of handmade wagashi and a bowl of matcha will be ending your session with us! You will surely have an enjoyable cultural experience with us with your specially made treats and drink.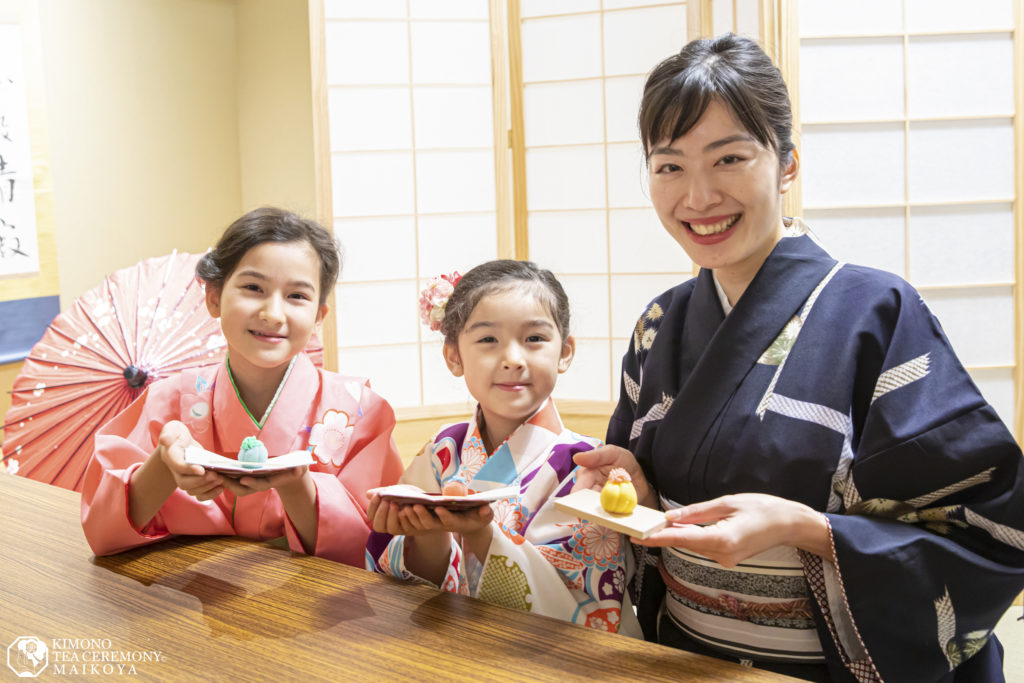 FAQs
How long does the workshop last?
The sweets-making and tea ceremony package lasts for about an hour and a half on average.
Is there a kimono included?
No, this package only includes a traditional Japanese-style chef jacket.
Are wagashi vegan/vegetarian, halal, or kosher?
The recipes followed during our classes are vegan and vegetarian-friendly! The plant-based treats are also halal and kosher. But we cannot accommodate food allergies, gluten-free or other special requests for ingredient.
Do you accept groups?
Yes! This is a private sweets-making and tea ceremony workshop designed for families and couples. We also offer our services for a team-building activity for corporate groups.
Is a tea ceremony included?
Yes! This package includes a traditional tea ceremony after the cooking class. The sweets created during the workshop will be used so you can enjoy your hard work with a relaxing bowl of matcha.
Do you have a souvenir shop?
Yes. We provide matcha tea, tea ceremony sets, calligraphy sets and many more available.
Do I need to book in advance?
We recommend booking with us in advance so you don't have to wait in line, especially during peak seasons in early April and mid-November. This is also cheaper and more convenient.

Review
Based on 12 reviews