Kinkakuji – Golden Pavilion – UNESCO's World Heritage Site walking tour
Price
▶
Another 10% OFF for 10 or more people
This is a walking tour that usually departs from the Kyoto Samurai & Ninja Museum at 10:00 in downtown Kyoto. The fee covers 10 people. The tour is about 2 hours. Your tour guide is a government licenced tour guide. Whether you are a couple or a group of 10 people the price is standard. The tour guide escorts you all the time and you take public transportation or ride a taxi as a group.
Please read more below about the venue:
Originally built in 1397 and became a retirement villa for Ashikaga Yoshimitsu, the 3rd Shogun of Muromachi Shogunate. After his death, it was converted into a Zen Buddhist Temple. The Golden Pavilion was burnt down by a training monk in 1950, which became a model for Yukio Mishima's famous novel The Golden Pavilion. Mishima explains in his book that the monk was so jealous of the beauty of the Golden Pavilion and wanted to die in fire with the Pavilion. The writer himself committed suicide by hara-kiri in 1970, after trying a failed coup d'etat occupying the Self-Defence Force of Japan, saying that he couldn't bear the death of old beautiful Japan.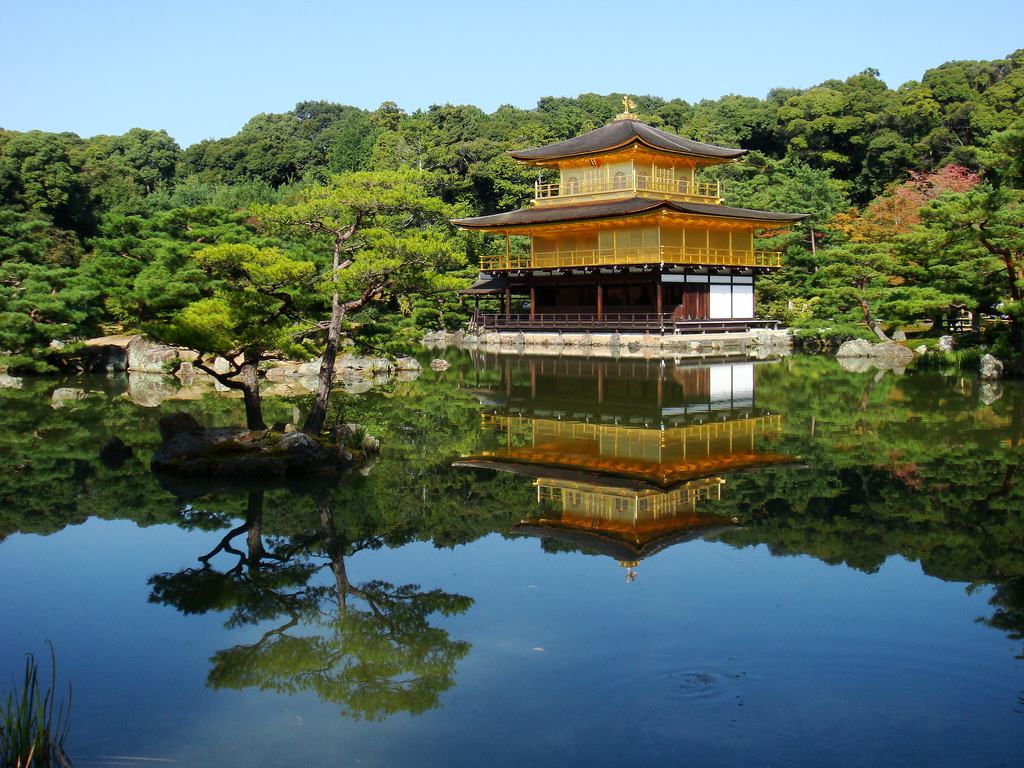 Kinkakuji Temple is by far the most famous and the most picturesque temple in Japan. To look at it on a nice day is like a surreal experience. But it is not a must-do in Kyoto because you cannot enter inside the temple and the only way to get there is by jam-packed public bus or taxi.
You will be mesmerized by one of the most iconic and stunning symbols of Kyoto: the Kinkakuji Temple. Whether it's set against a verdant green background in summer or capped by snow in winter, there's nothing that can detract its undoubted splendor. Tip: arrive 10 minutes before its gates open at 09:00 AM to avoid the crowds. You may also go there at 4 PM and stay until 5 PM. I sometimes skip this spot because it is outside the city and you cannot enter inside. You can only go there by jam-packed buses or taxi. ***See more Instagram photos. ***Location and reviews.
Kinkaku is a three-story golden pavilion, made of wood covered with gold foil on lacquer. The current pavilion was rebuilt in 1955 and refurbished in 1987, using 20kg worth of Gold – 10.8cm×10.8cm gold foil×200,000 pieces. It costed 7 hundred million yen (about 7 million US dollar) at the time.
The 1st floor is aristocracy style of imperial family – Statue of Buddha and Yoshimitsu are inside.
The 2nd floor is warrior style of shogun family – Bodhisattva and 4 Kings are enshrined.
The 3rd floor is Zen Buddhist temple style – Buddha's ashes are kept.
Kinkakuji is also famous for its beautiful garden with Kyokochi, a mirror pond reflecting the reverse image of Kinkakuji on the surface. The islands on the pond is said to symbolize the land of Japan.
Some other things to see at Kinkakuji is Rikushu no Matsu and Rigyohseki. Rikushu no Matsu is a large bonsai tree. This old pine tree is in the shape of a sailing boat, facing the west where Buddhist paradise is located. It is said that Yoshimitsu has planted it by himself.
Rigyohseki at the Ryumon no Taki represents a carp swimming up the waterfall and turning into a dragon, after a famous Chinese proverb which means 'gateway to success.' The carp is the symbol for future success.
Having your local private tourguide on the ground makes the traveling experience way more rewarding and fun. Maikoya has constantly been rated as the top cultural experience venue in Osaka and Kyoto and we work with the best tour guides in Osaka and Kyoto who are experts in their field. The best part is we have actual locations in the heart of Osaka and downtown Kyoto, so you can always call us or come to our office if you should have any problems at all. You can also leave your luggaes in our locations.
By having your private government licensed private tour guide you will get
An experienced, licensed local tour guide with all the local knowledge and tips who will make sure that you focus on relaxing and having fun and not worry about getting lost.
A well planned itinerary prepared for you in advance and shared with you in advance so that you don't have to worry about missing your train or missing the best museum in town because it closes early.
An opportunity to exchange emails with the tour guide and ask some questions you may have including but not limited to good restaurants in town, seasonal activities, local customs and the etiquette, what to bring along and so on.
Your local guide will not only escort you throughout the whole trip, he/she will also share all the interesting facts about the culture and history of your destination that only locals know.
Your local guide will show you the best photo spots, best souvenir shops and off the beaten tracks that may be of interest to you.
You don't have to pay for your guide's transportation or meal.
During this tour you get to choose whether to take a taxi or use the public transportation. In either case it is good to bring comfortable shoes and leave your heavy bag at your hotel. You can always leave your belongings at our locations in Kyoto or Osaka if you need to. Also don't forget to bring some cash to use for the vending machines and the souvenir shops as in Japan some stores still do not accept credit card.
This tour can be adjusted based on your needs and desires. As soon as you make the reservation the tour guide will contact you with the details.