Geisha Dinner Show in Kyoto
Price
▶
Book now with the coupon code to get discounts!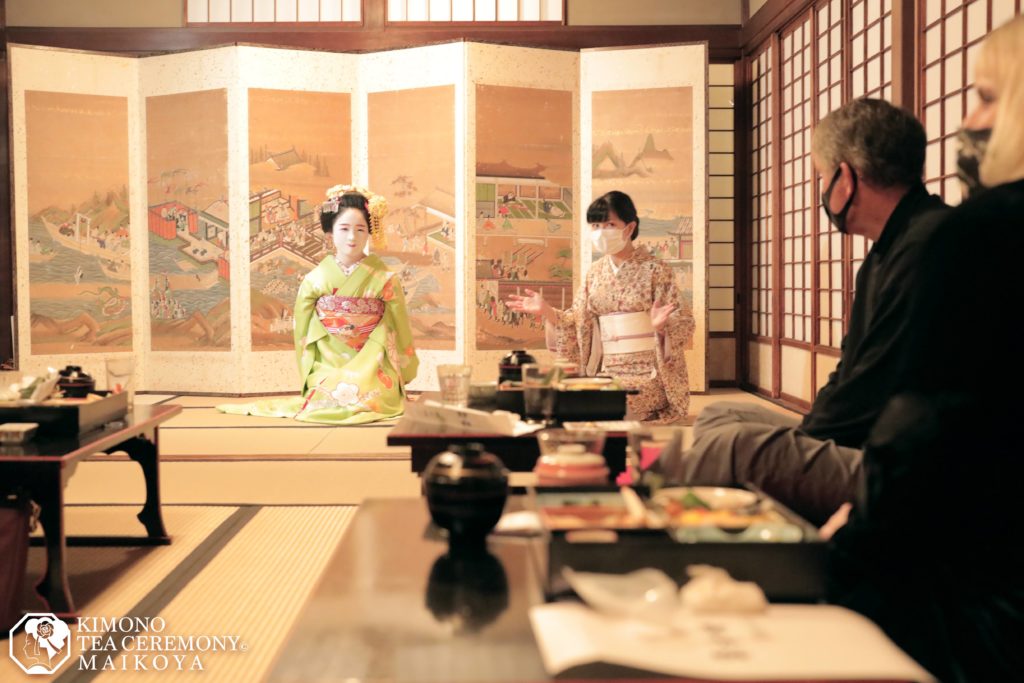 This is a value ticket that includes a REAL Geisha (or Maiko) show and a Japanese meal.
*This experience is currently NOT available.
Important Information
Start time: 7:00pm / Estimated end time: 8:30pm
Meeting with Geisha: Lasts about 45 minutes.
We cannot accommodate food allergies, gluten-free, vegetarian, or other special requests for ingredients.


If you send us a separate email or request in the notes section of the reservation, we still can NOT make any adjustments. We appreciate your understanding.

Children under 7 can not enter the our venue.
This experience is not private.
Minimum number of participants: 4 people.


If there are less than 4 participants, it may be cancelled. In that case, we will contact you by email by the morning of the day. Please be sure to check your emails from us.

If you make a reservation within the last 48 hours of the experience date and time, we cannot guarantee the preparation of the meal.

This means you can watch the show but there may not be a meal.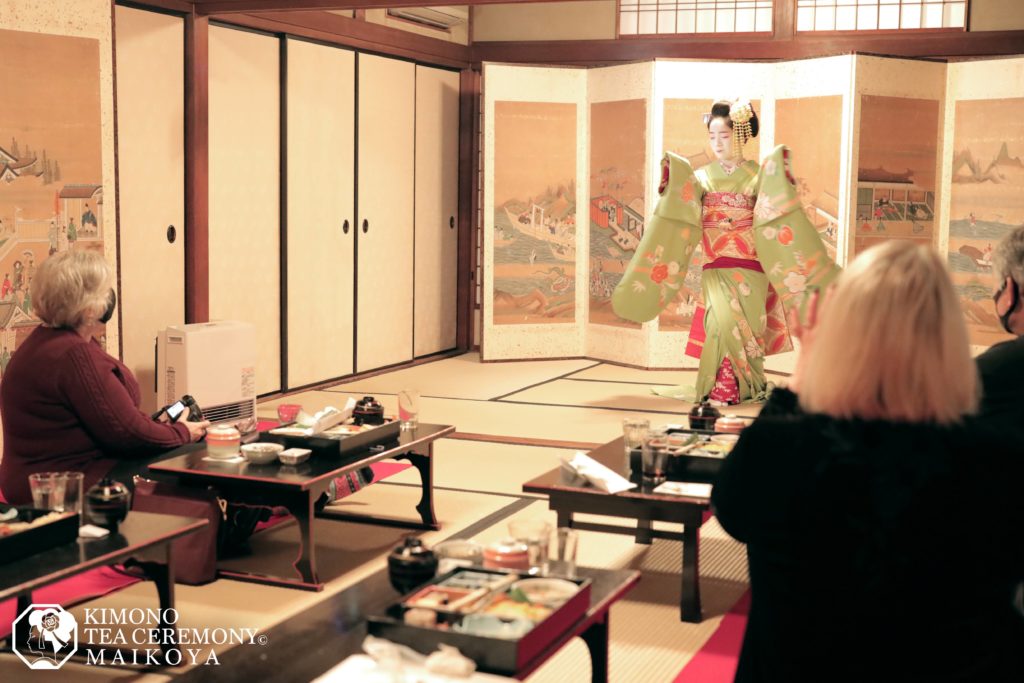 Inclusions: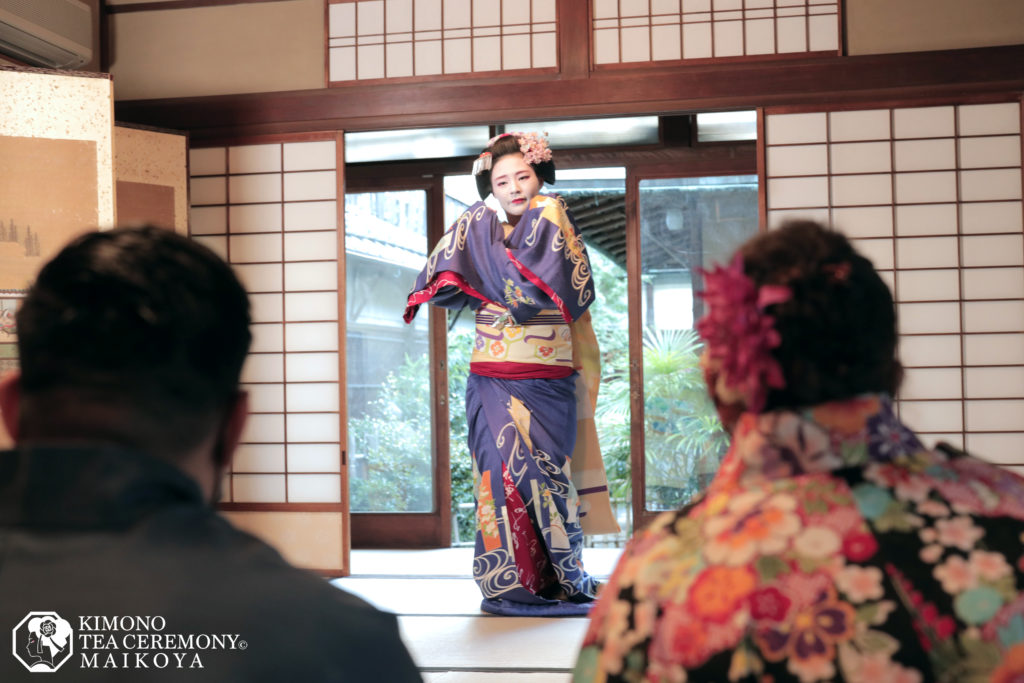 A professional English speaking tour guide

You will be escorted all the way

Japanese traditional meal in a traditional townhouse

You will be enjoying a Japanese meal with a Japanese traditional room. The teahouse has a friendly and relaxing atmosphere.

Geisha or maiko (apprentice geisha) dance performance

You can take pictures of the dance, and with the geisha or maiko after the performance.

Interaction with the geisha

After the performance, you can talk to the geisha or maiko and ask questions. If there is time left, you can also play traditional games.
This package lasts for about 90 minutes on average.
REGULAR PRICE
¥24,000 JPY / person
Book now with the coupon code to get discounts!
From December 25th to January 15th, all geisha are on New Year holidays. An additional charge of 3,000 JPY / person is required for reservations during this period. After booking, we will send you an email about this payment.
Highlights of the geisha dinner show at MAIKOYA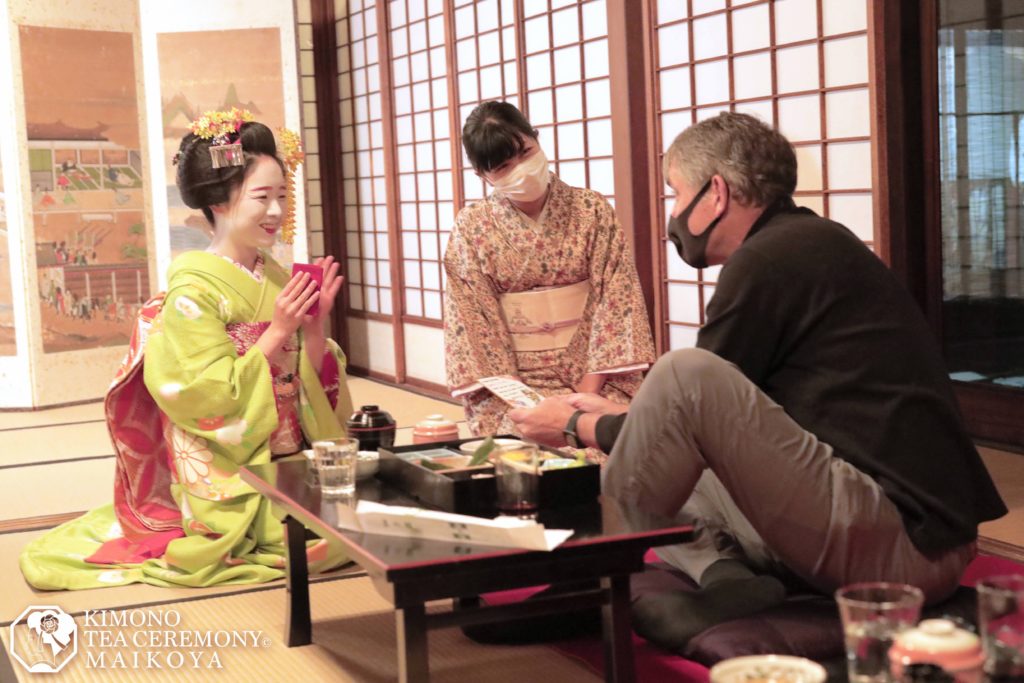 For centuries, travelers to Japan have been fascinated by the mysterious geisha and mesmerized by the alluring effect of the flower and the willow world. Now the doors of this secret world are opening to you!
You will feel as if you've traveled back in time when you step into our historic teahouse – a registered Cultural Heritage Property designated by Kyoto City.
We prepared the perfect geisha dinner plan along with engaging activities and explanations about the geisha tradition that will make this experience the highlight of your trip to Japan.
We are located in the heart of Kyoto so you never have to worry about the meeting point or finding your group!
Whether you want to learn more about the movie "Memoirs of a Geisha" or take a closer look at the fashion style of the geisha, we have many interesting things to share with you!
Kyoto has 17 UNESCO world heritage sites and thousands of temples but nothing will surprise you more than the untold stories of geisha whose lives are full of joy and countless sacrifices.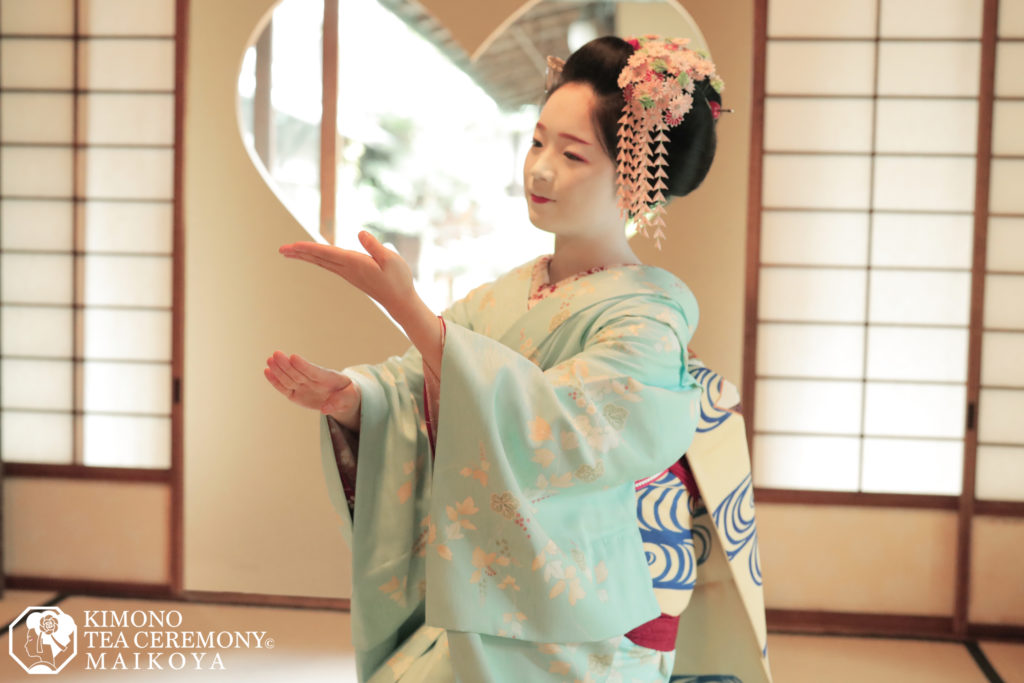 Geisha Performance
Lasts around 45 minutes.
The Geisha or Maiko Performance will take place in a traditional Japanese-style room at Maikoya Kyoto near the Gion District.
The Geisha, sometimes Maiko, will perform a traditional Japanese dance in a room where you and other guests will be allowed to take pictures. Please keep in mind to take them appropriately without much distraction.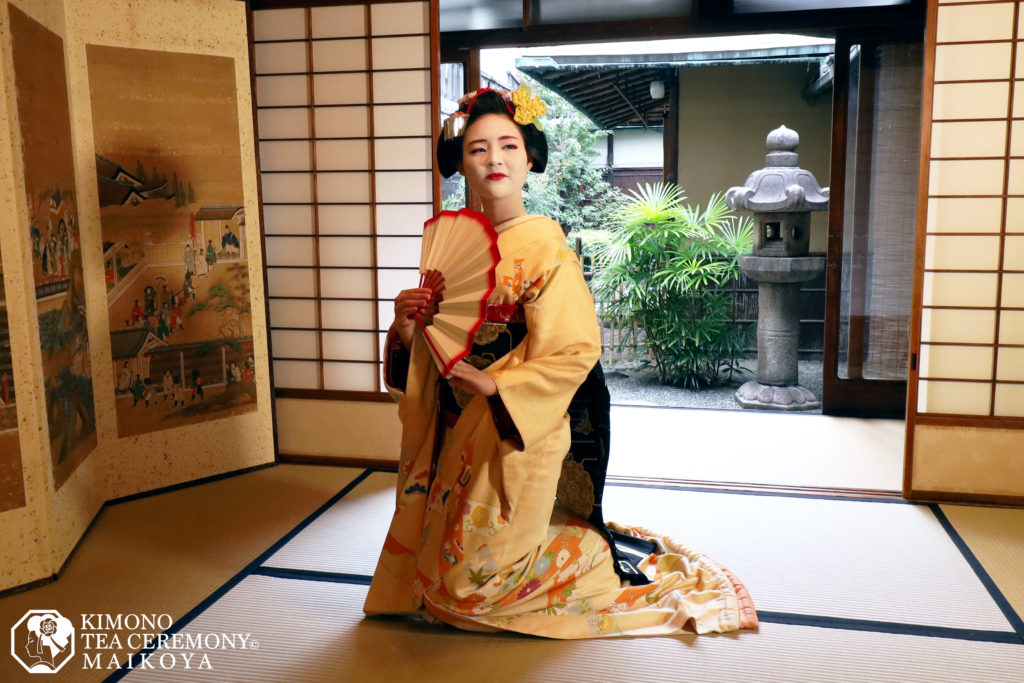 An MC will be present during the performance and explain the meanings and symbolisms of the outfits, and dance of the Geisha.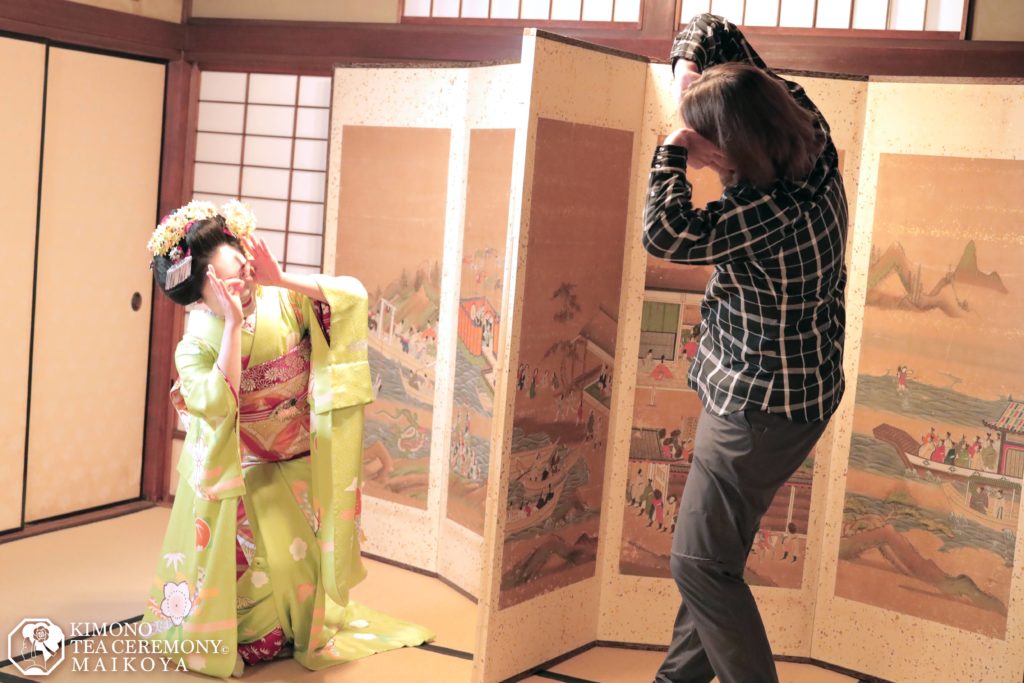 After the dance, you will be able to ask Geisha questions and take photos with her! There will be multiple genuine Geisha artifacts and displays in the building that you can also ask about. An interpreter will be present to help in case there are any difficulties with communicating.
If there is time left, you and the other audience members will get to play simple traditional games with the Geisha, such as ozashiki asobi.
Japanese Kaiseki Meal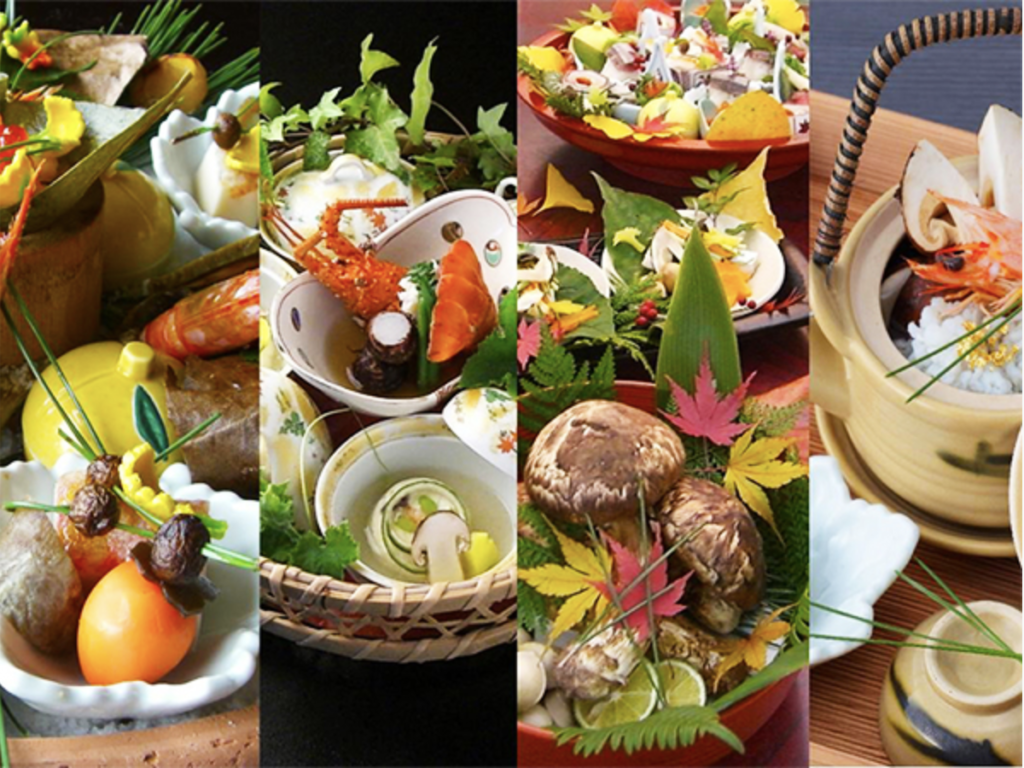 Since the food in Kyoto is always based on the season, the contents may change.
We cannot accommodate food allergies, gluten-free, vegetarian, or other special requests for ingredients.
Please remember
The geisha are human beings, they are not objects. You have to respect the privacy of the geisha. You have to understand that you endanger yourself and the geisha in the narrow streets of Gion when you come too close. You have to understand that geisha are likely on their way to work and they should not be late.
---
FAQs
What is a Geisha or Maiko?
The geisha are traditional Japanese performers who are well-versed in the arts like singing, dancing, calligraphy, and the tea ceremony. The maikos are geisha apprentices or geishas-in-training.
Can I take a picture with the geisha/maiko?
You can take pictures after the event and performance! Please remember to be respectful and ask for consent.
Is there a kimono included?
No, but we offer rentals for the event and dinner should you want to wear one. Please let us know beforehand so we can prepare and offer assistance.
Is there a dress code?
There is no dress code but it's typical to come with semi-casual style for the photos after the show.
Is the menu halal, kosher, or vegan/vegetarian?
The menu will usually include fish, beef, and other vegetables. There will be no pork. We cannot accommodate food allergies, gluten-free, vegetarian, or other special requests for ingredients.
Are kids allowed during the event? Is there an age limit?
Children under 6 can not enter the our venue. If you have a child under 6 in your party, you can not make the reservation for this experience.
Can I take a video of the whole experience?
Media appearance for geisha and maiko are strictly controlled in Kyoto so we would advise against filming the whole performance and ceremony. However, you are more than welcome to take videos of yourself and the geisha after the performance. Make sure to ask for consent!
Do I have to sit on the floor?
We also provide desks and chairs upon request if it's more comfortable for you!
How long does the show and dinner last?
The whole event will typically last around 90 minutes, with about 45 minutes or so for dinner, and 45 minutes for the geisha show.
Will there be an interpreter?
A professional English-speaking tour guide will escort you while a host will be present during the performance to explain the meanings and symbolisms of the geisha performance and culture.
Do you accept walk-ins?
This event needs to be booked in advance.
Will I meet a real geisha or maiko?
The majority of our performers are geishas-in-training called "maiko". We will also have the occasional geisha performer as well.
---
About Us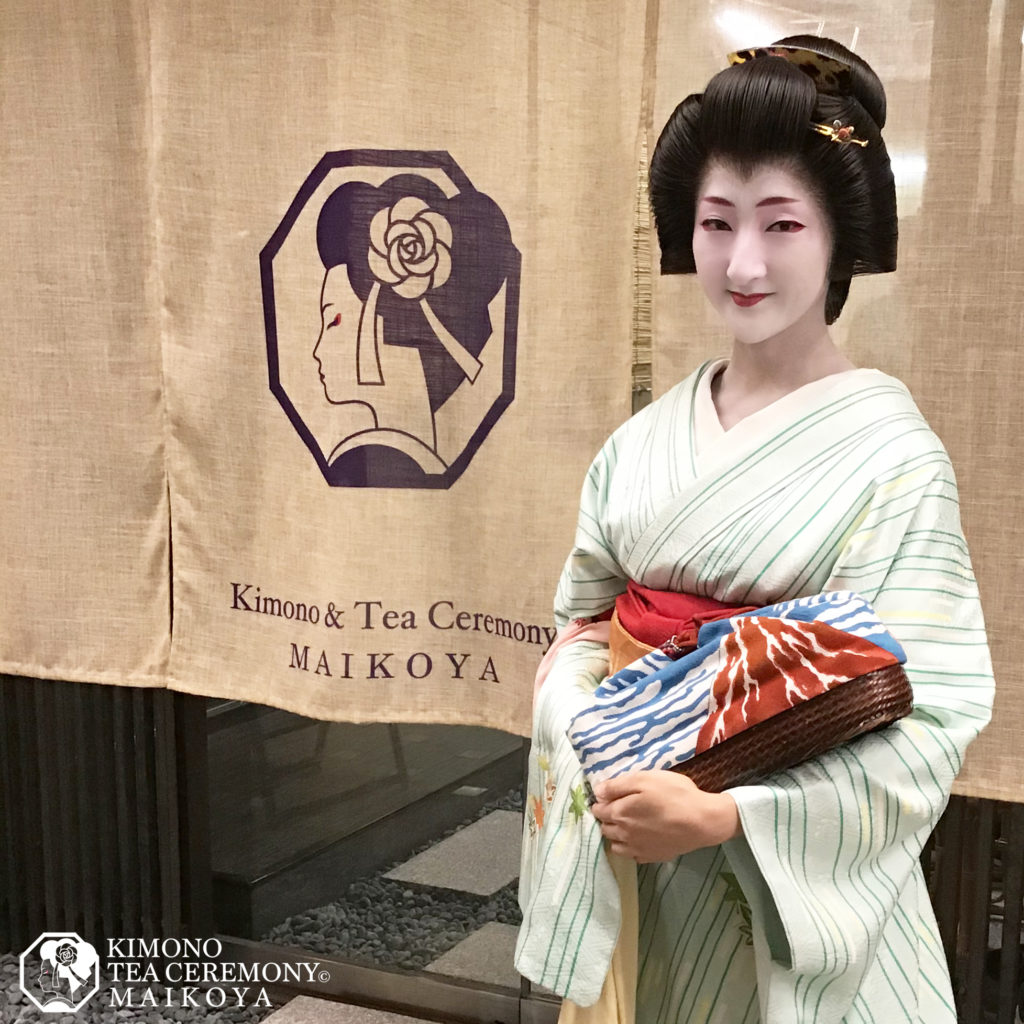 We are Maikoya Teahouse. All of our guides speak fluent English and know how to make you feel at ease by always being patient and smiling constantly. We also provide handouts in different languages in case you have limited language skills. By participating in this tour you will have a local "friend" showing you around rather than being dragged to routine places by a stranger.We know that travelers neither want a history lecture nor a fast facts trivia. They just want to feel like a local and learn the Japanese view of Geisha and Gion and the history. Our guests also often ask us about the souvenir shops, restrooms, hidden gems, transportation to their next stop and local favorite restaurants. So we prepared the perfect package tour with the best price that will make your trip to Japan extra rewarding.
Review
Based on 15 reviews