PRIVATE Okonomiyaki cooking experience in Osaka
Price
▶
Another 10% OFF for 10 or more people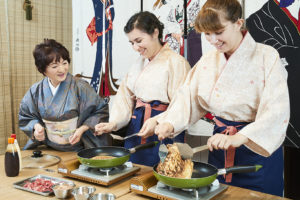 You will make Okonomiyaki. You can experience cooking wearing Kimono costume. Kimonos are prepared for both males and females.
***This is a private cooking session, there will be only you and the chef.
HIGHLIGHTS
*Create fantastic memories of your trip to Japan
*Opportunities for taking photographs will be highlighted throughout
*Special experience of Japanese culture
*Enjoyable experience with children
*Learning about the history of Japanese culture
Okonomiyaki is a kind of savory meat pancake that is made out of various ingredients including but not limited to nagaimo yam, dashi, red ginger , green onion, eggs and butter. It is known as one of the two most famous famous local dishes of Osaka.
Try a diverse range of ingredients and flavours unique to Japan
A friendly host will explain and demonstrate correct cooking techniques
Held in a Japanese styled kitchen
Opportunities for taking photographs will be highlighted throughout
Special experience to cook wearing Kimono costume
Miso is a fermented food, made from soybeans mixed with salt and the fermentation agent known as "koji". Since the end of the Second World War, Japanese eating habits have become westernized.  But even so, miso soup remains as popular as ever. There are many types of soup from clear ones to hearty ones with many ingredients can be a main dish. Each Japanese family has its own style and taste.
In this workshop, a qualified instructor will walk you through step by step of a customary Japanese meal. You will learn even more about the flavors of Japan, as well as the range of utensils used and explanation of the techniques required, while cooking a great Meal as well!
Learning about a country through cultural workshops and activities will give you a better understanding of our intricate history, valued social principals and holistic way of life. By learning about Japan and its people, you will be immersed in different perspectives and approaches that are unique to this country. Maiko Kitchen offers you opportunities to understand this culture through local instructors and guides. There is no better way to learn about a new place from the viewpoints of those who grew up and live in this amazing country. What better way to spend a day than learning a traditional, beautiful new activity with a knowledgeable tutor in a picturesque setting? You wouldn't find friendlier people to help you experience Japan in all its splendor.
The Japanese Cooking Workshop provides you will a once in a life time experience: learning traditional Japanese dishes from local cooks in Japan! Osaka is considered the food capital in Japan and there are many appetizing dishes from the area for you to try. Not only will you get to eat this delicious food, but learn how to make it yourself so you can make a feast back at home!
Children must be accompanied by an adult
Adult pricing applies to all travelers
*** Please let us know if you have any food allergies or Halal, vegan, vegetarian preferences.
[Best_Wordpress_Gallery id="4″ gal_title="CookingClassOsaka-Okonomiyaki"]