Online Kimono Experience by Kyoto Maikoya
Price
▶
Another 10% OFF for 10 or more people

Kyoto Kimono Experience Online by Maikoya
Traditionally, Japanese people wear a one-piece garment called kimono which emerged during the Heian period (794-1185). Kimono is made out of silk and each motif has a meaning. Cranes represent longevity; pine-trees represent the new year; the Chrysanthemum flower represents the imperial family. Kimonos usually have long sleeves for wind to pass through and cool down the body. While children wear kimono with bright colors and flower designs, the elderly wear simple kimonos with simple motifs. Nowadays, Japanese people wear Western clothes at work and school but prefer kimono for social occasions and ceremonies.
As the leading cultural experience venue in Japan and we also own and operate a small museum in Gion where we display antique kimonos. We love what we do which is helping people wear a traditional kimono and look their best. We are proud to teach you how to dress in kimono. You may be an experienced kimono fan or just someone who received a kimono set as a gift but has no clue how to put it on. Your host will teach you everything you need and beyond. Your experience/class includes
Explanation of symbols and meanings related to kimono
Explanations of the differences between various kimono types and yukata
Demonstration of how to put on a kimono
Demonstration of the ideal hairstyle for kimono
Explanations of kimono related Japanese customs and traditions
Question-and-answer session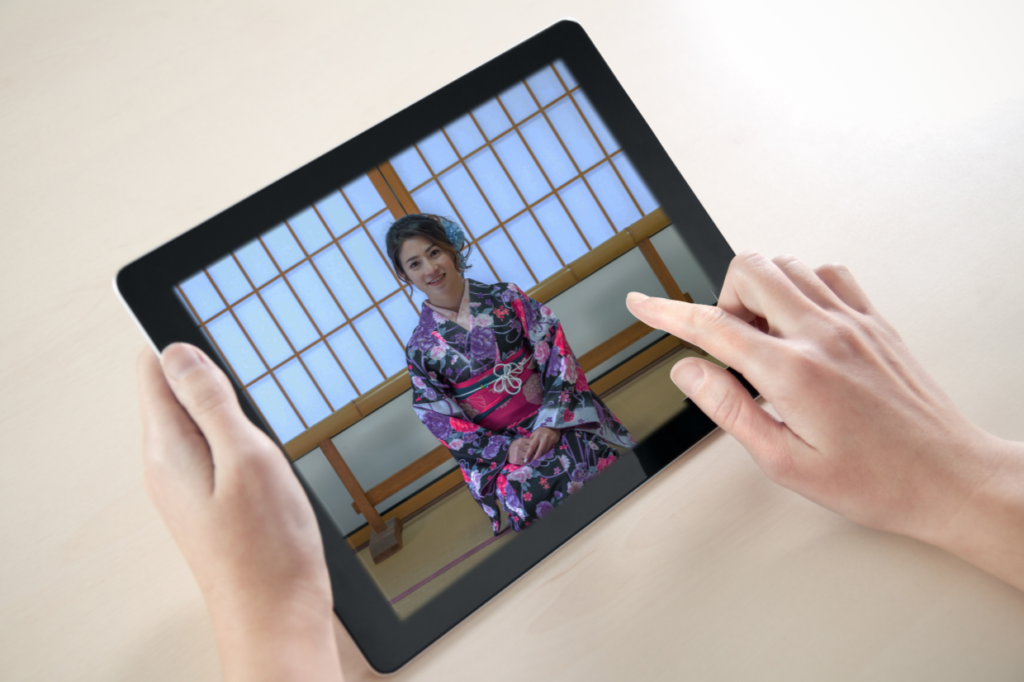 Process of Booking Kimono Experience of Kyoto Online
Step 1: Please make a reservation on this page and you will get a confirmation email automatically.
Step 2: We will email you a link to the online video call 24 hours prior to your meeting.  Just click on the link at your reserved time slot and enjoy the experience!
Please make sure to reserve at least 48 hours in advance.
There is no limit on the number of guests in your group.
It is expected that you have your own kimono or yukata to practice with.
Notes on Booking Kimono Experience Kyoto Online
The time slots listed on the reservation page is Japanese Standard Time (13 hours ahead of New York City, 7 hours ahead of Paris).
Please make sure you are joining the meeting by using a device with a camera and a microphone (iphone, macbook, airbook, webcam, etc.).
The teacher has to prepare for your meeting and also has to arrange her schedule in advance. So, please understand that there is a 100% cancellation fee if you can't participate in the meeting.
If you have concerns about us or looking for references for our services please read the reviews below.
Review
[grw place_photo="https://lh3.googleusercontent.com/p/AF1QipPPv_pwIJ1ZUSxpbB4z6jHQlZzLKtzs_m-JFkif=s1600-w300-h300" place_name="KIMONO TEA CEREMONY MAIKOYA KYOTO" place_id="ChIJc-ER9pIIAWARSYOriOksyWE" reviews_lang="en" title="Review" pagination="4" text_size="120" refresh_reviews=true lazy_load_img=true reduce_avatars_size=true open_link=true nofollow_link=true view_mode="list"]