Tea Ceremony Online [Virtual Tea Experience]
Price
▶
Up to 29 people, please enter 1 as the number of people. And please let us know the number of participants by email.
Online Tea Ceremony by Maikoya
Join us in an authentic virtual tea ceremony from a traditional tatami tea room in Kyoto and learn everything about tea! Despite the travel restrictions, you can still interact with an expert Japanese tea master with the help of Zoom and immerse yourself in culture, arts, and Zen.
Whatever your level of experience with the tea ceremony, you can enjoy this virtual course, gain insights into perfect tea making and uncover hidden meanings in this ancient tradition with our expert instructor.
We know how hard it may be for you to travel during these times, and we're here to step up. Book now to reserve your online course with us!
An Authentic Virtual Tea Ceremony
Through ZOOM, escape from the dullness of your daily routine for around 45 minutes to our online tea ceremony.
It all unfolds as our kimono-clad teacher greets you from our traditional tearoom, just like a face-to-face tea ceremony. You will find yourself admiring the simple and elegant Japanese interiors of the room, along with the harmonious blend of decor and accessories that will complement your experience with us.
Relax, enjoy and take on this unforgettable experience. This opportunity is sure to be enjoyable for lovers of matcha green tea and Japanese culture! There is simply no better way for you to experience the essence of Japanese traditions.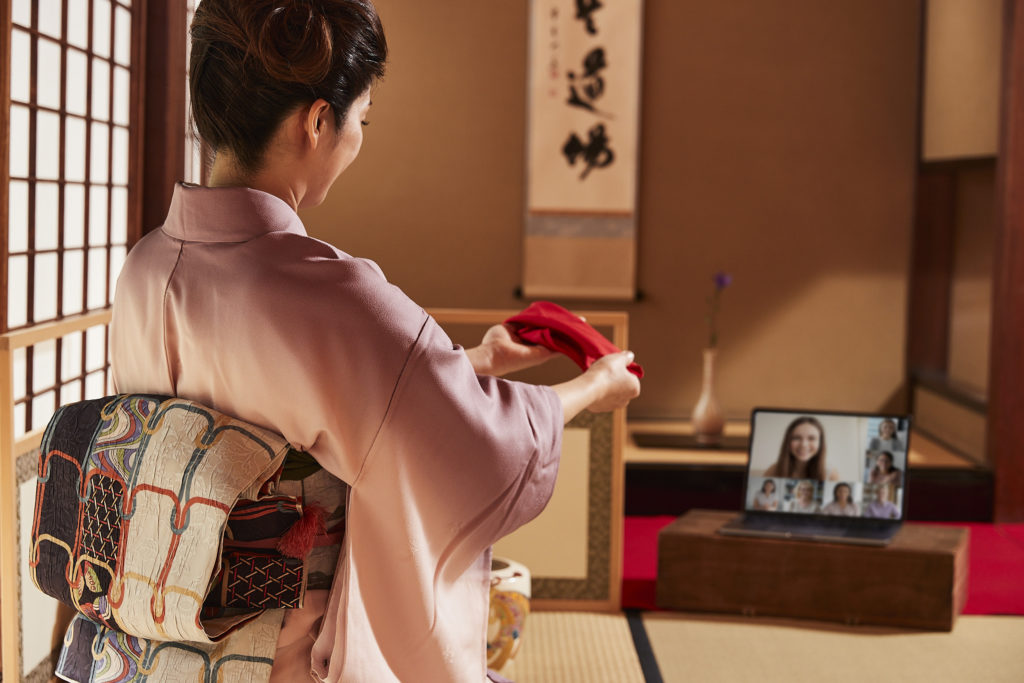 The package includes:
(each lasting around 10 mins.)
Explanation of the tea ceremony tradition and concepts
Demonstration of the traditional tea ceremony
Practice how to hold and drink from the tea bowl
Q&A
---

How to Book an Online Tea Ceremony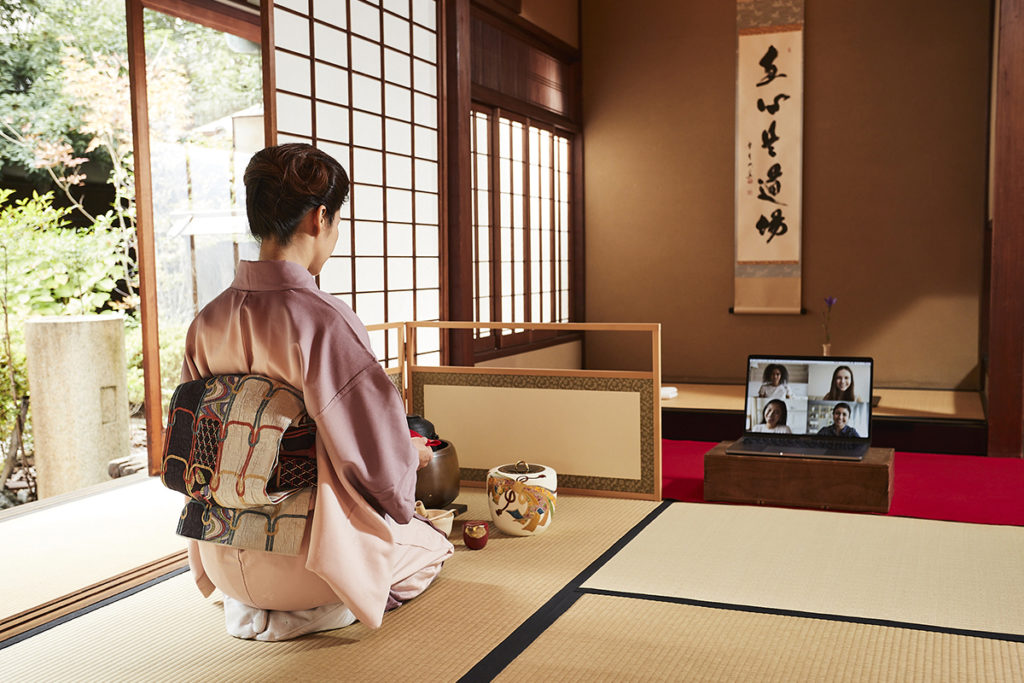 Step 1: Book your reservation on this page! We will send you a confirmation email within the day.
Step 2: We will email you a link to the online video call 24 hours prior to your meeting. Just click on the link at your reserved time slot and enjoy the experience!
Or send us an email at info@mai-ko.com with the title: Online Reservation. We get back to you within 12 hours.
The online session is a flat rate from 1 to 29 people. Please enter 1 for the number of people on the reservation form. If you would like to participate with more than 30 people, please contact us by email. info@mai-ko.com
* Please always reserve at least 24 hours in advance.
* Feel free to share the zoom link with immediate friends and family but not publicly.
* We ask for your cooperation to avoid recording the zoom session in full.
(Partial recording is acceptable.)
---

Reserving Your Japanese Tea Ceremony Online
Reservable time slots are in Japanese Standard Time.
Please use thetimezoneconverter.com to work out the best time for your location. 
Please join the meeting using a device with a video camera and microphone
(iPhone, MacBook, Airbook, webcam, etc.).
PRICE
1-29 people: ¥14,000 / group (tax excluded)
30+: ¥480 / person (tax excluded)
If you are having difficulties or questions about your booking, contact us at info@mai-ko.com
Just one click away – reserve this lovely experience as early as tomorrow!
Recommended Tools and Ingredients for Participants (OPTIONAL)
There are a few tools and materials needed for your tea ceremony, but you are not required to prepare specific items. We are flexible and can work with anything you have available!
The teacher will make all arrangements accordingly.
A tea bowl. Or, if you have no tea bowl available, simply use a bowl from your kitchen, 8-20 cm in diameter (any medium-sized bowl is OK)
Hot water in a thermos flask or container.
Matcha powder OR any teabag – including regular teabags.
A sweet snack like a dessert or cookie on a small plate.
A clean handkerchief.
---
Experience Japanese culture with Maikoya!
Maikoya was one of the pioneering institutions in Japan to provide online cultural experiences that have attracted media coverage
Maikoya is the largest experience provider of its kind in Japan, with branches in three major cities and catering to over 100,000 guests
Maikoya is the ONLY three-time consecutive TripAdvisor Travelers' Choice winner in its category in Japan
Maikoya is the only traditional tea ceremony venue in Japan to have earned over 2500 five-star reviews on Google and other platforms
---
User Voice
"I was given a tea ceremony experience from Kyoto Maikoya as a gift from a friend in August. As someone who has been fascinated by the traditional Japanese arts and ways for all of my adult life, I found it a most authentic experience, even though I was in Australia and we participated via zoom.  The tea master was gracious and generous, ensuring that I understood the significance of each step of the ceremony.  Though her English was most understandable, a translator was handy if required. The tea room was beautifully appointed and I felt welcomed into that space even though it was a virtual encounter. A very satisfying experience. I would not hesitate to recommend Kyoto Maikoya."
M. Johnson, MD Victoria, Australia
User Voice
"Kimono Tea Ceremony Maikoya was an extraordinary and unique experience in which our guests were exposed to the cultural background and significance of the traditional Japanese Tea Ceremony. They welcomed us in a very warm and personalized tea room where every person in the room was participating with us virtually. The tea garden was a beautiful tour as well. For English speakers unfamiliar with this experience, fret not because they make you feel so comfortable and even teach you some Japanese! The only thing we yearned for while attending this event was to be there in person. Highly recommended! "
Erika M., Product Marketing Managers Team at Google
---
Take a Traditional Japanese Tea Ceremony Class
We have an easy-to-follow course on authentic traditional tea ceremonies over ten weeks at our Online Tea Ceremony 10 Lesson Pack for beginners and students of all levels and backgrounds. This virtual class will give you a deeper understanding of the Japanese cultures and traditions surrounding the tea ceremony with an expert instructor.
You can reserve and schedule your class here or send us an email at info@mai-ko.com.
Get started as early as tomorrow on your tea ceremony classes!
---
Online Tea Ceremony for team building
Team-building through our tea ceremony has already proved to be a game-changer for many multinational companies like Uber, Unilever, Gucci, ExxonMobil, Google, and many more.
Bring your colleagues, groups, or teams along for a relaxing and enjoyable journey of discovery of the Japanese tea ceremony and culture. This is the best opportunity to get to know new members of your company and teams! This is a ZOOM session no one will want to miss.
Our online tea ceremony can cater to a number of clients, including university student classes and faculty, company staff teams, groups, and many more.
With us, you can collectively embrace a virtual and visual feast! Our kimono-clad instructor will show you how to make the perfect bowl of matcha green tea and shed light on this well-preserved and treasured practice.
If you have any questions, just send us an email at info@mai-ko.com with the subject: Online Reservation. We will get back to you within 12 hours.
Maikoya is the only culture-focused team-building company in Japan that served thousands of guests worldwide, including household-name companies like Uber, Unilever, Gucci, ExxonMobile, Google, and more! We also offer Japanese team-building events in Tokyo for organizations interested in unique team bonding activities either online or offline.
Maikoya is also the largest cultural experience provider in Japan with 4 physical locations including a full-fledged museum. We treasure your experience with us in Japan, and online! We will prepare according to what you need for your best time in our care, so you can enjoy and relax for your uniquely Japanese team-building and teamwork activities! We are sure that what we offer will be popular and delightful to everyone on the team.
---
Japanese Tea Ceremony
The Japanese tea ceremony is a centuries-old practice composed of elements throughout the country's history. The ritual ceremony has contributed greatly to the shaping of Japan's modern society all the way back to the shogunate from 300 years ago and beyond the Edo Period.
The tea ceremony is composed of a choreographed set of steps in the preparation and presentation of matcha tea from the hosts to the guests. Depending on the experience of the guests and the host, there are a number of manners and etiquette to be followed, although most modern ceremonies are not strict.
The tea ceremony is not unique to Japan. China and Korea have a variation of the Japanese Chanoyu, all influenced by Zen Buddhism. What sets apart the Japanese version, however, is the refinement by Sen no Rikyu, the father of the modern tea ceremony in Japan.
The main purpose of the tea ceremony is to prepare and offer a delicious bowl of matcha, while at the same time creating a calming and aesthetically pleasing environment to enjoy the tea in.
About Maikoya
Maikoya is a leading cultural experience provider in Japan, with a constant spot in TripAdvisor's list for Japan's Top Experiences for three consecutive years. There are three main branches located in Tokyo, Kyoto, and Osaka that provide the same quality experience in traditional tea ceremonies, tours, workshops, and many more!
Our tea ceremonies are one of the best experiences you will have in Japan–and now you can have one anywhere with our Online Tea Ceremony! You don't have to travel when you can book your virtual experiences with us online.
---
Other Online Experiences by Maikoya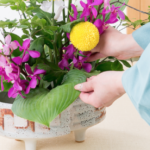 Ikebana flower experience
Ikebana means making flowers alive or giving flowers life. It is the Japanese way of flower arrangement also known as kado. During the Heian period, the priests who took care of altar arrangements were called ikenobo and they are the first known masters who developed the best way of arranging flowers.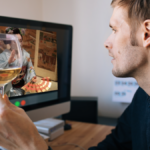 Geisha Online – PRIVATE Meeting with a Geisha from Kyoto
it was impossible to meet a geisha for first-timers because in Kyoto there is a rule called "ichigensan okotowari" which means personal reference is necessary for a geisha meeting. But, now, for the first time ever, you can meet a real geisha from Kyoto's geisha district online.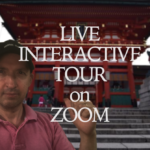 Visit Fushimi Inari LIVE
For the first time ever, you can visit this historic site live led by an experienced tour guide live. Since this is not a video but a live-streamed walking tour held privately you can ask questions and interact with the tour guide.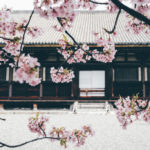 Virtual Kyoto Tour with a Local Tour Guide
You can now travel to Kyoto and visit its unique world heritage sites from your living room. A local tour guide will explain the history and culture of Kyoto and take you to off the beaten track spots of Kyoto.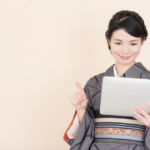 Online Kimono Experience by Kyoto Maikoya
Traditionally, Japanese people wear a one-piece garment called kimono which emerged during the Heian period (794-1185). Kimono is made out of silk and each motif has a meaning. Cranes represent longevity; pine-trees represent the new year.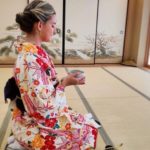 Virtual private tea ceremony via ZOOM
You may be tired of meetings and interviews via ZOOM. At MAIKOYA, however, we use it to give you a bespoke and unforgettable private tea ceremony experience.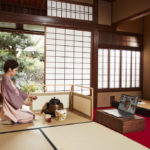 Virtual tea ceremony for teams and groups via ZOOM
Tea: the world's favorite drink. Nobody celebrates this beverage more artistically and beautifully than the Japanese.
Gaining an insight into the centuries-old tea-drinking culture so intrinsic to their life remains a must-try experience.
Review
Based on 12 reviews