Cancellation and refund policy
No cancellation fee, cancel any time
Click button below to make a payment.
PERFECT Honeymoon Package in Tokyo Kyoto Osaka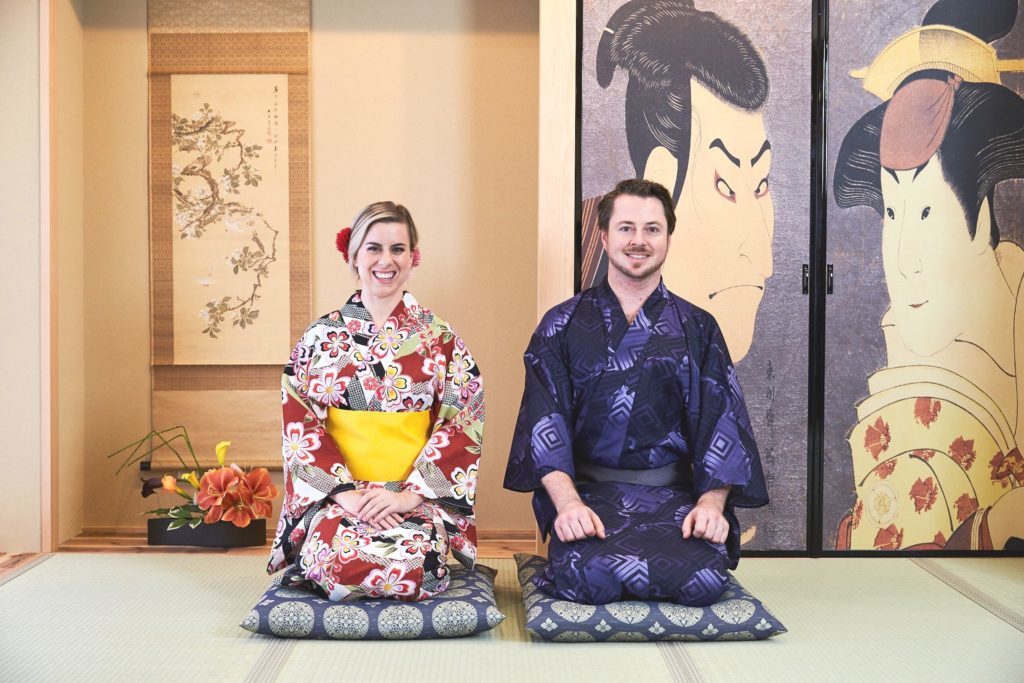 If you are searching for romantic things to do in Kyoto for your honeymoon trip to Japan I have good news for you. The Perfect Japan honeymoon package which includes unique honeymoon experiences in Tokyo, Kyoto and Osaka is the best way to plan your Japan honeymoon.
Japan is one of the best honeymoon destinations in the world. You could experience beautiful traditional culture, perfect hospitality, and wonderful cuisine. All activities we offer are indoor activities so you don't need worry about the weather. If you are not sure how to plan your honeymoon in Japan, this is the perfect Japan honeymoon package. Check your honeymoon to-do list!
What can you expect in this experience?
Beautiful Honeymoon photo
Wedding kimono for women and men
Private tea ceremony experience
Trying Japanese sweets
Sushi making experience
Calligraphy and origami experience
IN TOKYO
Kimono Photo and Love-themed Origami & Calligraphy Experience 
Our Tokyo tea house is famous for tea ceremony and cooking classes but we spared those honeymoon experiences for Southern Japan. In Tokyo, you will have an interesting and a memorable experience. First you will write your names and the kanji character and then the character of love. A Calligraphy expert will kindly explain the connection between meditation and Japanese calligraphy and teach you how to use the brush to create strokes like the Japanese. The staff will help you to take picture of you with your calligraphy in traditional Japanese room.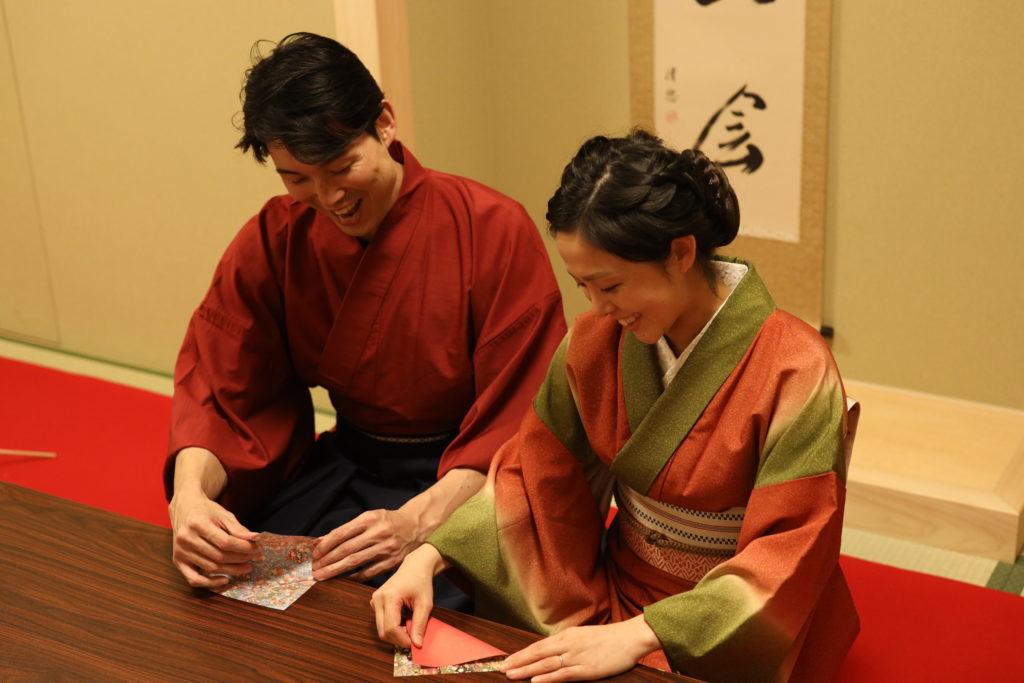 The staff will also teach you how to make Japanese cranes which is believed to bring luck and represent longevity in Japan. The motif of crane is often used in wedding ceremonies. You will have a collection of beautiful and delicate origami pieces and Calligraphy artwork that you can take home and show your friends and family. It will be fantastic memories of your honeymoon!
You can also separately reserve Tokyo kimono tea ceremony, or Tokyo sweet making at the same location here
The location of this experience is Maikoya Tokyo.
IN KYOTO
Honeymoon Photo shooting and Private tea ceremony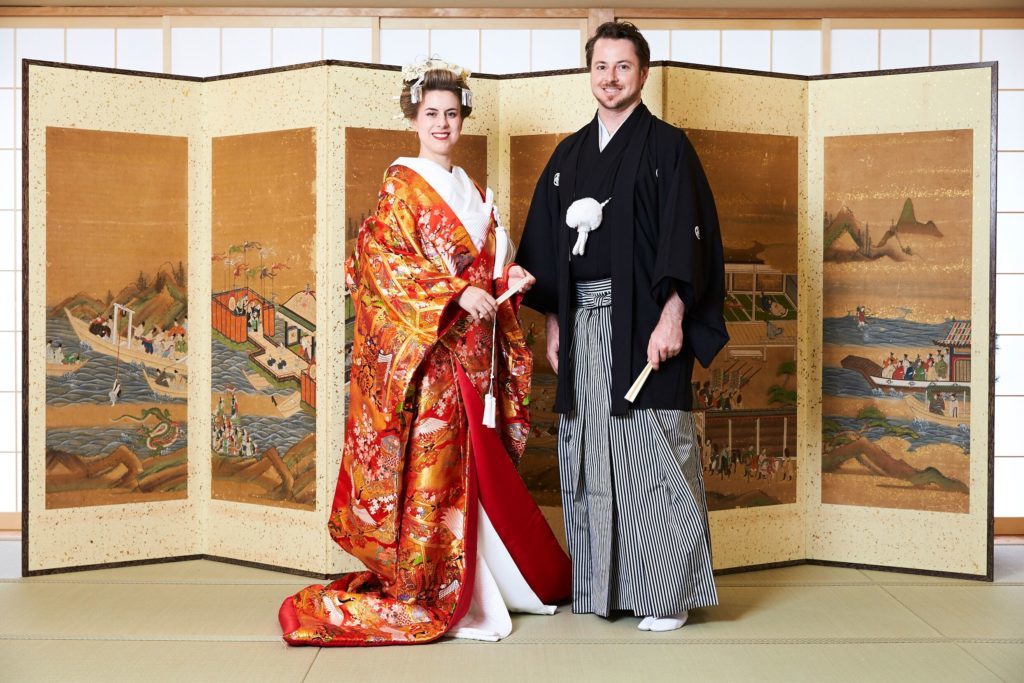 You will have a lovely tea ceremony by wearing a traditional kimono. In this workshop, a qualified instructor will walk you through step by step of traditional tea ceremony. This is a ritual-like activity where ceremonial tea is prepared and presented to promote physical and mental well-being, mindfulness and harmony. There will be no one but two of you in beautiful tatami room. It would be most romantic things to do in Kyoto!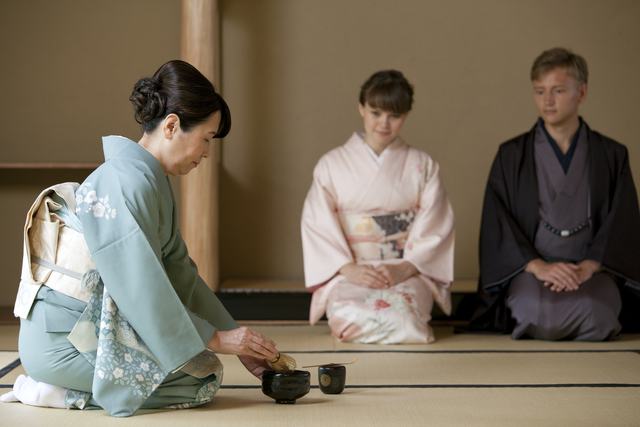 After the tea ceremony the bride will wear the colorful wedding gown and the groom will wear the wedding style hakama. We also apply appropriate hairstyles for you. The staff also will take your picture in front of the heart mark studio and mail the pictures to you. After the shoot, you'll be able to choose your favorite photos. It must be amazing honeymoon pictures.
You will get complimentary tickets to visit to our Geisha Museum and Samurai & Ninja Museum.
If you want to separately book private kimono tea ceremony in Tokyo please click here 
The location of this experience is Maikoya kyoto.
IN OSAKA
Sushi making class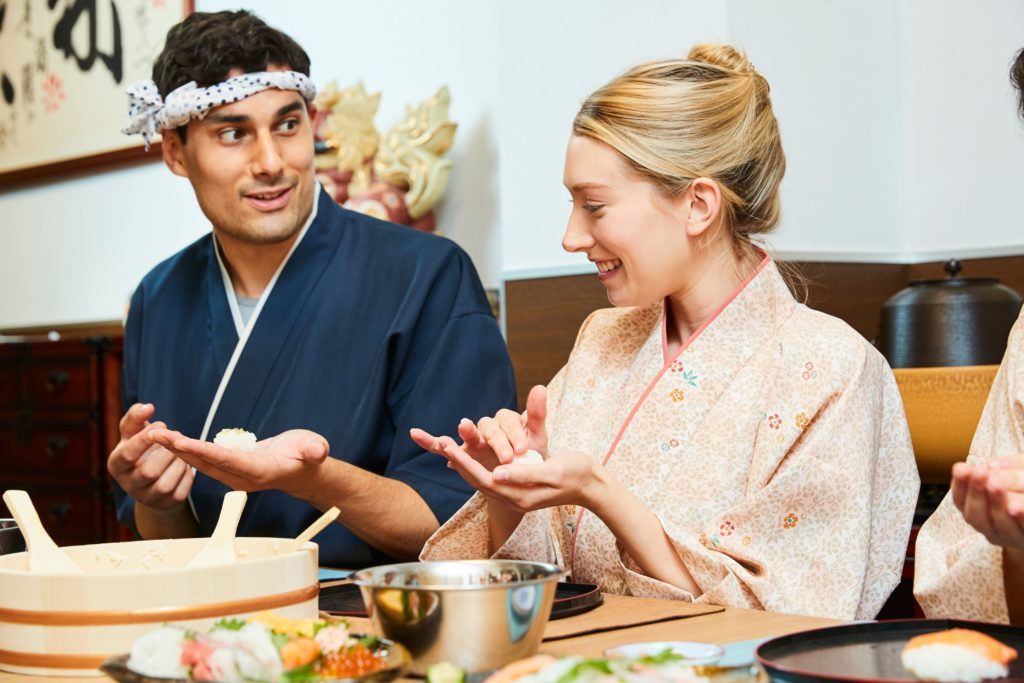 You will have a private sushi making class. This perhaps would be the most special sushi of your life you make from scratch. Osaka is considered the food capital in Japan and there are many appetizing dishes from the area for you to try. Not only will you get to eat this delicious food, but learn how to make it yourself so you can make a feast back at home!  The location of this experience is Maiko Kitchen Osaka.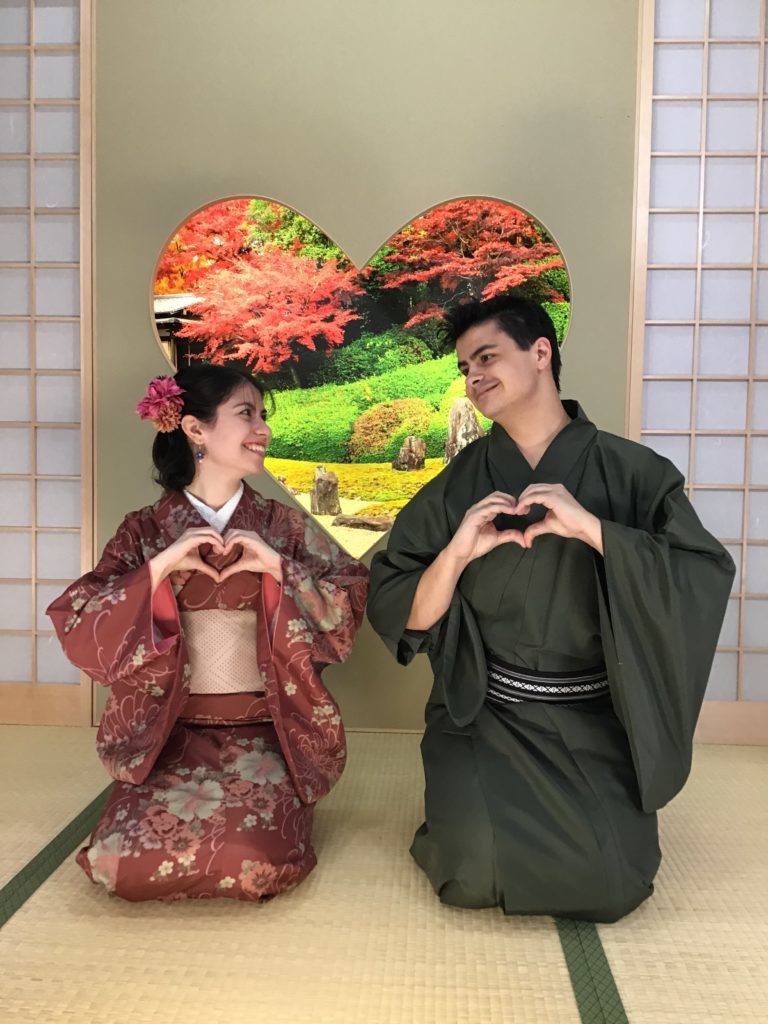 PS: The dates and hours of this event are very flexible as we run all the facilities. But you must chose a date and hour for your first experience. When choosing a date please chose the date and time for your first experience (e.g. 02/20, 4:00 pm). Please type in your desired date and time for each location in the "notes" section. Regardless we will confirm your desired dates within 24 hours. In case you are wondering you will spend roughly 2 hours for each experience.
Frequently asked questions
Can I trust your company? Maikoya is the largest experience provider in Japan that operates multiple venues throughout the country and also runs the samurai & ninja museum in Kyoto. Maikoya offers the best rated tea ceremony experience, geisha experience and samurai sword cutting experiences in Japan.
I am flying to the Kansai airport. Can I have the first experience in Osaka or Kyoto instead of Tokyo? Yes, absolutely, You can choose the order of these honeymoon experiences. Once again we will send you a confirmation email with your desired dates and locations.
What if I don't want to do some of the experiences? You can skip some experiences but this is a package deal, the price wouldn't change.
I am not going to visit Osaka, can I do the cooking experience in Tokyo instead? Sorry all these locations are set : Tokyo-calligraphy and origami, Kyoto: wedding photo and private kimono tea ceremony, Osaka: cooking class
I want to do okonomiyaki cooking instead of sushi cooking is it ok? Yes we can give you another option instead of sushi (okonomiyaki, takoyaki, ramen cooking)
I am allergic to certain foods, can I join the cooking activity. Please let us know any food concerns (halal, kosher, gluten free, etc.) or allergies.
I saw that you provide geisha experiences in Kyoto, can we have a geisha tea ceremony? We can allow you to have a private geisha tea ceremony which costs an additional $250 per person.
The pictures you take, are they good quality? They are taken by trained staff with high resolution camera in a good lighting. If you want a professional wedding photographer, we can introduce that service as $750 per 2 hours.
I have just made the reservation with our first experience date, what should I do now? Just wait for our confirmation email (you should be receiving the confirmation email soon) and start dreaming about your lovely honeymoon in the land of the rising sun.
Should I add a professional photographer? You may wonder if it is worth paying extra to add a professional photographer or a wedding photographer. Please consider the following. Our staff is more than happy to take your photos with high-resolution camera and share with you via email with no additional cost. If you are just joining these activities for fun then you don't need a pro photographer and the high resolution photos we take for free are usually enough. However, if you are planning to frame some of these photos and hang in your house and share with your loved ones, then you may want to add a pro photographer as he/she would spend more time taking photos, be more careful about lighting and also use some digital editing.
Included

Wedding kimono for women and men

Not Included

Maps

Organizer




Kimono Tea Ceremony Maikoya Kyoto

We are a cultural experience venue located in the heart of Kyoto, the cultural capital of Japan. We pride ourselves on providing authenthinc experiences in Kyoto. Founded on the four main pricinples of tea ceremony (Harmony, respect, purity and tranquility) Maikoya has gained recognition among both locals and foreigners. Maikoya also recently has been selected as one of the best tea ceremony venues in Japan by Tripadvisor. Learning about a country through cultural workshops and activities will give you a better understanding of our intricate history, valued social principals and holistic way of life. By learning about Japan and its people, you will be immersed in different perspectives and approaches that are unique to this country. Maikoya Kyoto offers you opportunities to understand this culture through local instructors and guides. There is no better way to learn about a new place from the viewpoints of those who grew up and live in this amazing country. What better way to spend an afternoon than learning a traditional, beautiful new art form with a knowledgeable tutor in a picturesque setting? You wouldn't find friendlier people to help you experience Japan in all its splendour.

---

Our address is Japan, 〒604-8006 Kyoto, Nakagyō-ku, Nakanocho, 565-4 JP Take Exit 9 at the Kawaramachi Station  google map

---

Our phone number is 075-606-5303

---

Our email address is kyoto@mai-ko.com

---

*** Please let us know the gender ratio and if you have any food allergies, Halal, gluten-free, vegan or vegetarian preferences.

Frequently Asked Questions FAQ

Do you accept walk-ins?

Yes, we accept walk-ins. However, it is chepaer to book online and you may need to wait if you show up without a reservation especially during the peak season.

Do I need to wear a kimono?

Traditional tea ceremony is usually conducted by wearing a kimono but since you may simply not be interested in it or you may be pregnant (earlier than 3rd trimester OK) we don't require you to wear a kimono.

Do I need to sit on my knees all the time or I can sit comfortably? Can I sit on the chair?

Yes you can sit comfortably without sitting on your knees. Yes we do provide chairs and desks if you need.

What is the etiquette for tea ceremony?

Please remember to --take your shoes off, --be quiet and not talk to your partner throughout the ceremony, —not use your cell phone (we allow photos before and after) but ideally you should forget worldly and materialistic thoughts.

Do you have kimonos for kids?

Please remember to --take your shoes off, --be quiet and not talk to your partner throughout the ceremony, —not use your cell phone (we allow photos before and after) but ideally you should forget worldly and materialistic thoughts.

Do you have plus size kimonos?

Yes we do have extra size kimonos. If you are a plus size please let us know when you reserve about your size.

Can I walk outside wearing the kimono for the rest of the day?

Yes! you can walk outside with additional fee JPY1000 by 6 pm!

Do you provide any hairdo services?

Yes (for females), we will make sure you look your best and your hair matches the traditional kimono style.

Do you only show activities or you explain the meanings, symbols etc?

Of course we explain all the meanings and symbols. We also answer many questions you may have (what tis the relationship between zen and tea ceremony, what is the relationship between zen and shodo, what is the difference between Shinto and Buddhism, etc.)

Do you have a souvenir shop where I can get matcha tea, tea ceremony set, calligraphy set, etc. to remember my experience?

Where can I buy a kimono?

We can recommend you a few nearby shops that sell 2nd hand, upscale and economy kimonos, yukatas, samues and hakamas.