PRIVATE Geisha (Maiko) Tea Ceremony and Performance in Kyoto Gion Kiyomizu (Includes Kimono Wearing)
Price
▶
The above is the unit price for 5 people. The fee for 4 people or fewer is 90,000 yen per group.
Enjoy a special geisha performance just for you!
This is a special event joined only by you. Whether you are seeking a memorable experience in Japan or just on a honeymoon, this is a very unique experience you will remember for the rest of your life. Please don't worry about the location or communication with the geisha (maiko) as our location is near the central Gion-Shijo station and our English-speaking staff will be present to interpret for you.
Geisha and apprentice geisha called maiko, train for years to perfect the traditional Japanese arts. One of the aspects of their training is performing the tea ceremony.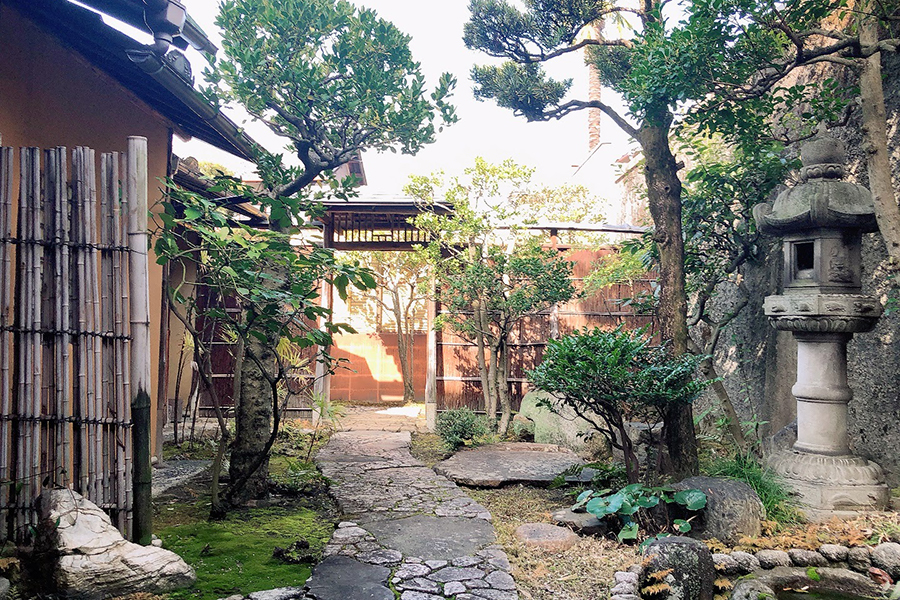 Location
Kyoto Geisha Show & Experience GION MAIKOYA
100, Rokurocho, Matsubara-dori Yamatooji Higashi iru, Higashiyama-ku, Kyoto
京都市東山区松原通大和大路東入轆轤町100
---
*This building is a registered tangible cultural property in Japan.
*Children under 7 can not enter the tea ceremony venue.
*MAIKOYA has multiple branches. Please double-check the address you should visit. If you visit the wrong branch, you will need to relocate, resulting in a shorter meeting time with the geisha.
PRIVATE Geisha or Maiko Tea Ceremony and Performance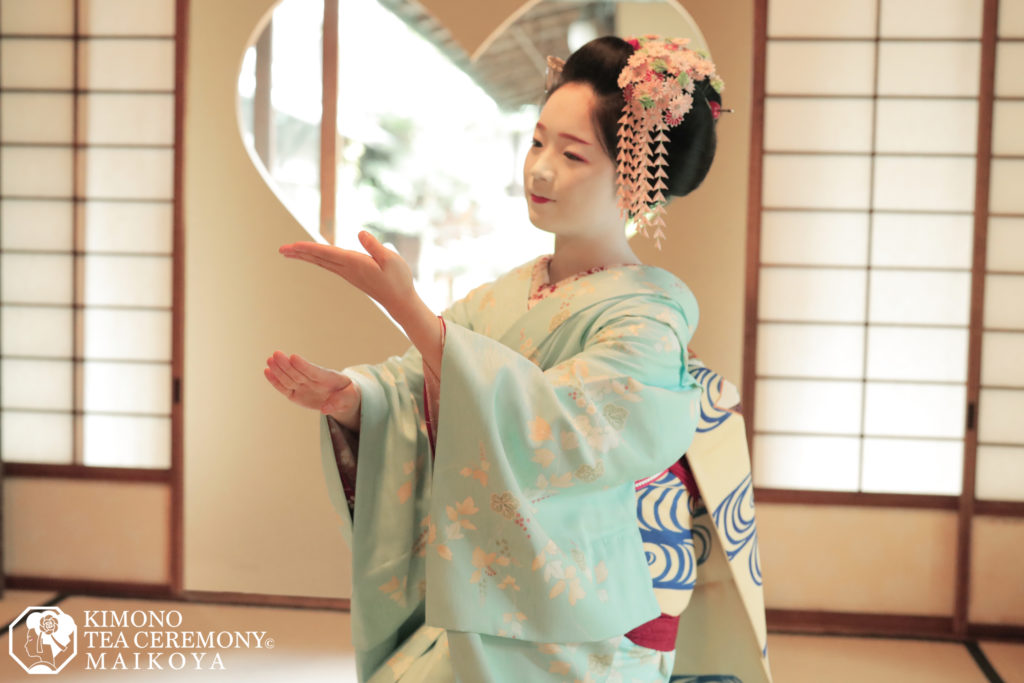 Lasts approximately 90 minutes
Inclusions: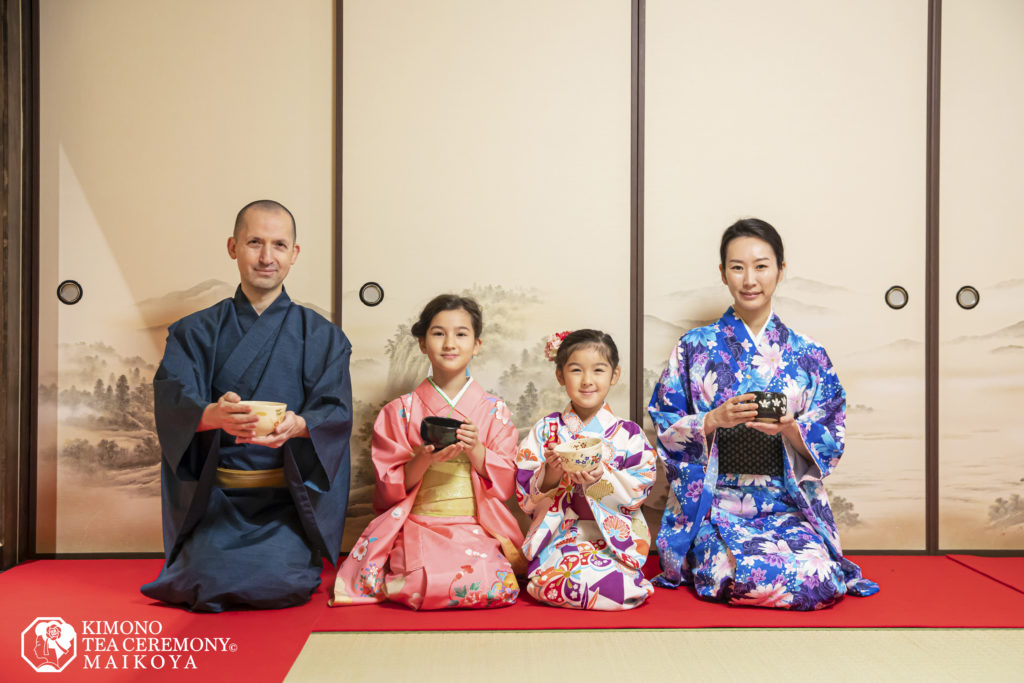 A traditional kimono will be provided for you for the duration of the tea ceremony and geisha or maiko performance. You can choose from our selection of beautiful kimonos! For the ladies, our staff will be assisting in arranging your hair to suit the design of your kimono.
Tea ceremony tools and ingredients will be available once the tea ceremony starts for your to learn and create your own perfect bowl of matcha.
Wagashi are traditional Japanese sweets that are best eaten with matcha tea. You'll be tasting the seasonal treats and experience the unique tastes of Japan!
Tea ceremony demonstration and participation. The geisha or maiko will be showing you the steps for the ceremony with an interpreter present.
Geisha or Maiko performance. A short, traditional dance will be performed for you after the tea ceremony. Most of the performers at Maikoya are maiko. However, we also have geisha performers on certain days.
---

Experience the rich culture of Japan!
Kyoto is the traditional home of the geisha and its cultures, and it is the best place to go for performances and traditional arts. The geisha start as maiko and would train for years from a young age to be able to perfect their crafts.
A part of their training is the tea ceremony – a tradition that is typically performed under the cherry blossoms on rare and special occasions.
Maikoya Kyoto preserves this tradition for both locals and travelers to witness and participate in, in addition to a short traditional dance. This event will be held near the Gion-Shijo Station!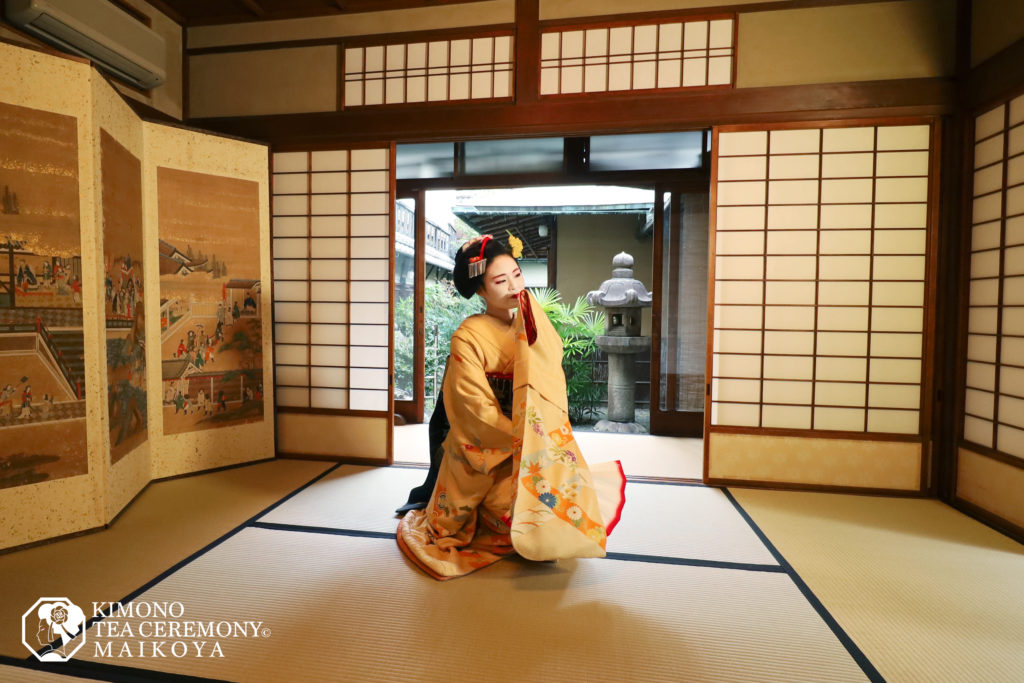 Regular price
1 ~ 4 people : 90,000 yen / group
5 people+ : 18,000yen / person
Enter the coupon code to get an additional discount!
From December 25th to January 10th, all geisha are on New Year holidays. An additional charge of 20,000 JPY is required for reservations during this period. After booking, we will send you an email about this payment.
We have a unique cancellation policy for geisha events. Cancellation Policy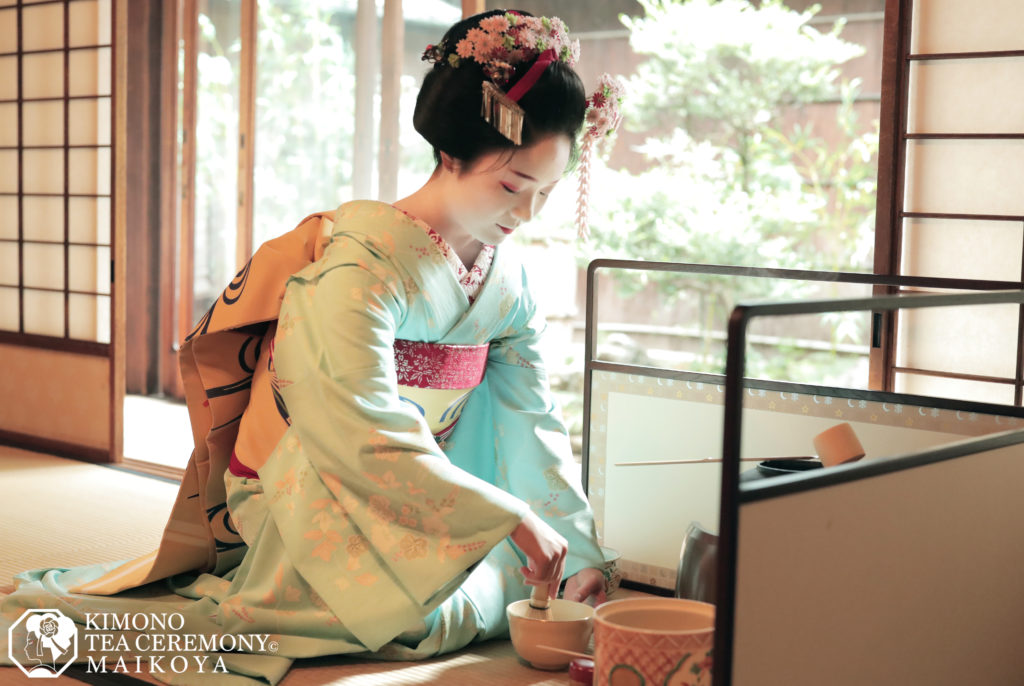 Geisha Maiko Tea Ceremony Kyoto
As part of their training, the geisha (maiko) in Kyoto learn how to conduct tea ceremony and often hold tea ceremony under sakura trees on special occasions. At KIMONO TEA CEREMONY KYOTO MAIKOYA, we want to preserve the unique geisha culture of Kyoto by holding the geisha tea ceremony sessions for locals and travelers whenever possible. Come and enjoy this once in a lifetime experience before it is sold out. In this workshop, a Maiko will walk you through step by step of the traditional tea ceremony. This is a ritual-like activity where ceremonial tea is prepared and presented to promote well-being, mindfulness, and harmony. It is also called the Way of the Tea. The tea itself is a powdered green tea and is called Matcha.
---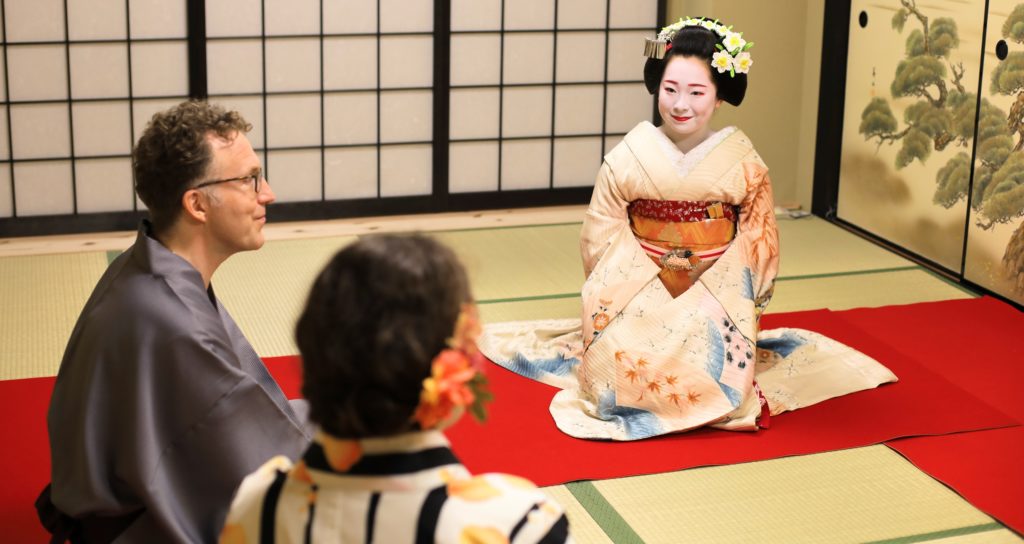 Just in case if you were wondering:
You are allowed to take pictures in the tea ceremony room after the ceremony as well as the other rooms and in front of our unique backdrops
You are allowed to sit comfortably on the floor (without sitting on your knees on the tatami mat). We also provide bamboo chairs for those who prefer not to sit on the floor
We are confident that this experience will be your best souvenir from Japan. You can easily make a reservation now by choosing the best date for you.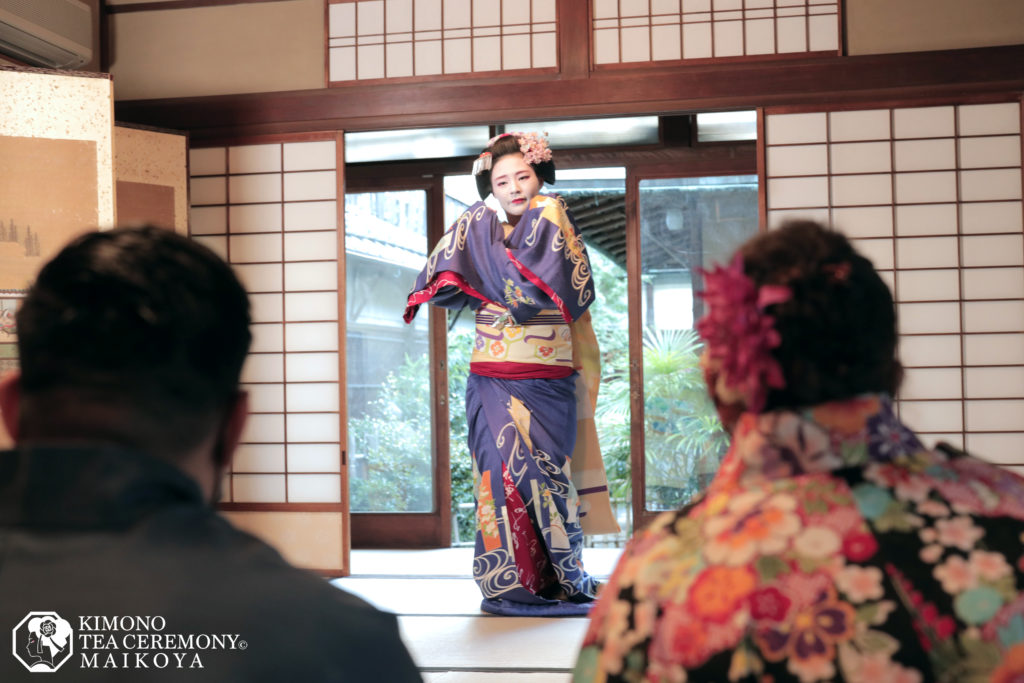 Kyoto Geisha Maiko Performance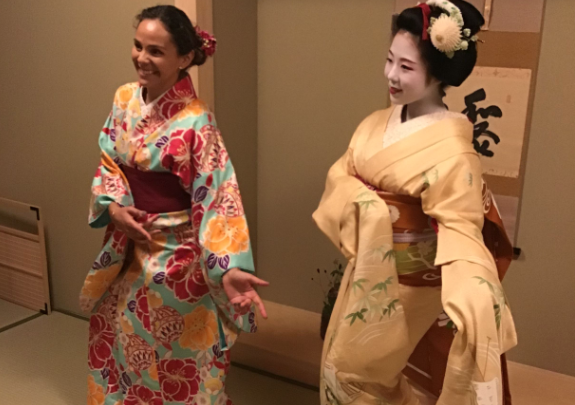 The geisha performance lasts around 30 minutes
The geisha performance takes place at the traditional Japanese style room.
First, the geisha, sometimes apprentice geisha (called maiko), performs her traditional dance in a room.
You are allowed to take pictures during the performance
After the dance you get to ask geisha questions and you can take a picture with the geisha
If time left, you get to play simple traditional games with the geisha (e.g. ozashiki asobi)
There are many genuine geisha artifacts and visuals in the building that explain things you may wonder about the mysterious world of a geisha
There is an MC hosting the performance who would also explain meaning and symbolism regarding the outfit and dance of the geisha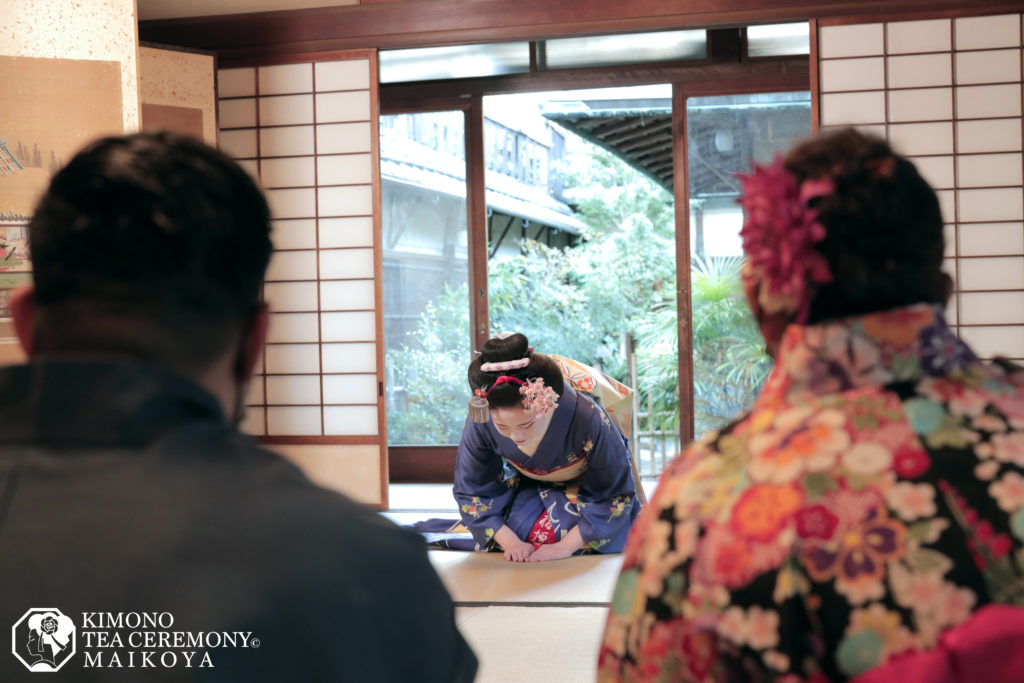 What can you expect during your tea ceremony?
You will be given a selection of beautiful kimonos to choose from and our staff will be providing assistance to help you look your best. Ladies will be given extra attention to get their hair and makeup down to match their kimono.
An interpreter fluent in English will be present during the tea ceremony and will be guiding you together with the geisha or maiko. They will be explaining some background on the history of the tea ceremony and the geisha culture in Japan.
You will be served a traditional Japanese treat called "wagashi" and then learn how to make your own matcha with the given set of tools. We will provide traditional utensils that are used specifically for the tea ceremony.
After you have had your fill, you will be treated to a geisha performance. Most of the time, we will have maiko performances instead as it is part of their training, but both performances are equally mesmerizing!
---
About Us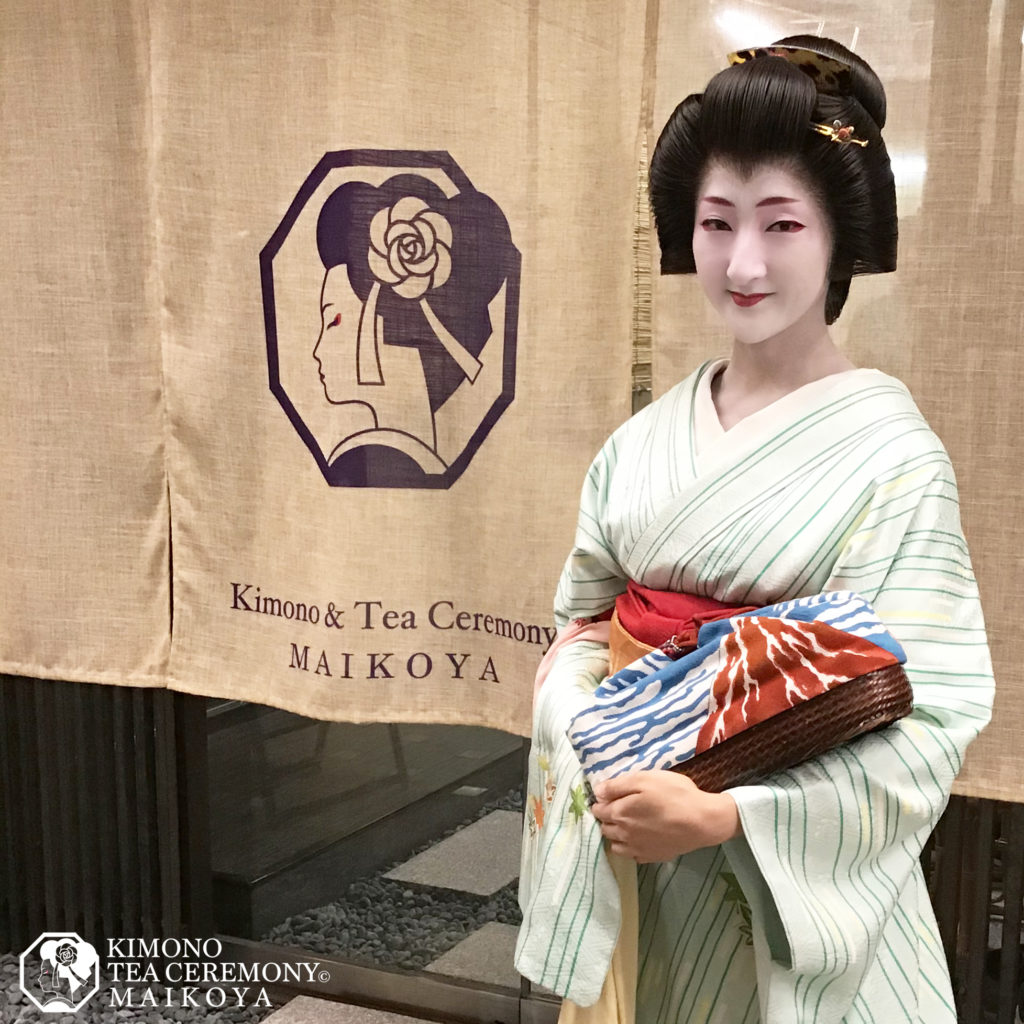 We own and operate Geisha Experience MAIKOYA. All of our guides speak fluent English and know how to make you feel at ease by always being patient and smiling constantly. We also provide handouts in different languages in case you have limited language skills. By participating in this tour you will have a local "friend" showing you around rather than being dragged to routine places by a stranger.
We know that travelers neither want a history lecture nor a fast facts trivia. They just want to feel like a local and learn the Japanese view of Geisha and Gion and the history. Our guests also often ask us about the souvenir shops, restrooms, hidden gems, transportation to their next stop and local favorite restaurants. So we prepared the perfect package tour with the best price that will make your trip to Japan extra rewarding.
---
If you are having difficulties or questions, contact us at info@mai-ko.com.
FAQs
How long does the geisha tea ceremony and performance last?
This package lasts approximately 90 minutes.
Is there a kimono included?
Yes, a kimono will be provided before the workshop and be worn throughout the whole session. Our staff will be happy to assist you in putting it on and styling the ladies' hair. Make sure to arrive 30 minutes before your schedule!
Do you provide hair and makeup services?
As previously mentioned, we offer hair styling and light makeup for ladies to match their kimonos. Make sure to arrive 30 minutes early so there's plenty of time to dress up and look your best!
Can I wear a kimono if I'm pregnant?
We will not require you to wear a kimono if it is uncomfortable for you. If you are in your first or second trimester, you can still choose to wear it.
Do you have plus-sized kimonos?
Yes! Our kimonos are meant to fit a variety of sizes. You can also contact us if you would like to make sure of an available fit.
Can I walk outside while wearing my kimono?
Yes! You can extend your kimono rental up to 6 PM for a small additional fee.
Can I buy a kimono from Maikoya?
Although our kimonos are purely for rental purposes, we can recommend local shops that sell a variety of kimonos from secondhand and brand new kimonos to yukatas, samues, and hakamas.
Do you have a souvenir shop?
Yes. We provide matcha tea, tea ceremony sets, calligraphy sets, and much more available.
Do I need to book in advance?
We recommend booking with us in advance so you don't have to wait in line, especially during peak seasons in early April and mid-November. This is also cheaper and more convenient.
Do you accept walk-ins?
 Our geisha tea ceremony and performance package is only available upon booking. Make sure you book with us in advance especially if you're visiting during peak season!
How old are the children who can join?
Children under 6 can not enter the tea ceremony venue. If you have a child under 6 in your party, you can not make the reservation for this experience.
Are wagashi vegan/vegetarian, halal, or kosher?
The wagashi served at our tea ceremonies are vegan and vegetarian-friendly! The plant-based treats are also halal and kosher. We highly recommend letting us know if you have any preferences or diets anyway just to make sure.
Do I have to sit on the floor?
We also provide desks and chairs upon request if it's more comfortable for you!
Do you accept groups?
Yes! This package requires a minimum of two participants. If your group has six or more, you can also avail of a discount.
Can I take videos of the performance?
Media appearance for geisha and maiko are strictly controlled in Kyoto so we would advise against filming the whole performance and ceremony. However, you are more than welcome to take videos of yourself and the geisha after the performance. Make sure to ask for consent!
Can I take pictures during the ceremony?
Please refrain from using your phone or camera during the performance and the ceremony as it might affect your experience. Our staff will be happy to take the pictures for you! You are also welcome to take pictures with the geisha or maiko after your event.
Review
Based on 15 reviews