Cancellation and refund policy
No cancellation fee, cancel any time
Click button below to make a payment.
Kimono Tea Ceremony in Tokyo Shinjuku
Authentic tea ceremony experience with kimono wearing in the heart of Tokyo by MAIKOYA. This award-winning tea ceremony lasts for 45 minutes at a traditional teahouse. You can enjoy tea ceremony every hour from 9 AM to 7 PM inside a beautiful tearoom located near the JR Shinjuku Station and Higashi Shinjuku Subway Station.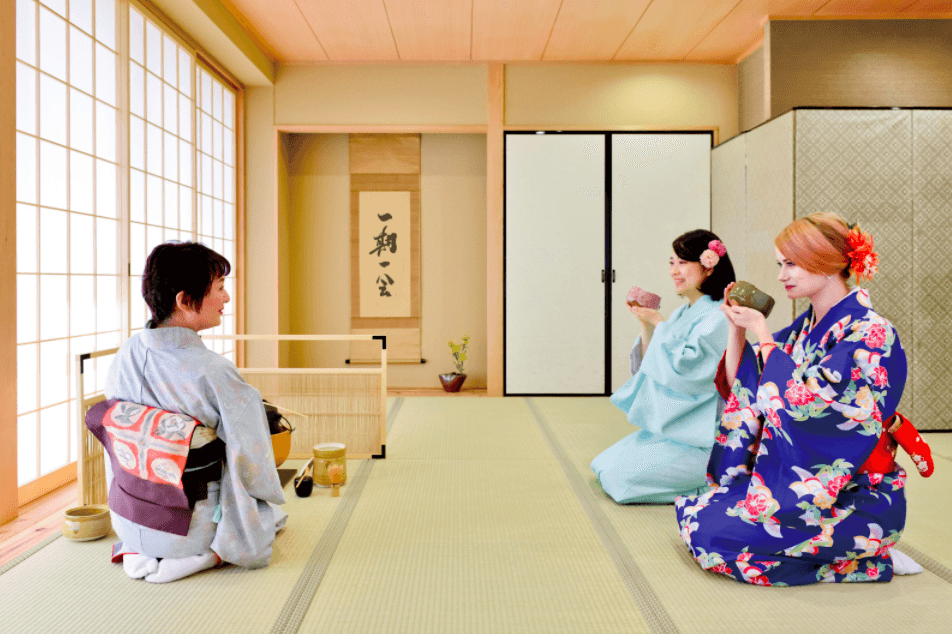 We celebrate our most recent award from TripAdvisor as Japan's Top Experiences, 2019, chosen by travelers' reviews. We are the only tea ceremony venue in Japan receiving this award.
You can now enjoy tea ceremony in Tokyo online
This once-in-a-lifetime activity involves:
Authentic Japanese tea ceremony experience 
Wearing a beautiful kimono
Hairdo for ladies (traditional Japanese style)
Drinking matcha green tea
Eating wagashi Japanese sweets 
Once in a lifetime cultural experience with the combination of kimono wearing, zen, harmony, perfectionism, minimalism, meditation, Japanese green tea and Japanese sweets
We are confident that this experience will be your best souvenir from Japan. You can easily make a reservation now by choosing the best date for you. Additionally, if you'd like, you can reserve a PRIVATE tea ceremony , or a tea ceremony session without wearing the kimono .
Currently, all sessions are private for COVID-19 measures.
Price
1person : 14,000yen
2people : 7,000yen / person
3people+ : 6,000yen / person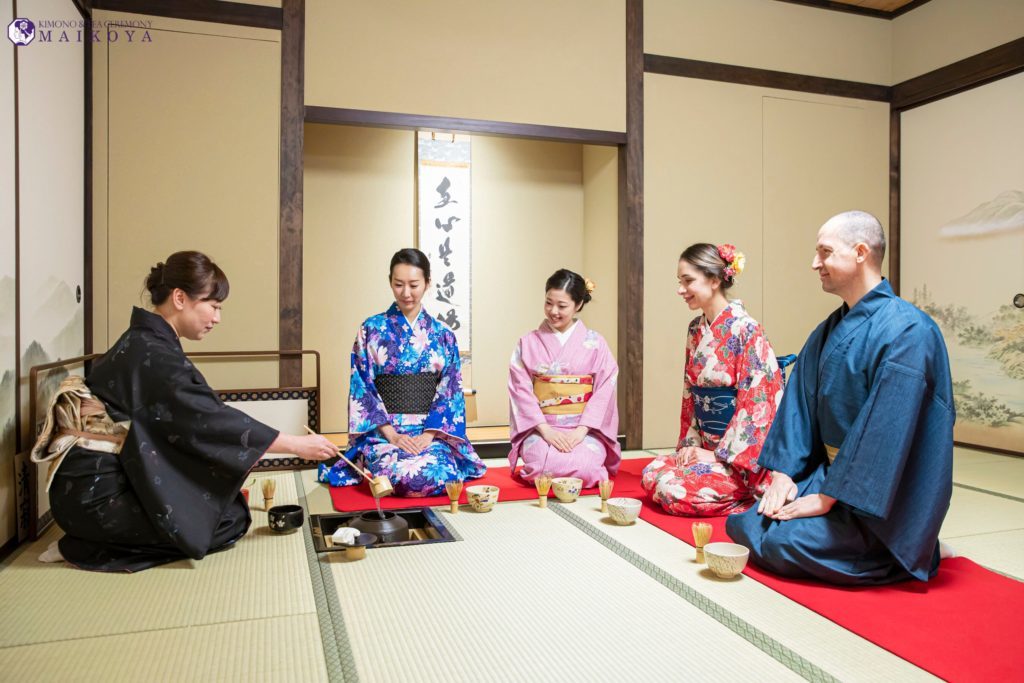 You will make a green tea, Matcha, in an ancient style Japanese tea ceremony room wearing Kimono. In this workshop, a qualified instructor will walk you through step by step of traditional tea ceremony. This is a ritual-like activity where ceremonial tea is prepared and presented to promote physical and mental well-being, mindfulness and harmony. It is also called the Way of the Tea. You will learn the foundations of the zen philosophy: Wa, kei, sei, jaku, which roughly translate as harmony, respect, purity and tranquility. You will observe how your host perfectly and harmoniously use all the traditional utensils to make the perfect cup of tea in way that has been done the same for about 400 years. And, finally, you will make your own tea and enjoy Japanese traditional sweets.
We have many beautiful kimonos to choose from and our staff will make sure you look your best in a kimono before partaking in once in a lifetime tea ceremony experience. We allow our guest to choose private tea ceremony or small group sessions and select from so many designs and styles of kimonos in our collection. Our friendly staff will explain everything in plain English.
Your tea ceremony experience will include:
An introduction to the Japanese tea ceremony and associated rituals
This is taught by a friendly instructor who speaks English
You will be encouraged to try traditional green matcha tea and Japanese styled sweets
Only traditional tea ceremony utensils will be used
Relax in a classroom decorated in traditional Japanese décor and architecture
Explanations of the ceremony's history and technique in simple English
Not only watching the demonstration but actually performing the ritual
Friendly staff will help you chose the best kimono and wear it in a traditional way
For ladies, we will give you the simple hairstyle matching with kimono
If you are interested, many photo ops in our tea house with the garden
You are allowed to walk outside wearing the kimono
We also have tea ceremony artifacts and displays with detailed explanations in English that will help you better understand the subtle meanings and the rich history behind this unique tradition
Learn Japanese culture with all of your senses – especially your sense of wonder!
Just in case if you were wondering:
You are allowed to ask the host questions about tea ceremony, zen and other cultural rituals
You are allowed to take pictures in the tea ceremony room after the ceremony as well as the other rooms and in front of our unique backdrops
You are allowed to sit comfortably on the floor (without sitting on your knees on the tatami mat). We also provide bamboo chairs for those who prefer not to sit on the floor.
If you need some additional information, don't hesitate to go to our blog.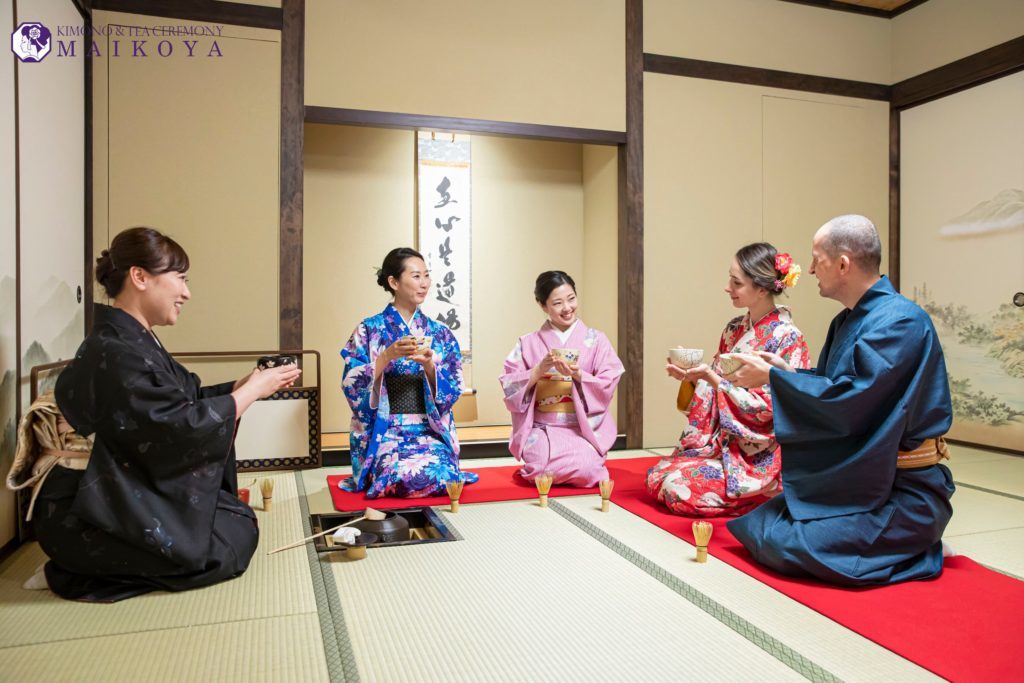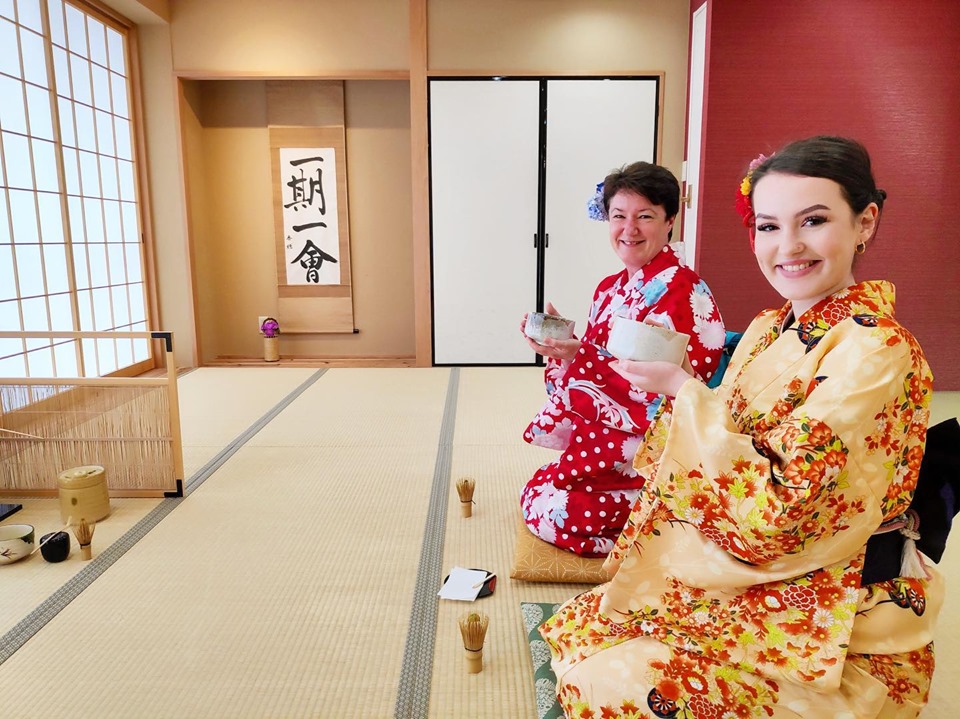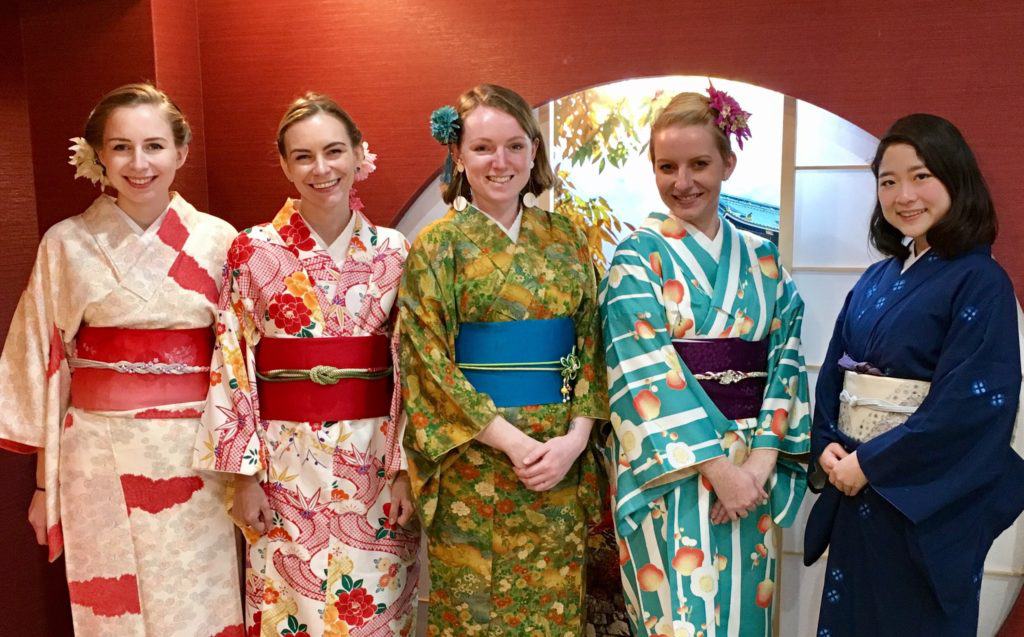 It's a feast to the eyes, to your ears and mind when a person preparing the hot water. Listening as the water dancing against the hot cast iron. It's like a river murmuring. Incense would be lit and the smoke travels across your eyes like a silver dragon flying across the sky. She paused briefly as she flexed her wrist signifying the end of cleansing the bamboo ladle. So beautiful and therapeutic to gaze at. Her every move freezes time, space in all dimensions. You forget all your earthly frivolous needs…
Business Hours
09:00 ~ 18:30
We open at 9 AM and close around 7 PM. We sometimes accept walk-ins but we expect you to make a reservation online because you may need to wait or asked to come back later if you just show up without a reservation.
Address
〒160-0021 Tokyo, Shinjuku City, Kabukicho, 2 Chome−19−15
We are located near the Inarikiou Jinja. Our location is about 3 minute walk from the Higashi Shinjuku Subway Station. Please make sure to take exit A1. You can also directly walk to our place from the JR shinjuku Station, please take the main exit.
Other Tea Ceremony Experiences in Tokyo, Kyoto, Osaka
Our kimono & tea ceremony option is the most popular package in Tokyo but we also have other choices here in Tokyo and also in Kyoto and Osaka.
Local Shinjuku / Shibuya area and Things to do Nearby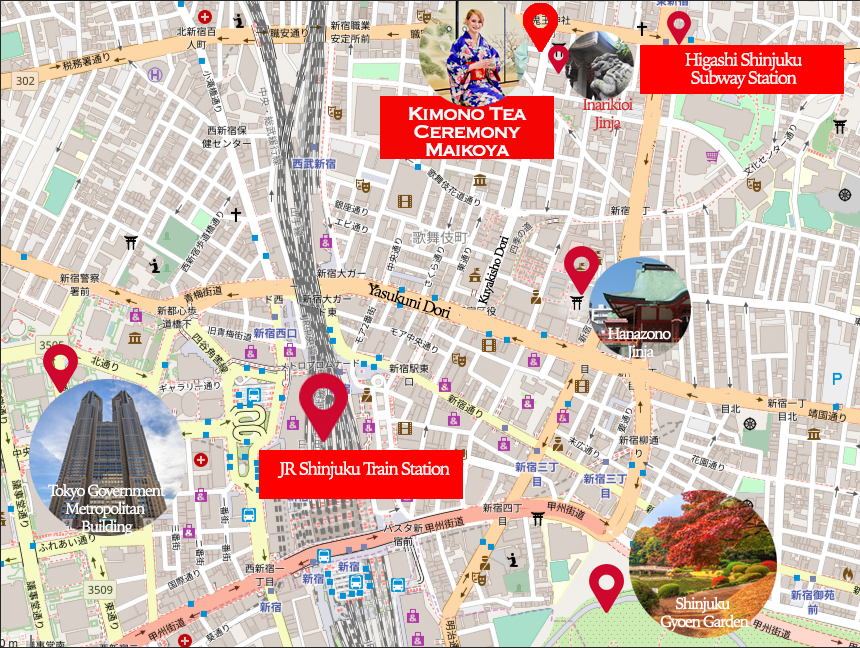 Shinjuku Gyoen. Most of our guests go to Shinjuku Gyoen Garden before or after the tea ceremony. It was built as a residence for a samurai lord in the 1700s and designated as the imperial garden in the early 1900s. The scenery is just breathtaking scenery during the cherry blossom or the Fall leaves seasons. This 144-acre area has ponds, cafes, traditional Japanese style gardens and a botanical garden.
Tokyo Metropolitan Government Building. This 202-meter tall 48-floor building gives you an excellent view of the Tokyo City. The best part is it is walking distance from our tea house and the entrance is free.
Hanazono Jinja. This is one of the oldest shrines in Tokyo where the fertility and success gods are enshrined. We cna allow you to go there to take pictures while you are wearing the kimonos.
Meiji Jingu. The historic shrine which houses the largest torii gate in Tokyo is only a train station away from our location. Meiji Jingu is also right next to Harajuku, so it is good combo for an exciting afternoon following the session at Kimono Tea Ceremony Maikoya.
Harajuku. A must see neighborhood where you catch a glimpse of the latest street Fashion of Tokyo and trendy cafes.
Shibuya Crossing. Shibuya is only one station away from our tea house. It is home to the world's busies intersection with 2500 pedestrian at any given moment. Shibuya station is used by 2.4 million people a day. You can also see the famous dog Hachi's statue nearby.
Book Tea Ceremony in Tokyo Before It is Sold Out!
You can easily make a reservation for tea ceremony in Tokyo on this page. Simply fill the reservation box located on the top of this page. You will get confirmation and clear directions instantly via email.
Map Credits: Openstreetmap.org/ Proud Member of Shinjuku Convention and Visitors' Bureau
Review
Included

Kimono costume

Green tea and water

Utensils

English Speaking tea master

Hairdo for ladies

Edo-period traditional Japanese room

Japanese style backdrops

Explanations about the steps, meanings, zen philosophy and the subtle traditions related to tea ceremony

Not Included

Transportation

Hotel pickup and drop-off

Maps

Organizer




Kimono Tea Ceremony Tokyo MAIKOYA

Japan's only tea ceremony venue that received the TripAdvisor Travelers Choice Award,  MAIKOYA has a beautiful tea ceremony house with a garden located in the heart of Tokyo.

The tranquil tea house near Meiji Shrine is a walking distance from Shinjuku, Harajuku and only a stop away from shibuya and Tokyo station

. The participants at Tea Ceremony Tokyo Maikoya are also allowed to wear a kimono and even walk outside in the nearby gardens of Shinjuku Gyoen, or the Meiji Jingu Shrine if they choose to. After all the hustle and bustle on the busy streets of Tokyo, you can finally have your moment of zen and enjoy a unique kimono wearing experience at Tea Ceremony Tokyo Maikoya.

Directions to our location in Shinjuku