Tea Ceremony with Kimono Experience in Tokyo
Price
▶
Book now with the coupon code to get discounts!
Experience a traditional Japanese tea ceremony in the Tokyo teahouse! The Sado or Chanoyu "the way of the tea" is regularly held in our tea room while guests and the host wear kimonos. Kimono Tea Ceremony Maikoya is one of the best hosts for cultural activities and experiences in the country, and the only teahouse to be included in TripAdvisor's list of Japan's Top Experiences 4 years in a row.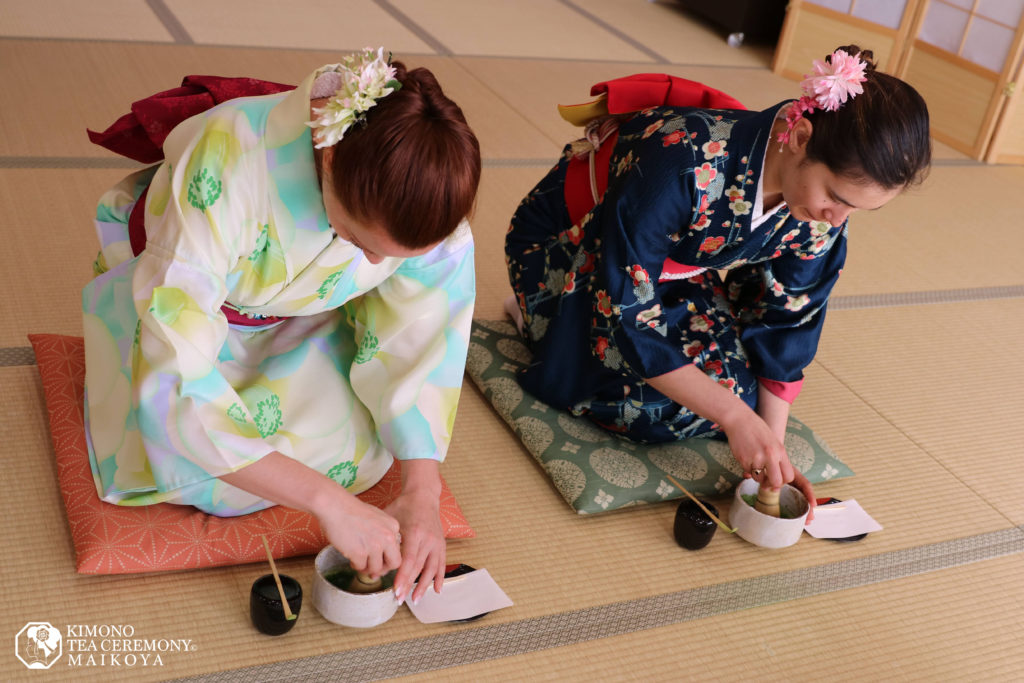 The Japanese tea ceremony or Japanese Sado (茶道) is a ritualistic way of preparing and serving powdered matcha green tea, typically in a tea room, garden, or teahouse. While Kyoto is the center for traditional Japanese tea ceremonies, Maikoya offers the same quality service and activities for everyone in conveniently located Asakusa, Tokyo.
Maikoya Tokyo holds tea ceremonies in a traditional teahouse in Asakusa, near the historic Sensoji Temple and the famous Tokyo Skytree. A tea ceremony break is just what you need to add to your travel itinerary when you explore the bustling metropolis!
There's no better way to experience the essence and spirit of Japan than a traditional tea ceremony! You'll be having an unforgettable and immersive experience with us as you choose which kimono to wear, then being guided by an experienced tea master through the tea ceremony.
The Tea Ceremony is a wonderful blend of Chinese and Japanese cultures, stemming from the practice of Zen Buddhism. The Japanese tea ceremony can be a rare cultural experience for a tourist or anyone living outside Japan – but it doesn't have to be!
Kimono Tea Ceremony Maikoya holds a ceremony every hour from 9 AM in Asakusa, Tokyo. Reservations can be made right on this page to make the experience quick and easy. Address: 1-12-2 Asakusa, Taito-ku, Tokyo 111-0032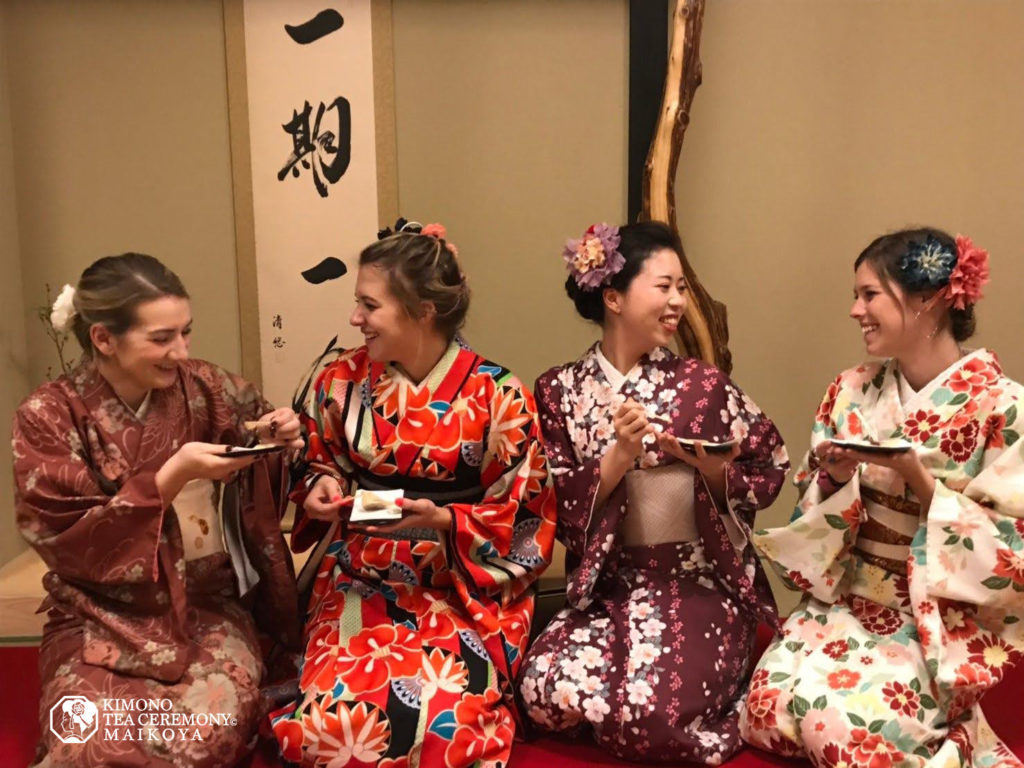 Easily make a reservation with us now by choosing the best date for you!
You can also opt for a private ceremony for groups and individuals, or a casual session for those who would rather not wear a kimono.
The ceremony can last from 90 minutes up to 2 hours and is available every hour from 9 AM to 7 PM. The Maikoya tea house is located near the Asakusa Station and Tawaramachi Station. 
During the tea ceremony workshop, you will learn how to make and prepare matcha, a special green tea powder, in a traditional tea room while wearing a kimono. A qualified instructor will be guiding the 400-year-old activity, using special tools and utensils to make the perfect cup of tea. And you, the participant in the ceremony, will be learning about the foundations of zen philosophy: Wa, Kei, sei, jaku, which translate respectively into harmony, respect, purity, and tranquility.
Kimono Tea Ceremony Maikoya has a selection of beautiful kimonos for you to choose from, and our staff will make sure you will look your best and be picture-perfect for your unique experience with us. Don't worry if you can't speak Japanese, our friendly and accommodating staff will be able to provide assistance and instructions in English.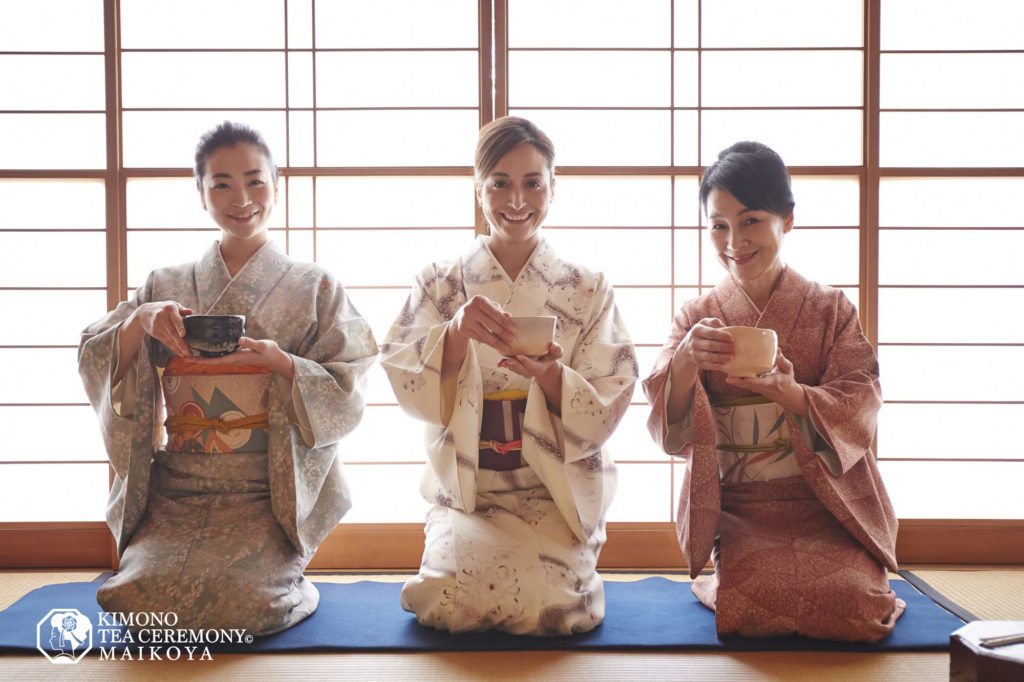 What happens during the Japanese tea ceremony?
An introduction to the Japanese tea ceremony and associated rituals.
You will be encouraged to try traditional matcha tea and Japanese sweets or wagashi
Only traditional tea ceremony utensils will be used
Relax in a tea room decorated in traditional Japanese décor and architecture
Explanations of the ceremony's history and technique
Getting the chance to experience preparing matcha green tea
The friendly staff will help you choose the best kimono and wear it in a traditional way
For ladies, we will give you the simple hairstyle matching with kimono
Take photos before and after the ceremony in the tea room and around the tea house
Walk outside with your kimono
Get to know about tea ceremony artifacts and displays, and their histories
Our experienced staff and host will be guiding you throughout the preparation and ritual using Chinese, Japanese, or English depending on your language preference.
This event lasts approximately 90 to 120 minutes
Asking questions during the tea ceremony is welcome; the host will gladly answer questions regarding the ritual and other Japanese rituals, along with zen and Buddhism.
You can take pictures at Maikoya; Everyone is welcome to take pictures in the tea room and the garden, along with our unique backdrops! After all, who wouldn't want to preserve the memory of a cultural experience?
You can sit comfortably, in any appropriate way you prefer. While the tea ceremony is traditionally performed while everyone sits on the tatami mat, we encourage getting comfortable and crossing your legs if you'd like. Bamboo chairs are also provided upon request.
Make your reservation at the top of this page!
If you're having difficulties or questions, contact us at info@mai-ko.com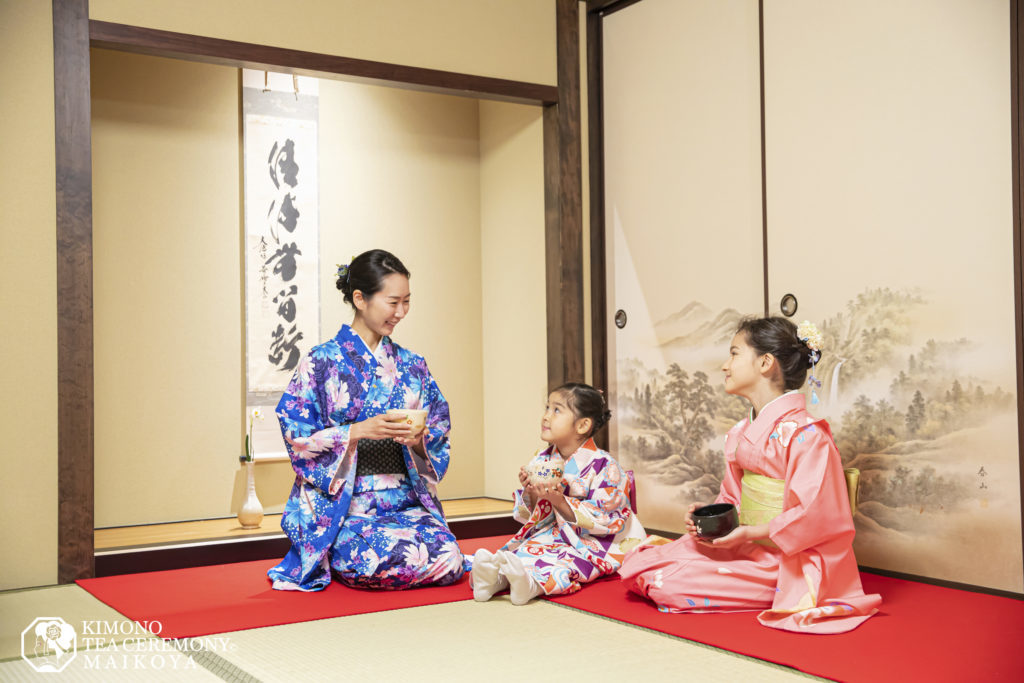 Learn Japanese culture with all of your senses – especially your sense of wonder!
It's a feast to the eyes, to your ears, and mind when a person preparing the hot water. Listening as the water dancing against the hot cast iron. It's like a river murmuring. Incense would be lit and the smoke travels across your eyes like a silver dragon flying across the sky. She paused briefly as she flexed her wrist signifying the end of cleansing the bamboo ladle. So beautiful and therapeutic to gaze at. Her every move freezes time, space in all dimensions. You forget all your earthly frivolous needs…
What food is served at the tea ceremony?
The tea ceremony will usually have one serving or one piece of wagashi or a traditional Japanese sweet on a plate. These treats are typically made with rice cake or mochi with a sweet red bean paste filling. The sweetness of the dessert goes wonderfully with the bitter hint of the matcha green tea.
Other tea ceremonies will serve kaiseki or Japanese haute cuisine. These events would normally last 4 hours at most.
Our Tea Ceremony in Tokyo with a Kimono package serves wagashi treats. These are halal and kosher. If you have any dietary concerns, please note them in your reservation or email us at info@mai-ko.com.
What kind of tea is served at the tea ceremony?
You will be using matcha–a bright green powder that produces a foamy drink when whisked with hot water. Because of this, the tea ceremony is alternatively called a "Matcha Ceremony" or "Matcha Ritual".
Matcha, although alternatively called green tea as well, is different from the common teabags with dried tea leaves which are actually called sencha.
From the texture itself, matcha is pulverized and used as a powder while sencha or loose-leaf green tea will have larger green tea leaf pieces. The preparation is also different as sencha green tea is steeped in hot water while matcha is whisked.
---
Our tea ceremonies are also available online! Enjoy and participate in the cultural experience in the comforts of your own home.
Do you want to study the Japanese tea ceremony?
Join our 10-lesson online course!
---
Book a Kimono Tea Ceremony in Tokyo before it's sold out!
Make a reservation for a tea ceremony in Tokyo by filling out the reservation form above. A confirmation email will be sent to your email, including a set of directions on how to get to our tea house!
---
FAQs
What is Sado or the Japanese tea ceremony?
The Japanese tea ceremony is preparing, serving, and drinking tea in a ritualistic and ceremonial way.
What to do during the tea ceremony?
The host will be guiding you through the ritual and instruct you on what to do.
What to wear for the tea ceremony?
Depending on the type of package you have chosen, you can wear your casual clothes, or any of the kimonos you will pick. The staff will help you put on the kimono and ladies' hair will be styled to suit it.
How long does a tea ceremony last?
This particular package can last from 90 minutes up to 2 hours, but others can reach up to 4 hours. You can read more about it on our site!
Who is served during the tea ceremony?
In the past, it used to only be practiced by elite zen monks, noble warlords, and the aristocracy. Today, anyone who is interested can observe the tea ceremony and participate as guests during events or at specialized establishments like the Kimono Tea Ceremony Maikoya.
Where is the Japanese tea ceremony held?
Tea ceremonies are usually held in tea houses, tea rooms, and Japanese tea gardens.
What happens during the tea ceremony at Maikoya Kyoto?
Before the tea ceremony, guests are given the choice to choose from the kimonos for the ceremony, and ladies are given appropriate hairstyles that match the designs of their kimono. The host or tea master will then prepare the ingredients and tools and begin making the matcha while explaining the process.
When did the Japanese tea ceremony start? Who invented it?
The Japanese tea ceremony originated in China, brought into Japan by Buddhist monks. Sen no Rikyu was considered the father of the tea ceremony, practicing the precursor to the present-day tea ceremony.
Why is the Japanese tea ceremony important?
The tea ceremony embodies the culture and sophistication of Japanese tradition, showing clearly the multiple steps it takes to make a single cup of tea. This practice was widely observed among the elite in old Japanese societies and aristocracy.
Where to have a tea ceremony?
Maikoya offers an authentic tea ceremony from three locations in Kyoto, Tokyo, and Osaka.
---
About the Tea Ceremony
The Japanese tea ceremony, much like any traditional rituals in the country is composed of a number of steps and preparation, as well as manners and etiquette–although modern practices aren't as strict in this aspect.
The tea ceremony is a centuries-old practice that is highly influenced by traditional Japanese practices and has influenced modern society in return. The experience of the tea ceremony differs according to the level of the participant. For example, a more experienced guest would bring paper fans to the ritual and have the endurance to sit on their knees the whole time.
The tea ceremony, however, did not originate in Japan and is not uniquely Japanese. This practice is shared with China as "art of the tea" and Korea as "etiquette for tea" or "tea rite". All three variations are connected together by Zen Buddhism and the spiritual process of the preparation and presentation of the tea.
But what sets apart the Japanese tea ceremony from its cultural siblings? Sado, Chanoyu, or Ocha has been refined by Sen no Rikyu, who is considered as the father of the Japanese tea ceremony. Besides being an aesthetic art form and performance, the chanoyu is widely practiced using matcha, a type of powdered tea that produces a bright green beverage.
---
About Maikoya
Maikoya is one of the leading cultural experience providers in Japan, with three branches located in Tokyo, Kyoto, and Osaka. We've topped TripAdvisor's list for Japan's Top Experiences for four consecutive years.
Our tea ceremonies are consistently led by experienced hosts and tea masters that are well-versed with the tea ceremony and are capable of teaching even beginners.
Besides tea ceremonies, Maikoya Tokyo also hosts tours, workshops, and various classes for everyone who wants to learn about Tokyo, local food and attractions, and Japanese culture.
---
Other Workshops and Classes at Maikoya
Sweets Making and Kimono Tea Ceremony in Tokyo
Our sweets-making and kimono tea ceremony package is a combination of a class and our regular tea ceremony. Here, you'll have the opportunity to learn about Japanese confections called "wagashi" from the experienced instructor and have the rewarding opportunity of tasting your own beautiful creations during the following tea ceremony!
Learn how to make sushi from locals. You will learn the history of sushi, appropriate manners, things to do and not to do when enjoying a fresh sushi. Your teacher will also teach you how to know when the sushi is fresh and best to consume.
---
Business Hours
09:00 ~ 18:30
We are open from 9 AM and close at 7 PM. We highly recommend making a reservation online to avoid waiting or being asked to come back at a later date.
Address
1-12-2 Asakusa, Taito-ku, Tokyo 111-0032
We are located near the Sensouji Temple and the Nakamise Street. While walking to our teahouse in Asakusa you will feel like traveling back in time to the Edo Period.
---
Other Things to Do in Asakusa
Sensouji Temple (The most famous and oldest temple in Tokyo)
Skytree (#1 most visited spot by domestic visitors)
Samurai Museum & Experience
Hoppy Izakaya Street
Historic Kappabashi Shopping Street
Asakusa Hanayashiki Amusement Park
Asakusa and Odaiba Cruise
Around 10 minutes by train from Ueno Garden, Park and Museums
Around 15 minutes by train to Akihabara & Ginza
---
Japanese Tea Ceremonies in Tokyo, Kyoto, Osaka
Our Kimono and Tea Ceremony is the most popular package in Tokyo but we also have other packages and tours here, in Kyoto, and in Osaka. Maikoya offers one of the best tea ceremony and kimono experiences in Japan, being a beloved destination for cultural explorations for tourists and foreigners.
Besides Japanese tea ceremonies, Maikoya also offers a number of workshops and classes in Tokyo such as Wagashi Cooking Classes, and Tsukiji Market Food Walk Tour.
There are a number of other teahouses and tea rooms in Tokyo as well, such as HiSUi Tokyo, Muan Tea House, Chazen, and Shizu-kokoro Chado School.
Review
Based on 11 reviews