Geisha – Maiko Show & Tea Ceremony in Kyoto by Kimono Tea Ceremony Maikoya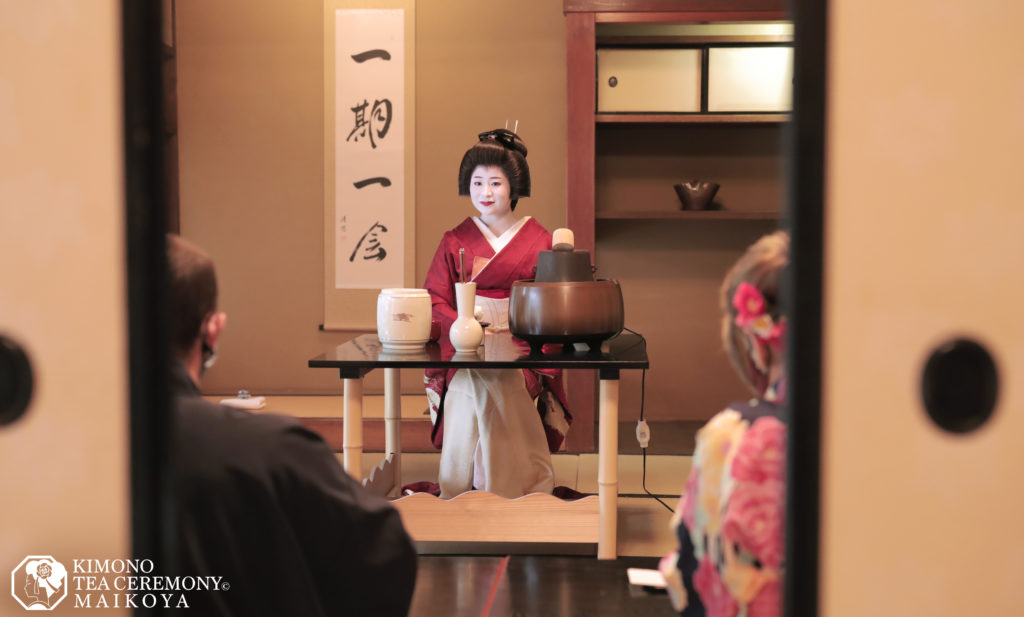 Please kindly note that due to heavy demand, we hold kimono tea ceremony experience and meeting with the apprentice geisha (maiko) experiences separately in two different venues which are about 15-minute walking distance apart from each other. You first come to Kimono Tea Ceremony Maikoya anytime you choose between 9:00 AM and 6:30 PM and experience the traditional tea ceremony without the geisha. You will then go to the Gion area at 7:55 PM to watch an apprentice geisha's dance performance and talk to her through an interpreter. Your reservation covers for both experiences.
This once-in-a-lifetime activity includes:
-At MAIKOYA TE ACEREMONY
Traditional Japanese tea ceremony experience 
Wearing a beautiful kimono including hairdo (simple style) and hairpins for ladies
Drinking matcha green tea
Eating wagashi Japanese sweets 
Explanation of the connection between zen and tea ceremony and also the meaning of the ritual
-At GION
Watching a dance performance by an apprentice geisha (maiko)
Talking with or asking questions to an apprentice geisha (maiko)
Your choice of beverage (1 Drink: Juice, Tea or Alcoholic Beverage)
Snacks (1 small plate)
How to enjoy this experience
-Step 1: Show up at Kimono tea ceremony MAIKOYA based on your reservation time. Wear a traditional kimono and get your hair done. Perform traditional tea ceremony. This takes about 60 minutes.
-Step 2: Change back to casual clothes. The staff will give you directions to the geisha show venue.
-Step 3: Show up at the geisha show venue at 19:55 and enjoy the show. You can talk to the geisha and pictures are allowed.
#1 The traditional tea ceremony and wearing beautiful kimono
You will make a green tea (Matcha) in an ancient style Japanese tea ceremony room wearing Kimono. In this workshop, a qualified instructor will walk you through step by step of traditional tea ceremony. This is a ritual-like activity where ceremonial tea is prepared and presented to promote physical and mental well-being, mindfulness and harmony. It is also called the Way of the Tea. You will learn the foundations of the zen philosophy: Wa, kei, sei, jaku, which roughly translate as harmony, respect, purity and tranquility. You will observe how your host perfectly and harmoniously use all the traditional utensils to make the perfect cup of tea in way that has been done the same for about 400 years. And, finally, you will make your own tea and enjoy Japanese traditional sweets.
#2 Watch the dance performance by a geisha and talk to her
Japanese people have a word for geisha: "miyabi" which means refined elegance. It requires so much sacrifice and dedication to reach the level of geisha so that even for Kyoto residents being in the presence of a geisha is an utter privilege. While meeting with a geisha in Kyoto has been only possible through a reference from a reliable customer now you have a unique chance to get a glimpse of the mysterious world of geisha. Recently some okiyas (geisha boarding school)  in the geisha neighborhood allow locals and travelers watch a short performance.
The location is in the heart of the historic Hanamikoji Geisha street. You will see many old and traditional buildings nearby and you will feel like traveling back in time to the Edo Period. The venue has a good lighting and a small number of seats for the guests so it will be an intimate encounter and you can watch the apprentice geisha closely. The best part is after watching the performance you can talk to the apprentice geisha with the assistance from an interpreter and take pictures.
The geisha show takes places in the heart of Gion where you can easily spot many other geishas heading to work before the sunset or going to parties. You can also enjoy various kinds food at restaurants nearby. The geisha show venue itself is an old geisha house converted into a machiya style restaurant, so, you are more than welcome to have your dinner at the same place before the show starts by paying extra on the spot.
Tea ceremony, meal in a traditional restaurant and a geisha show. What a lovely day in Kyoto!!!
Learn Japanese culture with all of your senses – especially your sense of wonder!
Just in case if you were wondering:
You are allowed to take pictures in the tea ceremony room after the ceremony as well as the other rooms and in front of our unique backdrops
You are allowed to sit comfortably on the floor (without sitting on your knees on the tatami mat) during the tea ceremony. We also provide bamboo chairs for those who prefer not to sit on the floor
You are allowed to take a picture of the geisha during or after the geisha show.
There is an English speaking interpreter who will help you chat with the geisha smoothly.
The geisha show takes place in a room of an old town-house style building in Gion.
!!!PLEASE SHOW UP AT KIMONO TEA CEREMONY MAIKOYA FIRST!!!
!!! THE GEISHA SHOW ONLY COVERS FOR 1 DRINK AND A SNACK PLATE!!!
THE TEA CEREMONY EXPERIENCE LASTS AROUND 60 MINUTES.
THE GEISHA SHOW EXPERIENCE LASTS AROUND 60 MINUTES.
THE KIMONO & TEA CEREMONY AND THE GEISHA SHOW ARE HELD IN SEPARATE PLACES THAT ARE 15 MINUTES APART.
OTHER EVENTS WHERE YOU CAN MEET A GEISHA
OTHER CULTURAL EXPERIENCES