Cancellation and refund policy
No cancellation fee, cancel any time
Click button below to make a payment.
Temporarily unavailable
Tea Ceremony Near Osaka Castle in a Japanese Home
※This event is not available now.
Have a tea ceremony right by the Osaka castle in a beautiful authentic Japanese home. Your tea master will be Mayumi who also performs tea ceremony in the main Maikoya building as well. If you want to visit a Japanese house where ordinary Japanese people live or enjoy the tea ceremony right next to Osaka Castle, then this is a perfect opportunity for you. The tea ceremony inside the house is held in the tatami room where the setting of the traditional tea ceremony is followed.
The activity involves
Traditional tea ceremony led by a tea master
Drinking green tea and eating Japanese sweets
Wearing a Kimono (Yukata in the summer season)
The best cultural experience with the combination of kimono, meditation, harmony, matcha and Japanese sweets
HIGHLIGHTS
You will make a green tea (Matcha) in an ancient style Japanese tea ceremony room wearing Kimono. In this workshop, a qualified instructor will walk you through step by step of traditional tea ceremony. This is a ritual-like activity where ceremonial tea is prepared and presented to promote well-being, mindfulness and harmony. It is also called the Way of the Tea.
NOTE
Instead of sitting on the floor, we also give you an option to do the tea ceremony performed by sitting on a chair (It is called Ryurei-shiki in Japanese). Please mention the number of people who will need chairs when booking. You will see a box titled "order notes."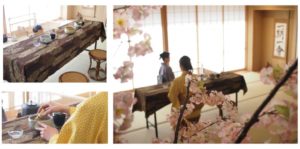 Your workshop will include:
Enjoy tea ceremony right next to Osaka Castle
Relax in a friendly beautiful and cozy Japanese house
An introduction to the Japanese tea ceremony and associated rituals
This is taught by a friendly instructor who speaks English
The instructor is a professional who has had years of training in the Japanese Tea Ceremony
You will be encouraged to try traditional green matcha tea and Japanese styled sweets
Only traditional tea ceremony utensils will be used
The workshop will be taught to a small class of 4 or so people
Explanations of the ceremony's history and technique
Learn Japanese culture with all of your senses – especially your sense of wonder!
Tea Ceremony Near Osaka Castle in a Japanese Home
Included

Tea ceremony

Kimono wearing

Japanese sweets

Not Included

Hotel pick up and drop off

Transportation

Maps

Organizer




Maikoya Castle

This is a Japanese home supervised by MAIKOYA where you can experience the traditional Japanese tea ceremony, kimono wearing and Japanese cooking. It takes about 3-4 minutes on foot to get the venue and a Maikoya personnel may be able to pick you up from the castle.