Tsukiji Market Food Walk Tour
Price
▶
Another 10% OFF for 10 or more people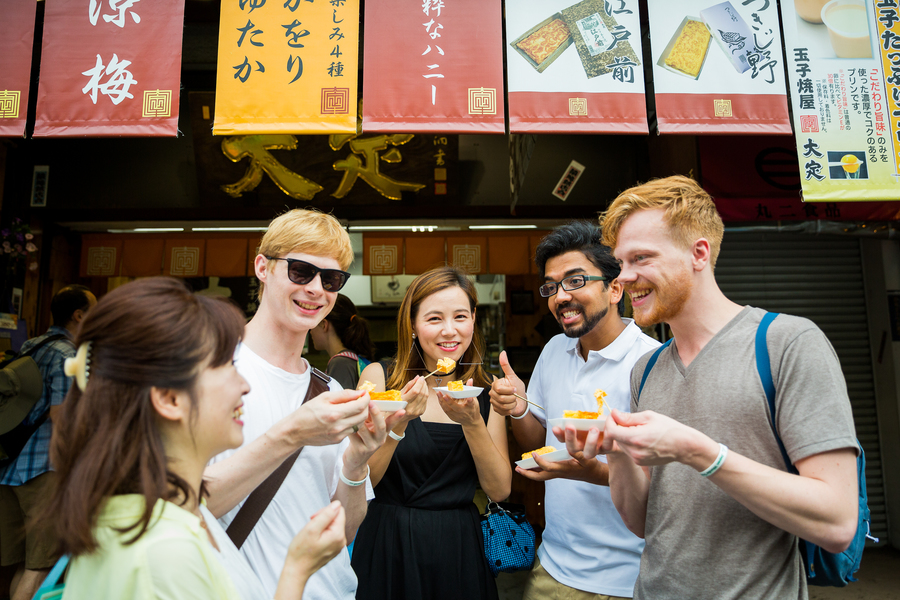 Tsukiji is a world-famous market and it is called "Kitchen of Tokyo". A part of the market (Inner market) where they used to hold tuna auctions was relocated to Toyosu in 2018. But don't worry, the outer market stays open with the same passion in Tsukiji! There are about 400 stores in the outer market and you will encounter many interesting ingredients and foods while walking through the market.
Our Tokyo FooDrink Tour will take you to some vibrant stores selling the best quality foods in the outer market. You can try a variety of Japanese foods ranging from finger foods to delicacies. Our knowledgeable guides will tell you a lot of tips about Japanese culinary culture during the tour. We also visit the small wholesale area and show you many kinds of seafoods and foods. Don't miss to taste a fresh tuna there too! In the end of the tour, we go to the local Sushi restaurant and enjoy some fresh Sushi. Get ready to learn some facts about Sushi there!
Tsukiji Market could be overwhelming but your guide knows everything. Follow the guide and let's eat and drink like Japanese local!
If you are interested in learning Japanese food culture with a friendly guide, book this tour right now!
HIGHLIGHTS

Experience several different types of local Japanese foods.
Explore the Tsukiji Market with a friendly English speaking guide.
Discover where the local foodies go to eat.
Learn the foundation of the Japanese food culture at 'Tsukiji Wonder Land'
TOUR SCHEDULE8:30 am – 11:30 am (Approx. 3 hours)
*Mainly (Mon. Tue. Thu. Fri. Sat.)
8:30 am Meetup at Tsukiji Honganji Temple (In front of the gate)
Tour the Tsukiji outer market and grab Japanese foods and drinks with our guide.
Explore the Tsukiji Uogashi Wholesale Market.
Experience Japanese sake tasting and eat sushi at a local restaurant.
11:30 am Then return to Tsukiji Station (Tokyo Metro Hibiya Line).
DEPARTURE/RETURN LOCATION

Tsukiji Honganji Temple / Tsukiji Station (Metro)
MEETING TIMEAND PLACE

For a prompt departure at 8:30 AM.
Please arrive by 8:15 AM to the main gate of the Tsukiji Honganji-Temple.
RETURN TIME

Approximately 11:30 AM
PRICE (PER PERSON)

9,500 JPY
MENU

1. Japanese omelet
2. Fried fish cake
3. Fresh Tuna
4. Dashi soup and Katsuobushi (sample)
5. Japanese green tea (sample)
6. Sake
7. SushiPlease Note:
・Our food menu includes some sample foods.
・We believe that we will take you to the best shops in the market as well as in Tokyo.
・If you have any food restrictions or allergies, please tell us at least one day prior to the tour date.(Until 17:00JST)Otherwise, we cannot change the menu for you.
・The minimum drinking age is 20 years old in Japan.
(We will prepare alternative drinks for participants under the age.)
REMARKS

This is a group tour.
We will leave at 8:30 am sharp, so please make sure to be there on time!
There could be a delay at when the tour ends, if you have an appointment or plan
right after this tour, please let us know in advance.
All payments must be made in full before the tour.
We define a participant over the age of 12 years old as an adult.
Children between the ages of 4 – 12 years old are considered a child.
(A child's price is 70% of an adult's price)
Children under 3 years old are free (w/o Food).
If the group is over the maximum group size, then the group will be separated.
If you would like to do a PRIVATE tour, please send an inquiry to us.
CANCELLATION POLICY
As for our organized tour (Except "SELECTED ACTIVITY" and "TICKETS"), we apply cancellation policy below.
Full refund 8 days prior to your tour, excluding a 5% transaction fee.
* Must be made 8 full days prior to 12:00 AM (JST) the day your tour is scheduled. For example, if your tour is scheduled for Friday, cancel by the 1 week before?Thursday at midnight (previous?Friday 12:00 AM in the tour's timezone) for full refund minus a 5% transaction fee.
If you cancel within 7 days, our cancellation charges (incl.5% transaction fee) are as follows:
4-7 days prior:15%
3 days prior-:25%,
2 days prior-:35%,
the day prior-:55%,
on the day- :100%
No show-:100%
As for other tours and activities, they have other cancellation policy, so please check their own description in tour page.
Review
Based on 11 reviews