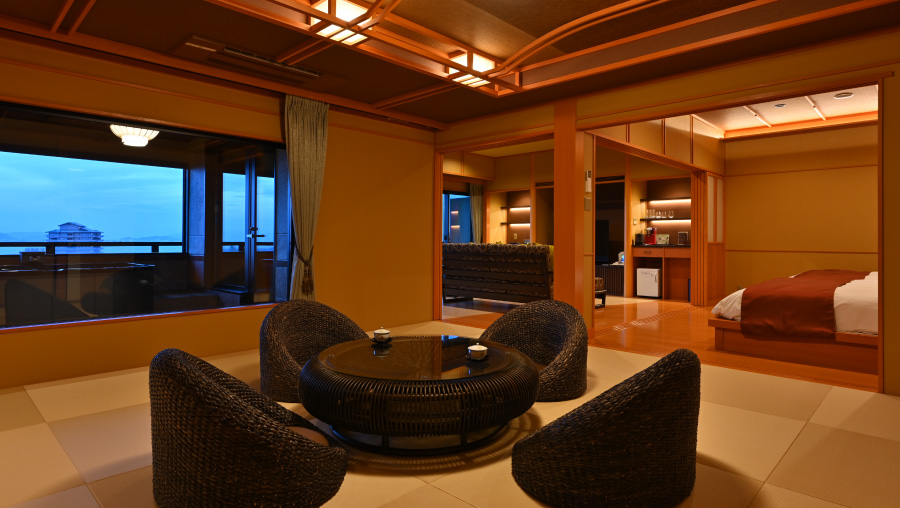 Biwako Hanakaido is a traditional Japanese inn located in Kyoto Lake Biwa Onsen in Shiga prefecture. It features a garden, a sauna, indoor and outdoor hot spring baths, three dining options, and rooms overlooking Lake Biwa.
There are 43 guest rooms varying in interiors–Japanese-style rooms come with tatami mat flooring and futon beds, while Western rooms will have beds and a sofa set. All the guest rooms are sound-proofed and equipped with an air-conditioner, a flat screen television, a refrigerator, and a private bathroom. One night's stay can range from 35,000 to 60,000 JPY.
There are many dining options available for the guests, each one utilizing mountain delicacies and seasonal ingredients, as well as local produce sourced from Lake Biwa. They also serve "Omi Beef", which has quality marbling and is raised mainly in Shiga prefecture. Seasonal Kyoto-kaiseki is also served along with a variety of bespoke food.
Biwako Hanakaido also has multiple hot spring baths, ranging from indoor to outdoor and private and communal. Each type has their own charm, with the outdoor baths mostly featuring a view of Lake Biwa. Private baths can be reserved in advance. The inn also offers a spa for added relaxation. Other facilities include a souvenir shop, and a cafe.
Biwako Hanakaido can be accessed by taking the JR Line from Kyoto Station to Ogoto-onsen Station. The inn offers a free shuttle bus service to and from JR Ogotoonsen Station or JR Hieizan Sakamoto Station.
The establishment is operating normally with safety measures in place and limited acceptance to prevent the spread of infection.
Does this place have a private onsen for couples and families? Is this venue tatoo friendly?
(1) Rooms with open-air hot spring baths available
(2) Rooms with hot-water open-air spa available
(3) Rental hot spring baths for private use (outside guest rooms): 1 bath
Spring quality/qualities
Simple hot spring
Tourist spots nearby
Lake Biwa, Mount Hieizan Enryakuji Temple, Miidera Temple, Kyoto
Number of rooms
43 rooms
Rooms with open-air baths
Available
Onsen Area
Biwako
Is this place ryokan only or ryokan with an onsen?
Onsen Ryokan
Does this ryokan have private onsen (hot spring)?
Yes
Is there a communal shared public bath?
Yes
Are there additional rental options?
With open-air tubs 1 With indoor tubs 0 With both indoor and outdoor tubs 0 Hours 11:30 am-1:00 am, 6:00 am-10:00 am Price 2750 yen / 50 minutes How to book Reserve upon check-in
In or near
Kyoto
Price range (yen)
35,000 – 60,000
The price includes one dinner and one breakfast
Biwako Hanakaido
Anthony W
●●●●●
Amazing kaiseki experience
This is our first kaiseki dinner experience in onsen ryokan. We love the food setting and the service. The onsens are also beautiful especially the outdoors with bamboo trees surround, we tried all pools (indoor and outdoor) as well private onsen. The breakfast also good setting. After finish onsen, there is one space that we can overlook small nice garden and enjoy the peaceful with 8'C breeze in december. So relaxing ... We spent 97k yen for 4 adults including the kaiseki dinner (forgot to take shabu pict) and breakfast
---
Iris E
●●●●●
The greatest experience in Japan
In a nutshell: We were pleased about everything and would not have changed a thing. We visited Biwako Hanakaido in the end of March. We were picked up from the train station to the ryokan. The staff were really kind and spoke very good English. We got yukatas (for both men and women) that we were able to wear for the whole stay in the ryokan. The room was great, it was everything we imagined and it had a nice view to the lake. We rent a private onsen so that we could bath together. The onsen was really nice and clean, we were not disappointed. We had a traditional Japanese dinner which was quite an experience! There was an ongoing renovation on the premises. However, we were well informed about the potential inconvenience in advance, and we didn't notice anything eventually. We had the change to discuss several times with Mr. Naito, the general manager. Thanks to him and his staff for the great Japanese experience! We were sad to realize afterwards that we should have spent at least one day more here instead of Tokyo.
---
NipponVisit
●●●●●
Classic & Nostalgic
Biwako Hanakaido elegantly stands the test of time overlooking Biwa Lake, the great inland water of Japan. Staff hospitality is impressive and beyond excellent. Kiseki dinner is specially prepared yielding an exotic look and tastes.Genuine onsen pool is well reserved with genuine mineral water. Overall, a relaxing moment to cool down a fast-paced lifestyle.
---
Awright27
●●●●●
Absolutely amazing!
Everything about our stay was great! They pick you up (and drop you off) at the train station and they are so polite and welcoming. We stayed in a western style room and the beds were comfortable, the view was great, and the yukatas were fun to wear! Our dinner and breakfast were both amazing and so fancy. This was our first time at an onsen and it was great. We even rented a private one (about 26 usd for 50 min) so m husband and I could soak today and it was worth it. Overall 5/5, would 100000% percent recommend staying here!
---
Helmermis
●●●●●
Amazing Ryokan - Best experience in Japan
Our visit to Biwako Hanakaido in the end of July was the highlight of our 3 week trip to Japan. We had traditional japanese rooms with great views, they were nice and big compared to other rooms in Japan. Biwako Hanakaido gave us Yucatas to wear during our stay, these were really nice and it was fun trying out traditional Japanese clothing. The Onsens were nice and big - we sadly can't compare with other Onsens as we didn't visit other, however we were very satisfied with them. For dinner we had the most amazing hostess/waitress, fluent in english, very knowledgeable of the food and area in general. She came with great ideas to things to see in the area. She was super helpful and the most amazing and kind hostess we've ever experienced. The rest of the employees were also super kind and helpful - they were always ready with a helping hand and they even drove us to and from the train station and local attractions. I can't recommend this experience enough - this is really something you have to do while in Japan. I hope to get back someday soon, as this was my most treasured memory of our Japan trip.
---