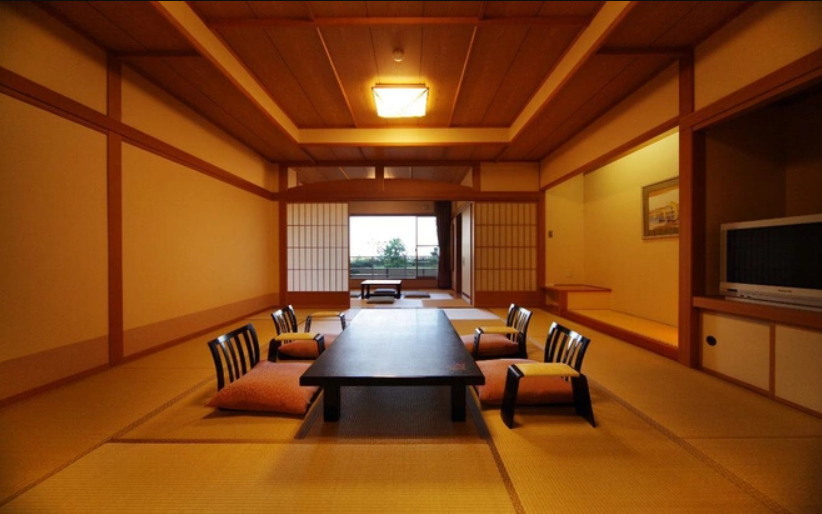 Biwako Ryokusutei is an accommodation located in Ogoto. Its appearance comes in a resort-like inn that faces Lake Biwa. It has a total of 72 guest rooms that cost between 20,000 to 50,000 JPY per night, including open-air hot spring baths in some of the rooms.
The inn has also a public onsen which can be enjoyed by men and women separately, with other bath facilities available for rent. Private onsens are ideal for families, friends, and those with tattoos.
The inn also prides on its cuisine, only serving high-quality food to its guests. Its dishes are made from the best ingredients in the area, which is served at the on-site restaurant.
Attractions like Mount Hieizan Enryakuji Temple and Midera Temple are accessible from the location of the inn. To get to Biwako Ryokusutei, guests can take rides from Kyoto Station.
Due to COVID-19, guests are advised to book under the guidelines implemented by the Government of Japan.
Book Biwako Ryokusuitei in Kyoto Lake Biwa Onsen (Shiga) – Ryokusuitei is a resort-style onsen ryokan facing Lake Biwa. 51 guest rooms out of all the 72 rooms are equipped with open-air onsen baths. Gender-segregated large public baths (with open-air baths) are also available. There are many spaces for relaxation within the area of the ryokan. High-quality food making use of ingredients like Omi beef is served at a restaurant with a good atmosphere.
Access: around 20 min by JR Line from Kyoto Station to Ogoto-onsen Station
Does this place have a private onsen for couples and families? Is this venue tatoo friendly?
Rooms with open-air hot spring baths available
Spring quality/qualities
Simple hot spring
Tourist spots nearby
Lake Biwa, Mount Hieizan Enryakuji Temple, Miidera Temple, Kyoto
Number of rooms
72 rooms
Rooms with open-air baths
Available
Onsen Area
Biwako
Is this place ryokan only or ryokan with an onsen?
Onsen Resort
Does this ryokan have private onsen (hot spring)?
Yes
Is there a communal shared public bath?
Yes
Are there additional rental options?
With open-air tubs 0 With indoor tubs 0 With both indoor and outdoor tubs 0
In or near
Kyoto
Price range (yen)
20,000 – 50,000
The price includes one dinner and one breakfast
Biwako Ryokusuitei
Kevin
●●●●●
Great place to relax and eat
Pro: The pick up from and to the hotel was pretty easy. We called as soon as we arrived at the station and got picked up within 5 minutes. The hotel staff and very very attentive and cares for your every need. The traditional Kaiseki-Dinner ist very recommendable, the beef was TOP and of high quality! The public onsen was pretty nice as well, even though the onsen designated for the men can be seen from the surrounding buildings. "Contra": We booked the Deluxe Room with an open air bath (onsen) on the balcony which cost a steep amount of money and yet, the water was not hot because it's natural spring water and the temperature outside was around 2°C. Too bad, we would have loved to use the bath but couldn't. But overall a great stay and would definitely come back again!
---
Paul W
●●●●●
Brilliant Hotel
We travelled here from Osaka, seeking a Japanese hotel experience without the futons. Large room with all coveniences, a view of Lake Biwa and best of all a large bathtub on the balcony connected to a hot spring We stayed 2 nights, with the tariff including 2 dinners and 2 breakfasts. The dinner was out of this world; the freshest produce, perfectly cooked and exquisitely presented. Hotel was spotless, staff were perfect. Sakamoto Cable Railway (shrines, forest, etc) was highly enjoyable.
---
Loh K W
●●●●●
Amazing stay, onsen and meals.
It is only 20 minutes' drive from Kyoto or one can go there by train where the hotel bus will pick you up. The hotel is an amazing place to stay in. The rooms are large and all facing the beautiful lake. One can choose either a room with bed or one without bed where one can sleep on the tatami mat. The in-room onsen is cool. One can have a hot bath without leaving the room and have a nice view of the lake at the same time. The outdoor onsen located at the lake, is equally nice. Each room was give 2 raw eggs to cook at the outdoor hot spring area. We slept very well. The dinner is incredible. Many courses were served and each with it's own unique and taste and flavor. Breakfast was excellent too with a free flow buffet BBQ fish available. What an amazing experience. Definitely recommended.
---
cleeyy
●●●●○
Quiet Lovely Onsen Ryokan in a sleepy town. Great place to escape from the tourist hoards.
The staff were nice and accommodating. They welcomed us warmly. We actually arrived this ryokan before the 3pm check-in time and had to wait around until then. The staff took care of our luggage while we took a stroll outside the facility at the lake side. There were a couple of yatch parked at the side of the lake with groups of people fishing leisurely. We enjoyed our stroll and felt that this ryokan is a nice place to escape from the hustle and bustler of city life and the noisy hoards of tourist. And I could see that this ryokan mostly has local guests more than tourists. There were lots of senior citizen guest here. After checking in, a nice English speaking gentlemen took us around the facility and patienly waited on us when we took a short look at the public onsen area. He then graciously shown us to our room. Our luggage were brought into our room by their staff during our lovely tour.This same gentlemen also offered his help whenever he could. He even offered to take a couple of pictures for us. There wasn't much to do or happening around the area of this ryokan but we did venture into a nearby kobini store to and sat there enjoying our late night snacks. There are some restaurants surrounding the ryokan but we didn't get to try them out as my room plan comes with dinner and breakfast already. We enjoyed our room and the open-air hot spring bath with beautiful view of the lake. The temperature of the water is just right and the room is clean with sufficient amenities for our comfort. The uses Shishedo brand of products in their bathroom and also in their public onsen. I did encountered an unpleasant incident at the public onsen; someone took my bathtowel. I had nothing to dry myself with other than that small hand towel which I took into the onsen bath. I didn't know such thing could happen in Japan. I was really surprised it actually happened. I reported this incident at the front desk; didn't receive any apologies but they gave me 2 sets of replacement towel sets to use. The front desk guy just handed over to me the towels without putting it into a bag and we were on our way to the dining hall for our kaiseki dinner. But luckily the nice gentlemenly staff (he might be the floor manager) from this afternoon happen to pass by and helped to provide us with a nice paper bag for the towels so we could bring it into the dinning hall without looking silly. I really appreciates his hospitality and understanding and praised his thoughfulness. The Kaiseiki dinner was delicious and very lovely. They uses fresh high grade ingredients and was careful with their presentation as well. The waiter assigned to serve us was very helpful and nice too. He does not speak very good English but patiently introduced the food and ingredients too us and did his very best to explain and answer our questions. I am very impressed by his positive and professional attitude and regretted not taking down his name to thank you for his good service in this review. Same goes with that nice 'floor manager' gentlemen. I wished I had taken note of his name so I could thank him here.Both of these outstanding gentlemen made our stay memorable and enjoyable. Thank you. Overall, we are very satisfied with our stay here. We were shown great hospitality and felt welcomed. Their meals were delicious and of great value. I liked that they served seafood barbeque for breakfast. Before I came here, I did wish for our dinner could be served in our room as per usual onsen ryokan practise for kaiseki plans. But after experiencing the kaiseki meal at the dinning area with professional server, I have no more complaints. Therefore to me, Biwako Ryokusuitei is worth your visit and to splurge your money on. Happy first time guest of Ryokusuitei
---
SK Ho
●●●●○
Forget about the room and enjoy the rest
I have mixed feeling about this ryokan. The setting of the dining area was very nice. The Kaiseki dinner was beautifully presented. The seafood food and omi beef were fresh and excellent. The service was good. The public onsen (including the open air one) was spacious, clean, well maintained and with all necessary amenities supplied. All these are on the first floor of the ryokan. What made me a bit unhappy was the room. We booked a Japanese style room with living room and open-air bath in the Biwa-no-Kaze wing about 2 months in advance. Two days before we arrived, the ryokan sent me an email saying that the room that I booked was not available and offered a smaller room with lake view at a discounted price. The offered room was small and a bit worn down. It did not have a separate bathroom. The bathing area was next to the private onsen. The water temperate of the private onsen was too hot (much hotter than the public onsen). I stayed in many hotels and ryokans in Japan in the last 3 years. This is the first time that I did not get the room that I booked and was not given a choice. There were rooms similar to the one that I booked in other floors of the ryokan but we were not offered one. I understand that there were commercial decision, but I was not given even an apology at check-in. To be fair to the ryokan, my recommendation is to book a room with minimum facilities and enjoy the food, dinning service, public onsen and the Biwa lake.
---