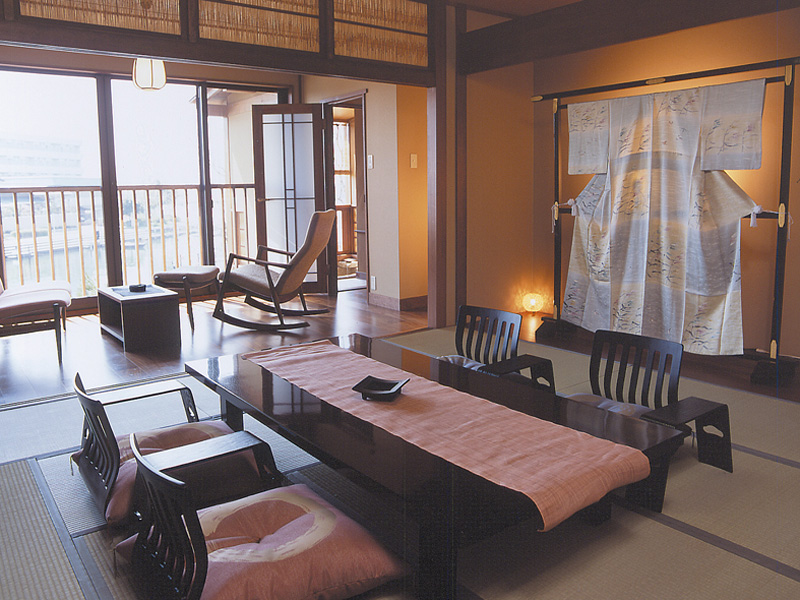 Dantoukan Kikunoya is a traditional Japanese inn located in Ogoto. It has a total of 21 rooms that boast a cultural display splashed with modern touches.
Its interiors are complete in woven-straw flooring and yukata robes that can be worn by guests during their stay. There are also rooms designed for people who travel with their furry buddies, making the inn animal-friendly and distinct. A stay at the inn costs around 10,000 to 30,000 JPY per night.
Its onsens invite guests to take a dip and relax while viewing the city. There are also available onsens that can be rented for private use, usually ideal for families and friends.
Guests can unwind with music in their karaoke room or pick something special and memorable at the on-site souvenir shop. Attractions like the Mount Hieizan Enryakuji Temple and the Miidera Temple are accessible from the location of Dantoukan Kikunoya.
To get to the ryokan, guests can take rides coming from Osaka Itami Airport or can take advantage of the free service. Guests are required to practice safety and precautionary measures while traveling to prevent the spread of coronavirus.
Book Dantoukan Kikunoya in Kyoto Lake Biwa Onsen(Shiga) – Standing next to Lake Biwako. The view of the lake from the private-use open-air baths is beautiful.
Access: around 20 min by JR Line from Kyoto Station to Ogoto-onsen Station
Does this place have a private onsen for couples and families? Is this venue tatoo friendly?
(1) Rooms with open-air hot spring baths available
(2) Rental hot spring baths for private use (outside guest rooms): 1 bath
Spring quality/qualities
Simple hot spring
Tourist spots nearby
Lake Biwa, Mount Hieizan Enryakuji Temple, Miidera Temple, Kyoto
Number of rooms
21 rooms
Rooms with open-air baths
Available
Onsen Area
Biwako
Is this place ryokan only or ryokan with an onsen?
Onsen Ryokan
Does this ryokan have private onsen (hot spring)?
Yes
Is there a communal shared public bath?
Yes
Are there additional rental options?
With open-air tubs 1 With indoor tubs 0 With both indoor and outdoor tubs 0 Hours 4:00 pm-10:50 pm Price 5500 yen / 50 minutes How to book Reserve upon check-in, Reserve in advance
In or near
Kyoto
Price range (yen)
10,000 – 30,000
The price includes one dinner and one breakfast
Dantokan Kikunoya
aidma1
●●●●●
현대식 보다는 전통이라면 바로 이곳
this ryokan is lovely place in near kyoto. easy accessible from Kyoto via a short train ride(20~25min). Easy pickup service from the station(5min). The staff were incredibly friendly and They gave my wife a birthday present. the Japanese traditional dinner(keiseiki) and breakfast was amazing. Breakfast is good quality Japanese style. Thank you to all the stafffs and see you soon!! 교토에서 20분정도걸림. 픽업서비스도 좋고 주위에 편의점도 있어서 이용이 편리하다.식사도 훌륭하고 직원들은 정말 순수하고 친절하다.꼭 다시 가족들과 함께 방문하고 싶은 곳이다.
---
Iben J
●●●○○
Very interesting
A kind of a "Must try experience" when visiting Japan for the first time. The Ryokan is ok, but expensive. A little worn out, but very clean, and the servantes are friendly. The metals served, dinner and breakfast, are traditional japaneese and almost all tofu and fish. Dinner served in your room, sitting on the floor, was an interesting experiense.
---
PiccoloDaimaku
●●●○○
Uhm!
This ryokan is located in an industrial area near the great lake. The surroundings are very ugly, but in return you have plenty of shops and restaurants to enjoy. The hotel inside is nice, but outside is no big deal, except the entrance to it which is lovely. The baths, onsen, are reasonably clean, but in the morning when they were supposed to have been cleaned, the water had soap from other people, I do not know what was due. The rooms were nice, clean and new, well decorated and equipped. Breakfast was of good quality and good service from the waitresses. To highlight that the staff is extremely kind and helpful, polite. The worst is the price, exorbitant for what the hotel offers.
---
Ven G
●●●●●
Great Japanese ryokan and onsen
The hotel staffs are very friendly and we feel welcome even with a gift for our toddler on arrival. We have borrow a few toys through our stay and that keep our 2.5 year old entertained. Our room 335 is a Japanese style room, we have ordered dinner in our room and it was lovely. There is shower in our room, separate toilet and the basin is by the window which facing the lake. Although it is a smoking room but we can't really smell it but the straw smell from tatami. The room is very clean! After finish dinner in our room, they would setup futon bed for us. The onsen in the ryokan is a good experience, there is indoor and outdoor pool. You need to clean yourself before entering the pool (without clothes). Japanese breakfast (house made tofu) is served during our stay too. The only downside is it is not close to Kyoto, it takes about 20 mins to get to Kyoto station from ogotoonsen station. You can contact staff to pick you up at ogotoonsen train station. Definitely will visit again!
---
nicky935
●●●●○
A traditional Japanese experience
Dantokan Kikunoya is a very traditional Japanese Hotel. The breakfasts are amazing (if you're looking to eat traditional Japanese food), the communal baths are just glorious and the shuttle service to the station is incredibly convenient. The rooms are spacious and well set up. The downside was that for the first day and a half of our 3 day stay, there were no English speaking staff members in the hotel. I'd specifically checked because my Japanese is very basic. Luckily, staff were quite happy to communicate with a lot of pointing and arm waving. We travelled into Kyoto centre for food because the area didn't have much of a selection of places to eat. Location isn't great, but the hotel itself is wonderful.
---