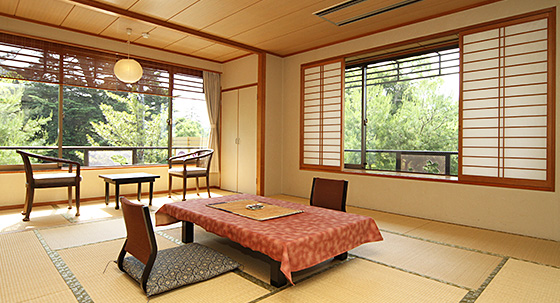 Jukeiso is a traditional Japanese inn located in Hiroshima, Miyajima. Its location is a walk away from the famous Itsukushima Shrine, which is a World Heritage Site officially listed by UNESCO.
Sites like the Goju-no-To Pagoda and the Hokoku Shrine are also near to the inn. The Miyajima island is currently a place restricted for traveling due to coronavirus, but tourists are welcome to plan their activities once border restrictions are lifted.
The rooms of the ryokan are based on traditional Japanese design that boasts the view of the Torii gate of the shrine. It has a total of 13 rooms that cost between 20,000 to 40,000 JPY per night, including yukata robes and private bathrooms.
The ryokan has a public indoor bath and outdoor bath that also offers the view of the shrine. A free shuttle is provided by Jukeiso when traveling from or to the Miyajima Ferry Terminal.
Access: around 25 min by JR Sanyo Main Line from Hiroshima Station to Miyajimaguchi Station, then 10 min by ferry to Miyajima Island
Does this place have a private onsen for couples and families? Is this venue tatoo friendly?
Rental hot spring baths for private use (outside guest rooms): 1 bath
Tourist spots nearby
Miyajima Island (Itsukushima Shrine), Hiroshima Peace Memorial (Atomic Bomb Dome)
Year of establishment
1926
Number of rooms
13 rooms
Rooms with open-air baths
Unavailable
Onsen Area
Miyajima
Is this place ryokan only or ryokan with an onsen?
Onsen Ryokan
Does this ryokan have private onsen (hot spring)?
Yes
Is there a communal shared public bath?
Yes
Are there additional rental options?
With open-air tubs 1 With indoor tubs 0 With both indoor and outdoor tubs 0 Price Free / 30 minutes How to book Reserve upon check-in
Price range (yen)
20,000 – 40,000
The price includes one dinner and one breakfast
Jukeiso Video
Jukeiso Location
Jukeiso
DAR75
●●●●●
wonderful stay, special treatment
We had a special and wonderful stay. The view is just amazing. The staff is so nice. The service is fantastic (tea in the room at our arrival, slippers to go around in the hotel, etc...). The rooms are great: very big, clean with all comforts. The private hot bath is also incredible and has also e beautiful view. The diner is royal, so many different specialities. We loved it all and we highly recommend it.
---
Arotake
●●●●○
Interesting experience that has to be done
Our first ryokan stay. Lovely hosts, very accommodating. Hotel itself is nice but a bit basic. Food was quite good albeit the "western" breakfast was quite an eastern version of western. Good location for walking around the island. Very quick to collect and return us to the ferry. Recommend it as long as ryokan is want you want.
---
Angelika
●●●●○
A perfect getaway
If you have a chance to stay the night on Miyajima and want an extra special getaway book a night at Jukeiso. The staff are delightful, the traditional Japanese-style rooms are clean and comfortable and the food is delicious. The onsen was fabulous after several days of trekking around Japan. Worth it!
---
Basanti77
●●●●●
Felt pampered
Our stay at Jukeiso was the highlight of our trip. We were picked up at the ferry terminal by Kenji who was wonderful. Check in process was smooth. I asked him to give us the room with the best view and we were not disappointed. He provided us with maps and since we were early they took care of our bags while we wandered the island. We returned to a beautiful room with fabulous views, bags in place and table set up with a refreshing drink and hot towels provide by our hostess Doi-San.We had booked our dinner and private onsen schedule already at check in. The dinner was a fantastic and sumptuous 9 course meal, Doi-San took care of all our needs and tried her best to explain what each course consisted of. This is a place meant for relaxing.Walk around comfortably in your Yukata,use the onsen, have fabulous meals provide with so much love and courtesy and leave feeling completed rested and pampered
---
Joel M
●●●●●
Highly Recommended
My family had a travel party of ten, including two small children. Everyone enjoyed the stay. After traveling in Japan, you just get used to good service. But we thought the staff at Jukeiso were particularly outstanding. As with many ryokan, some of its areas are dated. But that is the charm of staying there in the first place. Our rooms were large and very clean. Everyone, including the little kids enjoyed dressing in the yukatas for dinner. The food was excellent and the "kids meals" the hotel was kind enough to make for our kids were amazing. The hotel is high on a hill so it offers sweeping views of Miyajima which are a bonus of staying there. We took advantage of the private onsen and its views of Miyajima at night which were beautiful. Jukeiso was recommend to us by friends and we will be recommending it to others.
---