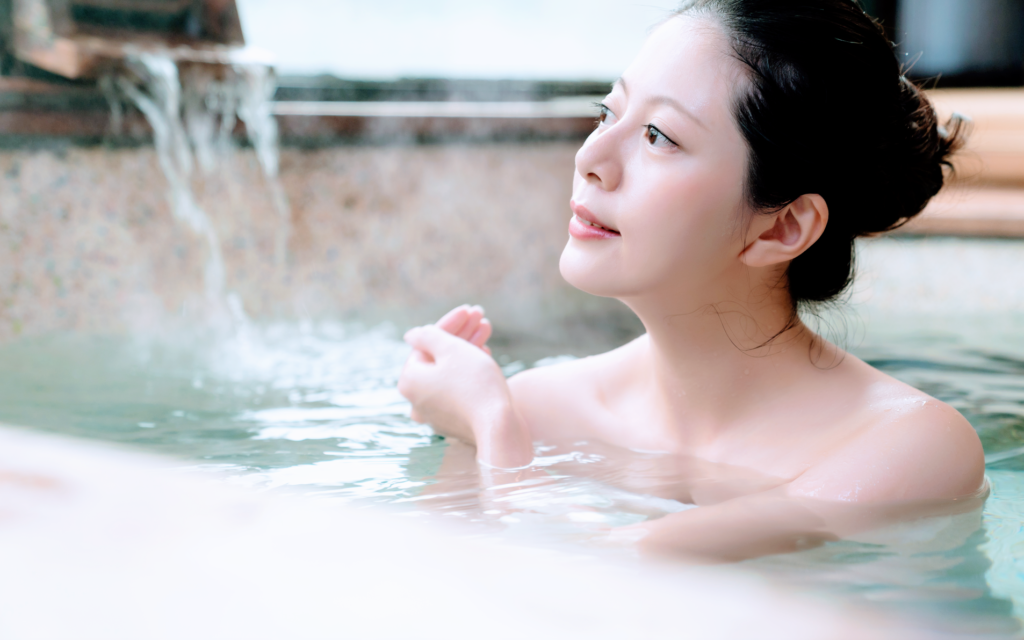 Kadensho is a traditional Japanese inn situated in Arashiyama. The rooms of Kadensho welcomes guests with its classic cultural aesthetic, providing a relaxing vibe.
It has a total of 105 rooms that cost around 35,000 to 75,000 JPY per night, including yukata robes guests can wear during their stay. The robes are available depending on first come first serve basis.
The onsens of the ryokan invite guests to unwind in its waters. Its public baths can be enjoyed by men and women separately.
There are also rental baths that can be used for private without additional fee. The traditional kaiseki dinner is made with rich ingredients and calls guests to experience an eat-all-you-can tempura.
The inn is ideal for guests who want to explore sites as its location is convenient. Visitors can go to nearby attractions like the Horinji Temple and the Ichitanimunakata Shrine.
Kadensho is accessible by rides from Kyoto Station. Guests are required to practice safety and precautionary measures while traveling to prevent the spread of coronavirus.
Book Kadensho in Kyoto Arashiyama Onsen –  Situated one-minute walk from the Hankyu Arashiyama Station, Kadensho is in an excellent location for a stroll in the Arashiyama area. There are three different types of guest rooms, all designed in an artistic Kyoto style. You can enjoy onsen at the gender-segregated large public baths (with open-air baths), as well as five charge-free rental baths for private use. Kyoto-style kaiseki meals catered here come with all-you-can-eat tempura.
Access: around 15 min by JR Sanin Main Line from Kyoto Station to Saga-Arashiyama Station
Does this place have a private onsen for couples and families? Is this venue tatoo friendly?
(1) Rooms with hot-water open-air spa available
(2) Rental hot-water open-air spa for private use: 3 baths
(3) Rental hot-water indoor spa for private use: 2 baths
Spring quality/qualities
Simple hot spring
Number of rooms
105 rooms
Rooms with open-air baths
Available
Onsen Area
Arashiyama
Is this place ryokan only or ryokan with an onsen?
Onsen Ryokan
Does this ryokan have private onsen (hot spring)?
Yes
Is there a communal shared public bath?
Yes
Are there additional rental options?
With open-air tubs 0 With indoor tubs 0 With both indoor and outdoor tubs 0
In or near
Kyoto
Price range (yen)
35,000 – 75,000
The price includes one dinner and one breakfast
Kadensho
s-hane-s-hane-s
●●●●○
It was a very comfortable stay
I and my mother stayed there for one night 20000 yen per person, with dinner and breakfast. It was a very comfortable stay. This was more like a hotel, except that we needed to walk around without your own shoes (without getting dirty feet) inside. It was fully booked on that day. We had an earlier check-in, which mean that we could enjoy our relaxing private Onsen bath without standing in line. We also tried the large onsen baths later in the evening after a long walk in the beautiful Arashiyama area nearby. It was hot, but great. One of the baths was outside in a Japanese garden. We got warmed up from the inside out, and had an ice popsicle before we went up to our room for good nights rest. We also enjoyed a huge dinner and breakfast, true local cuisine with typical taste in Kyoto that supposed to be refined and "delicate" - you shouldn´t expect any strong taste, and correctly cooked. This supposed to be a 3-star-hotel, but the amenity was completed. We didn´t miss anything here. We thought the staff at the front desk were not amazing, but definitely not poor. We didn´t need to deal with them so much as we had good information in written form. Everything was clean and pleasant. Had absolutely nothing to complain. We would definitely love to come back again. My rating is 4 - not more or less. I certainly see that they still have a room for improvement, but overall I didn´t personally understand all the poor reviews.
---
Mei
●●●●●
Amazing, unforgettable experience
I stayed here with my boyfriend over the summer for a few days and we absolutely loved it. From the front desk to the servers everyone was very friendly and thorough with their explanations and customer service. The room itself was amazing and was worth every penny. We tried the dinner and breakfast option and the meal was mindblowingly good. You are seated almost immediately and everyone got their small private room for the meal. Everything from the rice to the tempura was delicious and fresh. The onsen was another experience by itself, we tried two of the outdoor onsen and one of the indoor onsen. You do need to pick a time to beat the crowd in order to get yourself into one. The outdoor private onsen was amazing and is to die for. The room was also very clean and had ample amenities, we would definitely be back. The only minor complaint we have is the location. Although it is located right by a few bus stops and a train station, the train stations did not go to many of the attractions we wanted to go. The bigger train station was slightly further away and may be difficult to reach with a lot of luggage.
---
Meow T
●●●○○
Not a typical traditional onsen ryokan
This onsen ryokan is managed by a company with chain hotels. The service offered is not one would expect from a traditional ryokan. But with the reasonable price, we did not expect more and were quite satisfied. We booked an ordinary twin room with beds. Small in size but cozy enough with toilet and shower room. Check-in was more like hotels and no staff would escort you to your room as in traditional ryokan. Time of the meal was chosen at the reception counter during check-in. One thing is that you have to remove your shoes upon entrance placing them in a shoe locker. We had no big luggage so we didn't know if the staff would help you with your luggage. They have one public onsen and 5 private onsens and they are all free of charge. Apparently it was a low season so I didn't need to wait for most of the private onsens. Food was average in quality but plentiful in terms of quantity. Free-flowing drinks and made-to-order tempura came with the standard meal. Breakfast was served as semi-buffet. Location-wise, the property is located near a the Hankyu Arashiyama station but not the JR one. You can walk around the property's neighborhood which offers quite nice views. The main shopping street of Arashiyama is about 10 minutes' walk from the property. Staff do not speak very well English so a little bit of Japanese would help ease your stay.
---
Chris Koh
●○○○○
Xtremely disappointed
This is supposed to be a 4-star hotel, wondered where they get their stars from! All guests have to keep their shoes in a cabinet on arrival and walk around the whole hotel bare footed! You would then assume everywhere should be in tip top condition but No. We found little crawling bugs on the room floor mat and bathroom shelves and floors are covered with a layer of dust! After walking around a while, your feet is dirty! They try to clean your luggage wheels on arrival on a very small piece of rug and physics will tell you not the whole wheel is cleaned and there is not enough space on the rug for the wheel to turn a full round! Staff is just going through the motion! All furnitures and Yukata clothings are old and worn out. This killed our desire to wear them and go to their onsen! How clean will be their onsen! Japan is a very clean country and we have not encountered such a run down and dirty hotel! Never stay here again!
---
Faith L
●○○○○
Just got here and regret that I trusted all this BS reviews
Where do I start when I was excited for this place while doing honeymoon here? Horrible. It all started with bad instructions on the Google map and tried to contacted the staff here and got horrible engish help. We found our way They didn't even bother to come look for us and ended up just trying to get us checked in and thats all. The building is old and staff is unfriendly. Gave us no option on the changing close in fact offered the ugliest for us to wear. And did I mention we are on the smoking floor? Yep. You are screwed if you are sensitive then too bad for you. Well, this taught me never trust reviews again.
---