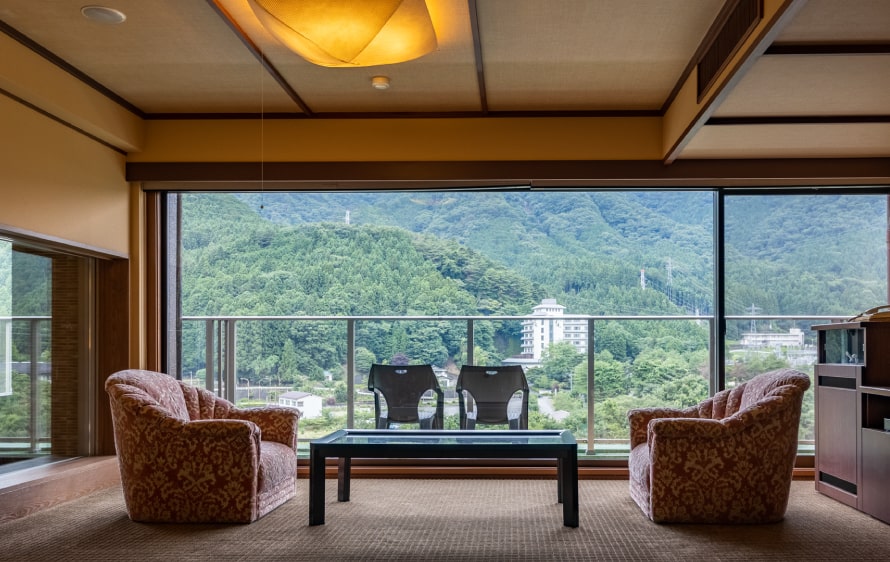 Kinugawa Hotel Mikazuki is a Japanese-style accommodation located in Kinugawa Onsen in Tochigi Prefecture. It features open-air baths located at the highest spot in the area and a large hot spring bath that spans 100 meters, overlooking a gorge. The hotel offers a variety of hot spring baths to choose from–indoor and open-air public baths, as well as private ones that can be reserved in advance.
There are over 250 guest rooms in the hotel, equipped with a flat-screen television, air conditioning, and a wardrobe, as well as a private bathroom provided with basic amenities.
There are different types of rooms available such as a traditional Japanese-style room, a Western-style room, and a fusion between the two. Some units will have their own hot-spring bath. The establishment is also accessible to persons with disabilities. The rooms can range from 15,000 to 45,000 JPY.
As with cuisines, Mikazuki provides a selection of fresh seafood, meat, and vegetables in their Viking restaurant, "Silk River". Cafe Sanaburi with their desserts and light snacks, with seats situated on the terrace, and a modern restaurant with a lounge that provides a gastronomic experience in private dining rooms. A noodle shop, "Iroha" is also available and offers Chinese and Japanese dishes. Guests may also opt to be served their meals in the privacy of their rooms.
Kinugawa Hotel Mikazuki can be accessed by taking the Tobu Limited Express from Asakusa Station, Tokyo. The establishment is operating normally with safety measures in place and limited acceptance to prevent the spread of infection.
Rooms with open-air baths
Available
Onsen Area
Kinugawa
Is this place ryokan only or ryokan with an onsen?
Onsen Hotel
Does this ryokan have private onsen (hot spring)?
Yes
Is there a communal shared public bath?
Yes
Are there additional rental options?
With open-air tubs 0 With indoor tubs 0 With both indoor and outdoor tubs 0
In or near
Tokyo
Price range (yen)
15,000 – 45,000
The price includes one dinner and one breakfast
Kinugawa Hotel Mikazuki
SandBTokyo
●●●●○
Fun and Wonderful place for Kids - but room smelled like Smoke
This hotel is big and lots of fun for the kids. However, room smelled like smoke which was disgusting. The hotel is quite near to the station. The place is very clean and well maintained. It is a beautifully decorated and spacious hotel. The staff are very nice and friendly. The check-in was easy and they offered welcome drinks in the beautiful lounge. The hotel has an indoor pool with a slide, an outdoor pool (shallow and for lounging) overlooking to river valley and also an onsen. The onsen was big and lots of different baths, really great.Sauna was closed due to corona. Changing rooms very spacious and clean. They also have a game room. Dinner and breakfast buffets were quite nice, although food is not the strongest point for Mizazuki, it was OK. Strange thing was I told a staff lady during breakfast that they were out of hot tea, and she said that there was no more. Not sure she was just lazy or they actually ran out of tea. Room was big and nice layout, however there was an embedded smell of smoking. Disgusting, not sure why the hotel still lets people destroy their property with smoking. This was the downside to our stay. All in all, Mikazuki is a fun place if you have kids and recommend staying.
---
Robin S
●●●●○
Not great, but good! Improved!
This hotel is a big hotel and is suited for those who want to stay in an onsen hotel. It's near the station. The onsen room is very big. The negative points of this hotel is the light smoke smell and the lines for the buffet. This is my second time staying here and it has improved. The staff are friendlier now. The reason I gave it 4 stars and not 3 is that the value is very good for the price.
---
Gidons51
●●●●●
Very big traditional Japanese hotel
A very big traditional Japanese hotel . Rooms big with Houton beds , sleeping on the Matami floor. Low table and chairs . Very nice mountains view from the room . Very big Honsen , the traditional hot springs divided to men's and women's . Excellent Japanese dinner with Sashimi and self cooked meat and rice . Breakfast was noisy and crowded .
---
Chuang004
●●●●○
Terrific!
鬼怒川三日月is one of the best hotels we have stayed during our trip to the middle section of Japan. Beds and table were set on top of nice and clean Tatami. It's a nice mixture. Inconvenient in that there's no free wi-fi. Hotel internet: no free in room wi-fi. Hotel dinner: Buffet style. Huge dining hall. Foods/dishes were verdant and ample. one of the best. Hotel breakfast: Plentiful.
---
Darktauren
●●●●●
Semi-Ryokan style accommodation
My first impression - very expensive, but when I got to see the place, tried their onsen and the buffet all I can say is wow ...it is an experience to be remembered especially for a foreigner like me. I stayed here for 1 night together with my wife and mother-in-law. The room has 2 double-size (or is it single-size) beds and plenty of futons. Since requested my wife that I wanted to experience a ryokan style I opt for the futon over the tatami. I had 1 nicest sleep ever, maybe also due to the onsen bath I took before sleeping. Dinner was buffet and I had my cravings for seafoods (esp. crab) satisfied. most food are good and nicely presented although few choices of free drinks. Breakfast is also nice. Choices ranged from japanese, chinese to western and there are more choices for the free drinks. If you are staying then you have to change into traditional japanese clothings which the hotel provided. No wifi internet in the room but there is in the lobby. Amenities includes onsen, swimming pool and table tennis but there is a time so inquire at the front desk if you want to play. The onsen is not mixed bath and they interchange the use at night and in the morning. Both onsens have outdoor onsen but one of them has this golden bathtub...yes real gold. So what's the benefit, trully I don't know but you got to get the bragging rights that you got to soak in the golden bathtub hehehe
---