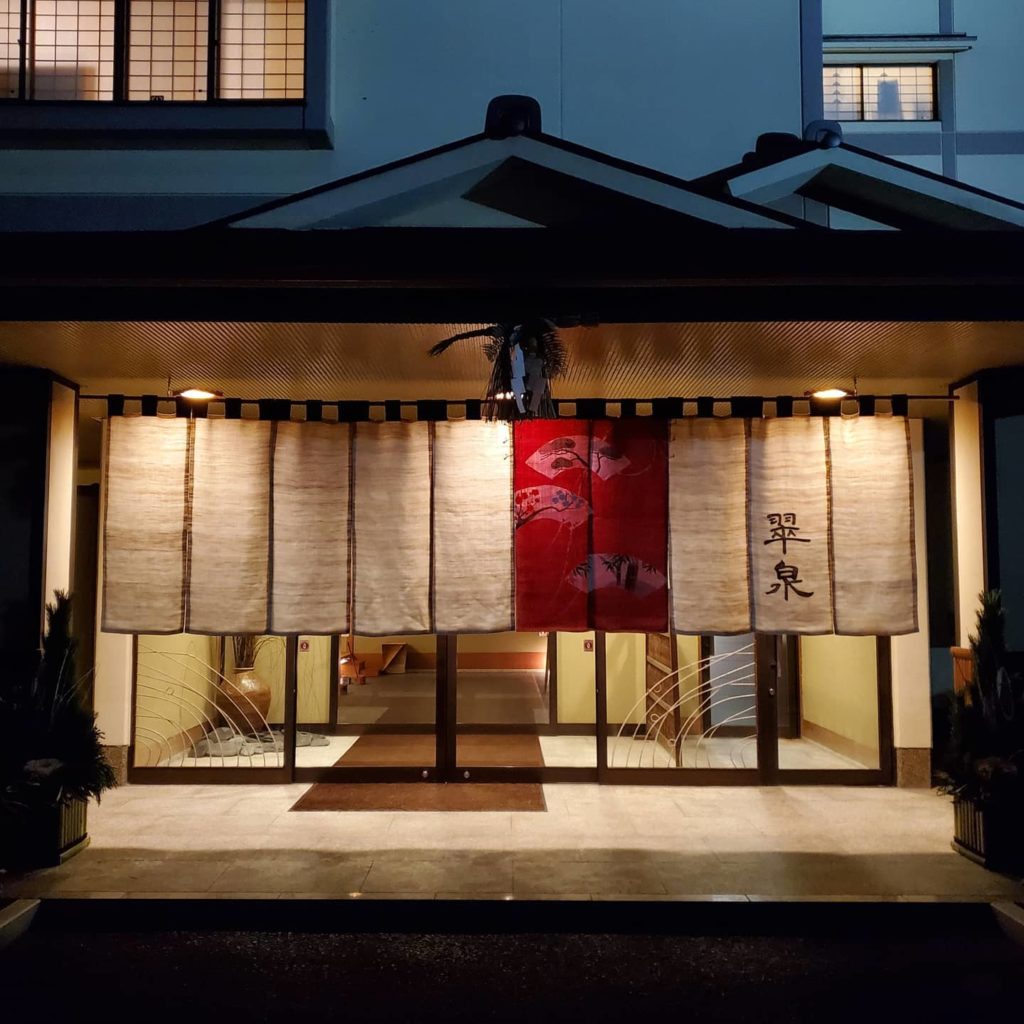 Kyoto Yunohana Resort Suisen is an accommodation located in a city in the Kyoto Prefecture known as Kameoka. The onsen resort is a hidden treasure that is guarded by a clean environment and pristine nature.
The traditional Japanese rooms of Kyoto Yunohana Resort Suisen are complete tatami mat flooring and a classic cultural aesthetic. The resort also features rooms with a combination of styles coming from Japanese and Western influences.
The resort has a total of 13 rooms, which cost around 40,000 to 80,000 JPY per night, with some of the rooms including a private open-air hot spring bath.
Kyoto Yunohana Resort Suisen takes pride in its large public baths with water sources coming from natural hot springs of the Kameoka area. These can be enjoyed by men and women guests separately as there is a segregation policy. There is also a rental open-air rock bath for private use and a spa that offers massages and treatments of relaxation. The inn also provides guests the traditional kaiseki dinner with their dishes sourced locally in Japan.
Yunohana Ryokan is nearby the launching point for the boat ride that cruises along the Hozugawa River. The resort can be reached by bus from the Kyoto Station.
The resort has currently implemented sanitation in its guest rooms and public areas. The number of people allowed has also been limited in their public baths. Guests are also encouraged to practice social distancing, hand washing, and the wearing of masks.
Access: around 20 min by JR Sagano Line from Kyoto Station to Kameoka Station
Private Onsen (For couples, families, tattoo wearers)
(1) Rooms with open-air hot spring baths available
(2) Rental hot spring baths for private use (outside guest rooms): 1 bath
Spring quality/qualities
Simple hot spring
Number of rooms
13 rooms
*Child Policy: Children(twelve years old and under) not allowed
*Smoking is prohibited in all facilities
Rooms with open-air baths
Available
Onsen Area
Kameoka
Is this place ryokan only or ryokan with an onsen?
Onsen Resort
Does this ryokan have private onsen (hot spring)?
Yes
Is there a communal shared public bath?
Yes
Are there additional rental options?
With open-air tubs 1 With indoor tubs 0 With both indoor and outdoor tubs 0 Hours 2:00 pm-9:50 pm, 7:00 am-9:30 am Price 2200 yen / 50 minutes How to book Reserve upon check-in, Reserve in advance
In or near
Kyoto
Price range (yen)
40,000-80,000
The price includes one dinner and one breakfast
Suisen
ramscull
●●●●●
Perfect, Peaceful, Romantic - First Class Service!
I spent a really, really long time looking for a place that ticked all my boxes - a luxurious ryokan with a private ensuite onsen (or the option to rent a private hot spring bath) that wasn't too far from Kyoto. I wanted to make sure that the room's bath used spring water, and wasn't just an outdoor bath (as many ryokans seemed to be). Finally, I also wanted somewhere we could be pampered and experience a traditional dinner with kimono. Right away, Yunohana stood out but I hesitated because of the price. I can now say it is worth every single penny! You are definitely paying for an experience, not just a hotel stay. We treated ourselves to just one night's stay but we were waited on hand and foot the whole time, from the shuttle bus that picked us up from the station to the moment we were gifted with sweets and origami at check out. The service is absolutely outstanding! At check in, we were ushered to a lovely sitting area where we were served sweets and a refreshing drink, along with the usual hot towel. The rest of our stay was planned and outlined for us, and we were asked for our preferences for meals etc too - I had forgotten to pre book a massage so I was glad when this was offered, as it seems pointless not to have a treatment when you're in such a relaxing place! The combo of a hot spring bath and a massage is definitely recommended! We were also given some "outdoor slippers" (for use in public areas) and shown to our room. As I mentioned, we plumped for the room with a private (outdoor) hot spring bath - WOW! It exceeded my expectations. These rooms are really large, with an entrance hall, separate toilet/bathroom/shower room, sitting room, bedroom plus a small dressing area. There was an abundance of toiletries, snacks, teas and drinks (all complimentary) - basically, you'll want for nothing. I even joked to my husband that we needn't have bothered packing any clothes because also provided were beautiful waffle pyjamas, towelling robes, more slippers and a yukata (light kimono) that you could wear outside of the room (i.e. in the public areas). I expected to find a hair dryer but was pleasantly surprised to find curling tongs and a facial steamer in my dressing room! Although I didn't use the latter, the former was really good. After a quick dip in our gorgeous private outdoor bath - HEAVENLY - we made our way to our couple's massage. The two masseuses were gentle, kind and spoke excellent English. Although expensive, the girls were very good and we came out feeling even more relaxed. A bonus was that my hair never looked better the next day, thanks to the oils they used during my head massage. Next up was our dinner (kaiseki) - WOW! I say dinner but it was really a banquet in our own private dining area. The service was excellent, and our waiter made a special effort to explain every single dish in English. There was about 12 courses and we each had a tailored menu - the resort took real care to understand our likes and dislikes. This was much appreciated since my husband hates fish and it was quite a challenge eating out in Japan, at times. Afterwards, we relaxed in the sitting area, which is really welcoming and provides free tea and coffee and snacks (inc. Haagen Dazs ice cream), before making use of the wonderful spa bath again. We had an excellent peaceful sleep too, the bed and pillows were so comfortable. The next morning, another banquet awaited us for breakfast - it was almost comical, it seemed like the dishes would never stop coming! All in all, a perfect relaxing break - you will not be disappointed.
---
Silverfox2204
●●●●●
Wonderful experience 5 stars
The Suisen is 5 star in my opinion and it offers a wonderfully relaxing experience. Yes is it is a little expensive but worth every cent. The service and attention to detail is first class. We stayed 2 nights and highly recommend the extra night to truly relax. The communication in the lead up to our stay was very good and we arranged the shuttle to pick us up from JR Kameoka Station. From the moment we entered we have been pampered and waited upon at every turn. We are not big seafood fans and we advised this in advance via email (they asked preferences etc) the chef prepared us a personal menu which was out of this world we loved all 8 dishes it was really, really good (see pics). We also opted for a full body massage at the onsite spa (couple discount) again a little expensive but was soooo relaxing and worth the splurge. Highly recommend the private balcony hot spring bath - beautiful and relaxing experience. We really enjoyed our stay here (we are still here as I write this and looking forward to dinner tonight) we embraced what is a traditional Japanese experience and wore our Yukatas to dinner (you pick you own design) the bedding is also first class. Cannot fault this place - top class
---
Patty L
●●●●●
Tripadvisor: I'd like to give it a 6-star rating!!
I confess I was a bit hesitant when I booked this place, considering the price. I was worried that it may not be worth. The criteria I had when I picked the hotel was this: a place a bit far from the crowd in Kyoto and definitely not one that attracts a crowd by itself. With only 13 rooms on the two floors they have, and about 30-min JR express from Kyoto, Suisen seems to fit my criteria I thought. And about the price, I compared it with Miyamasou (美山荘) where we used to stay once about 20 years ago and enjoyed the experience. I heard it is now a Michelin-starred ryokan and costs twice of what we used to pay (about $1200 now) where Suisen is still "only" half its price. So we decided to come here instead. And now that I have stayed in both, I can tell you confidently that I enjoy Suisen much more than Miyamasou! I'll tell you why. As a ryokan with a quaint charm, Miyamasou fits definitely into this category, however with it means the rooms are quite dark, the bath and toilet are outside and you will have to sit on the tatami floor for everything you do. You will however get out feeling very "cultured". On the other hand in Suisen, you have your own modern bathroom (and onsen bath on your balcony if you want one), bright living and bedroom (western style so my legs are gratified), refrigerator (with all sorts of complimentary drinks and snacks) and did any other traveler mention this, a vaporizer to open your skin pores! We chose a room with an onsen bath on the balcony but thought it may not be necessary next time we come here (contrary to other opinions), reason being that we also visited their private onsen bath by accident. This is because it so happened that the wall heater unit in our room was broken so the hotel had to supply us with gas heaters in the room. At the same time, they were absolutely very nice to provide us with other complimentary services including a 50-min private onsen session. And this is really the best part. I had not not expected their private onsen in a rock garden setting to have a separate chalet to come with it, meaning you can rest, have drinks and lollipops while jumping in and out of the onsen! We came during the autumn season and it was just fantastic to enjoy the beautiful foliage at the same time. Although the balcony onsen experience was great, this was even better! So I would say it is not necessary to book a room with an onsen on the balcony, first because a private onsen session is much less expensive than the room upgrade (I believe it costs around 2500 yen, I didn't pay and was lazy to find out) and second, because my experience tells me I ended up taking just too many baths in one day! Breakfast and dinner experience, as other travelers mentioned are superb (and so is their service, impeccable!) Everything is top notch. They mentioned in their booklet that they pay attention in serving cold food cold and hot food hot. They kept their promise. It looks like they will always offer some seasonal specialties on the fly. We had crab this time and was very tasty. Before we left, we visited a small temple called Shinzoji (神蔵寺) nearby, about 30-min walk away. Definitely a local gem. No more hesitation, it is worth!
---
Elena W
●●●●○
Quiet Zen Onsen Resort with good and tasty Dinner and Breakfast!
We booked the Japanese Western style with private bath for 2 nights with special seasonal Kaiseki dinner. Room was spacious and their garden is very zen. It is not a very big onsen resort but the staff are very hospitable, helpful and friendly and the room stay is very comfortable. The dinner and breakfast are superb and very tasty, they even take note of our food allergies. I especially loved their sweet treats in the room and lobby. Their in-room private bath is very relaxing and soothing. On each floor, they have a separate smoking room for smokers. The rooms, however, are non-smoking. We will come back again if we come to Kameoka.
---
valentina m
●●●●●
Sweetness of nature: open bath in room!
Everything is perfect in this place: kindness of staff, welcoming tea, wide rooms that are clean and quiet. Public baths (onsen), separated for women and men, has an external bath too! It Is possibile to reserve a private bath in the wood paying Just 2000 yen for One hour. All amenities given for free are top quality. We had open bath in room, it's a big bath for two person. It is a wonderful experience for honeymoon. Kaizeki dinner is fantastic. We ask for occidental breakfast and they did the best to satisfy us. This Place Is perfect to healing from stress or honeymoon.
---