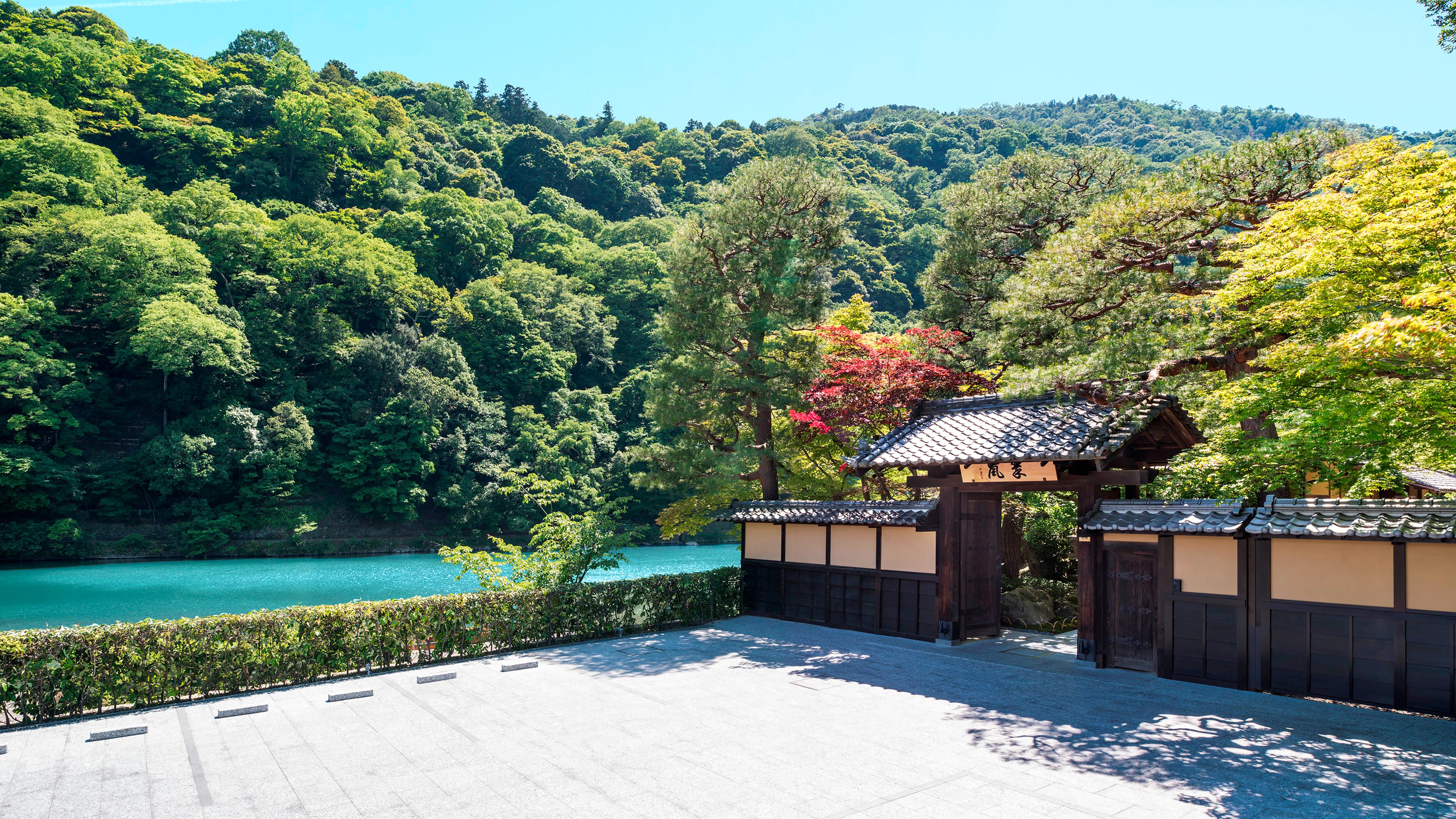 Suiran is an onsen hotel located in Sagatenryuji Tsukurimichicho of Kyoto. It is situated along the river named Katsura. It shows off a beautiful landscaped Japanese garden and is an ideal location for tranquility and quiet.
It has a total of 39 rooms that cost between 60,000 to 90,000 JPY per night, including a seating area, a private bathroom, and bathrobes that can be worn by guests during their stay.
Guests are invited to experience the spa of the hotel or take a dip in their onsen facilities, which must be reserved in advance for private use.
After relaxation, guests are welcome to taste the traditional Japanese dinner known as the kaiseki dinner combined with French cuisine, which is served as breakfast, lunch, and dinner. All the meals are served at their restaurant. Talks, coffee, and tea can be enjoyed at their cafe in its respective schedule.
Sites like the Tenryuji Temple, which listed as a UNESCO World Heritage Site, and the Arashiyama Bamboo Grove are accessible from the location of the hotel, which can be visited by guests during their stay.
Suiran can be reached by rides from Kyoto Station. Due to COVID-19, guests must book under the guidelines implemented by the Government of Japan.
Does this place have a private onsen for couples and families? Is this venue tatoo friendly?
(1) Rooms with open-air hot spring baths available
(2) Rental hot spring baths for private use (outside guest rooms): 2 baths
Spring quality/qualities
Simple hot spring
Number of rooms
39 rooms
Rooms with open-air baths
Available
Onsen Area
Arashiyama
Is this place ryokan only or ryokan with an onsen?
Onsen Hotel
Does this ryokan have private onsen (hot spring)?
Yes
Is there a communal shared public bath?
Yes
Are there additional rental options?
With open-air tubs 2 With indoor tubs 0 With both indoor and outdoor tubs 0 Hours 3:00 pm-11:45 pm, 6:00 am-11:45 am Price 3850 yen / 45 minutes How to book Reserve upon check-in
In or near
Kyoto
Price range (yen)
60,000 – 120,000
The price includes one dinner and one breakfast
Suiran Luxury Collection Hotel Kyoto
Sajek Valley Resort
●●●●●
Amazing hotel!
Amazing hotel! The room is clean and comfortable, especially the bed. The dinner is great and better than we all expected. Also the breakfast. Strongly recommend the Champagne happy hour at the cafe and the dinner. Staffs are very very helpful and friendly, we managed to get the specialize menu for some reasons and all the staffs worked very hard to solve our requests. The hotel offers one-way pick-up/ drop-off between hotel and Kyoto station, which is very helpful, especially when there are senior members in the group. One of the best experiences in Japan.
---
Thomas
●○○○○
AVOID - stay at The Mitsui or RC Instead
I recently stayed the hotel Suiran in Kyoto and was disappointed. Even though the hotel was 85,000, the highest category of Marriott hotels, it did not live up the the expectation at all. Please avoid this hotel. The location is great and the gardens are beautiful, but this is NOT worth the money or points at all and is incredibly boring. I called the Marriott support line after the stay and received a blank template apology from the hotel. They even forgot to edit the template to remove " __GUEST ISSUE__" and write in an actual solution. We were served breakfast in the cafe instead of the proper restaurant (which is supposed to be the historical wing of the property)> Marriott status was not mentioned during checkin. We were not walked to our room or given an explanation of the limited facilities of the hotel. The usage of the onsen (hot spring bath) was a paid rate of 5000 yen for an extremely basic bath. Compared to the baths available at other hotels in Japan, it was extremely disappointing. There was no turn down service in the evening. Gym was closed, wasnt posted on website or notified before arrival. I was not offered the 20% discount on the breakfast. For 5000 yen ($50), the breakfast was extremely basic. Even at inflated hotel prices, it was quite bland and disappointing. The old pictures of breakfast on flyertalk are completely different than what was offered. I feel serious regret that I did not stay at either the Mitsui or the Ritz Carlton instead of the Suiran. The paid rate of the hotel for the night I stayed was $1,000! I would feel disgusted if I spent that amount of money for this stay.
---
Julian M
●●●●○
2 days / 2 nights
Nice hotel with a beautiful location front of the river .. Staff are very pleasant and polite ! Recommend to have the Japanese traditional room instead the suite ( over price ) ! Sad to don't have any complimentary drinks especially for the price of the suite ! Sake or champagne will be very Appreciable .. Poor mini bar .. Nice matelas Nice bathroom .. Recommande the place for 2 nights max .. A bit over price to me but a pleasure to be there .. Will come back
---
Latitudes_Dancer
●●●●○
Intimate Hotel In Beautiful Location
Nestled outside the central city of Kyoto along a river (about 30 min from the main train station), this tranquil hotel is a good blend of western amenities along with eastern service. Upgraded to a suite, the room was large and comfortable. The automated window coverings didn't all work and they were confusing to operate. Inadequate English television stations. Staff was very helpful, specifically including the concierge. Restaurant dinner menu is overly limited, but the food was very good. Breakfast menu included the standard fare plus some surprising options and the food delicious. Sake and champagne tasting at the hotel was a waste of time....but I think it might have been free (otherwise it was a waste of money, too!); find another option for a true tasting experience. It was expensive to stay at this property and, although I didn't see a lot of other options in Kyoto, unfortunately the overall experience did not merit the cost.
---
Leszek
●●●●●
Great stay during Autumn period
We spent here 5 days towards the end of November, when we were lucky to enjoy the beautiful autumn in the Arashiyama area. As we were travelling with a little 4-month old boy, we focused on exploring the vicinity of the hotel. There was so much to see, that we even didn't bother going to Kyoto itself. Hotel has very nice location, close to the center of things, but at the same time you can relax from the touristy crowds you have in other places. Two highlights of our stay were: 1. The breakfast – on all the days we were given a separate room so that we can have the breakfast at peace with our little one – and the food was delicious. 2: Hotel staff, who were extremely friendly and professional at the same time. Especially Hiromi-san, the Chief Concierge was always around for our request or to make our little boy laugh 😊 As a Ambassador member of Bonvoy loyalty program, I got upgrade to a higher floor room, which we appreciated, as the views of the autumn leaves from our balcony were spectacular. The hotel was fully booked during our stay, so it was a nice bonus. The only 'complains' I would have is that the bed was too soft for our taste and the bathroom area was quite compact. However all in all, we had a really great stay and would happily return one day.
---