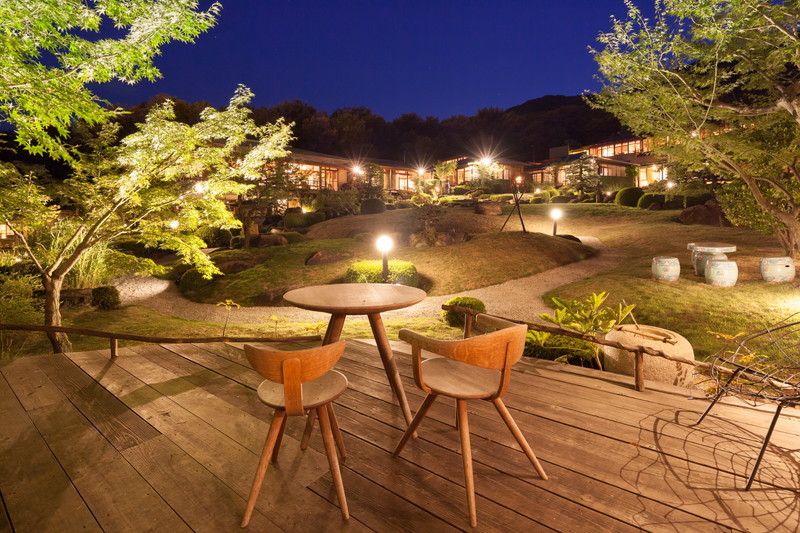 Teien no Yado Sekitei is an onsen ryokan that sits near an island called Aki no Miyajima, which is counted as one of the "Three Views of Japan". The location is also accessible to tourist spots like the Itsukushima Shrine and the Atomic Bomb Dome, which are two World Heritage Sites officially listed by UNESCO.
Miyajima island is currently a place restricted for traveling due to the COVID-19, but guests are welcome to plan their activities once border restrictions are lifted. The ryokan offers its guest rooms situated around its Japanese landscaped garden.
It has a total of 12 rooms that cost between 25,000 to 40,000 JPY per night, including a private bath and incredible display of nature depending on where it is placed. Teien no Yado Sekitei also invites guests to experience its seafood menu made with locally sourced ingredients.
The inn provides guests hot baths which can be enjoyed either exclusively or out in the open air. Rental baths are also available for families and couples. To get to the ryokan, visitors can take transportations coming from Hiroshima Station.
Private Onsens  (For couples, families, tattoo wearers)
(1) Rooms with open-air hot spring baths available
(2) Rooms with indoor hot spring baths available
(3) Rental hot spring baths for private use (outside guest rooms): 1 bath
Spring quality/qualities
Radioactive spring
Tourist spots nearby
Miyajima Island (Itsukushima Shrine), Hiroshima Peace Memorial (Atomic Bomb Dome)
Number of rooms
12 rooms
Rooms with open-air baths
Available
Onsen Area
Miyajima
Is this place ryokan only or ryokan with an onsen?
Onsen Ryokan
Does this ryokan have private onsen (hot spring)?
Yes
Is there a communal shared public bath?
Yes
Are there additional rental options?
With open-air tubs 0 With indoor tubs 1 With both indoor and outdoor tubs 0 Hours 4:00 pm-5:30 pm, 8:30 pm-10:00 pm Price 5500 yen / 1h 30 minutes How to book Reserve in advance
Price range (yen)
25,000 – 40,000
The price includes one dinner and one breakfast
Teien no Yado Sekitei Video
Teien no Yado Sekitei Location
Sekitei
KI-NRT
●●●○○
Decent ryokan if you want or need to be in the area; wonderful dining experience
We chose to stay at Teien No Yado Sekitei (the ryokan's official and full name) due to our desire to stay at a smaller property (what with COVID and all), and at a place that was between Hiroshima and Iwakuni. Location wise, it fit the bill for us, although I'd imagine most Hiroshima tourists would prefer to be closer to the city center (it's about 40 minutes by car from the A-Bomb Dome.) It is not far from the Miyajima Ferry port, however, but even then, I'd still recommend you stay in Miyajima itself if you have the time to do so. In any case, Sekitei is about as luxurious and intimate as it gets when it comes to ryokans in the Greater Hiroshima area. However, there are some shortcomings that prevent it from being rated higher (at least by me.) First, the positives - the food is simply wonderful. The full-blown Kaiseki fare is extravagant, unique, and takes advantage of the local ingredients, especially from the Setouchi Inland Sea and various wild mountain vegetables. For instance, there's a Japanese Mugwort (vegetable) that's delectable when fried, tempura style, and it was served with Mugwort-Buckwheat Soba Noodles, which were absolutely delightful. Also, Conger Eel is a specialty of the region, and they did a masterful job in preparing it in a few different ways that gave a different perspective on the texture and flavor of Conger Eel. The dishes were fresh, uniquely and creatively prepared, and were served lavishly in very nice pots, bowls, cups, lacquerware, ceramics and baskets made by local artisans. You can tell that Sekitei pulls out all the stops in an attempt to make the meals there a memorable one. Another big bonus - you get your dinner (but not breakfast) served in the comfort of your own room, which is huge for us. Breakfast was similarly a grand affair. The sheer variety of small dishes, as well as the creativity of each of them, was definitely up there with the best of them. We really enjoyed the Rice Porridge with (unsweetened) Azuki Red Beans, which was a wonderful combination! Sekitei definitely didn't cut corners when it came to providing an awesome Washoku breakfast spread. You won't walk away disappointed. As others have mentioned, the property grounds are pretty, especially the inner garden that has expansive views of the Setouchi Inland Sea and Miyajima beyond - it's quite hypnotic, really. And for those looking for a more traditional Japanese ryokan, Sekitei's architecture, art and furnishings won't leave you wanting. The downside of this (as is the case with many "heritage"-style ryokans) is that it comes at the expense of some amenities that we've all come to expect. Namely, the internet was non-existent to slow. Our room, incorrectly spelled "Oimatu" (should be Oimatsu (老松)), had no connectivity at all. Square footage wise, Oimatsu was decent - it's just that there are so many segregated areas with various little nooks & crannies that it made the room feel more claustrophobic than it otherwise should be. There's a den area with views of the garden that's separate from the living room with the same views - these two rooms should be combined into a bigger, more spacious living area. And then there's a small "library" with a small desk and chair - it adds to the charm and character of the room, but functionality speaking, it's quite useless. And while our room (some rooms have it, others don't) had an Onsen hot springs bath, it's not of the free-flowing variety. In other words, you have to fill the tub with the Onsen by turning the tap each time, and it takes 20+ minutes for it to fill up. Then, assuming the temperature of the bath isn't quite to your liking (chance are that it'll be too hot), you'll have to turn the cold water knob to regulate the temperature. This further adds to the prep time, and also dilutes the purity of the Onsen, since the cold water is not Onsen spring water. Perhaps it's a non-issue for most travellers, but for those going specifically for in-room Onsen fun, I wouldn't recommend Sekitei to be the only place you go to experience it. The room seems to be getting up there in age, and to combat this, they need to do a more thorough job of cleaning the rooms. While not dirty, we did notice some dust and grime build-up in various area. And we even noticed some dead skin in the bath after filling it up with Onsen - it definitely grossed-out Mrs. KI-NRT. We did bring this matter to the attention of Sekitei's staff; hopefully they took our feedback to heart. Since we didn't use Sekitei as a place to lounge around all day (it was a convenient place to overnight on the way from Iwakuni to Hiroshima), and the meals were excellent, Sekitei did serve its purpose. But we wouldn't think about staying more than one night here, nor would we consider this to be a "destination" ryokan in its own right.
---
lolly616
●●●●●
Charming
Sekitei was a our first introduction in Japan to a Ryokan, a traditional Japanese inn. What a great experience, from the tatami-matted rooms, communal baths, the Japanese garden and other public areas, within the ryokan, one was able to experience what it is like to vacation in traditional Japanese style. The service was superb, the attention to detail perfect, from the presentation of breakfast and dinner, to the setting up our room for bed. English was a little struggle but we got by with a lot laughs and giggles. Everything worked out. The staff were great. Everyone wore yukata's though out the ryokan, which was simple fabulous, they are very comfortable. I would highly recommend Sekitei for someone who wants a really Japanese experience.
---
Mark L
●●●●●
Service at its best
From the moment of arrival at Sekitei we were greeted with fantastic service. Our room (Turemai) had a lovely view over the gardens and beyond. We opted for the set menu dining which consisted of 9 courses and was traditional high-end Japanese cuisine with a lot of interesting fish we've never tried before. Our server spoke very good English and made the experience even more relaxing! Would highly recommend to anyone for a 1/2 day break.
---
JDT
●●●●●
A nice place to reset in a hurried trip
We (man woman child) stayed here for a few days in the middle of our trip to Japan. Based on reviews it seemed like a new experience that would help us relax and mentally reset before the final push of our trip. This is a beautiful ryokan and I simply cannot recommend this enough. This is not a hotel and by western standards the closest comparable establishment is a bed and breakfast. Calling it such, though, is a disservice. The breakfast was great, the dinners were an experience, and they had a driver who would drop us off so we could explore the surrounding island. They had a traditional bath that was enjoyable as well. One thing I would caution is that their dinners are very extravagant and enjoyable but are centered around fish and other sea creatures. If this is a no-go for you then... I would still suggest going but work with them for a different option. My son would not be happy eating that so they created a kids plate for him. Overall I could not complain about a single thing. This was the best place we have ever stayed and I fear everything else will pale in comparison. English language is available but it may be, at times, a bit difficult to communicate. Don't let this stop you - you should absolutely stay here.
---
w t
●●●●●
Family vacation get away
If I could rate it a 6 out of 5 I would!!! My wife booked this stay, and I was not sure what to expect. Upon arriving at this 13 room ryokan style Inn we were greeted with a warm welcome. The owners attention to detail was amazing right from entrance of hotel to the small library to the amazing Japanese garden. The room was very traditional with modern accents throughout. The onsen style public bath was very nice- a little hot for us on a summer day that was about 37'c outside but after we went to lounge and cooled off with a cold beverage overlooking the koi pond. Then we had dinner- the chef at this establishment must have not limits to what he can use to play with ones Sence's and tastes. Truly a work of art throughout playful the 2 hour exquisite culinary experience. The next morning we went for breakfast in the restaurant and were welcomed again to a delightful Japanese breakfast that started our day with the same quality of food and service. If i could ever recommend a stay I would recommend this place. Please do not stay here if you expecting the American style hotel experience.
---