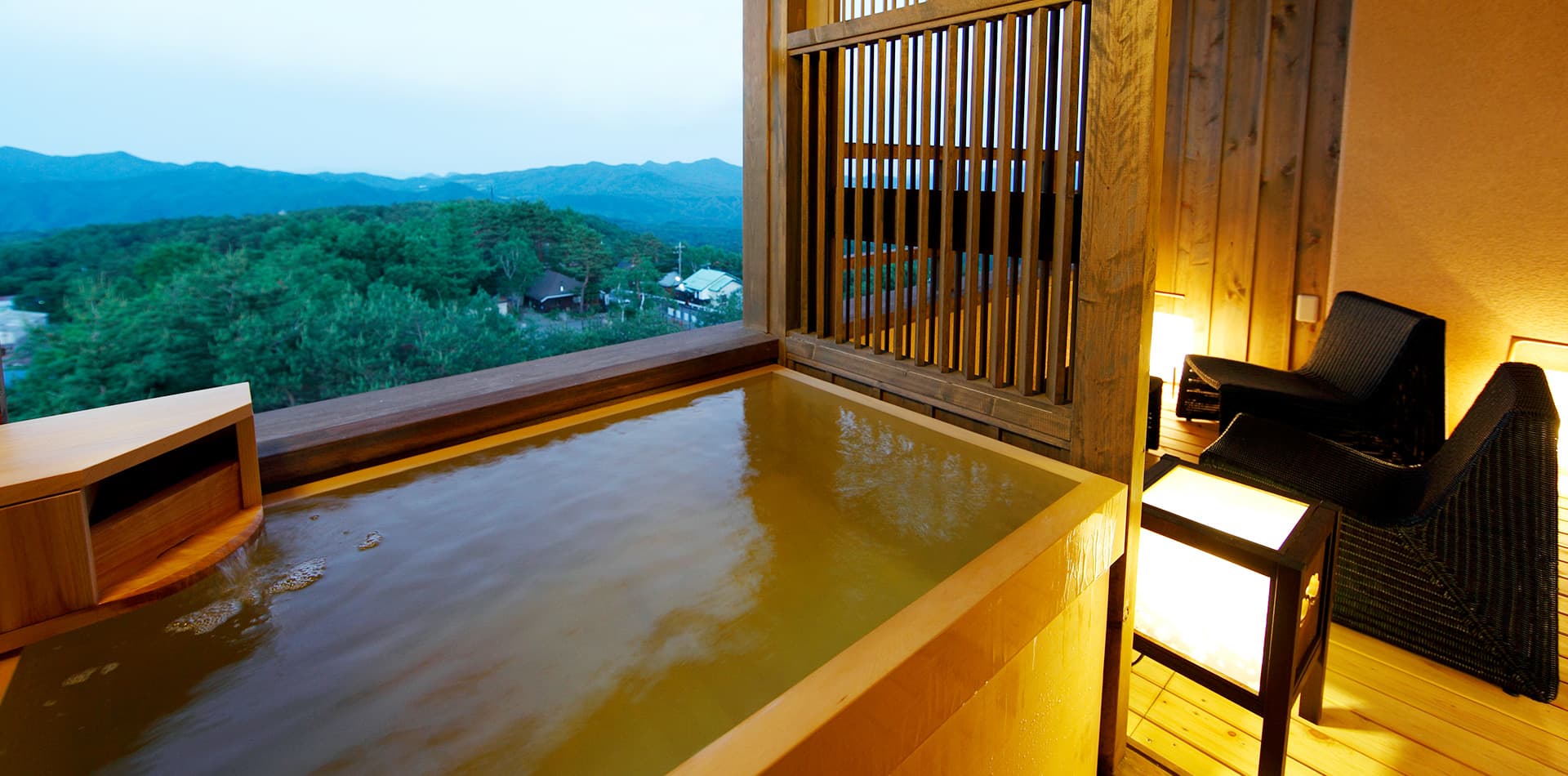 Tokinoniwa is situated on a hill, a short distance from the center of Kusatsu Onsen, the inn features multiple hot spring baths, spacious rooms, and tatami flooring throughout the building.
The inn has 64 guest rooms, equipped with futon beds, a satellite television, a refrigerator and a tea/coffee maker. The private bathrooms also come with a wooden bathtub. Each room features a private open-air hot spring bath. One night's stay can range from 25,000 – 85,000 JPY.
In addition to the private baths in the suites, guests can experience spa hopping at the large public baths with the 23 types of bathtubs and open-air baths wherein the waters are sourced from two springs. Along with this, there are three open-air baths available for private use. Guests may also rent a yukata robe to complete the experience.
Multi-course kaiseki dinner is served to the guests in the private dining room. Japanese and Western cuisines are also served as set meals for breakfast in the restaurant. Other facilities also include a spa, a sauna, and a souvenir shop. Guests can also pick something to munch on at the snack bar, or a drink at the sake bar.
Tokinoniwa can be accessed by taking the JR Limited Express from Ueno Station to Naganohara-Kusatsuguchi Station, then a bus to Kusatsu Onsen. The management also provides a free shuttle service for advance reservations at Karuizawa Station. The establishment is operating normally with safety measures in place and limited acceptance to prevent the spread of infection.
Private Onsens  (For couples, families, tattoo wearers)
(1) All rooms have open-air hot spring baths
(2) Rental hot spring baths for private use (outside guest rooms): 3 baths
Spring quality/qualities
Acid spring, Sulfur spring, Sulfate spring, Chloride spring
Tourist spots nearby
Kusatsu Onsen, Yubatake, Mount Shirane (Yugama), Karuizawa
Number of rooms
64 rooms
Rooms with open-air baths
Available
Onsen Area
Kusatsu
Is this place ryokan only or ryokan with an onsen?
Onsen Ryokan
Does this ryokan have private onsen (hot spring)?
Yes
Is there a communal shared public bath?
Yes
Are there additional rental options?
With open-air tubs 3 With indoor tubs 0 With both indoor and outdoor tubs 0 Price Free How to book Use when available (no reservation necessary)
In or near
Tokyo
Price range (yen)
25,000 – 85,000
The price includes one dinner and one breakfast
Tokinoniwa
Miracosta
●●●●●
Awesome stay!
Just checked in for 3 nights. I stayed in same Kyoritsu resorts in Okuhida (Miyama Ouan) and experience was amazing, so we'd decided to stay 3 nights here. This hotel is a great value. 1. Location It's off from Yubatake, center of Kusatsu town but there's a shuttle bus to center bus stop every hour. 15min nice walk. Because it's off center, this property sits on large lot and has gardens, and great mountain views. Plenty of guest parking available. This hotel shared common area with Konoha, more budget resorts. We stayed on busy pre Christmas weekends but common area was never crowded. 2. Amenities They have 2 large public baths both mens and women. One comes with large outdoor bath overlooking forests. It was beautiful and has many choices of tubs. There's also hamam kind of sauna, dry sauna on pubic bath. 3 private outdoor bath is first-come basis. Large tubs and beautiful milky hot springs were very nice. There's free coffee, water/tea machine and ice pop by the public bath. Lounge area is very large and we always found a place to sit. They also serves ramen from 10pm for free which was great (although we've never tried). There's coin laundry (which I didn't see from their web sites) was great help for tourists from US like us. There's pillows bar and Yukata (Kimono to wear throughout the stay) bar to chose what you'd like. So many choices of pillows and different types of Yukata. I don't really need Yukata as much as they've provided Samui (Kimonotop + Pants, like Japanese PJs) but selection of pillows was good idea. 3. Room Great room. We had tatami room living area, tatami bedroom with 2 single beds (which we can put together for double use) and vanity area, shower booth and bathtub on balcony. Toilet was separate with sink which was great. Has small minibar area which was very helpful. Upon checked in, there was tea aromatic fragrance was in the room and it was very nice. 4. Food We had breakfast/dinner plans. Beautiful Kaiseki for dinner and beautiful presentation, we enjoyed a lot. There are good selection of Sake, Cocktails and other alcohol. A top notch service and servers were very polite and nice. 5. Overall This resort is a new type of Onsen Ryokan with modern service/idea. They don't provide slippers but instead they'd provide socks to wear through the stay. No shoes in the Ryokan and many walk around bare feet. They don't provide fancy shampoos or amenities, or towels by the public bath but they provide a basket with towels to carry from room which totally makes sense. They don't serve dinner via room service (as it used to be old fashioned age), but they serve great Kaiseki meals in the restaurants with semi-private (cubicle) tables. Very efficient and we love this resorts. We really enjoyed this Kyoritsu resorts and looking forward to stay at another resorts soon. Highly recommended. If you don't have budget, there's an option to stay next door (connected inside, same facilities) Konoha is good choice too. *We were the only foreign tourists when we stayed. Not much Chinese guests too. Most of the guests were Japanese and English service might be limited. But it's worth challenging to stay in this cute property.
---
richard g
●●●○○
Seriously?
The hot springs baths at this hotel are great for everything and after two nights, my wife was starting to feel some recovery from the pains in her shoulder and the cuts and bruises I had from an embarrassing fall were starting to look good. But this area is famous for great hot springs wherever you stay. We were celebrating so we stayed in one of the most expensive rooms, meals included, but every meal we had was disappointing compared to so many other places we have stayed and make repeat visits. With the exception of a couple of the staff, we were extremely disappointed and can not recommend this one. The good news is that there are many other options in this town
---
Mochichu08
●●●○○
Wonderful customer service and reasonable room standard
We stayed in Tokinoniwa for 1 night and stayed in the in-room onsen with the 40.28m2 room. Location: a bit far from the main onsen village, which is fine for us since they offer free shuttle from hotel to main onsen village with early and late night, so no need to worry that you can't get to the village Room standard: we stayed in their biggest room which is nice, however, the room inside is actually a bit older than I expect, and since their entrance and lobby are so well furnished and looks new, so that I expected the room will be the same; however, it is not, so it is a bit disappointed... EXCELLENT free bus shuttle to Karuizawa - make sure you book it in advance, I believe this is such a GOOD nice service that they have. It saved you many transit and train changing time. Staff: all staff are wonderful, their service is one of the best Meal: Dinner - We sat in a private room from their restaurant floor. I had onsen meal many times, but unfortunately, I would said their dinner is one of the not-so-good onsen dinner that I ever had, they started with many starchy food, and their the seafood grill's seafood is not as fresh, and the sashimi we found a piece fish scale when we ate (which I believe this is a big no-no for onsen/japanese meal), and the sukiyaki seems only sweet, we don't taste much for the soup stock (konbu or any other taste). Therefore, we were not so satisfied for the dinner. Breakfast - we got sat in the restaurant floor but not in private room this time, it was much much much better than dinner, or i have adjusted our standard for their food, anyway, the breakfast was good, we both choose the JPN style, grill fish and congee/rice, it was way better and the taste for the pickles/veggi have reach the standard In conclusion, we think this is an OK stay, we spent around USD$500 (2 people for night, 2 meal), honestly, I would exepect expect a bit better experience. I will say the bus service and many outdoor onsen to try are the highlight of the hotel.
---
eastinchan
●●●●●
The best selection in my trip
We selected this onsen resort for my birthday trip. Highly recommend to anyone who looking for a onsen resort close to Tokyo (2hours drive). Beside every room has a private open air onsen, there are 4 public onsens (separate male / female ). Very surprised there are three private onsen houses which u can enjoy it with lover/fd/family without disturbing , once u lock the door of the little house, the "occupied light" will be switch on. The onsen house is not crowded , don't need to wait most of the time. Really enjoy it !!!! Big car park for road trip And shuttle bus to the central There is a waitest in restaurant serving us who can speak fluent English and super helpful & friendly (who went to Australia working holiday or study , sorry that I forget her name ) .
---
Stella H
●●●●●
Cozy spot for get away.
Road trip 2 days 1 night stay at this Onsen hotel, the service was wonderful and stuffs there were super friendly, they will respond very quick when I asked the questions. Definitely will back again next year.
---