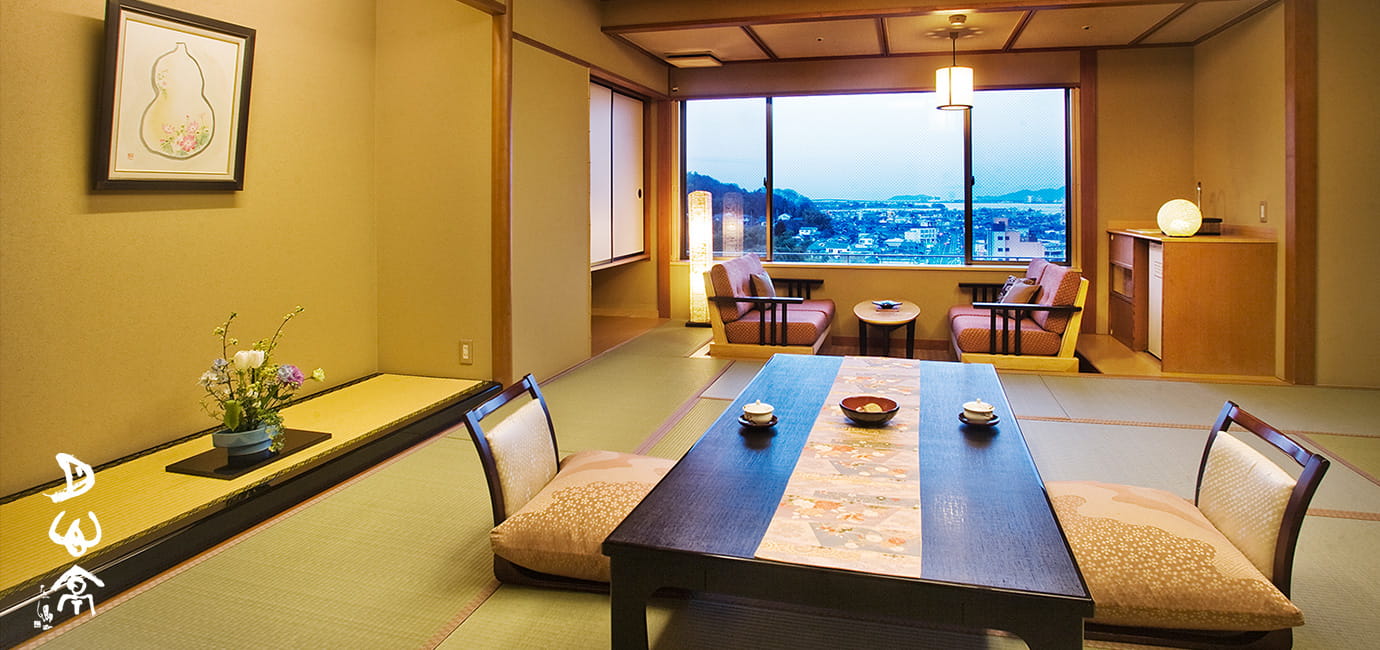 Yumotokan Hotel is an accommodation that offers guests traditional Japanese-style rooms, complete in tatami mat flooring, futon bedding, and paired with modern equipment and furnishings. It has a total of 69 rooms that cost between 20,000 to 50,000 JPY per night, including an incredible display of Lake Biwa and private bathrooms with a cypress tub filled with hot spring water.
It has various onsen facilities with others situated on the rooftop where guests can view Ogoto Town and the mountains that surround the location while bathing. It also offers onsens that can be reserved for private use, usually ideal for couples and families. Yumotokan Hotel is near UNESCO World Heritage Sites like the Fushimi Inari Shrine, the Golden Pavilion, and the Kiyomizu Temple.
Guests can take train rides at the JR Ogoto-Onsen Train Station and the JR Hieizan Sakamoto Train Station to get to Yumotokan Hotel. Due to COVID-19, guests must book under the guidelines implemented by the Government of Japan.
Book Yumotokan in Kyoto Lake Biwa Onsen (Shiga) – An inn looking out on Lake Biwa not far from Kyoto. With seven types of large public hot spring baths.
Access: around 20 min by JR Line from Kyoto Station to Ogoto-onsen Station
Does this place have a private onsen for couples and families? Is this venue tatoo friendly?
(1) Rooms with open-air hot spring baths available
(2) Rental hot spring baths for private use (outside guest rooms): 2 baths
Spring quality/qualities
Simple hot spring
Tourist spots nearby
Lake Biwa, Mount Hieizan Enryakuji Temple, Miidera Temple, Kyoto
Number of rooms
69 rooms
Rooms with open-air baths
Available
Onsen Area
Biwako
Is this place ryokan only or ryokan with an onsen?
Onsen Ryokan
Does this ryokan have private onsen (hot spring)?
Yes
Is there a communal shared public bath?
Yes
Are there additional rental options?
With open-air tubs 2 With indoor tubs 0 With both indoor and outdoor tubs 0 Hours 1 pm-11 pm, 7 am-11 am Price 3300 yen / 50 minutes How to book Reserve upon check-in, Reserve in advance
In or near
Kyoto
Price range (yen)
20,000 – 50,000
The price includes one dinner and one breakfast
Yumotokan
Tse Wing Y
●●●●●
Fantastic Ryokan style hotel!
I stayed at Yumotokan during the Christmas holiday and it was a beautiful ryokan style hotel with multiple onsen facilities for the guests. Both breakfast and dinner were included in my bookings and the food was sensational! I would highly recommend this hotel to anyone who plans to visit Lake Biwa!
---
Tapanee C
●●●●●
Nice ryokan for onsen and traditional Japanese dinner & breakfast
We stayed in the Japanese styled room with outdoor private onsen tub. A bit cold to have a shower out there but once you soak in the tub, it's very relaxing! We enjoyed tea and snacks offered in the room. Coffee drinkers may not be happy as there is only enough for two cups. Love the Outdoor Onsen on the roof top at night and the 5th floor at day time - very clean and well equipped with all nice toiletries. Dinner and breakfast, delicious and abundant, were served in the private room. Staff are friendly and helpful, and able to speak English well! The hotel is near the lake where we went for a walk to enjoy the fall foliage. But other than that, there's nothing much to see around there.
---
Kafito Peligroso
●●●●●
The best of Japan
Perfect experience. Highly recommended to try while in Japan. Excellent service with unforgettable private dining. We had the "Akane-no-Ma" suite with its own open-air hot spring bath. Amazing! The communal spring baths were also excellent. Must try.
---
JustinR3
●●●●●
Amazing First Night in Japan
Check-in was super interesting. The Front Desk Staff came outside to greet us. They had us sit down and brought us out registration card. They showed us all the hots springs, where they were located, meal times, and other items that were awesome. The room was nice and clean. The view was pretty. They do come into your room during dinner time to set up the beds. The hot springs were clean and they give you a booklet in your room to show you how to use the hot springs. Thank you for that. The food was good. I do not eat fish and they customized my menu for me. I would go back. It was nice for a night stay.
---
Angela L
●●●●●
Amazing ryokan experience
Staying at Yumotokan was going to be highlight of our trip to Japan, and it did not disappoint us. The location is close to kyoto station, only a few train stops away. We were staying near Kyoto staton so the location worked out great for us. The JR Ogoto onsen station has a free cell phone placed outside with numbers saved for various ryokans in the area. So you don't have to worry about having to call to arrange a pick up. We did not have a Japanese sim card so this was particularly useful for us! We stayed at the Akane room, overkooking the view of the lake. The room is on the 10th floor with a large window that spans across the room, so the view you see when you step into the room is breath taking. This room comes with a privat hot spring tub, which was nice to enjoy after dinner. We chose a tatami room and the bedding was comfortable. It was drizzing the night we arrived, and when I went to the open air bath there was no one outside and I had the entire open air bath to myself! The 8th floor open air bath is beautifully decorated, and it makes you feel like you are in the middle of a forest. All the amenities are providied, and I loved the horse oil product. They supply you with everything you can possibly need, which is amazing. The kaiseki dinner was also wonderful experience, and we were happy with the service provided at our table. Yes, it was an expensive night but we felt that price was justified. All staff were welcoming and very courteous. Anyone looking for a ryokan experience, I highly recommend Yumotokan!
---