Cooking for kids Tokyo (Onigiri, takoyaki snack)
Price
▶
Another 10% OFF for 10 or more people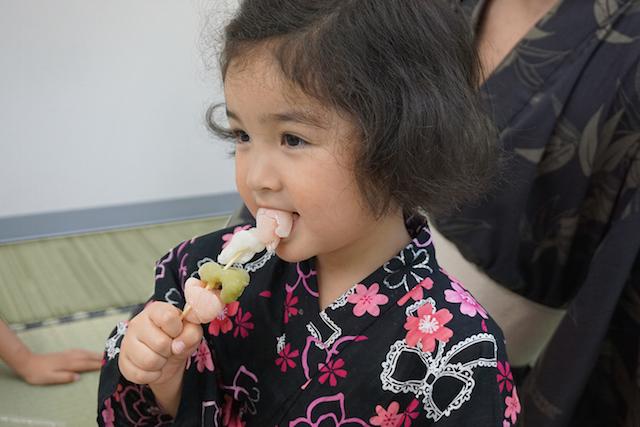 OVERVIEW
Let your kids "cook" some wonderful Japanese treats. Japan has a variety of snacks that encourage children to use their creative skills. With an English-speaking instructor, your child will learn how to make instant foods like rice ball , takoyaki snacks from pre-measured ingredients. Up to five children can join at a time, and the duration of each lesson is about 1 hour.
IF THE DATE YOU ARE LOOKING FOR IS UNAVAILABLE TRY THE SAME COOKING CLASS IN OSAKA.
HIGHLIGHTS
Your children are introduced to popular Japanese snacks
Children engage their creativity and imagination in making their own food
Constant supervision is provided, and a safe environment is maintained
Videos of the activities are made so you can preserve your memories
Try a diverse range of ingredients and flavours unique to Japan
A friendly host will explain and demonstrate correct cooking techniques
Held in a Japanese styled kitchen
Opportunities for taking photographs will be highlighted throughout
Special experience to cook wearing Kimono costume
WHAT YOU CAN EXPECT
Encourage your children's creativity and autonomy by giving them a chance to make their own food in a safe and supervised environment. Japan offers easy cooking like onigiri or lots of snacks that can be enjoyed only by following complicated instructions. Although these treats provide Japanese children with entertainment along with their snacks, non-Japanese kids often can't understand what they need to do. With an English-speaking guide, your children will be taught the procedures to fully enjoy all that Japanese snacks have to offer. Children are provided step-by-step guidance, but are given enough freedom to feel a sense of accomplishment as they figure out the steps for making their own treats. Each demonstration is limited to five kids, so each child can be given a lot of person attention and assistance. Bring your children into the kitchen and watch their faces light up when they learn new skills in their own cooking adventure!
Learning about a country through cultural workshops and activities will give you a better understanding of our intricate history, valued social principals and holistic way of life. By learning about Japan and its people, you will be immersed in different perspectives and approaches that are unique to this country. Maiko Kitchen offers you opportunities to understand this culture through local instructors and guides. There is no better way to learn about a new place from the viewpoints of those who grew up and live in this amazing country. What better way to spend a day than learning a traditional, beautiful new activity with a knowledgeable tutor in a picturesque setting? You wouldn't find friendlier people to help you experience Japan in all its splendor.
The Japanese Cooking Workshop provides you will a once in a life time experience: learning traditional Japanese dishes from local cooks in Japan! Tokyo is considered the food capital in Japan and there are many appetizing dishes from the area for you to try. Not only will you get to eat this delicious food, but learn how to make it yourself so you can make a feast back at home!
In this workshop, a qualified instructor will walk you through step by step of a customary Japanese meal. There are a range of different cooking courses for you to choose from, including lunch, dinner and confectionery classes. The last one is very unique as Japanese desserts have a distinctive flavor as the history of cooking in Japan didn't include processed sugar till only a few hundred years ago. You will learn even more about the flavors of Japan, as well as the range of utensils used and explanation of the techniques required, while cooking a great meal as well!
[Best_Wordpress_Gallery id="12″ gal_title="CookingClassTokyo-CookingKid"]
Review
Based on 11 reviews