PRIVATE Japanese Origami (Paper Folding) Workshop Osaka
Price
▶
Minimum of 10 participants needed to reserve for this experience.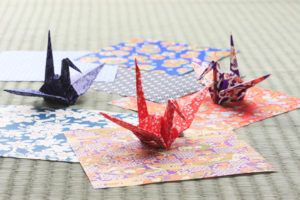 In this fun activity you will be given colorful Japanese rice papers and will learn how to make beautiful figures without cutting the paper or using glue.
This origami class is for beginners and kids. This class is 40 minutes long.
Origami is possibly the most well-known of all of Japan's cultural activities. This is practiced as an art where paper is folded to create a range shapes including animals, flowers or people. Japanese children learn origami at elementary school to improve their focusing skills and understand the importance of following the instructions to reach an ultimate goal.This is one of the best family activities for travelers visiting Japan where the members can learn from and compete against each other and keep the paper figure they make.
Your instructor will make sure to pick a figure suits your level. If you are a beginner you will make paper crane (which are said to bring luck) or a gift box. If you have done origami before you will make a flower. You will have a chance to pick any figure you'd like to make :crane, box, lily, turtle, tiger, dinosaur.
The best part is of course you will get to keep your unique Japanese souvenir with you as a gift.
HIGHLIGHTS
*Create fantastic memories of your trip to Japan
*Opportunities for taking photographs will be highlighted throughout
*Special experience of Japanese culture
*Enjoyable experience with children
*Learning about the history of Japanese culture
Learning about a country through cultural workshops and activities will give you a better understanding of our intricate history, valued social principals and holistic way of life. By learning about Japan and its people, you will be immersed in different perspectives and approaches that are unique to this country. Maikoya offers you opportunities to understand this culture through local instructors and guides. There is no better way to learn about a new place from the viewpoints of those who grew up and live in this amazing country. What better way to spend a day than learning a traditional, beautiful new activity with a knowledgeable tutor in a picturesque setting? You wouldn't find friendlier people to help you experience Japan in all its splendor.
Add info
Children must be accompanied by an adult
Adult pricing applies to all travelers
[Best_Wordpress_Gallery id="17″ gal_title="OsakaActivites-Origami"]