Ninja Experience in Kyoto (Family & Kid Friendly)
Price
▶
Ticket price for kids (ages 3~12) is 300 JPY OFF. Children under 3 can enter for free.
Experience a fun ninja adventure with us and touch something sacred!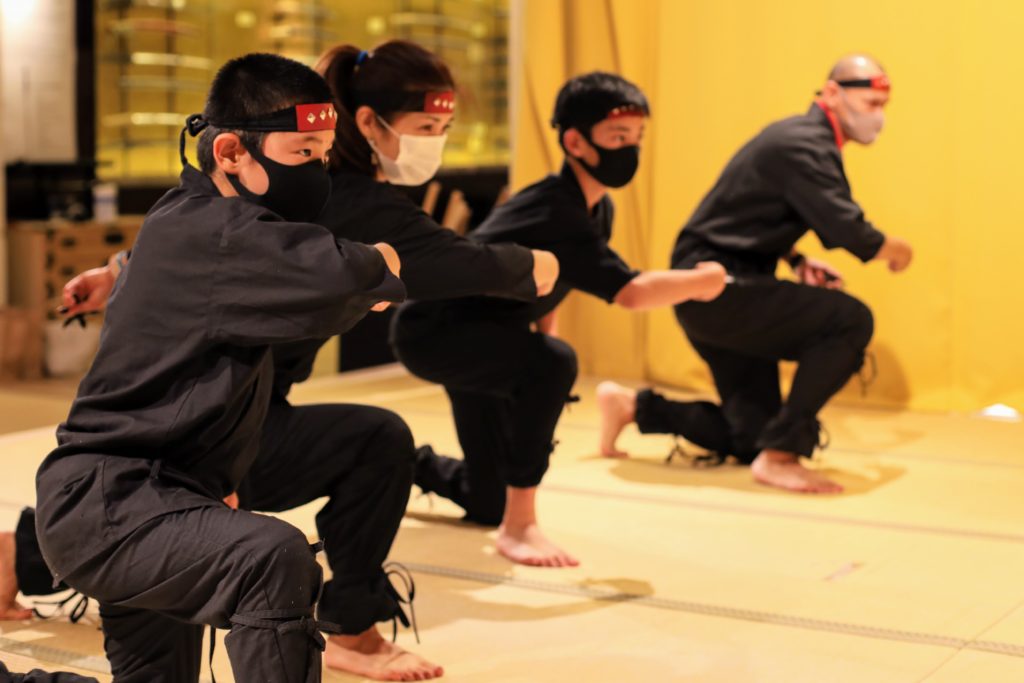 Our Ninja Experience lets you become a ninja in training for a day with fun-filled activities for the whole family! This is the best-rated and most affordable ninja experience in Japan.
The Samurai & Ninja Museum Kyoto is a unique, experience-based museum that lets you get up close and personal with history. Thank you for our EXCELLENT ratings on TripAdvisor!
Ninja Experience (Family & Kid Friendly)
All of these activities are included in this package without additional fees.

Wear a full ninja outfit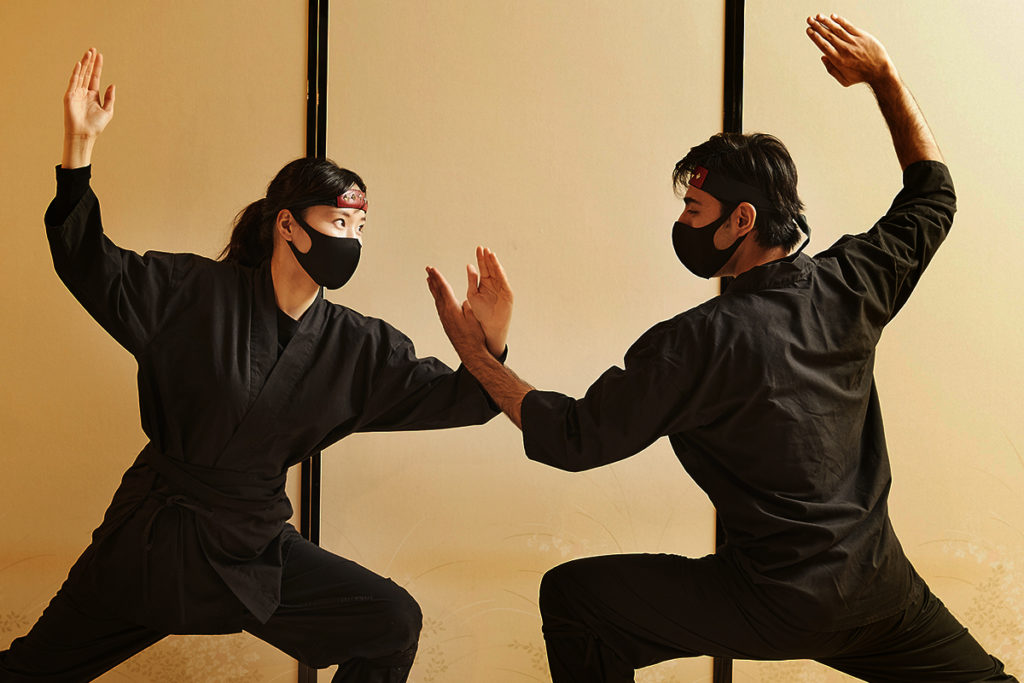 Try on a full ninja outfit as you enter the museum and before you start on your tour! Our ninja uniforms come in all sizes, for kids and adults. One set includes the jacket or top, arm guards, a belt, loose-fitting pants, and a headband.
Don't forget to take pictures of your experience!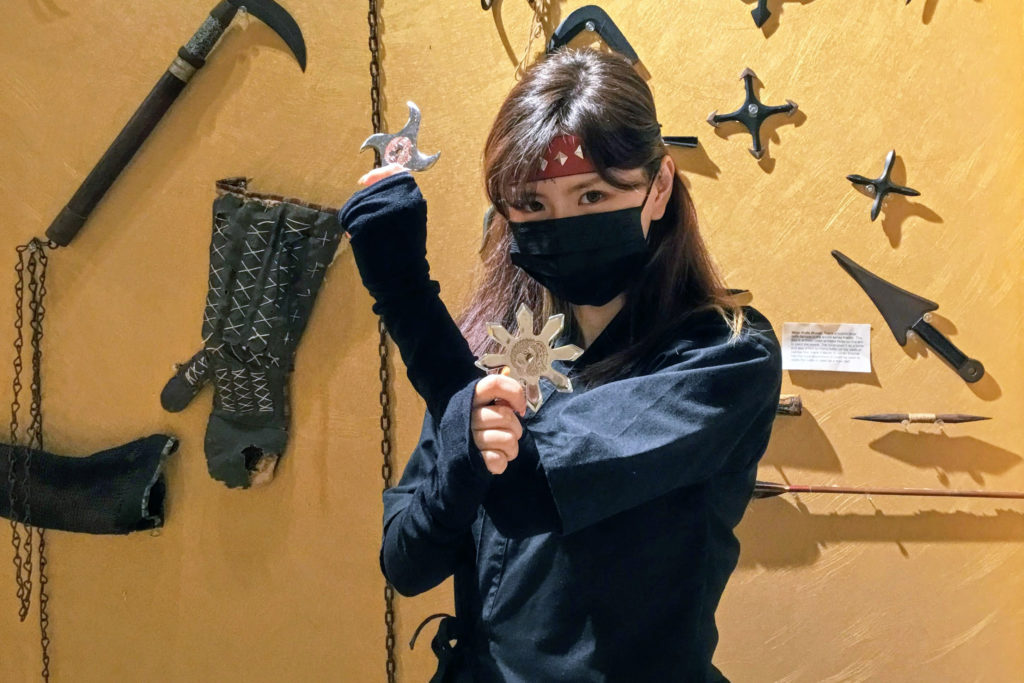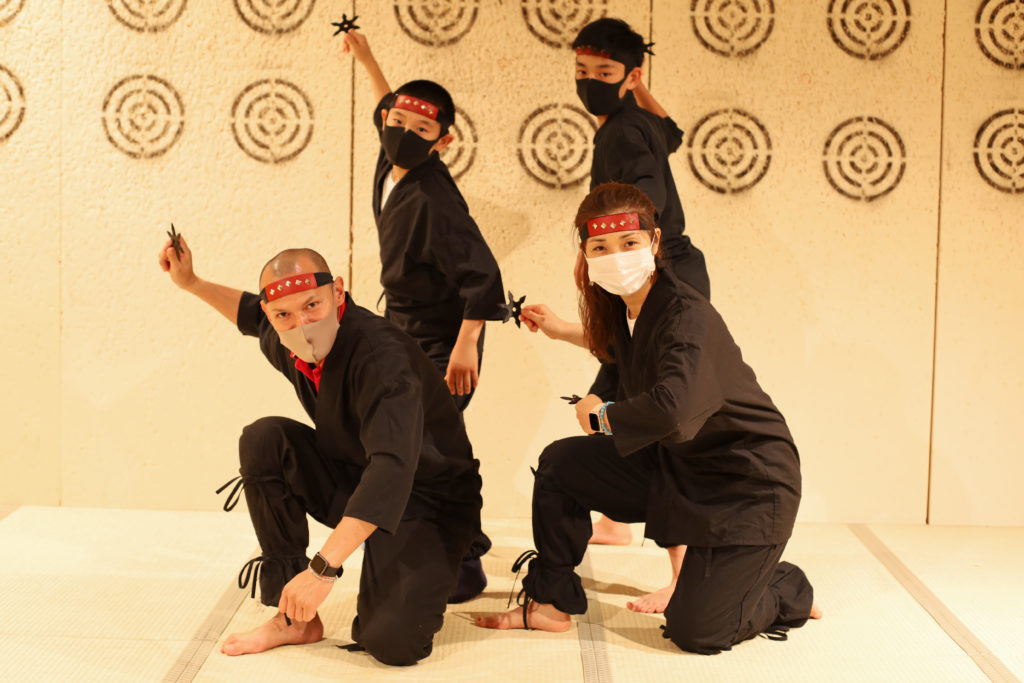 ---

Learn the secrets of ninja
You will learn about the ninja in Japan's history and what kind of weapons and tools they used for their covert missions.
Everyone in the family will be able to participate in games and workshops! The lessons will be fun and simple for the kids to enjoy.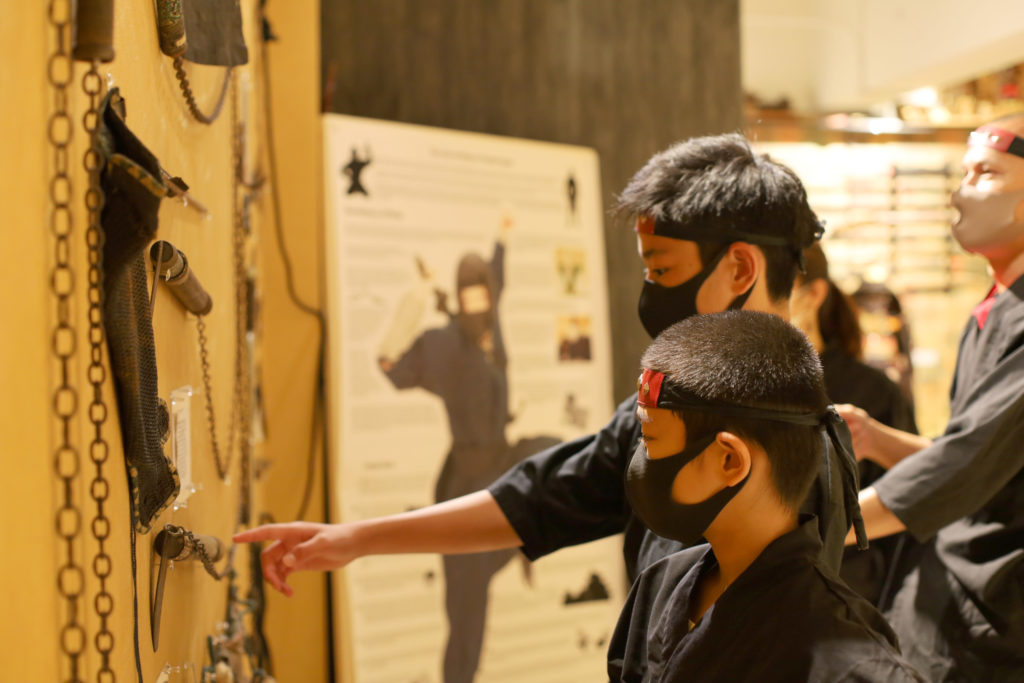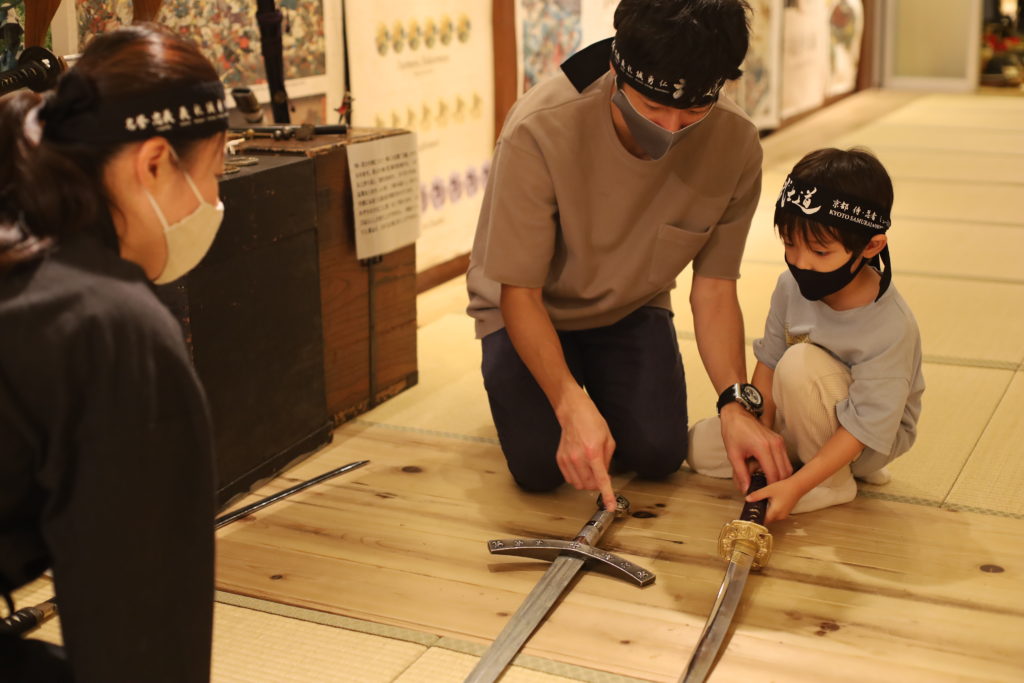 ---

Ninja star throw competition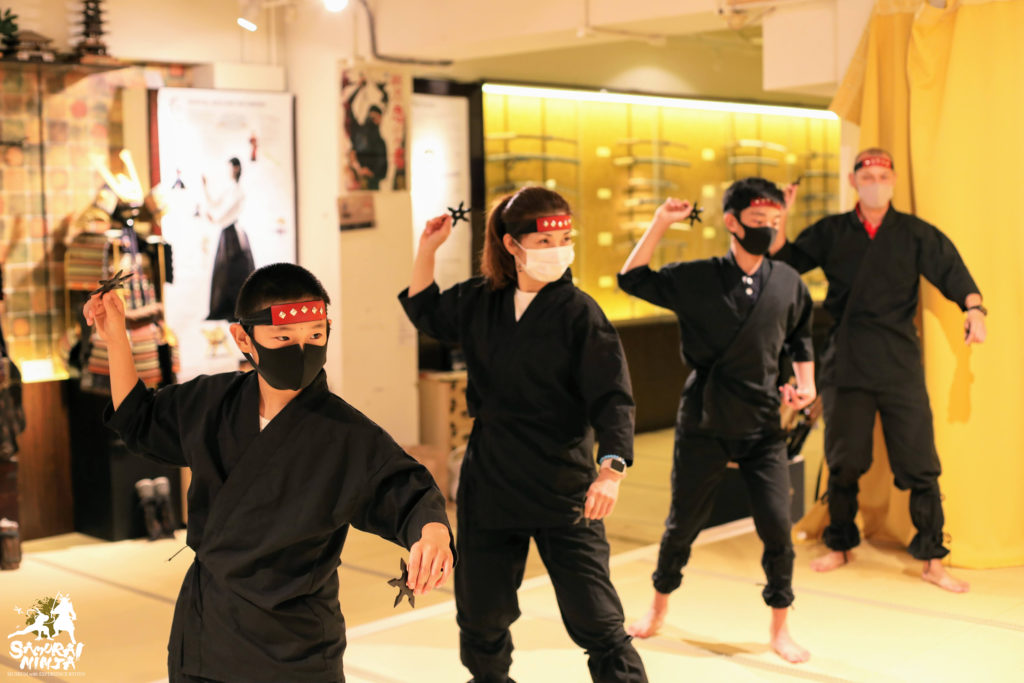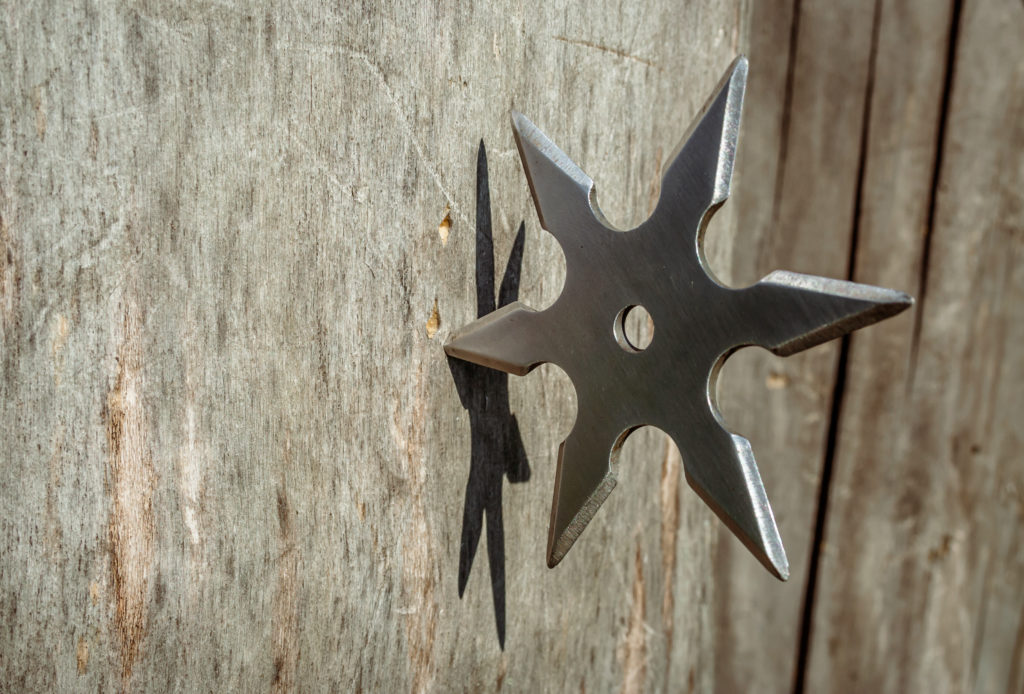 Learn how to throw ninja stars. Once you have had some practice then it's time for the famous Ninja competition. Test your targeting skills with our fun activities like throwing a shuriken! You can have a friendly competition with your friends and family during the training.
---

Use a Ninja blowgun
Your experience will also include using the ninja blowgun, also known as the fukiya. These can also be referred to as blow darts! You can have a friendly competition among your group during a target practice game too.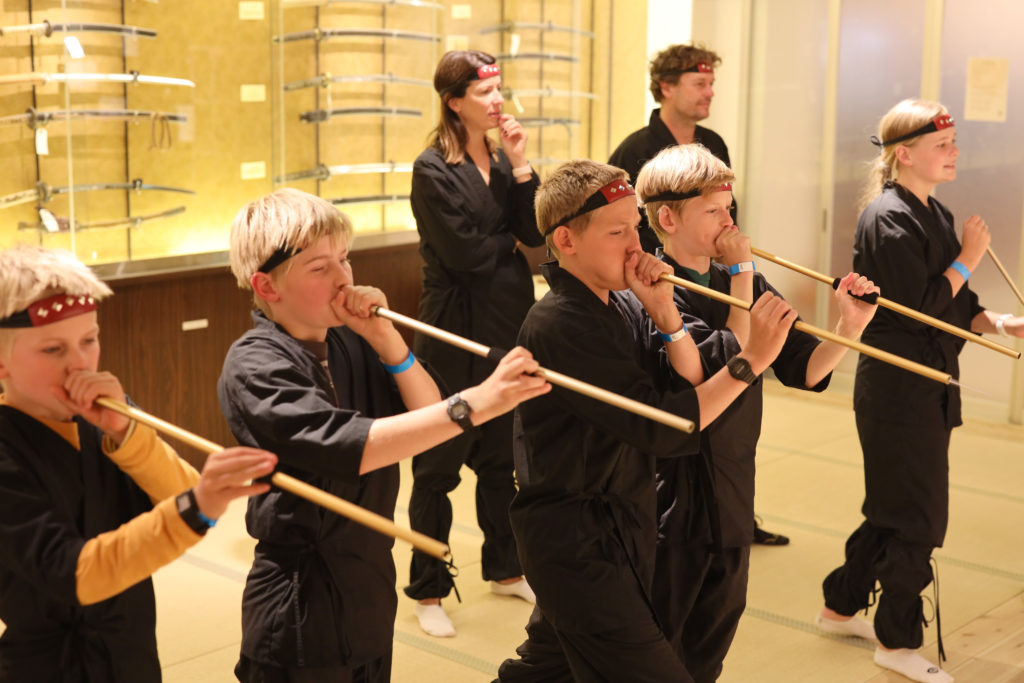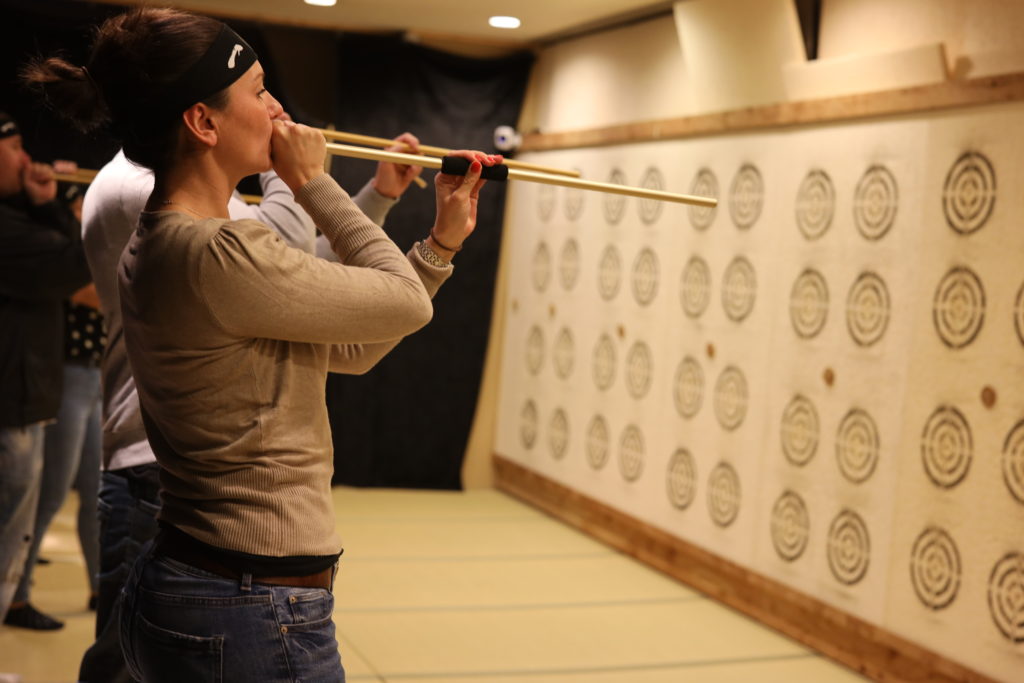 ---

Learn some ninja techniques
Then your Ninja master will teach you some of the ninja secrets.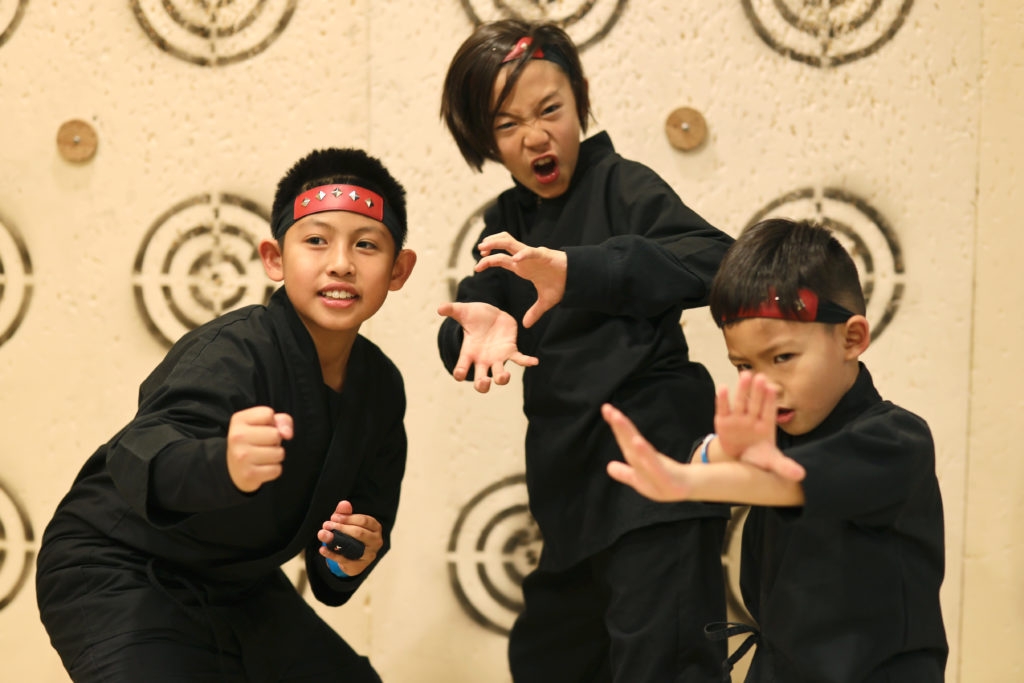 ---

Guided tour of the Samurai & Ninja Museum Kyoto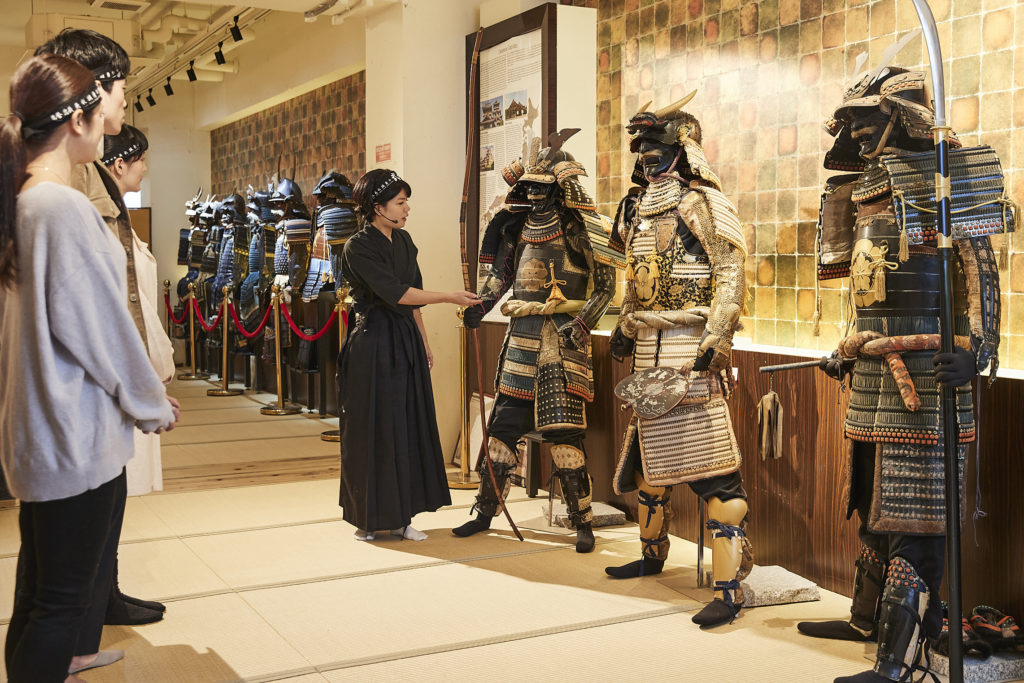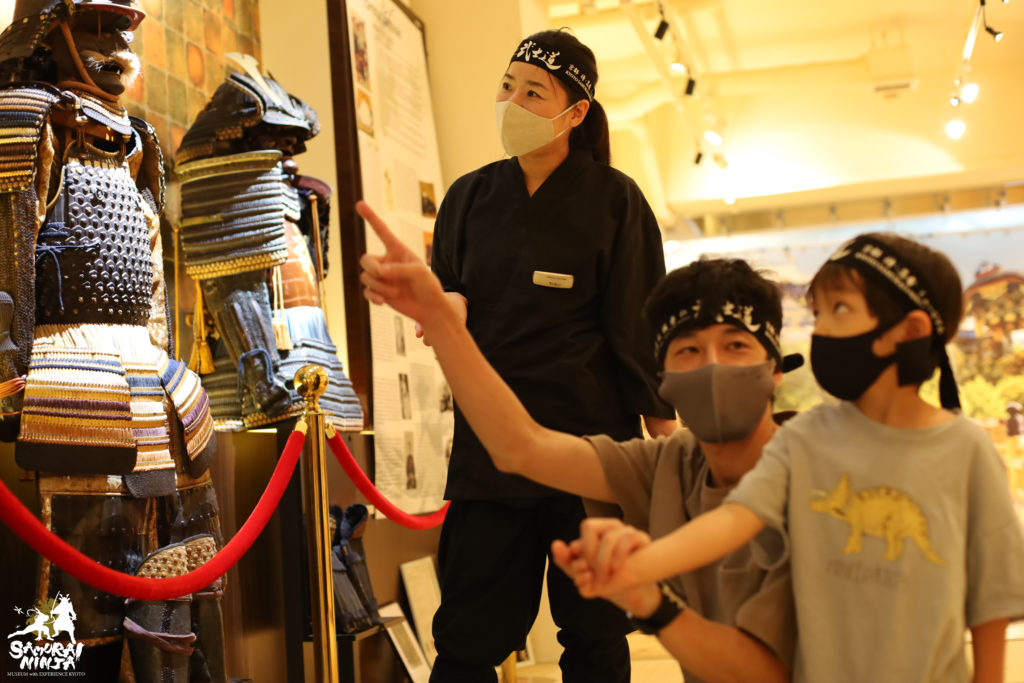 Enjoy an interactive tour where you will get to learn trivia and fascinating facts about Japanese history and culture. You will go through the samurai and ninja exhibits while our knowledgeable guide will tell you all about the displays, from the technical aspects to the wonderful stories that these items carried in their past lives. Ask all the questions you have about the displays and learn about the histories of the samurais and ninjas and when they started.
The tours are available in English, Chinese, and Japanese.
---

Samurai experience
– Samurai armor trial –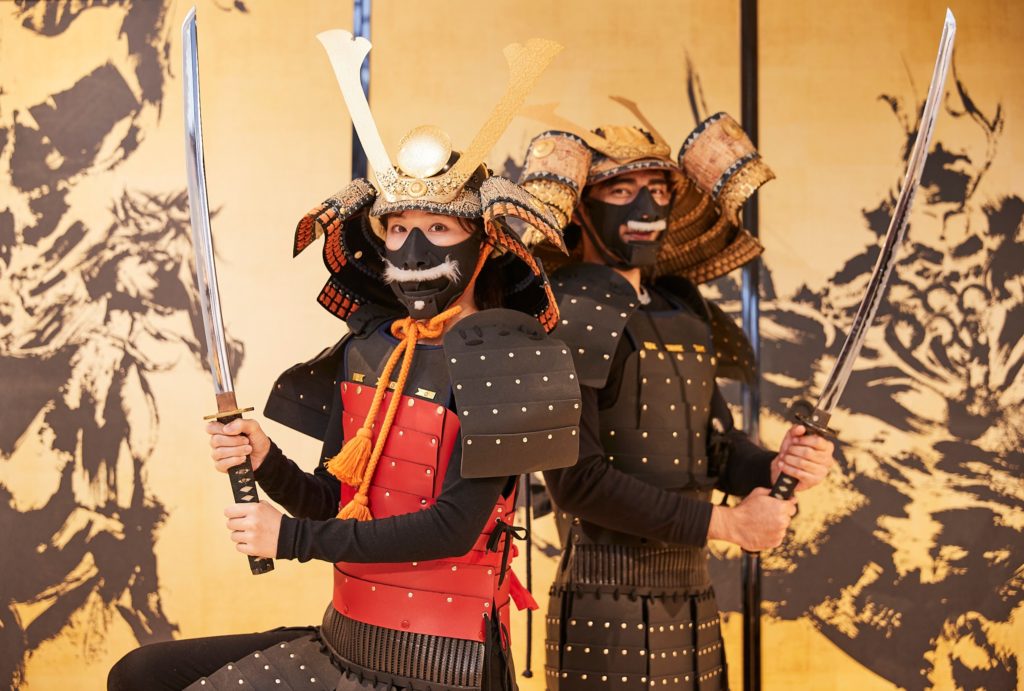 You will also get to dress up like a samurai family. Try on full samurai armor for your souvenir pictures. Our armors come in unisex styles and a variety of sizes for everyone, including children! You will even get a selection of varied replica swords to choose from.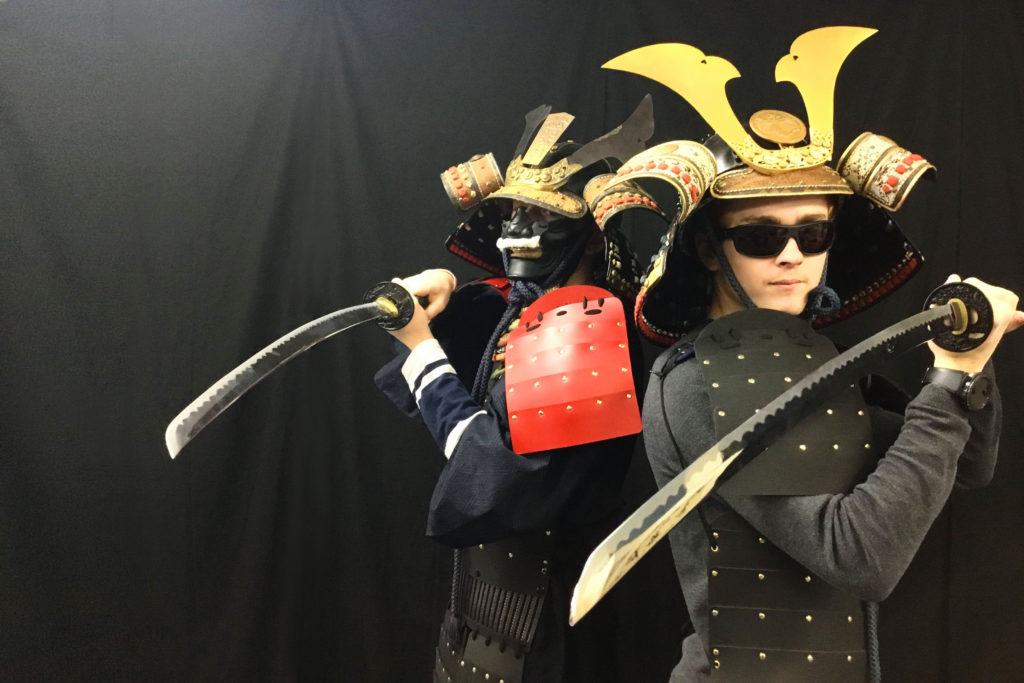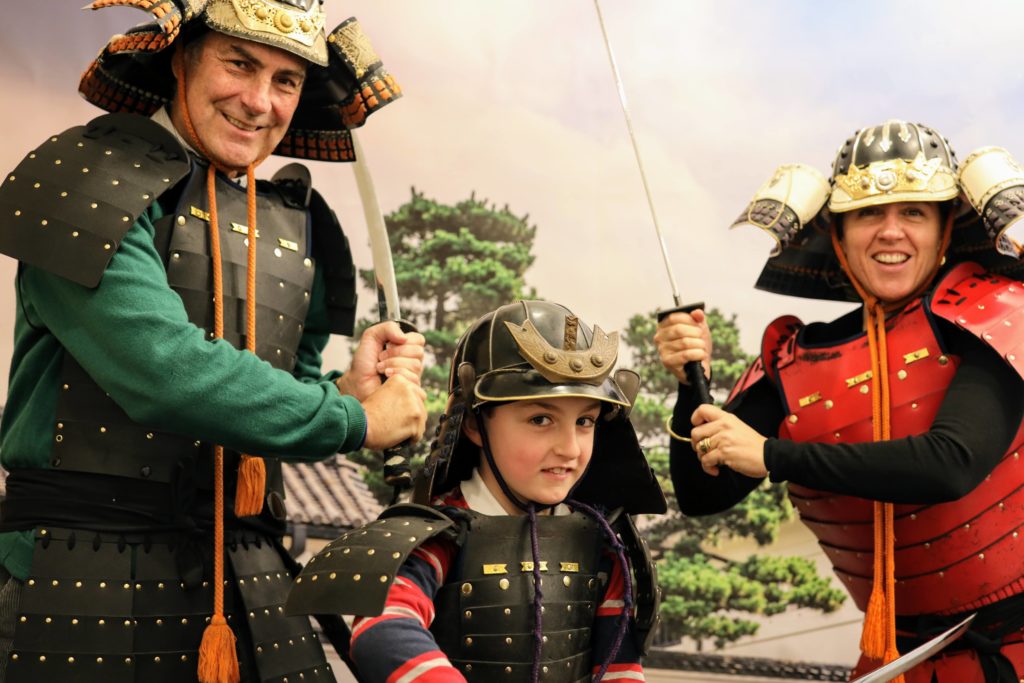 ---

Samurai Sword Show Demonstration
(Held irregularly)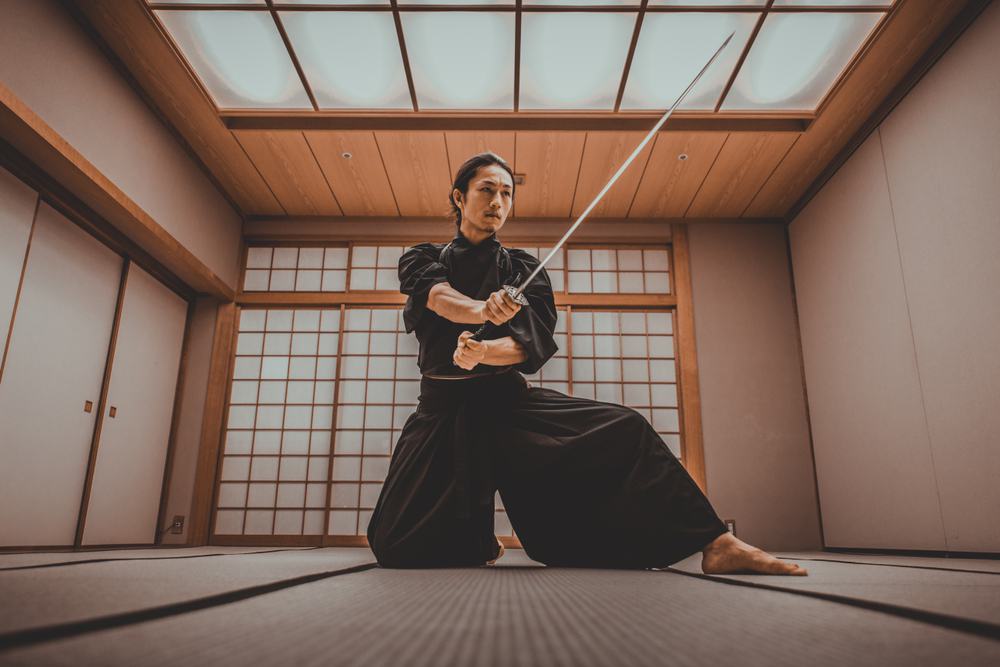 Catch a sword demonstration show by a sword master descended from a samurai! Here, you'll get to admire the graceful and deadly dance performed by the samurai during battles and practices. You may also catch a recreational performance depicting a fight scene against the samurais and ninjas.
Book your Ninja Experience in Kyoto -Family & Kid Friendly- on this page!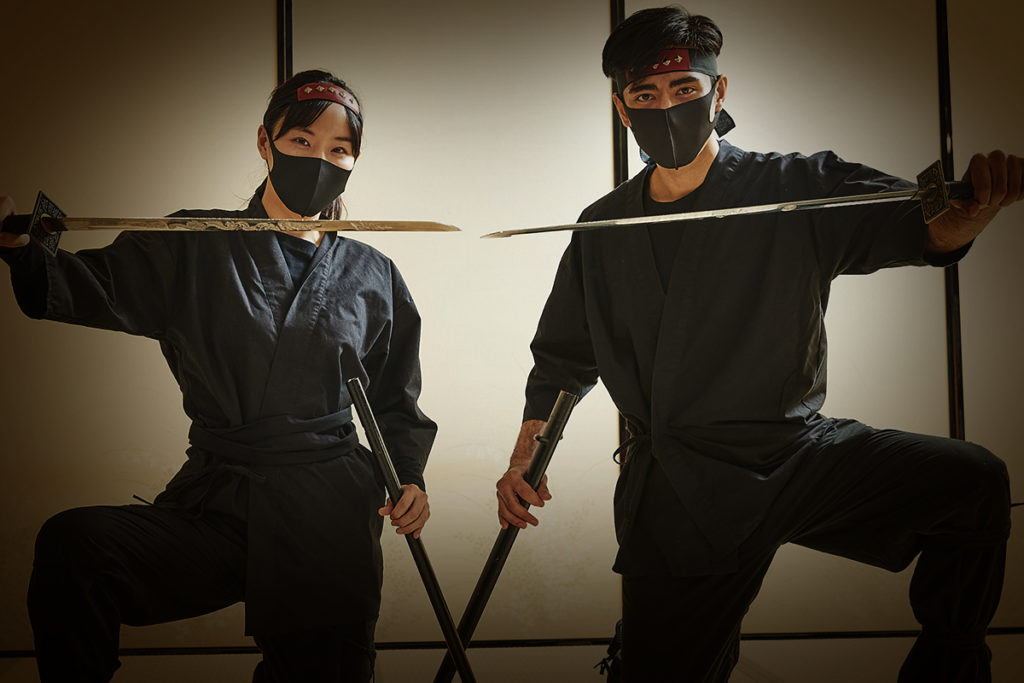 Looking for an authentic ninja workshop for adults?
Try our Ninja Training in Kyoto for Adults SPECIAL Authentic Ninja Experience!
The samurais and ninjas have long been intertwined with Kyoto throughout history, from the early Heian Period to the fall of their rule at the end of the Tokugawa Shogunate.Get to know Japan's mysterious shadow agents in a fun and interactive tour with friends and family! The Ninja Experience ticket turns you into a ninja for a day as you train (and play) with us. You'll also get to wear a ninja costume, also known as ninja-yoroi!
The Samurai & Ninja Museum Kyoto is the perfect place for a trip with your family and friends! 

About Samurai & Ninja tour
Explore our collection of ancient artifacts and historical samurai swords and ninja weapons from feudal Japan. You will even get up-close looks at the uncanny replicas inspired by the Sengoku Period up to the Tokugawa Shogunate.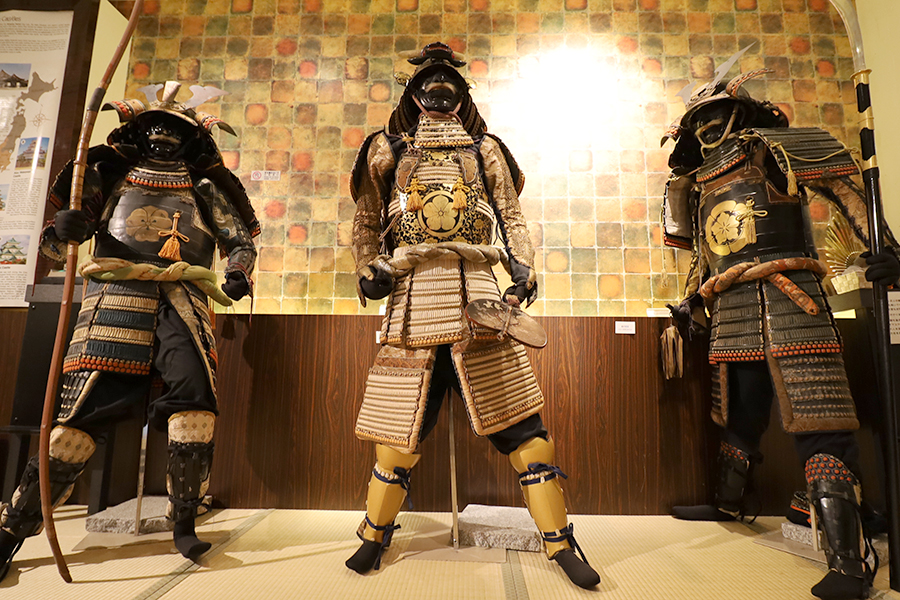 The Samurai & Ninja museum is Japan's largest experimental museum and offers unique experiences where you can tour around the medieval exhibits while wearing a kimono, yukata, or samurai armor – a fitting combination for the time period you'll be exploring. Aside from this, there are also authentic Japanese tea ceremonies and Zen meditation workshops available for individuals and groups. The Samurai & Ninja Museum tour is available all year-round in English, Chinese, and Japanese.
The true ninjas of old Japan may have disappeared in today's society but the stories and legends of their deeds live on. Experience what it was like for these covert agents through the tours guided by our knowledgeable staff at the Samurai & Ninja Museum Kyoto!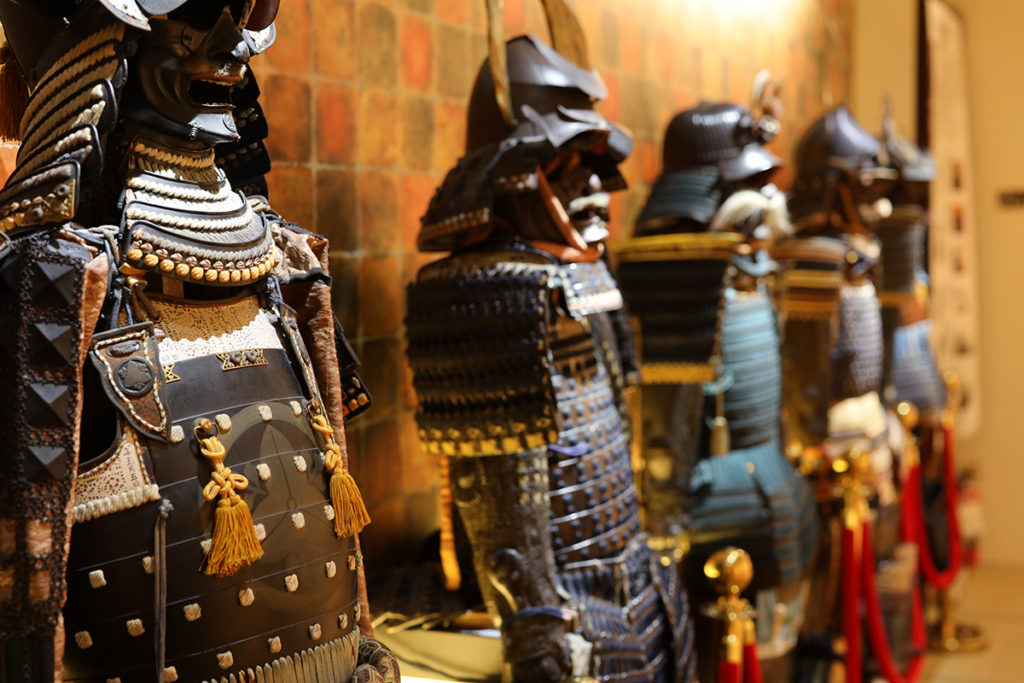 All of the rooms and exhibits at the Samurai & Ninja Museum are designed in the styles of the Sengoku Period, also known as the Warring States Period in Japan. This era was the time when the samurai held extraordinary power over the politics in the country, enough to eventually trigger the reunification of Japan. Your adventure with us will transform you and your friends and family into a modern rendition of the ancient legendary warriors.
The Samurai & Ninja Kyoto also hosts its activities outside the museum upon request. All you need to do is contact us so we can arrange for our affiliated dojos! Don't forget to check out the museum gift shop for a souvenir. There are also antique samurai swords and armor for sale if you're an avid collector, along with ninja tabi-socks.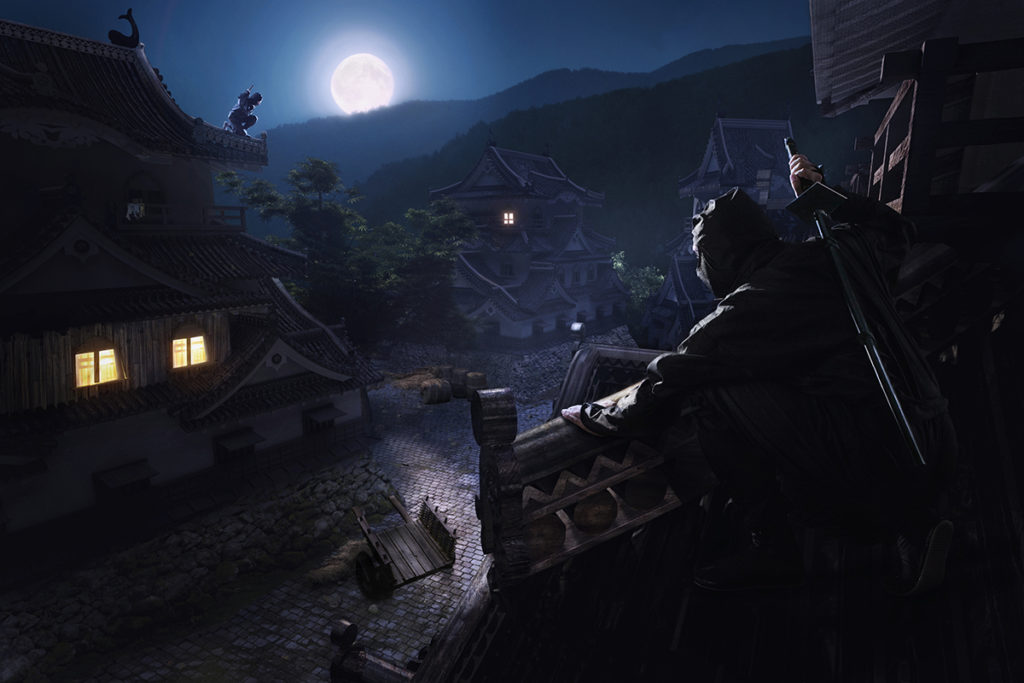 A Brief History of the Ninja
The ninjas, also called shinobi, were covert agents, spies, and mercenaries during the feudal periods in Japan in the 15th century and as early as the 12th century. They were tasked to perform espionage, surprise attacks, and undercover warfare which was deemed beneath the honor of the samurai, the ruling class at the time.
The ninjas, unlike the samurai, were normally common folk or farmers by day who were hired as mercenaries and spies at night. The lack of records of their origins along with their undercover work gained the ninjas a reputation of being mysterious enough that rumors believed that they possessed supernatural powers and abilities. Folklores along with popular media even portray the ninjas as being able to fly, become invisible, walk on water, shapeshift, and even be able to control the elements of nature.
The existing records of the ninjas were only passed down through generations, and any historical records are extremely rare! Ninjas were typically born into the tradition, carrying on the secrets and missions of their predecessors.
Their training starts from childhood, similar to the samurai. However, the samurai follow the Bushido code of honor while the ninjas did not have any such thing.
There were two clans, the Iga and Koga clans in the modern-day Mie Prefecture that had entire villages dedicated to training professional ninjas. They were so good at what they do that the great Oda Nobunaga marked the Iga clan as a threat and almost completely wiped the area.
A famous ninja, Hattori Hanzo, was one of the ninjas from the Iga clan who survived and became a bodyguard for Tokugawa Ieyasu.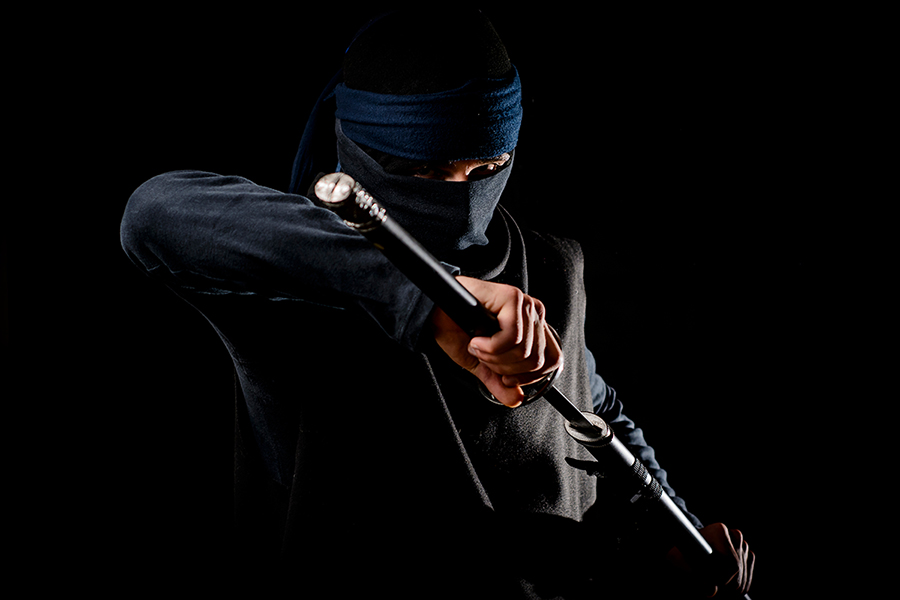 Fun facts about the Ninja
The only way to become a ninja was to be born in Iga or Koga clans.
Ninjas could tell the time by just looking at a cat's eyes.
Ninjas used the fukiya or blowgun tubes as snorkels when they have to hide in the rivers or lakes
Recovered ninja manuals focused on avoiding detection and how to escape if captured. Most ninja skills and training were passed down from generation to generation and started at an early age.
Ninjas had vegetarian diets to avoid having body odor.
Some parts of ninja education consist of physical training, martial arts, climbing techniques, and castle infiltration.
Rumors and folklore believe that ninjas could walk on water!
Interested in more in-depth samurai workshops, ninja training, and tea ceremonies? Check out our other events 
here
!
---
FAQs
When is the Samurai & Ninja Museum open?
Our museum is open with tours available every day from 10:30 am to 8 pm.
Will there be real weapons during the workshop experience?
No. For the safety of our guests, the experience will only include model and replica items. If you're interested in using a real katana, we recommend checking out our tameshigiri workshop on our events page!
Are the exhibits real artifacts?
Each item in the museum has been authenticated and is maintained well for your viewing pleasure. The items used for the experiences, however, are models and duplicates to ensure the safety of our guests and the artifacts in our collection.
Can I buy a real sword like a katana?
Yes! We sell authenticated swords at our museum. You can talk to us during your visit or contact us online using the emails listed at the end of this page.
What is the best way to experience the Samurai & Ninja Museum?
We have a variety of tickets with experiences for you to choose from. The Ninja Experience is ideal for groups since there are more friendly competitions involved.
Do I need to book in advance?
We accept walk-in guests but we highly recommend booking in advance before your trip especially during peak seasons to avoid the crowd. Keep this in mind when you're traveling in early April and mid-November!
What do I need to bring for my ninja experience?
If you have a reservation for us, make sure you bring an ID or confirmation so we can book you in! Other than that, you don't need to bring anything besides yourself and your group. Your costumes and props will be provided by us.
Can girls participate in the ninja experience?
Ninjas don't discriminate between boys and girls! Any good ninja warrior of any age can use the prop weapons and wear our ninja uniforms. Our provided costumes are unisex and are made in a variety of sizes for kids and adults.
---
Skip the lines and book a Ninja Experience with us online!
Simply fill the form at the top of this page to schedule a tour and wait for a confirmation email from us. We hope to see you soon!
---
Check out our other workshops and classes!
Ninja Cooking Class For Kids & Families in Osaka with a Souvenir
Samurai Sword Cutting Experience in Kyoto: Tameshigiri
Samurai Sword Experience for Kids and Families (Ninja experience and Museum Tour included)
---
Review
Based on 11 reviews