Samurai Sword Training for ADULTS
Price
▶
Another 10% OFF for 10 or more people
The Samurai & Ninja Museum Kyoto is a unique, experience-based museum that lets you get up close and personal with history. Our Samurai Sword Training for Adults is designed to give you a crash course and more in-depth training with an introduction to the Iaido technique.
Book with us online to reserve a slot now!
Samurai Sword Training for Adults
Lasts approximately 120 minutes.
Your Samurai Experience includes:
Basic sword lesson that will cover how to properly hold and carry a samurai sword or katana.
Introductory Iaido Training. This lesson will be taught by an experienced swordmaster in English, Chinese, and Japanese, depending on the preference.
A Hakama or a traditional samurai outfit will be provided for you during the whole workshop. Our hakamas are unisex and come in a variety of sizes for everyone!
Basic Ticket

Guided tour of the Samurai & Ninja Museum Kyoto:

Learn about the history of the samurais and ninjas from our knowledgeable tour guides! The tours are available in English, Chinese, and Japanese. This item is optional should children not want to join.

Ninja experience:

Learn how to throw ninja stars and use a 

blowgun

!

Samurai experience:

Try on full samurai armor for your souvenir pictures.
Samurai Sword Show Demonstration

Don't miss a performance by an experienced swordmaster! This awe-inspiring show is performed every day for our guests.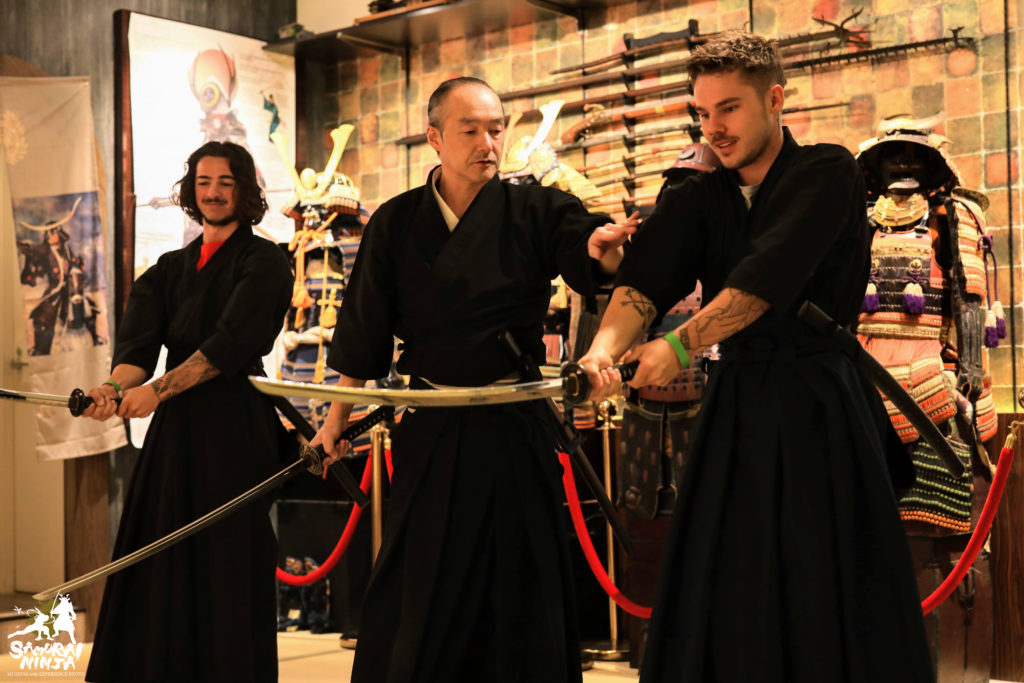 ---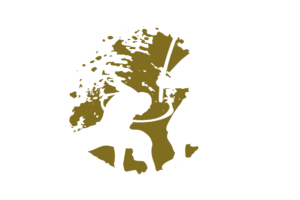 What happens during the sword lesson?
The Kyoto sword lesson will be taught by a master and will be guiding you through the basics of a samurai sword as part of an introductory Iaido Training.
You will receive instructions and guidance on the following:
Samurai sword stance or how to stand like a samurai
Properly drawing the katana sword from the sheath
How to hold and slash with the katana
Properly sheathing the katana
The sword or katana used for this lesson will be a model sword with no edge.
Our Samurai Sword Lesson and Samurai Sword Show have high satisfaction rates! Reserve now before all spots are gone!
---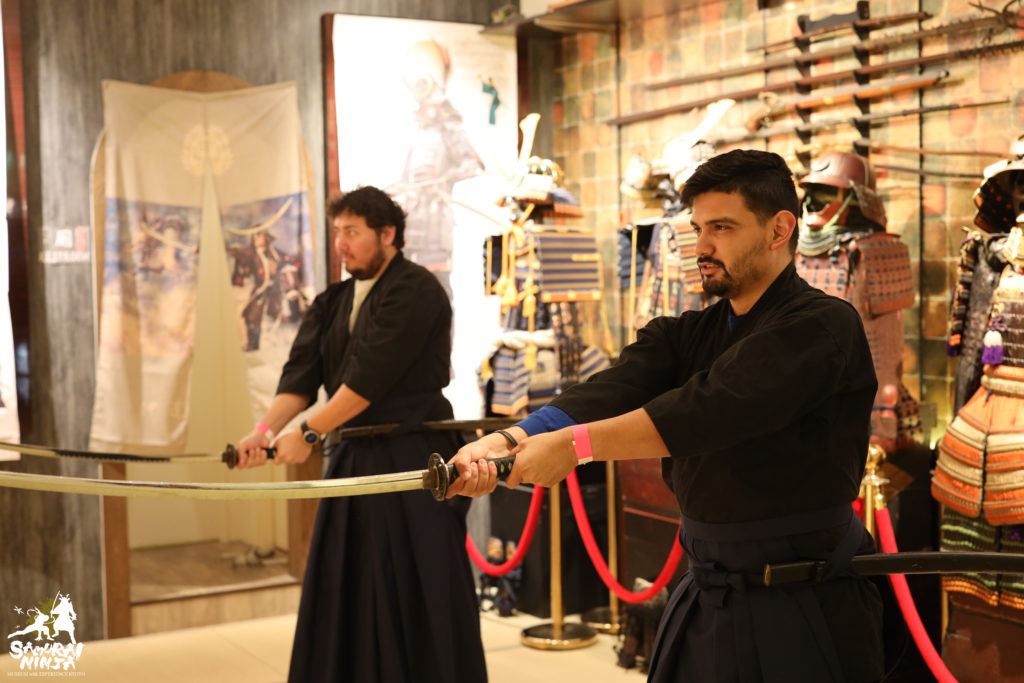 Book your Samurai Sword Training for ADULTS on this page!
If you're having difficulties or questions, contact us at samurai@mai-ko.com
What happens during the Samurai Sword Lesson?
You will be given a hakama, a traditional uniform for the samurai to train in, and begin your sword lessons once you are ready. The lesson will be headed by an experienced swordmaster.
The class will start with the basics of the katana or samurai sword and will cover the basic sword skills as part of introductory Iaido training. The lesson will be explained in English as well as in Chinese or Japanese, depending on your preference.
This package also includes the basic ticket which will bring you on a tour of the Samurai & Ninja Museum, along with our specialized samurai and ninja experiences.
What is the Iaido technique?
Iaido is a martial art that focuses on perfecting the movements of drawing, wielding, and sheathing the katana. This technique focuses more on drawing techniques that will have you move with a smooth and efficient motion, typically direct into a cutting technique.
Iaido training does not focus on sword fighting, since there is not much use of that in today's society. The techniques for this lesson are treated more like a dance rather than a combat stance. Most movements will be taught with a slow movement and in repetition to build up your strength until you can move normally in the graceful sword dance.
The Samurai & Ninja Museum is a family-friendly establishment that provides enjoyable activities for people of all ages!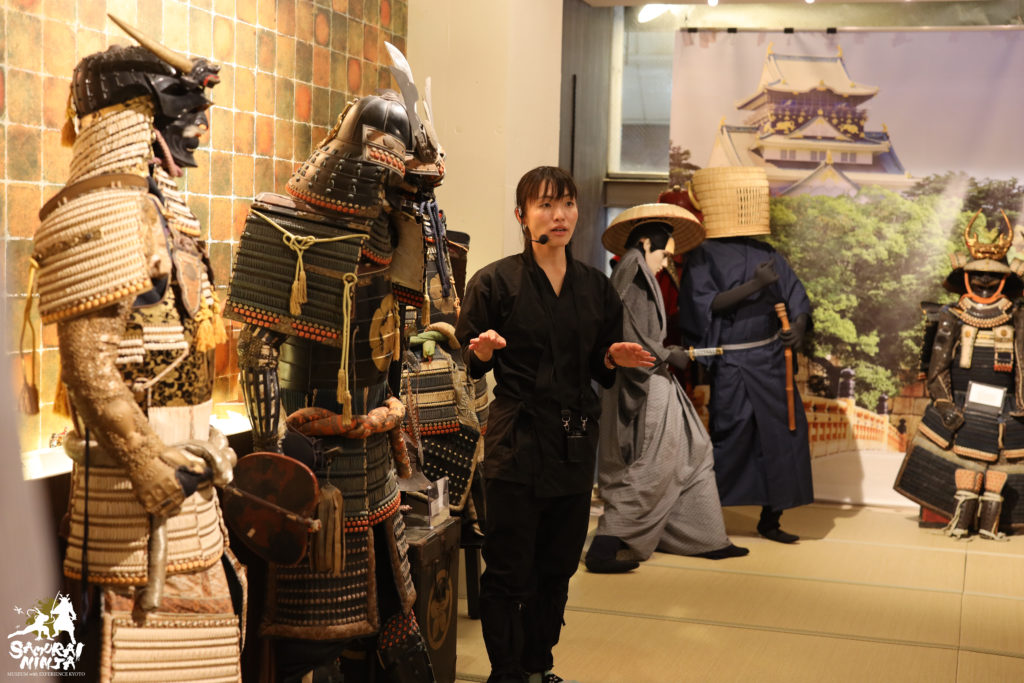 About the Samurai & Ninja tour
Explore our collection of ancient artifacts and historical samurai swords and ninja weapons from feudal Japan. You will even get up-close looks at the uncanny replicas inspired by the Sengoku Period up to the Tokugawa Shogunate. The Samurai & Ninja museum is Japan's largest experimental museum and offers unique experiences where you can tour around the medieval exhibits while wearing a kimono, yukata, or samurai armor – a fitting combination for the time period you'll be exploring. Aside from this, there are also authentic Japanese tea ceremonies and Zen meditation workshops available for individuals and groups. The Samurai & Ninja Museum tour is available all year-round in English, Chinese, and Japanese.
---

The Samurai Experience
The samurais may have disappeared or integrated into the modern age of Japan, but their legacy lives on. Experience their legendary tales through the tours guided by the knowledgeable staff at our museum! Not only that, but you'll also get a glimpse of what it was like to be one of the most prestigious ruling classes of old Japan. Bear the honor of the samurai as you learn how to hold and sheath a katana, just like the samurai and their two swords – one for the enemy, and one for their honorable punishment.
You will be trying out a lightweight replica armor! This can easily be worn by kids and everyone in the family with no problem. The armors are meant to fit multiple sizes and are easily adjustable. You will also be putting on a metal samurai helmet and use a model katana sword!
This experience is the perfect opportunity to take pictures to take home as a souvenir from your trip.
Don't miss an amazing performance by a swordmaster descended from a samurai clan! Here, you'll get to admire the graceful and deadly dance performed by the samurai during battles and practices. You may also catch a recreational performance depicting a fight scene against the samurais and ninjas.
---

The Ninja Experience
Embody the thrill of being one of the famously mysterious covert agents in medieval Japan! The ninjas are some of the most intimidating and formidable characters from the Sengoku Period or the Warring Stated Period to the Edo Period. The traditions and practices of the ninjas may have lost their glory days, but the Samurai & Ninja Museum Kyoto keeps the history alive.
Just like in the movies, our ninja experience lets you try out the famous ninja stars! Also known as shuriken, these are small hand blades that are used for throwing. But don't worry – our ninja stars are perfectly safe.
The second part of your experience will also include using the ninja blowgun, also known as the fukiya. These can also be referred to as blow darts! You can have a friendly competition among your group during a target practice game too.
---
The Samurai & Ninja Museum Kyoto is the perfect place for a trip with your family and friends! 
All of the rooms and exhibits at the Samurai & Ninja Museum are designed to embody the Sengoku Period, also known as the Warring States Period in Japan. This era was the time when the samurai held extraordinary power over the politics in the country, enough to eventually trigger the reunification of Japan. Your adventure with us will transform you and your friends and family into a modern rendition of the ancient legendary warriors. Our armors come in unisex styles and a variety of sizes for everyone, including children!
The Samurai & Ninja Kyoto also hosts its activities outside the museum upon request. All you need to do is contact us so we can arrange for our affiliated dojos! Don't forget to check out the museum gift shop for a souvenir. There are also antique samurai swords and armor for sale if you're an avid collector, along with ninja tabi-socks.
All of the activities are included in this package without additional fees. Book with us online to confirm your reservation!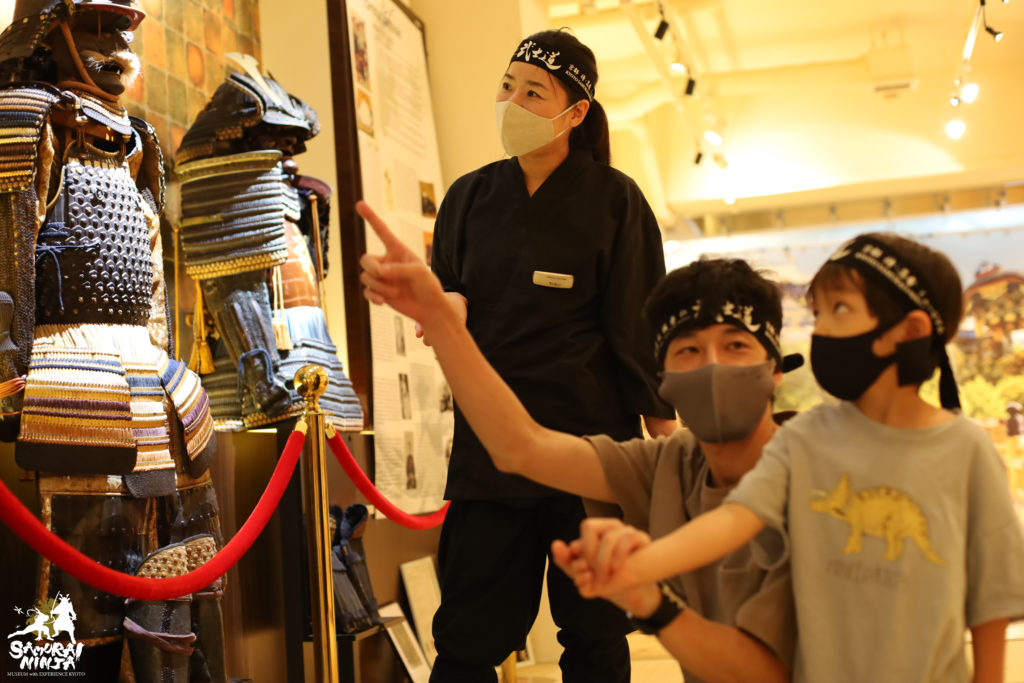 Skip the lines and book Samurai and Ninja Ticket with us online!
Simply fill the form at the top of this page to schedule a tour and wait for a confirmation email from us. We hope to see you soon!
---

A Brief History of the Samurai
The samurai are known as the best warriors in the world in their time, and stories about them still circulate to this day, staying as one of the most popular aspects of Japanese history and culture. These warriors were known for their bravery, military tactical prowess, and the "Bushido" or code of honor.
The samurai class rose to power around the 11th century, leading to the feudal age of Japan. They held control over the country and the Imperial court as one of the most powerful and intimidating classes until the abolishment of the feudal system in 1868. Since then, the samurai culture has greatly influenced modern Japanese society, with ideals of honor, respect, and loyalty deeply ingrained into ordinary everyday lives.
The samurai were known to wield a variety of weapons from bows and arrows to swords. One of the most well-known weapons of the samurai is the katana. The katana is an unrivaled quality sword and considered the most deadly and efficient weapon during battle. And although the weapons evolved throughout the time periods, the samurai kept the katana close, believing that it held the soul of the bearer. They also carried a short sword or knife known as a tachi. Wearing a katana and a tachi combination was called daisho, which became the hallmark of the Samurai.  The two swords represented the path of the samurai: The katana was the symbol for fighting a righteous battle, and the tachi was a reminder of personal honor.
As the samurai class dissolved into modern society, their previous skills and education were passed through generations. This lead to the creation of some of the most successful Japanese companies and industries. Tactical skills were applied to managerial positions, and practical skills directly influenced the high-quality manufactured goods in the country. One of the most notable products is the unrivaled Japanese knife, which applied the same techniques and methods as when the katanas were made.
---
The Samurai & Ninja Museum is a family-friendly establishment that provides enjoyable activities for people of all ages!
---

---
Skip the lines and book Samurai and Ninja Ticket with us online!
Simply fill the form at the top of this page to schedule a tour and wait for a confirmation email from us. We hope to see you soon!
---
FAQs
Will a hakama be provided? What is a hakama?
This package includes wearing a hakama, which is a traditional samurai uniform used during training.
What is the difference between the basic ticket and the samurai sword training?
This package has an additional lesson consisting of Iaido training in addition to our basic tour and experience package. The workshop will be taught by a samurai swordmaster.
What is Iaido training?
Iaido is a non-contact martial art. This lesson will teach you how to move gracefully with the samurai sword or katana.
Can I bring my child to the lesson?
The Samurai Sword lesson for Adults is designed for adults. You can bring your child, provided that they do not disrupt the lesson, but they will not be able to participate. If you would like to sign up your child for a workshop, please take a look at our kids experiences on our events page.
Are real katanas or samurai swords going to be used?
No. Real katanas are only used for the tameshigiri, which is a separate workshop.
When is the Samurai & Ninja Museum open?
Our museum is open with tours available every day from 10:30 am to 8 pm.
Are the exhibits real artifacts?
Each item in the museum has been authenticated and is maintained well for your viewing pleasure. The items used for the experiences, however, are models and duplicates to ensure the safety of our guests and the artifacts in our collection. Our tameshigiri lesson is the only package that uses real katanas.
Will the tours, activities, and lessons be in English?
Yes! Our museum staff is fluent in English. All the tours, lessons, and activities are in English as well as Chinese and Japanese depending on your preference.
Can I buy a real sword like a katana?
Yes! We sell authenticated swords at our museum. You can talk to us during your visit or contact us online using the emails listed at the end of this page.
What is the best way to experience the Samurai & Ninja Museum?
We have a variety of tickets with experiences for you to choose from! Our basic ticket includes an overview tour of the exhibits along with some basic experiences. If you're more interested in samurai and swords, we would recommend this package since it also includes all the basics and additional lessons and experiences!
Do I need to book in advance?
We highly recommend booking this package before your trip especially during peak seasons to avoid waiting. Keep this in mind when you're traveling in early April and mid-November!
What do I need to bring for my samurai and ninja experience?
If you have a reservation for us, make sure you bring an ID or confirmation so we can book you in! Other than that, you don't need to bring anything besides yourself and your group. Your costumes and props will be provided by us.
Do you have a souvenir shop?
Yes! You can buy memorabilia and other items from our shop to remind you of your trip to Japan and your time with us.
Check out our other workshops and classes!