Samurai Sword Experience in Kyoto Basic ticket included
Price
▶
Ticket price for kids (ages 3~12) is 300 JPY OFF. Children under 3 can enter for free.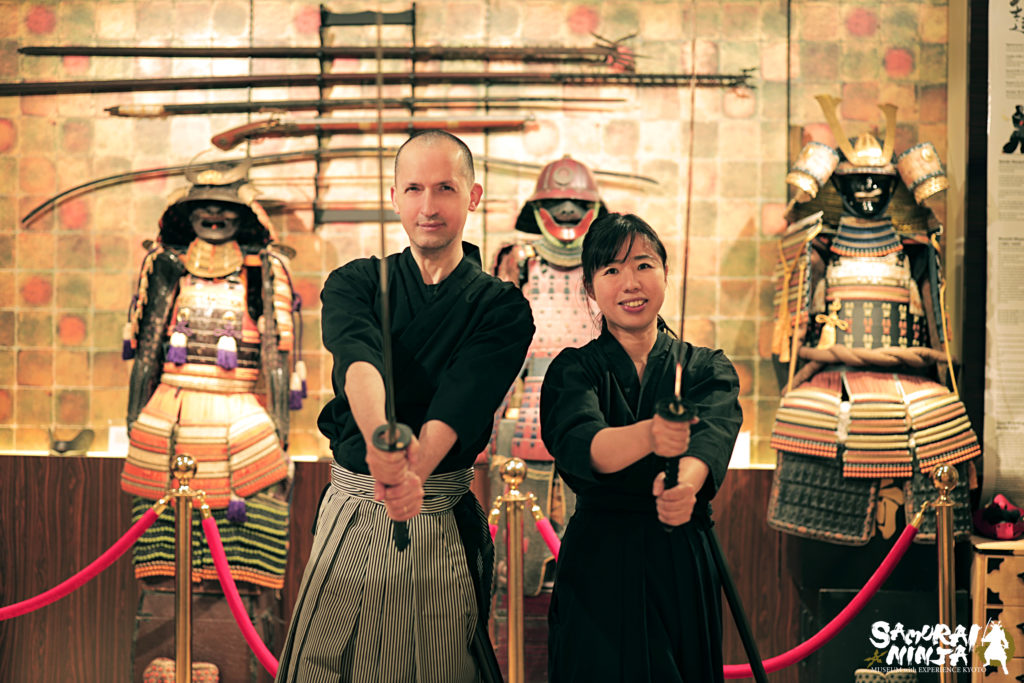 Put on a traditional samurai outfit and wield a katana just like a real samurai! This is the only samurai sword experience in Kyoto where you get hands-on experience, unlike costume play.
Note: If this experience is sold out, you can try the samurai sword cutting experience with real sword (adults only) or the ninja costume wearing with ninja star throwing experience..
The Samurai & Ninja Museum Kyoto is a unique, experience-based museum that lets you get up close and personal with history. Our special Samurai Sword Experience for Kids and Families lets you and your family become modern-day samurais-in-training for a day!
Book with us online to reserve a slot now!
Samurai Sword Experience in Kyoto (Family & Kid Friendly)
Lasts approximately 90 minutes
All of these activities are included in this package without additional fees.

Wear traditional clothes of the Samurai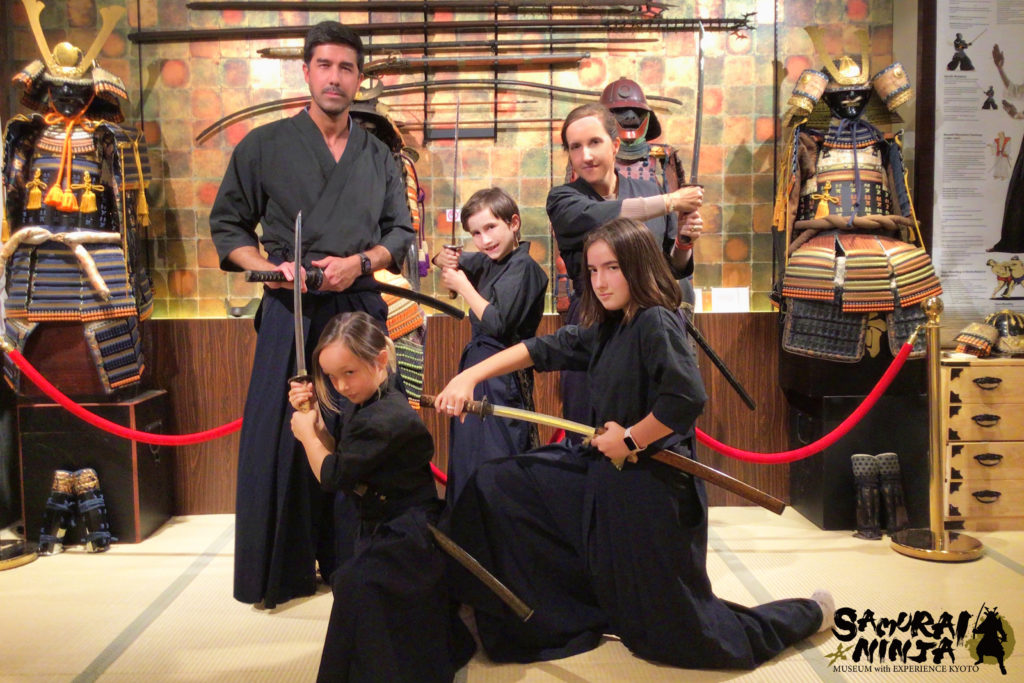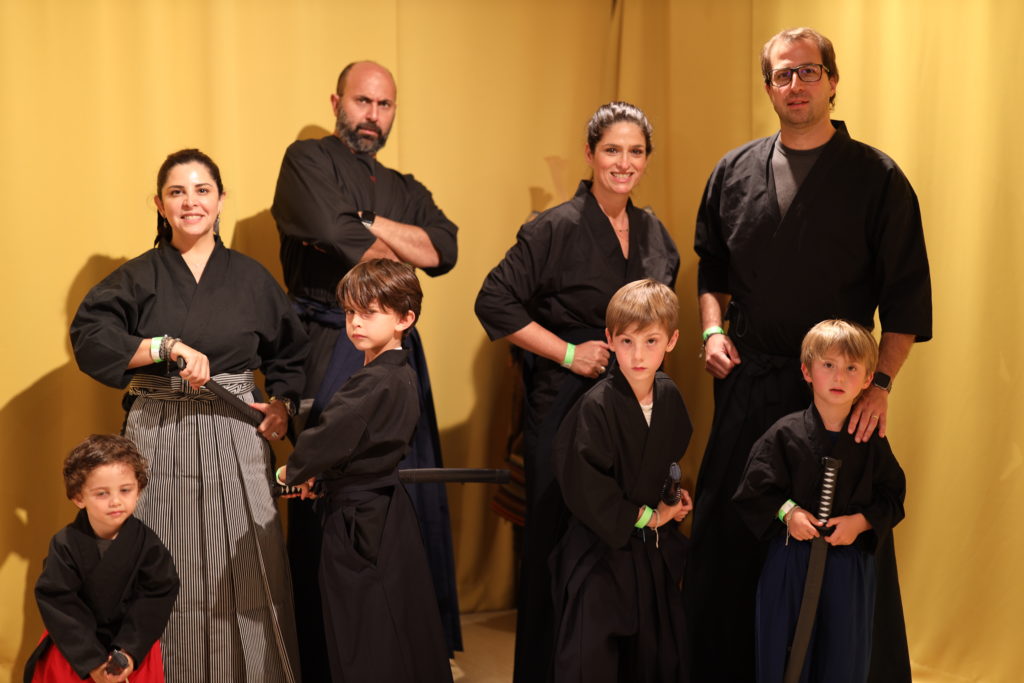 For the Samurai Experience, you will wear the traditional clothing of the samurai. Whilst wearing Hakama, the Samurai Pants, and a traditional Kimono style top. Once you are clad in the clothes of the samurai, then the lesson can begin.
Don't forget to take pictures of your experience!
---

Learn traditional movements with the sword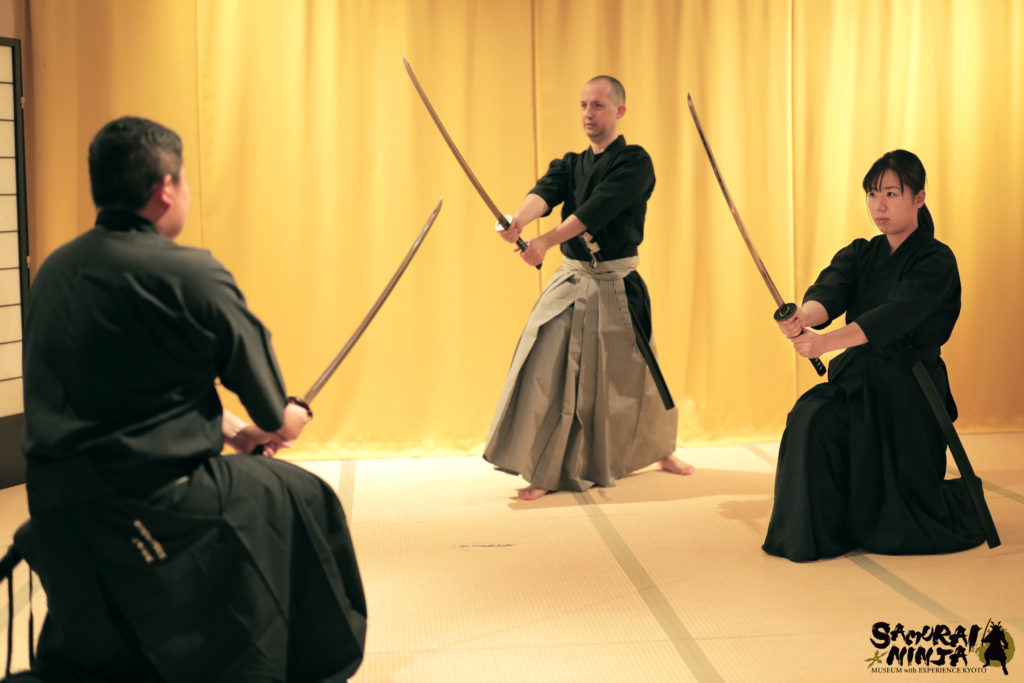 The class starts with a simple grip and posture check as a basic step and to ensure your safety. After this, you will be going through a series of poses and gestures that are used for certain techniques. Some portions of the lesson will be repetitive for you to build up your strength until you are ready for a more advanced session.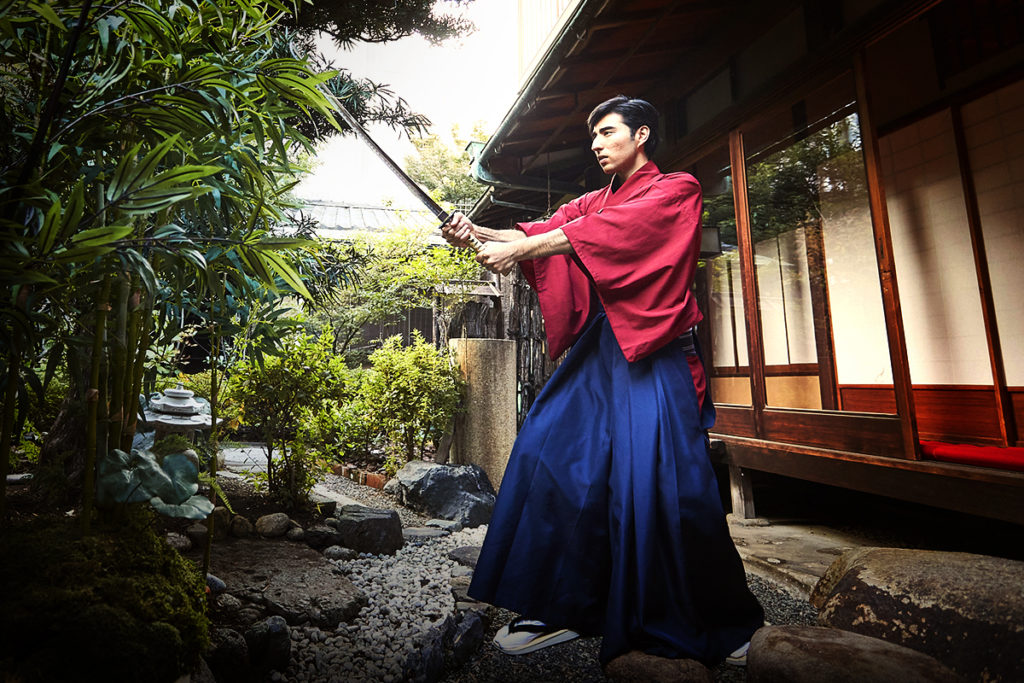 The Samurai master will teach you how to properly wear and draw the sword, how to cut, and then a traditional Kata. A Kata is a demonstration of multiple movements with the sword done in succession. This experience lasts around thirty minutes, but the title of Samurai will last you a lifetime.
---
---

Samurai armor trial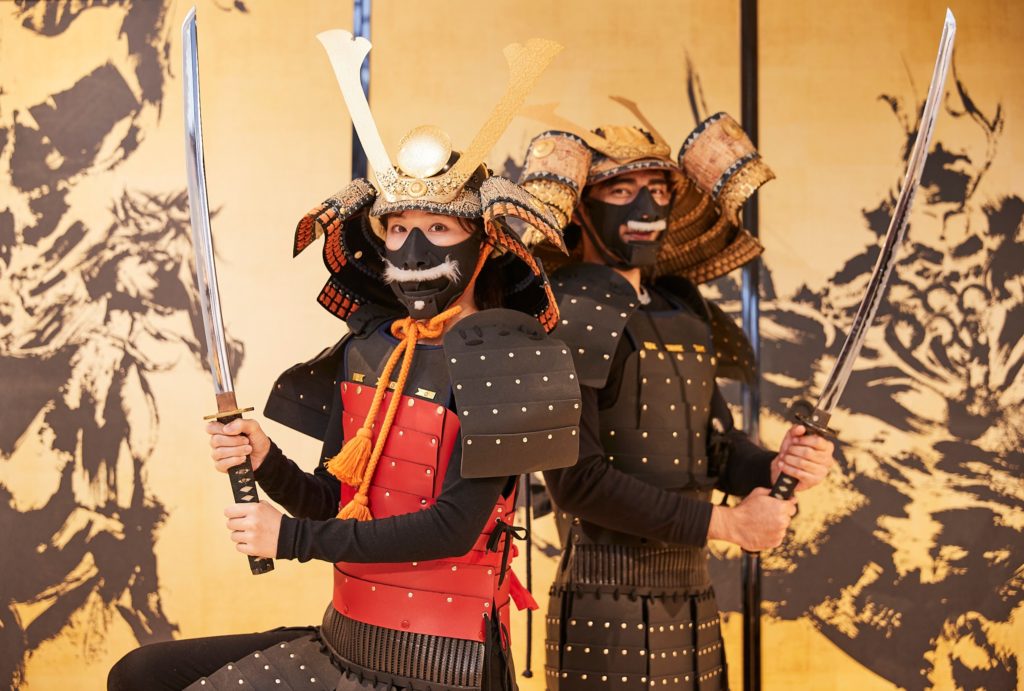 You will also get to dress up like a samurai family. Try on full samurai armor for your souvenir pictures. Our armors come in unisex styles and a variety of sizes for everyone, including children! You will even get a selection of varied replica swords to choose from.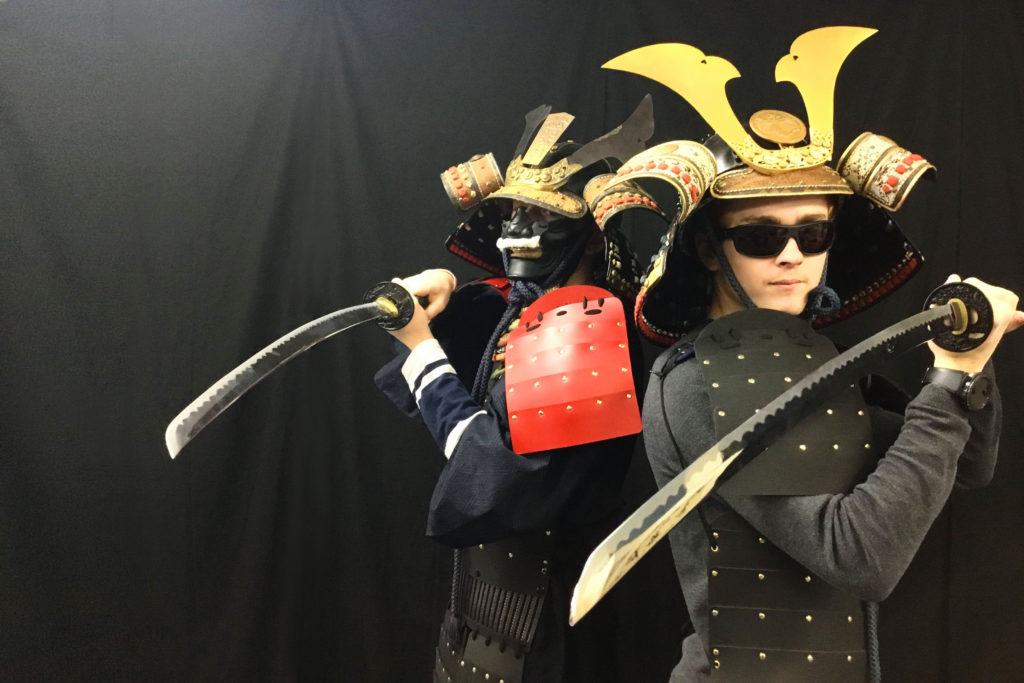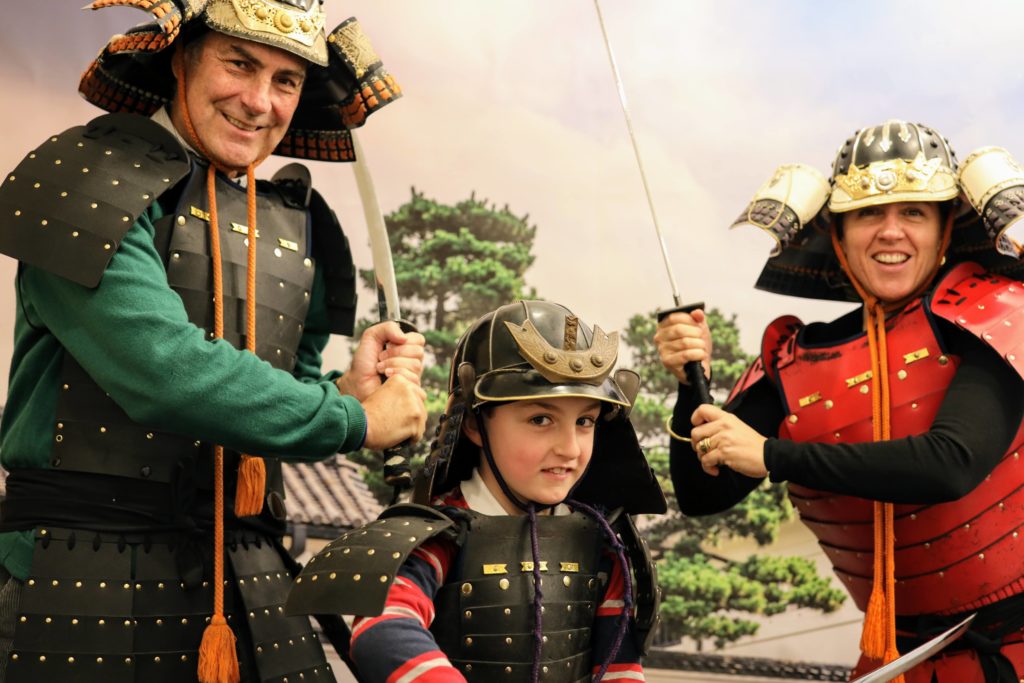 ---

Guided tour of the Samurai & Ninja Museum Kyoto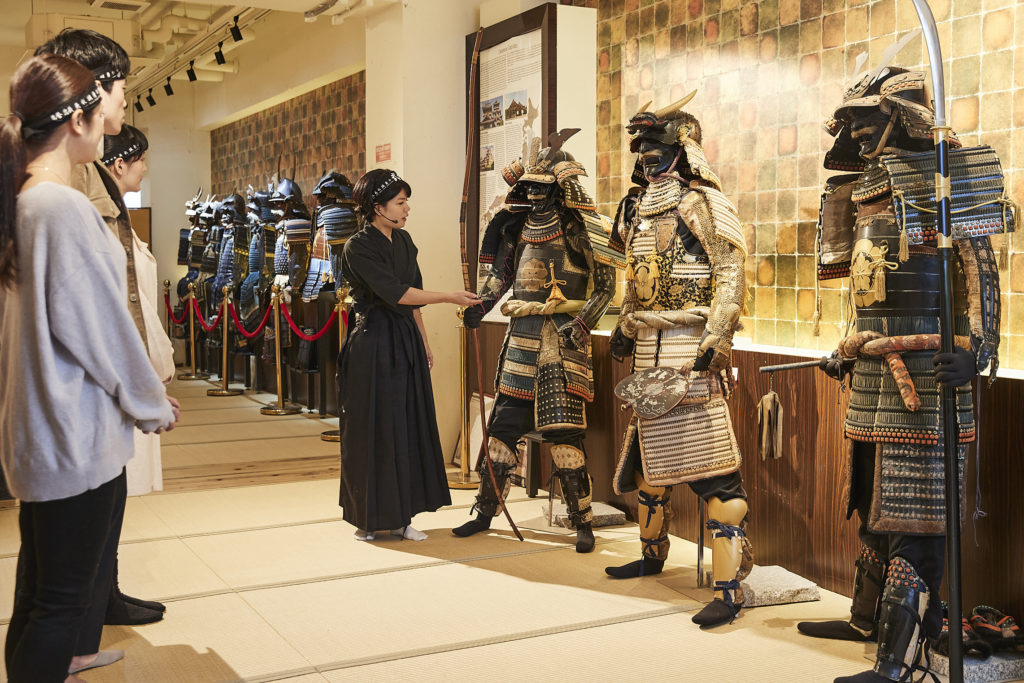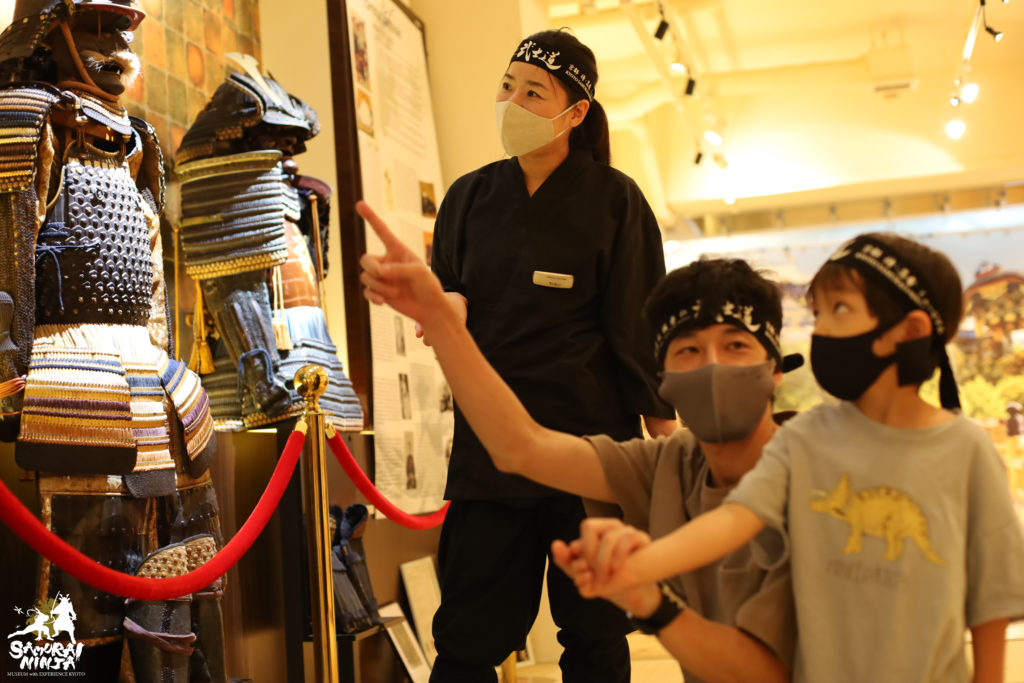 Enjoy an interactive tour where you will get to learn trivia and fascinating facts about Japanese history and culture. You will go through the samurai and ninja exhibits while our knowledgeable guide will tell you all about the displays, from the technical aspects to the wonderful stories that these items carried in their past lives. Ask all the questions you have about the displays and learn about the histories of the samurais and ninjas and when they started.
The tours are available in English, Chinese, and Japanese.
---

Ninja star throw competition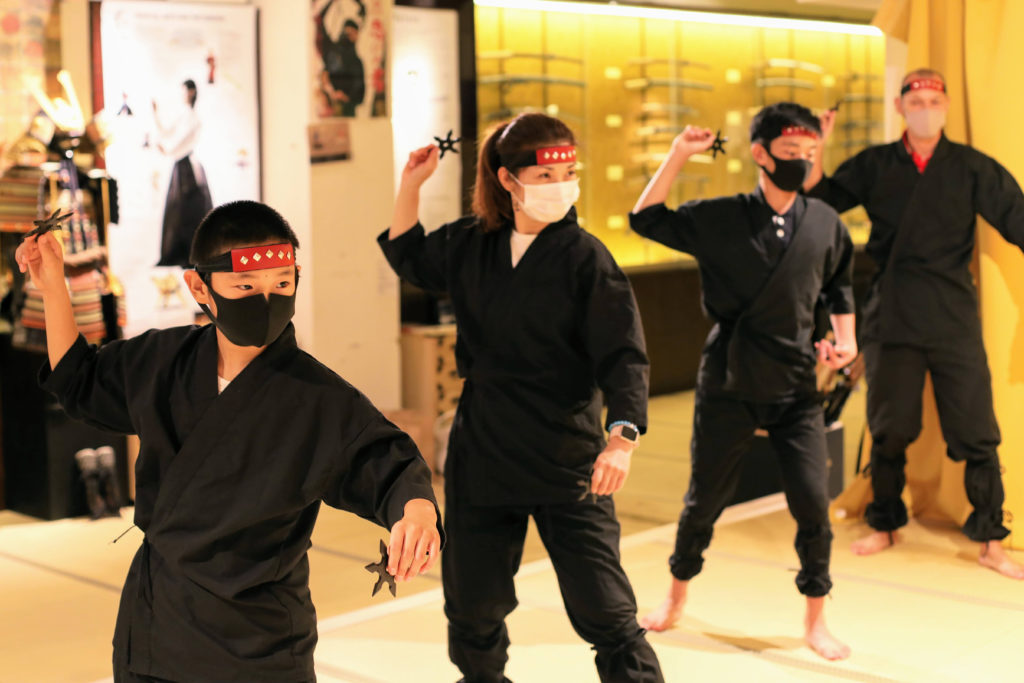 Learn how to throw ninja stars. Once you have had some practice then it's time for the famous Ninja competition. Test your targeting skills with our fun activities like throwing a shuriken! You can have a friendly competition with your friends and family during the training.
---
Regular Price
Adult: ¥6,000 / person
Child (ages 3 ~ 12): ¥5,700 / person
Enter the coupon code to get an additional discount!
Book your Samurai Experience in Kyoto -Family & Kid Friendly- on this page!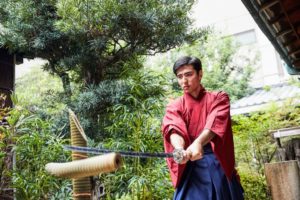 Are you more interested in using a real samurai sword?
Try out our tameshigiri or sword-cutting workshop! Click here to book Samurai Sword Cutting Experience – Tameshigiri!
The Samurai and Ninja Museum is located in central Kyoto, right by the famous and historical Nishiki Market in the Gion District.
All of the activities are held at the Samurai & Ninja Museum Kyoto under the supervision of our watchful staff to ensure a safe and enjoyable experience for everyone.
The Samurai & Ninja Museum Kyoto is the perfect place for a trip with your family and friends! 

About Samurai & Ninja tour
Explore our collection of ancient artifacts and historical samurai swords and ninja weapons from feudal Japan. You will even get up-close looks at the uncanny replicas inspired by the Sengoku Period up to the Tokugawa Shogunate.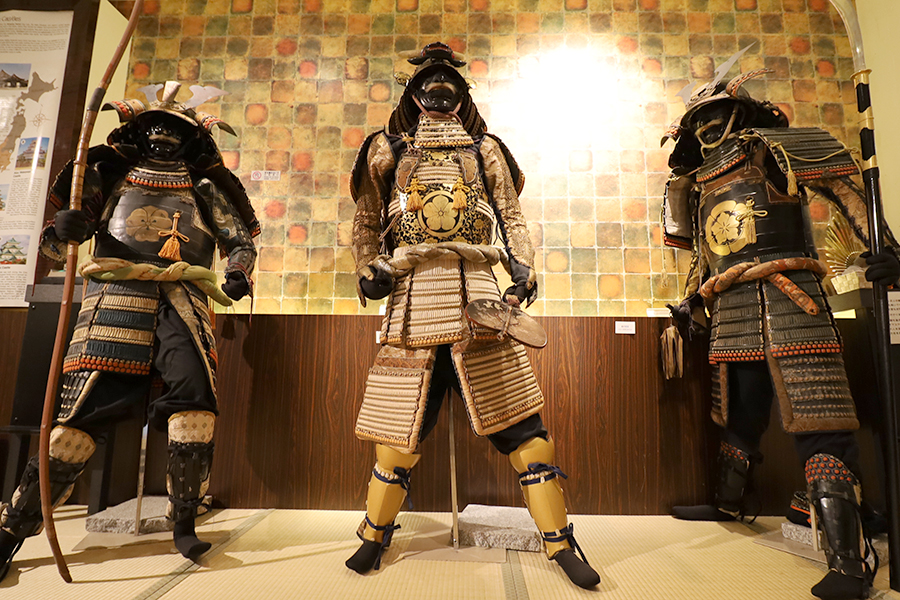 The Samurai & Ninja museum is Japan's largest experimental museum and offers unique experiences where you can tour around the medieval exhibits while wearing a kimono, yukata, or samurai armor – a fitting combination for the time period you'll be exploring. Aside from this, there are also authentic Japanese tea ceremonies and Zen meditation workshops available for individuals and groups. The Samurai & Ninja Museum tour is available all year-round in English, Chinese, and Japanese.
The true ninjas of old Japan may have disappeared in today's society but the stories and legends of their deeds live on. Experience what it was like for these covert agents through the tours guided by our knowledgeable staff at the Samurai & Ninja Museum Kyoto!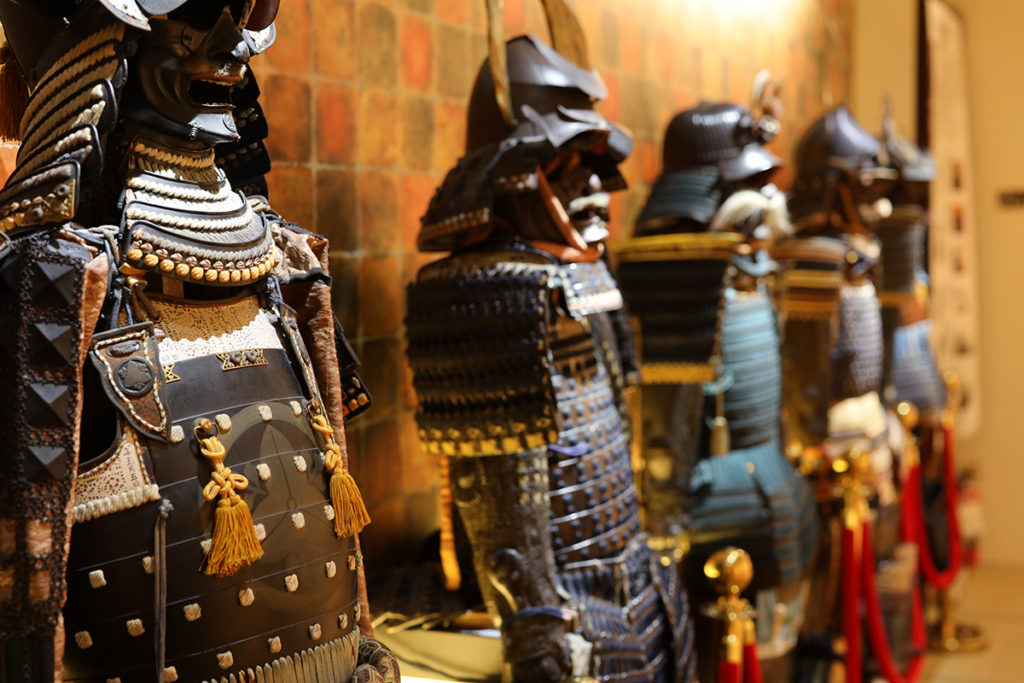 All of the rooms and exhibits at the Samurai & Ninja Museum are designed in the styles of the Sengoku Period, also known as the Warring States Period in Japan. This era was the time when the samurai held extraordinary power over the politics in the country, enough to eventually trigger the reunification of Japan. Your adventure with us will transform you and your friends and family into a modern rendition of the ancient legendary warriors.
The Samurai & Ninja Kyoto also hosts its activities outside the museum upon request. All you need to do is contact us so we can arrange for our affiliated dojos! Don't forget to check out the museum gift shop for a souvenir. There are also antique samurai swords and armor for sale if you're an avid collector, along with ninja tabi-socks.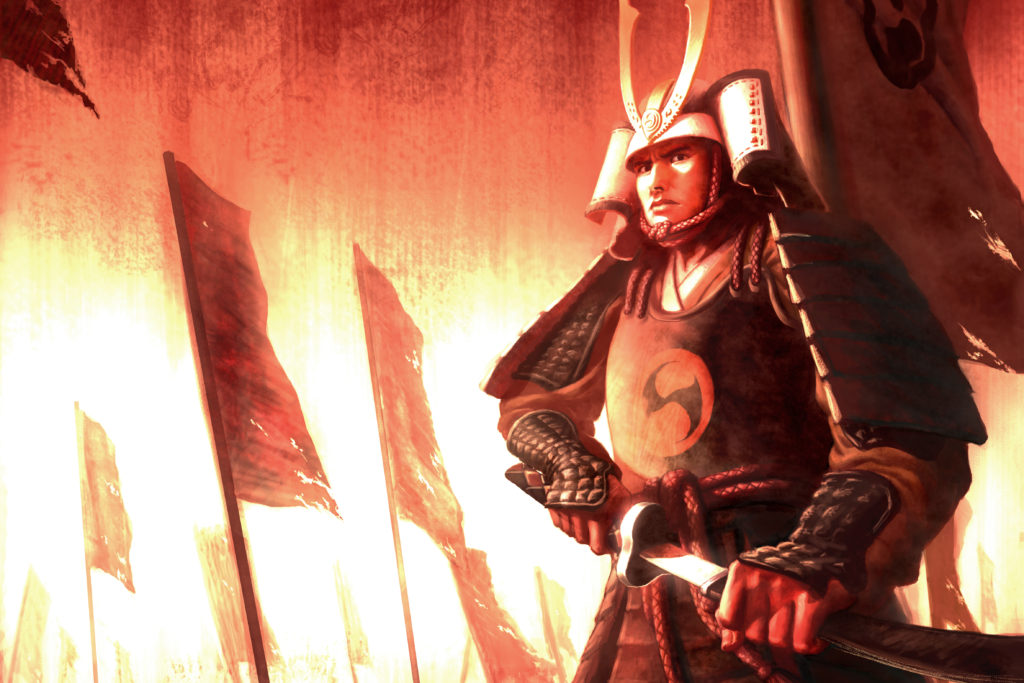 A Brief History of the Samurai
The samurai are known as the best warriors in the world in their time, and stories about them still circulate to this day, staying as one of the most popular aspects of Japanese history and culture. These warriors were known for their bravery, military tactical prowess, and the "Bushido" or code of honor.
The samurai class rose to power around the 11th century, leading to the feudal age of Japan. They held control over the country and the Imperial court as one of the most powerful and intimidating classes until the abolishment of the feudal system in 1868. Since then, the samurai culture has greatly influenced modern Japanese society, with ideals of honor, respect, and loyalty deeply ingrained into ordinary everyday lives.
The samurai were known to wield a variety of weapons from bows and arrows to swords. One of the most well-known weapons of the samurai is the katana. The katana is an unrivaled quality sword and considered the most deadly and efficient weapon during battle. And although the weapons evolved throughout the time periods, the samurai kept the katana close, believing that it held the soul of the bearer. They also carried a short sword or knife known as a tachi. Wearing a katana and a tachi combination was called daisho, which became the hallmark of the Samurai.  The two swords represented the path of the samurai: The katana was the symbol for fighting a righteous battle, and the tachi was a reminder of personal honor.
As the samurai class dissolved into modern society, their previous skills and education were passed through generations. This lead to the creation of some of the most successful Japanese companies and industries. Tactical skills were applied to managerial positions, and practical skills directly influenced the high-quality manufactured goods in the country. One of the most notable products is the unrivaled Japanese knife, which applied the same techniques and methods as when the katanas were made.
Skip the lines and book Samurai and Ninja Ticket with us online!
Simply fill up the form at the top of this page to schedule a tour and wait for a confirmation email from us. We hope to see you soon!
---
FAQs
When is the Samurai & Ninja Museum open?
Our museum is open with tours available everyday from 10:30 am to 8 pm.
Is there a minimum age for kids?
We do not have an age limit for our costumes. However, this package is recommended for school age children for them to fully enjoy the activity.
Are the exhibits real artifacts?
Each item in the museum has been authenticated and is maintained well for your viewing pleasure. The items used for the experiences, however, are models and duplicates to ensure the safety of our guests and the artifacts in our collection.
Can I buy a real sword like a katana?
Yes! We sell authenticated swords at our museum. You can talk to us during your visit or contact us online using the emails listed at the end of this page.
What is the best way to experience the Samurai & Ninja Museum?
We have a variety of tickets with experiences for you to choose from! Our basic ticket includes an overview tour of the exhibits along with some basic experiences. If you're more interested in samurai and swords, we would recommend this package since it also includes all the basics!
Do I need to book in advance?
We accept walk-in guests but we highly recommend booking in advance before your trip especially during peak seasons to avoid the crowd. Keep this in mind when you're traveling in early April and mid-November!
What do I need to bring for my samurai and ninja experience?
If you have a reservation for us, make sure you bring an ID or confirmation so we can book you in! Other than that, you don't need to bring anything besides yourself and your group. Your costumes and props will be provided by us.
Can I wear anything besides the hakama/samurai outfit?
Yes! You can opt to wear a ninja uniform instead without any additional fees. If you came from Maikoya Kyoto in your kimono, you can inform us if you wish to keep wearing it during your time with us.
Do you have a souvenir shop?
Yes! You can buy memorabilia and other items from our shop to remind you of your trip to Japan and your time with us.
---
Check out our other workshops and classes!
Samurai Sword Cutting Experience in Kyoto: Tameshigiri
Ninja Experience in Kyoto (Family & Kid Friendly)
---
Review
Based on 11 reviews