Cancellation and refund policy
No cancellation fee, cancel any time
Click button below to make a payment.
Temporarily unavailable
Kyoto Samurai Walking Tour at Samurai and Ninja Museum Kyoto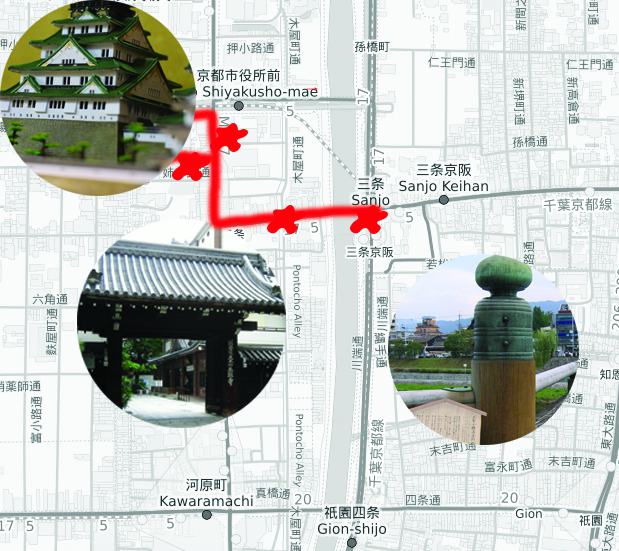 The history of samurai started and ended in Kyoto. Every stone on each corner in Kyoto for sure has many stories to tell. Now you can discover the fascinating history of Kyoto and Japan with this compact Samurai Kyoto Walking Tour.  The walking tour is headed by a friendly tour guide who knows a lot about Kyoto and Japanese history. It is conducted late in the afternoon so you don't have to worry about missing the other famous spots in your itinerary.
We will meet at the historical Sanjo bridge where we will briefly talk about the Shinsengumi and view the blade traces remainder of the fierce fight between the Choshu clan members and the Shinsengumi members. We will then walk towards to Teramachi shopping arcade and pass by the Ikedaya Izakaya which showcases the Shinsengumi signs and artefacts. The most important part of the tour is the stop at the Honnouji Temple. This is the temple where Oda Nobunaga, the most famous samurai in history and the first uniter of Japan was assassinated by his close general Akechi Mitsuhide. We will then stop at the Samurai and Ninja Museum of Japan and get a tour of the samurai history and also watch a free samurai sword show and tameshigiri (tatami cutting show). This is about 2.5 hour long tour where you walk less than 1 km that is packed with many interesting locations and action. The tour includes
friendly tour guide who is an expert in history and Kyoto
Stop at the Sanjo Bridge
Walking along the Ikedaya District
Tour of the Honnoji Temple
Tour of the Samurai and Ninja Museum (No charge)
The samurai sword show and tatami cutting show
Please make sure to wear comfortable shoes and bring along a water of bottle in the summer. If there is heavy rain, some parts of the tour may be cancelled. After the tour you can ask other questions (history, culture, transportation, shopping, etc.) questions to the tour guide.
Not Included

Transportation

Hotel pickup and drop-off

Maps

Organizer




Kyoto Samurai & Ninja Museum

"Kyoto samurai & ninja museum. Kyoto's best rated samurai, ninja, martial arts and history museum. Our samurai souvenir gift shop also has swords, katana, tabi socks, tabi shoes. A samurai village and samurai house feeling including a ninja dojo inside the museum. The ninja park for kids and a separate kimono tea ceremony room for families also available. Samurai and Kyoto have always been associated throughout history. From the early Heian period to the collapse of the Tokugawa shogunate the samurai and ninja always roamed the streets of Kyoto. Now they are back!  Japan's largest experience based museum dedicated to the glorious history of brave samurai warriors, everlasting ninja fighters and the martial arts.

Located in the heart of Kyoto.

---

Address: Teramachi Utanokoji building 2F, 292, Higashidaimonjicho, Nakagyo-ku, Kyoto, Japan 〒604-8043 google map 

---

Phone: 075-585-5410

---

After booking online you will get your voucher instantly via email! Frequently Asked Questions FAQ 1- Is there a samurai show every day and every hour? Yes we continuously have samurai shows all the time. If sensei is not there, you are given voucher to come watch the samurai show on another day. 2- Is there are samurai gift shop in the museum? Yes, we have many samurai and ninja goods for sale. 3- Do you sell real or replica swords? Yes we sell both new and antique swords. We also ship them overseas for a small fee if you ask. 4- Do I need a reservation? We accept walk ins but it is cheaper to buy tickets online. Additionally, if you are visiting as a group, we can serve you better when we know what time you'll show up.