Osaka is a paradise for fun-loving newlyweds on their honeymoon. Check out our carefully curated 4 day Osaka honeymoon itinerary, filled with a mix of must-do's and more unique activities that any couple will enjoy.
Fun and romantic things to do on your Osaka honeymoon 
Day 1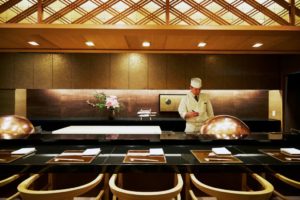 A great way to kick-off your Osaka honeymoon is to indulge on a hearty and mouthwatering breakfast.
Hanagatami, the sushi restaurant of the Ritz, serves omakase lunch sets, where the chef uses the freshest seafood of the day to craft bites of heaven right in front of you. The good-natured chefs and staff plus the counter seating overlooking a traditional garden top the experience off nicely.
Contact number is +81 6-6343-7020. Opening hours are 11:30 AM to 02:30 PM, and 05:30 to 10:00 PM daily.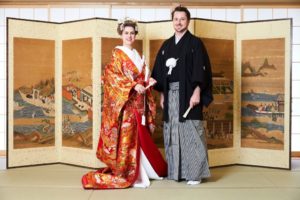 Many visitors to Japan add 'trying on a kimono' to their bucket list, but rarely do they get the chance to wear a kimono that is saved for special occasions like a wedding.
In this unique opportunity, you will be fully fitted in exquisite wedding kimono for you and your spouse and participate in a sushi making class and photo-shoot. Make a booking here so you don't miss your preferred timeslot during your Osaka honeymoon getaway.
Contact number is +81 6-7878-8307. Opening hours are 10:00 AM to 06:00 PM daily

On your way to Dotonbori, take the route through Shinsaibashi, a shopping street that seems to never end, and make a mental note of the shops you may want to revisit when you have a moment to spare.
Dotonbori is a canal with shops, street foods, restaurants, neon signs like the Glico Man, and an all-round bustling atmosphere that comes alive at dusk. Even if you're not a shopaholic, you'll love to include this to your Osaka honeymoon itinerary.
Contact number: +81 6-6211-4542. Opening hours are 24 hours daily
Day 2
Take a short train ride to Nara and visit the park where the locals are deer who bow to show their appreciation when visitors feed them special deer biscuits.
There are also iconic temples and districts that many visit while in Nara. Trust me, a day trip to Nara is an absolute must during your Osaka honeymoon.
Contact number is +81 742-22-0375. Opening hours are 24 hours daily.

Browse one of the largest shopping complexes in Japan at Grand Front Osaka and head to the Hankyu department store food basement to put together a dinner feast for two made up of katsu, sashimi, tempura, wagashi, and bento boxes.
Enjoy a 360-degree view of nighttime Osaka from the deck of the Umeda Sky Building.
Grab a drink at one of Osaka's quirky bars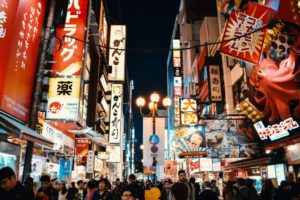 Would you like to drink mead and absinthe at a horror-themed bar where the bar owner is dressed like the Crow?
Or perhaps hunt for an elusive symbol to locate an expertly hidden speakeasy bar, where the bar owner will create a drink to suit your taste preferences? You can find these and many more in the nooks and crannies on your Osaka honeymoon adventure.
Day 3
Thrill the senses at Universal Studios Japan
Take Disney's rides and turn the thrill factor ten times up, and you get Universal Studios Japan.
Have a date over a butterbeer in The Wizarding World and enter the anime universe of fan favourites like Attack on Titan, Death Note, and Sailor Moon.
Kids as well as couples on their Osaka honeymoon, for sure, will find their bliss in this world-class theme park.
Contact number is +81 570-200-606. Their website is usj.co.jp
Don't know where to eat in Osaka? Craving for some mouthwatering food on your Osaka honeymoon.
Eat your heart out at one of the bars and restaurants serving local food like okonomiyaki at Hozenji Yokocho, an area carefully preserved from the Edo period.
Day 4
Go back in time in the Open-Air Museum of Old Japanese Farm Houses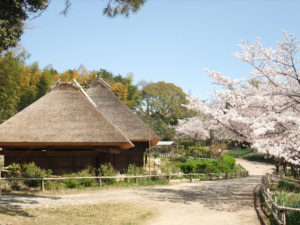 Take a fascinating look at how life in Japanese rural villages looked like during the Edo Period on your Osaka honeymoon.
Not only will it give tons of cool snaps for your Osaka honeymoon, but it also lets you dive into the history and culture of Japan.
Then, do some food shopping at a convenience store nearby and pack a picnic to eat in the surrounding Hattori Ryokuchi Park.
Hop on a 1.5 hour train ride to Kobe and buy a ticket that includes admission to the carpentry tools museum, coffee museum, and transportation museums.
Then savour lightly seared marbled Kobe beef for an expensive dinner that will be worth every cent.
Let us know in the comments below what other things you would include in an Osaka honeymoon itinerary!