In 2018 Fushimi Inari was the most visited spot in JAPAN and by some hiking you can reach the hidden bamboo forest. There are many things to do nearby such us the Tofukuji temple visit or the sake experiences. 
The 10,000 gates of FUSHIMI INARI is the most visited tourist spot in JAPAN!!!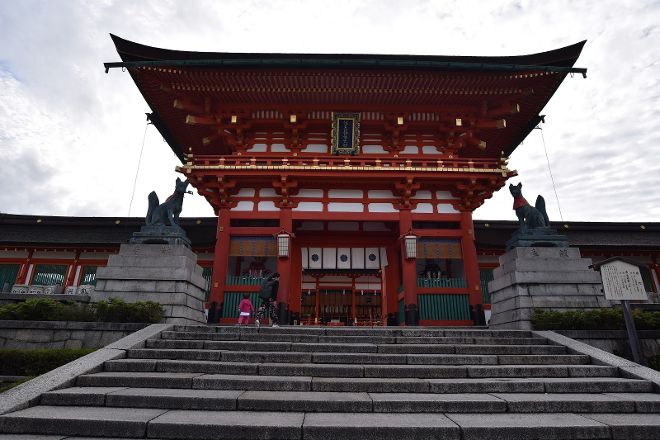 The 10,000 gates of FUSHIMI INARI became famous after an unforgettable scene in the movie "the Memoirs of Geisha." Many people go there to see the mysterious vermillion gates without knowing the place is a part of a big hill where you can hike on. There is a hidden bamboo forest if you follow everyone else but make a right in the middle of the senbontorii gate tunnel and pass by this public bathroom.  Everyone asks me if it is worth hiking to the top and how long it takes. You can climb to the top of the hill in 1 hour and there is a nice city view. In my opinion it may not be worth of climbing if you have a big group because the city view is not so clear and after 30 minutes you get used to seeing many gates here and there.
Tip: It gets crowded!!!You must go there earlier in the day to beat the crowds. The higher you go the fewer people you will see. Even in the high altitude there are cafes, tea shops, and noodle shops.  Fushimi Inari has many attractions and spots of interest besides the 10,000 torii gates. The famous Tofukuji Temple and Gekkeikan Okura Sake Museum which used to be a sake factory are a walking distance from the main shrine.
Fushimi Inari-taisha Shrine
Safariholic
●●●●○
Amazing - Go
Just had to time it right to avoid a viewfinder full of Tourists, but a modicum of patience conquered all
---
The GeesTravel
●●●●●
30 minutes climb to Mt. Inari
It is located just in front of Inari train station. No entrance fee It a solemn place, where devotee pay respect and homeage. Once reach on top, you will be able to view the view of Kyoto. It is advisable to visit early in the morning, to enjoy the scenery and early excercise to the top of the mountain. Crowds will start to come by 830am.
---
Misura C
●●●●●
Incredible place
This is must-do experience in Kyoto. We managed to walk to the top. Needless to say that it was just incredible; I must admit that getting to the top has been a bit of a struggle. It takes a while to get up there. Furthermore, on our way back, it rained a lot, and I mean, I lot!! I would do it again 1000 times though.
---
Let's Go Lab JP
●●●●●
Most important Shrine in Kyoto, "Fushimi Inari" by Empress Genmei
"伏見稲荷大社" or "Fushimi Inari Taisha" is the most important Shrine in Kyoto. This Shrine is dedicated to the Shinto God of Rice "Inari", constructed by Imperial Order of the Empress Genmei, who reigned during the Wado Era [708-715]. Empress Genmei Ordered to enshrine 3 deities in 3 mountains on the 1st day of the Horse of the second month of 711, so it's believed that The God "Inari" was enshrined in that day. It's really famous for its thousands of vermilion Torii 「千本鳥居」lining the road up to the main Shrine. It's a must when visiting Kyoto! You can access from the JR Fushimi station or Keihan Fushimi Inari Station. Visit our YouTube channel [Let's Go Lab JP] so you don't miss any of our adventures! We will be giving you tips for your trip to Japan! What are you waiting for? Join Us!
---
Ed H
●●●●●
Make sure to bring home a miniature torii for your refrigerator
From Kyoto Station catch the Nara Line (brown) and exit Inari Station, 2 stops. It is truly amazing to walk inside the torii path. Lots of pictures to be taken, no doubt. Snap a picture on the golden bridge, or next to the two foxes at the gateway. A must see shrine for all first time visitors. Our visit was before the pandemic so masks and hand sanitizers were not required.
---