Toyotomi Hideyoshi on his horse and his unique helmet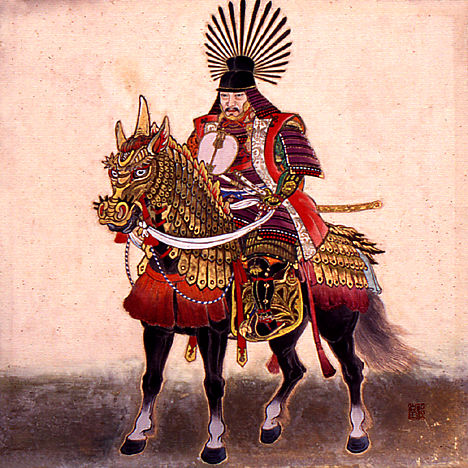 Hideyoshi's story was rags to the riches. He was a son of a peasant and he was just a sandal bearer for Nobunaga.

He proved himself to be smart and good warrior and he became one of Nobunaga's generals. He avenged his master just 11 days after his death and killed Akechi Mitsuhide.

The chiefs of Oda clan did not want Hideyoshi to be the next leader since he was not from the Oda family. Hideyoshi appointed the infant son of Nobunaga as the new leader on purpose and then destroyed the forces of Katsuie, the chief of the Oda clan. Later he declared himself the head of the Oda clan and started ruling the largest territory in Japan.

in 1583, Hideyoshi built the largest castle in Japan back then: the Osaka castle. The daimyos from each region competed carrying large stones to show there loyalty to Hideyoshi.

In the following years Hideyoshi captured the lands of Shikoku island and Kyushu Island. In 1590, he captured the Odawara castle in Tokyo. Nobunaga's dream was fulfilled, Japan was finally unified for the first time in 100 years achieved by a son of a peasant. Hideyoshi was never appointed as "shogun" by the emperor because he did not belong to the Minamoto clan.

Hideyoshi prohibited peasants from carrying swords, he confiscated all their swords and melted them into a Buddha statue. He killed 26 Christian missionaries and Japanese converts In Nagasaki to discourage people from converting.

Hideyoshi also asked Sen no Rikyu, the founder of Tea ceremony and one of Hideyoshi's closest friends, to commit seppuku, for the reason we still don't know today.

He invaded Korea twice (1592, 1597), both incursions were somewhat successful but the Japanese forces never made it into Mainland China and eventually withdrew. The Japanese army attacked China in 1931 by following the same route used by Hideyoshi's forces.

He could not have a child to take over after him so he declared that his nephew was the heir. But He eventually had a son 5 years before his death. He then killed his nephew and all of his family members including women and kids.

Before he died, he set up the elders council to rule Japan temporarily until his 5 year old son grows up. They promised to protect his son and obey his rule in the future.