A Hot Spring Bath or Onsen is a great way to spend time relaxation, especially on busy days. It is an experience a person should try, especially when he/she wants to fully immerse in Japanese Culture and tradition. Though mixed baths are an exciting thing to try, some people prefer to spend relaxation time either alone or with their significant other and family. Thankfully, some bathhouses and ryokans offer private baths.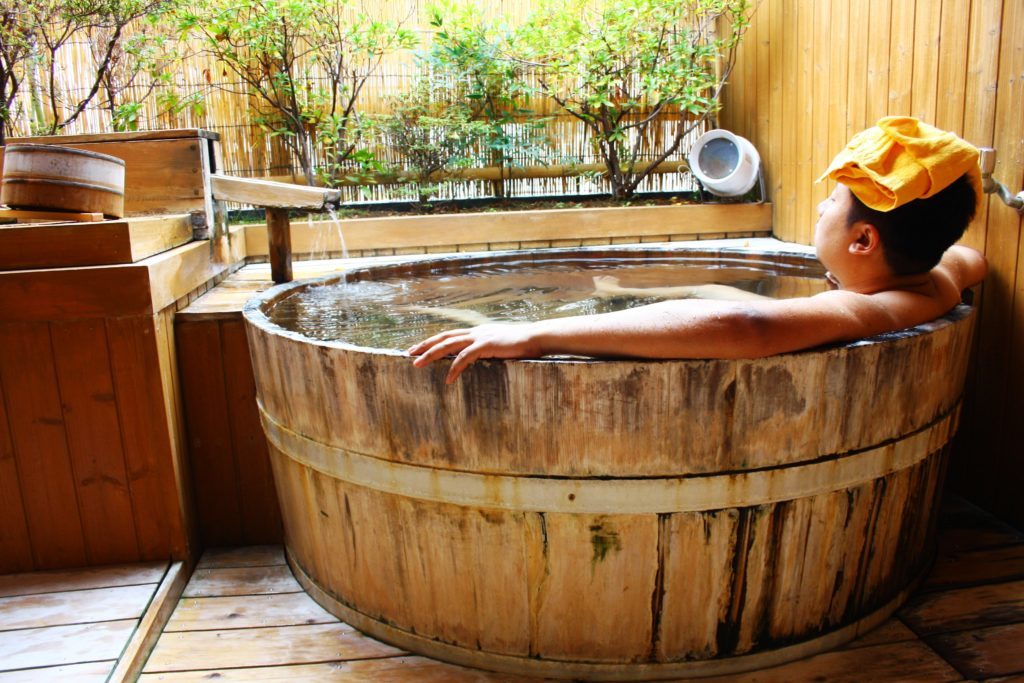 From the hustle and bustle of Tokyo City, travelers can enjoy the calm by visiting onsens. Kashikiriburo is a type of onsen bath that can be enjoyed by families, couples, and sometimes tattoo-wearers. The word "kashikiri" means "reservation" when translated from Japanese, making the kashikiriburo a rental onsen reserved for private and exclusive use. This list will guide readers where they can visit private onsens when in Tokyo.
Bessho Sasa
Established in 2004, Bessho Sasa is a ryokan located in Yamanashi and is currently considered as one of the top ryokans in the area. Situated in the suburbs of Tokyo, the inn has a building, Hotel Kaneyamaen, where guests can enjoy large public baths. Ideal for families and couples, all of its rooms are equipped with open-air baths that show off the view of the famed Mount Fuji. The location is near to sites like Oshina Hakkai Springs and the Arakura Fuji Sengen Jinja Shrine, which guests can visit during their stay at the inn.
Konansou

Konansou is a traditional Japanese inn that boasts views of Mount Fuji and Lake Kawaguchi. Right in the suburbs of Tokyo, the ryokan has rooms based on traditional Japanese design, complete with tatami mat flooring and futon bedding. Its rooms including a seating area and open-air hot spring baths in some of the rooms, where guests can relax privately. Yukata robes are also provided so guests can experience an authentic cultural experience at the inn.
Konansou invites its guests to try their indoor and outdoor hot spring baths. A private onsen can also be used but at a separate fee. A foot bath can also be enjoyed on the rooftop. For added relaxation, massage services are available upon request. After relaxation, Japanese multi-course meals can be savored in the dining room. Tourist attractions like the Fuji-Q Highland Amusement Park can be visited by guests during their stay at the onsen.
Kozantei Ubuya
Established in 1948, Kozantei Ubuya is an accommodation located in the district of Minamitsuru and is considered to be the top ryokan of the area. It is an upscale hot spring inn with rooms that have private open-air hot spring baths and an incredible display of Mount Fuji and Lake Kawaguchi.
Guests are invited to take a dip while appreciating the view from the large public hot spring baths. A dinner featuring Japanese cuisine can also be anticipated. Their dishes pride in wagyu, which is known as high-class local beef, and their hot pot dish, also referred to as shabu-shabu. The location is near Mount Fuji and the Arakura Fuji Sengen Jinja Shrine, which can be visited by guests during their stay at the inn.
Kukuna

Kukuna is an onsen resort paired with a magnificent view of the famous Mount Fuji and Lake Kawaguchi. It is situated in the Tokyo suburbs surrounded by scenery with large public baths out in the open-air. Guests can enjoy private relaxation in its rooms, which are equipped with open-air onsens that project a magnificent view. A rental hot spring is also available for private use, which is situated outside the guest rooms. Cherry trees are also near the ryokan, where guests can witness the Cherry Blossoms during the Sakura Season.
Oedo Onsen Monogatari

Tokyo Odaiba Oedo-Onsen Monogatari is an onsen theme park where natural hot spring waters can be found. The onsen offers a variety of baths right in Tokyo City starting from its rotemburo, the outdoor bath, neyu, a bath where guests can lie on hot water, and kinu noyu, a bath with little bubbles which is beneficial for blood circulation. Nuruyu is also a recommended onsen for beginner hot spring bathers.
The building has its floor resemble the style of the Edo Period, where private rooms and accommodations are offered. If guests are looking for a more reserved type of bath, they can try Iseya, a private bath located on the second floor of Oedo-Onsen Monogatari. The rooms are available for rent and are exclusive for couples only or for people who plan to have an overnight stay at the onsen.
Takaragawa Onsen Osenkaku

Takaragawa Onsen Osenkaku is a traditional Japanese inn tucked away in a valley by the Takara River in the suburbs of Tokyo. The ryokan uses traditional Japanese architecture and has a history that spans over 80 years. Takaragawa Onsen Osenkaku features an open-air bath that measures more than 330 square meters, the biggest in the hot spring area. It has also appeared in various media like magazines, television shows, and posters–one film, in particular, is "Thermae Romae II".
The ryokan has rooms with traditional Japanese elements–tatami mat flooring, shoji sliding screen doors and windows, and futon bedding. Guests are also provided with yukata robes during their stay. Guests are invited to relax and unwind in the indoor and outdoor public hot spring baths, one of which is situated along the mountain stream, and, as with its other outdoor baths, harmonizes with nature. There are three communal baths in the establishment and one that's restricted to only women. A private large public bath is also available. The water is sourced from four types of hot springs.
Wakakusa no Yado Maruei

Wakakusa no Yado Maruei is an onsen in Mt. Fuji Lake Kawaguchi Onsen, a suburb in Tokyo. The ryokan sits near the edge of Lake Kawaguchi, with guest rooms divided into sections that either faces Mount Fuji or the lake. Each room type is equipped with open-air onsen baths. The ryokan also features public open-air baths that show stunning views of the lake and the popular mountain. In addition to these, large gender-segregated public baths welcome guests to dip in its waters. A rental bath is also available outside guest rooms, which can be used privately by couples, families, or tattoo-wearers.
Onsen Manners and Etiquette