Hot spring baths or onsens have long been a part of Japanese culture and history, from being used for healing injuries to relaxation, socialization, and leisure. These onsens can be enjoyed individually or by groups. One kind of onsen is the konyoku, a type of onsen where men and women can mingle and soak in the hot springs together. 
The idea of baring all and mingling with someone you know in a bath can be unsettling to some, and even more when it's strangers and the opposite sex. This is nothing new to someone already familiar with onsen culture. The practice of men and women bathing together has, after all, not been a big deal in ancient times in Japanese history.
Despite this traditional practice, hot spring baths have changed their policies and have allotted time scheduling or separate baths for men and women due to inappropriate behavior among the patrons and the influence and pressure of Western Culture on post-war Japan, and has since been banned in Tokyo. 
It's not quite as common now but konyokus can still be found around Japan, just fewer in number than it was before. There are some konyokus scattered around Tokyo and here we've listed a few that are worth a visit and are just a short trip from the city.
Oedo Onsen Monogatari

Tokyo Odaiba Oedo-Onsen Monogatari is an onsen theme park where natural hot spring waters can be found. The onsen offers a variety of baths right in Tokyo City starting from its rotemburo, the outdoor bath, neyu, a bath where guests can lie on hot water, and kinu noyu, a bath with little bubbles which is beneficial for blood circulation. Nuruyu is also a recommended onsen for beginner hot spring bathers.
The building has its floor resemble the style of the Edo Period, where private rooms and accommodations are offered. If guests are looking for a more reserved type of bath, they can try Iseya, a private bath located on the second floor of Oedo-Onsen Monogatari. The rooms are available for rent and are exclusive for couples only or for people who plan to have an overnight stay at the onsen.
Gorokaku
Gorokaku is a traditional Japanese inn that can be visited from Ohara Oigami Iriguchi Station. It is located in Numata, a mountain city, with the area only being a 2-hour ride from Tokyo. The ryokan welcomes guests with outdoor baths, which are beneficial for the skin and health. Bamboo structures and rocky formations embrace the onsens, which enhances the beauty of the place.
Hotel Kojokaku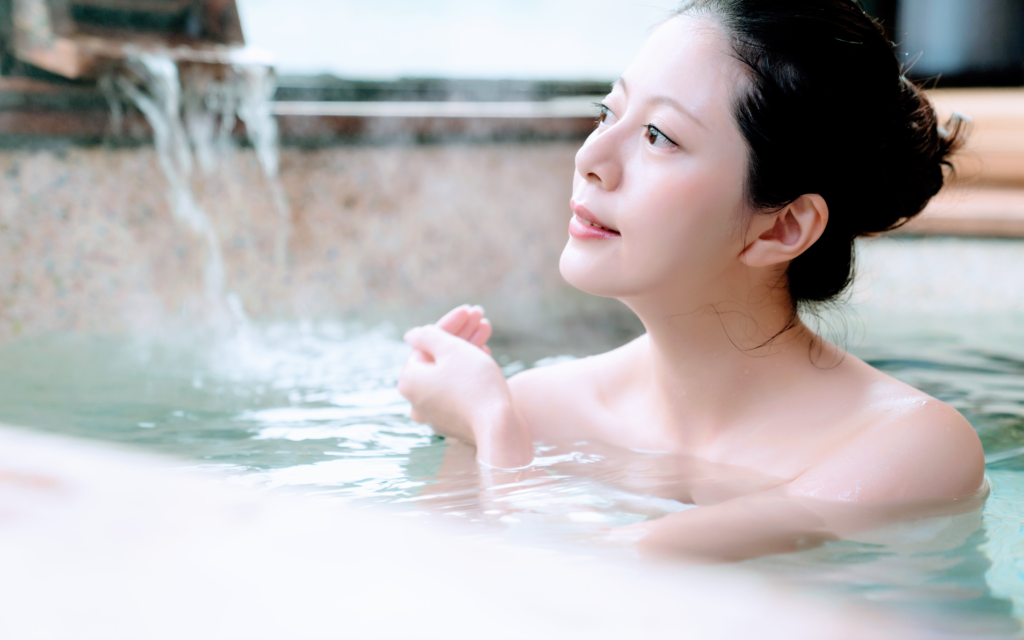 Hotel Kojokaku is an onsen hotel located in the town of Minakami, a 2-hour drive from Tokyo. It is a hotel that features hot spring facilities in its Sarugakyo Onsen. Its open-air bath boasts a view of the Akaya Lake. Its open-air baths are mixed but have a scheduled time for the use of women. It has a total of 8 varieties of rotenburo, with 6 of them being mixed-gender baths, while the remaining two are gender-segregated. The hotel is ideal for people who are fond of the outdoors since its location is accessible to hiking trails and ski slopes.
Takaragawa Onsen Osenkaku

Takaragawa Onsen Osenkaku is a traditional Japanese inn tucked away in a valley by the Takara River in the suburbs of Tokyo. The ryokan uses traditional Japanese architecture and has a history that spans over 80 years. Takaragawa Onsen Osenkaku features an open-air bath that measures more than 330 square meters, the biggest in the hot spring area. It has also appeared in various media like magazines, television shows, and posters–one film, in particular, is "Thermae Romae II".
The ryokan has rooms with traditional Japanese elements–tatami mat flooring, shoji sliding screen doors and windows, and futon bedding. Guests are also provided with yukata robes during their stay. Guests are invited to relax and unwind in the indoor and outdoor public hot spring baths, one of which is situated along the mountain stream, and, as with its other outdoor baths, harmonizes with nature. There are three communal baths in the establishment and one that's restricted to only women. A private large public bath is also available. The water is sourced from four types of hot springs.
Yumori Tanakaya
Yumori Tanakaya is a traditional Japanese onsen ryokan located in Nasushiobara City. The onsen is a recommended getaway for people who want a tranquil stay in Japan. It sits near a river with its two outdoor baths. Women can bathe in the onsen with the use of a towel, while men are required to not have any covers. Women guests can also opt for the women-only onsen. Baths are also accessible at night.
Honke Bankyu
Honke Bankyu is a traditional Japanese inn that could be found in a small city in the Tochigi Prefecture known as Nikko, situated in the northern mountains of Tokyo. The location is known for the famous Shinto Shrine that dates back to the Edo Period. Established in the year 1666, the onsen stands calmly in the mountain with the music of chirping birds and the everpresent greetings of the river. It is considered to be the top ryokan in Japan and is near to the Toshogu Shrine, which is a UNESCO World Heritage site.
The rooms of Honke Bankyu are designed based on traditional Japanese style, complete with tatami mat flooring, adequate spacing, and yukata robes for an ultimate cultural experience. Some of its rooms feature semi-open-air bath, an open-air bath, standard bathrooms, and toilets. The hot spring baths of Honke Bankyu have been around for 800 years. It is near a river, which makes the guests experience like he or she is part of the river while enjoying the calm embrace of nature.
The water source of the onsen helps in recharging and revitalization. The properties of the water also have benefits for the skin that makes it feel refreshed. Activities also vary in Honke Bankyu based on the seasons where sometimes there will be ice sculptures or viewing of fireflies.
Onsen Manners and Etiquette