The use of hot spring baths has long been in Japanese history, where onsens have brought people together for healing and relaxation. Mixed-Gender, Coed, or the Konyoku is a term described to onsens that do not separate men and women. A little new and a bit uncomfortable to beginner hot spring enthusiasts, but the practice of men and women bathing together was no big deal in the early times.
Konyoku, though not common, still exists in Japan. Today, guests can visit hundreds of mixed onsens, which is a rare experience. Though there are still several coed baths left, a factor that makes konyoku rare is inappropriate behavior. Because of those questionable actions, which were done both by men and women, many onsens have either closed or imposed rules to separate both genders from bathing together.
Another factor was also the period after world war. Mixed bathing was stopped when the US Government put pressure on Japan to cut off the practice since it was not a part of the Western culture. Even from the decline, there are still konyokus guests can visit for bathing.
Gorokaku
Gorokaku is a traditional Japanese inn that can be visited from Ohara Oigami Iriguchi Station. It is located in Numata, a mountain city, with the area only being a 2-hour ride from Tokyo. The ryokan welcomes guests with outdoor baths, which are beneficial for the skin and health. Bamboo structures and rocky formations embrace the onsens, which enhances the beauty of the place.
Honke Bankyu
Honke Bankyu is a traditional Japanese inn that could be found in a small city in the Tochigi Prefecture known as Nikko, situated in the northern mountains of Tokyo. The location is known for the famous Shinto Shrine that dates back to the Edo Period. Established in the year 1666, the onsen stands calmly in the mountain with the music of chirping birds and the everpresent greetings of the river. It is considered to be the top ryokan in Japan and is near to the Toshogu Shrine, which is a UNESCO World Heritage site.
The rooms of Honke Bankyu are designed based on traditional Japanese style, complete with tatami mat flooring, adequate spacing, and yukata robes for an ultimate cultural experience. Some of its rooms feature semi-open-air bath, an open-air bath, standard bathrooms, and toilets. The hot spring baths of Honke Bankyu have been around for 800 years. It is near a river, which makes the guests experience like he or she is part of the river while enjoying the calm embrace of nature. 
The water source of the onsen helps in recharging and revitalization. The properties of the water also have benefits for the skin that makes it feel refreshed. Activities also vary in Honke Bankyu based on the seasons where sometimes there will be ice sculptures or viewing of fireflies.
Hotel Kojokaku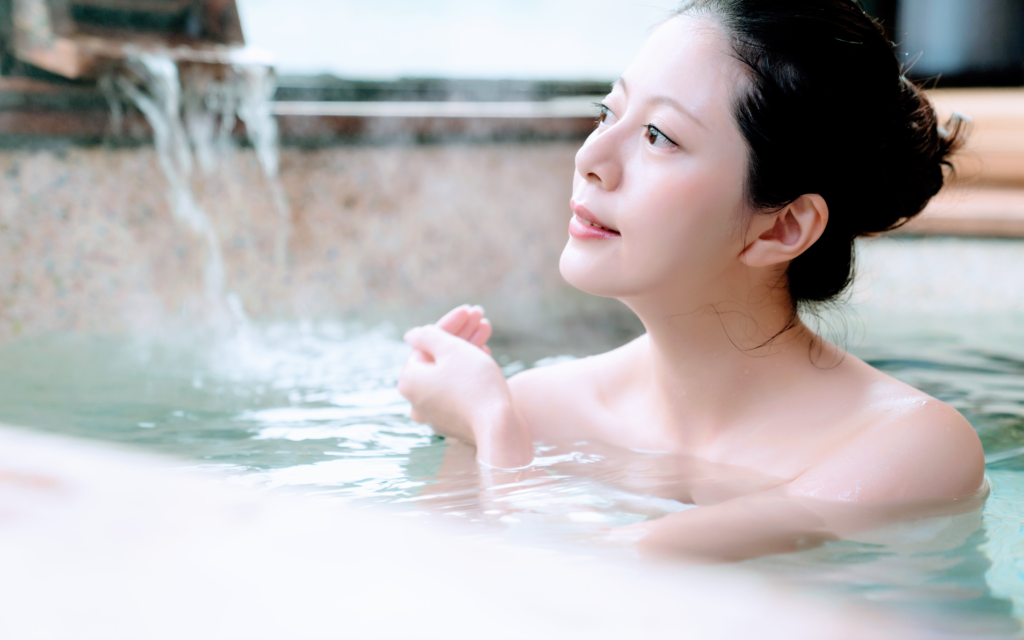 Hotel Kojokaku is an onsen hotel located in the town of Minakami, a 2-hour drive from Tokyo. It is a hotel that features hot spring facilities in its Sarugakyo Onsen. Its open-air bath boasts a view of the Akaya Lake. Its open-air baths are mixed but have a scheduled time for the use of women. It has a total of 8 varieties of rotenburo, with 6 of them being mixed-gender baths, while the remaining two are gender-segregated. The hotel is ideal for people who are fond of the outdoors since its location is accessible to hiking trails and ski slopes.
Takaragawa Onsen Onsenkaku
Takaragawa Onsen is a hot spring located in the town of Minakami, alongside the Tone River. It is embraced by nature, specifically greenery and stone residents. This onsen is renowned in the country for its scenic beauty during the change of the seasons. It features three outdoor baths that can be used by both men and women. The onsen also has a special bath exclusive for its women guests. 
Yumori Tanakaya
Yumori Tanakaya is a traditional Japanese onsen ryokan located in Nasushiobara City. The onsen is a recommended getaway for people who want a tranquil stay in Japan. It sits near a river with its two outdoor baths. Women can bathe in the onsen with the use of a towel, while men are required to not have any covers. Women guests can also opt for the women-only onsen. Baths are also accessible at night.
Shin-Hotaka Onsen Yamano Hotel
Shin Hotaka Onsen Yamana Hotel is a popular hot spring hotel located in Takayama City. The hotel has a number of large open-air baths with views overlooking the Kamatagawa River. The onsen also boasts the magnificent beauty of the Northern Alps of Japan. Its onsen baths are mostly coed or mixed but women guests can opt for the open-air bath exclusively for women, provided that guests pay a separate fee.
Rurikei Onsen
Rurikei Onsen is a hot spring resort ideal for family trips and outings. It is a recommended onsen located in Kyoto. The resort features outdoor hot spring baths and private onsen baths that can be used by guests during their stay. There are multiple onsens that can be enjoyed from mixed baths and an onsen pool, which requires a bathing suit or swimwear when soaking in the water.
Onsen Manners and Etiquette