Jigokudani is a place renowned for its hot spring baths but not just for any guest. The onsen specially caters to the Japanese Macaques or the snow monkeys. Their bathing has become an attraction to a lot of visitors, capturing both locals and tourists. It is said that a monkey observed how humans bathe in hot springs and decided to try the onsen itself. It is located in the forest of the valley, which is not far from towns with onsens for people. People along the way can also encounter monkeys who are coming to the bath.
Aside from seeing these lovely creatures, guests can go snowboarding or skiing at the mountain of Nagano. During the season of greenery, trekking is also an activity that invites guests to take a hike around a lake. Guests can also stay at Jinpyokaku Honten, which is a cozy and hospitable inn. It has an interesting history of guests, which includes old Japanese politicians and literary figures.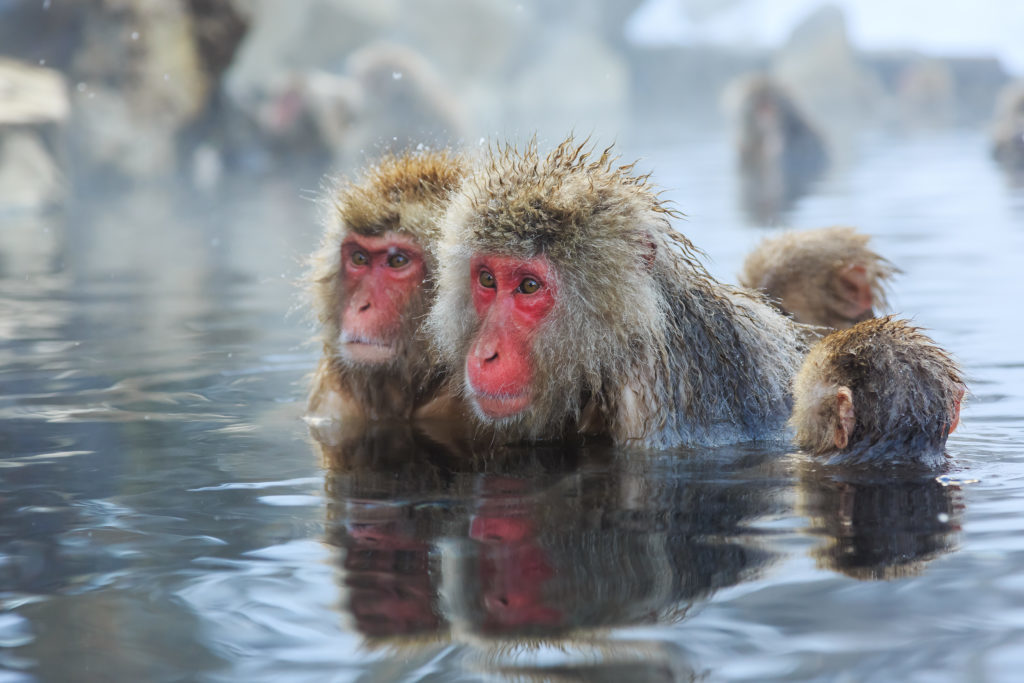 Kanbayashi Hotel Senjukaku is also a nearby onsen that offers baths and quality food. It is only a 30-minute walk to the famous Snow Monkey Park. Shibu Hotel is another recommended stay which is near a river. It offers views that overlook the resort town right from its public baths and guest rooms. Aside from being near the Snow Monkey Park, it is also accessible to historical sites and buildings.
The snow monkeys are a group and are non-violent to humans, often posing in a relaxed position when facing a camera. Though viewing the monkeys up close and personal are allowed, feeding or touching them is prohibited. To view these infamous snow monkeys, if one is near the area, the monkey park would be a 15 to 20-minute walk away. Bus rides can also be taken from Yudanaka Station.
Jigokudani Onsen Video
Jigokudani Onsen Location
Onsen Manners and Etiquette