Tokyo offers many travel opportunities and sightseeing areas for any local and international tourist to enjoy, being the busy Japanese Capital. Its ultra-modern sights and neon lights are sure to captivate and attract visitors and invite them into exploring the town. Any history enthusiast visiting the country no doubt has the concrete jungle pinned as one of their destinations for its many historical museums and ancient shrines.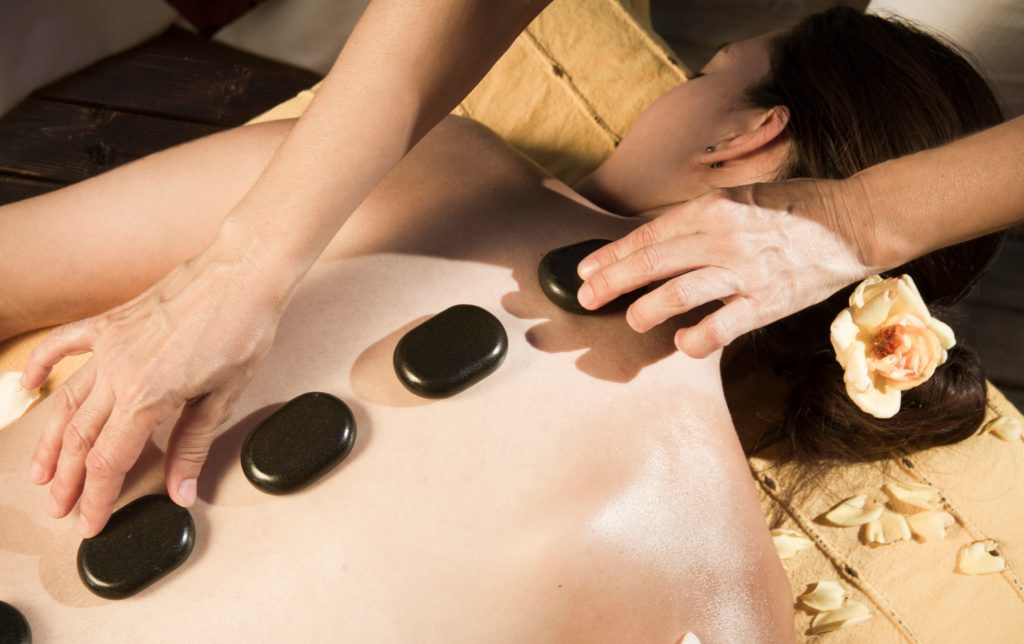 Massages are a great way to refresh the body as well as treat and pamper yourself. They, along with spa treatments, help melt away the soreness of the muscles and alleviate any aches and pains from traveling, working, or even just as an added bonus to a relaxing vacation. Spa treatments and massages are extremely beneficial, not just to rid of tired muscles but to help de-stress, improve blood flow and circulation, and generally just makes anyone getting pampered that much happier.
You'll want to add these stops to your Tokyo travel itinerary, and always remember to rest in between trips for a fulfilling adventure in Japan!
Aman Spa, Aman Tokyo
View this post on Instagram
Aman Tokyo is a modern hotel atop the Otemachi Tower in Tokyo. This sophisticated hotel features guest rooms with floor-to-ceiling windows with amazing views of the city along with hot tubs and minbars, and living rooms and wine cellars in the suites. On-site, guests will be able to find a high-end Italian restaurant with private dining, a cafe, and a bar. There's also a wonderful spa facility, Aman Spa, with an indoor pool, a fitness center, a sauna, a hot tub, and massage services.
Aman Spa offers a range of natural treatments and therapies that uses Japanese techniques and remedies to ensure relaxation and stress relief. The treatments use traditional Japanese Kampo herbal therapies that tie in with ancient Chinese medicine that boosts wellness and the immune system. A hot stone massage is also available by request.
Website: https://www.aman.com/
Address: The Otemachi Tower, 1-5-6 Otemachi, Aman Tokyo Spa, Chiyoda-ku, Tokyo 100-0004, Japan
Kadan Spa, Gora Kadan
View this post on Instagram
Gora Kadan in Hakone Gora is a 4-star ryokan located on the grounds of the former summer villa that was once owned by a member of the Imperial Family. Gora Kadan features a fusion of tradition and modernity. The former Imperial estate is considered one of the National Park's most coveted jewels and was once a favorite retreat of the Kaninnomiya Family.
The ryokan features multiple spa facilities, Kadan Spa, that helps guests and day-trip visitors relax with unique luxurious spa treatments such as facials, body treatments, and a combination of both. Their body treatments provide relief from stress and fatigue with a selection of massages to choose from like an aromatherapy massage, a harmony body massage that uses rhythmic tapping to loosen the muscles, and Kadan body massage which is a deep-tissue massage that uses highly concentrated oxygenated oil.
Website: https://www.gorakadan.com/
Address: 1300 Gora, Hakone, Ashigarashimo District, Kanagawa 250-0408, Japan
Arona Spa
View this post on Instagram
Located a short distance from the Shibuya Crossing, the charming Arona Spa offers affordable and relaxing treatments that have gained many praises from its patrons. The establishment is usually found by its patrons while trekking across the city, after growing tired from all the rush of exploring the sights in Tokyo.
The spa offers varied services from a foot massage to a full body massage therapy session. If you find yourself at Arona Spa, you'll be sure to expect a relaxing foot soak and scrub before moving on to your chosen treatment. The staff personnel are friendly and accommodating and are sure to do their best to melt away the aches and pains of walking around.
Website: https://www.arona-spa.com/
Address: Japan, 〒150-0042 Tokyo, Shibuya City, Udagawacho, 30−3 アトラスシブヤビル 5F
Waho-an Nature Tokyo
Formerly known as Nature Daikanyama, Waho-an Nature Tokyo offers natural remedies and incorporates organic treatments for its clients. From its name, "Waho", the establishment takes advantage of traditional Japanese medicine and therapies in their services such as a shiatsu massage which promotes blood flow and circulation, as well as improves the body's immune system. They also provide additional services such as a pregnancy massage or on-call services to wherever you're staying in Tokyo.
If you want to experience the relaxing treatments at Waho-an Nature Tokyo, it's best to contact them in advance through their website, since they only accept a limited number of clients per day.
Website: https://natura-w.com/english
Address: ドッケン代官山ハイツ 1F, 7-8 Daikanyamacho, Shibuya City, Tokyo 150-0034, Japan
Erawan Thai Traditional Massage
View this post on Instagram

Evident from the name, Erawan Thai Traditional Massage specializes in Thai techniques and treatments. This kind of massage is described as energizing and relaxing and makes use of muscle compression, joint mobilization, and acupressure. Thai massage differs from regular Western techniques for it does not use oil and is even described as "yoga for lazy people" since the masseuse would manipulate and stretch the body in a way the exercise would. One session will usually take about one to two hours to finish.
Erawan Thai Traditional Massage offers other treatments as well, including an aromatherapy oil massage, a foot reflex, a hand massage, an herbal massage, and many others.
Website: http://erawan.jp/
Address: Japan, 〒107-0052 Tokyo, Minato City, 港区Akasaka, 6−3-19 オリオンビル
Club on the Park, Park Hyatt
View this post on Instagram
Park Hyatt Hotel is one of the most famous hotels in Tokyo, thanks to Sophia Coppola's 2013 hit, "Lost in Translation" which stars Scarlett Johansson and Bill Murray. The guest rooms in the hotel are designed as an urban residence, each with its own selection of books and original artwork.
The on-site spa facility, Club on the Park, is a wellness facility that offers pampering and fitness services ranging from spa treatments, salon services, and fitness equipment. The spa treatment features a selection of services from body massages, facials, and a combination of both. Guests will be able to enjoy the Tokyo massage that uses authentic Japanese oils and techniques combined with Western massages for a unique experience. There is also a mineral stone massage that, unlike hot stone massages, uses smooth rocks instead of leaving them on the body. Aromatherapies, reflexology, head therapy are also available, along with a pregnancy massage.
Website: https://www.hyatt.com/ 
Address: 3-7-1-2, Nishishinjuku, Tokyo 163-1055, Japan
Espa, Ritz-Carlton
View this post on Instagram
Ritz-Carlton is a luxury spa hotel located in downtown Tokyo, on the top 45 floors of the Midtown Tower, one of Tokyo's tallest buildings. Just the stunning views from this hotel is noteworthy, with a perfectly framed scene of the city skyline, from the Tokyo Tower, to the National Stadium, and Mount Fuji in the distance. Ritz-Carlton offers a number of luxury amenities, including seven restaurants, a club, and an entire floor dedicated to health and wellness.
ESPA at the Ritz-Carlton offers a blend of Eastern and Western treatments to help guests and day-visitors relax at the height of luxury. It offers unique experiences like the Sakura treatment that uses rose quartz crystals and essential oils or the Zenrenity treatment that uses warm Bakuhan stones and plant-based products and algae.
Website: https://www.ritzcarlton.com/ 
Address: 東京ミッドタウン, 9 Chome-7-1 Akasaka, Minato City, Tokyo 107-6245, Japan
Four Seasons Hotel, Marunouchi
View this post on Instagram
Four Seasons in Marunouchi is a luxury boutique hotel located just across Tokyo Station. The guest rooms at this hotel feature floor-to-ceiling windows with views of the city, and suites with living rooms and dining areas. Four Seasons offers a variety of amenities for visitors and guests including a French restaurant and bar, a gym, and a high-end spa.
The spa facility at Four Seasons offers a variety of treatments from facials and massages like shiatsu, reflexology, and full body scrub. There is also a maternity treatment designed to make the body relax and give the ultimate pampering experience for expectant mothers.
Website: https://www.fourseasons.com/ 
Address: Japan, 〒100-6277 Tokyo, Chiyoda City, Marunouchi, 1 Chome−11−1 パシフィックセンチュリープレイス
Chi the Spa, Shangri-La
View this post on Instagram
One of the best places to stay in Tokyo, Shangri-La is a luxury high-rise hotel just a few minutes away from Tokyo Station. The hotel offers a number of amenities for visitors and guests including an Italian restaurant, a sophisticated bar and lounge, and a fitness center with an indoor pool and spa services.
The luxury spa on-site, Chi, the Spa, features five private suites for massages and treatments, along with a nail salon, "LUXITA". Chi, the Spa offers an extensive menu with award-winning massages and treatments from all over Asia, including Kisetsu therapies that honors the Japanese seasons. A maternity massage is also available for moms-to-be as well as aromatherapy treatments, and a couples massage. Facials and bath soaks are also available, as well as in-room massages.
Website: http://www.shangri-la.com/ 
Address: Japan, 〒100-8283 Tokyo, Chiyoda City, Marunouchi, 1 Chome−8−3, MARUNOUCHI TRUST TOWER NORTH, 29階