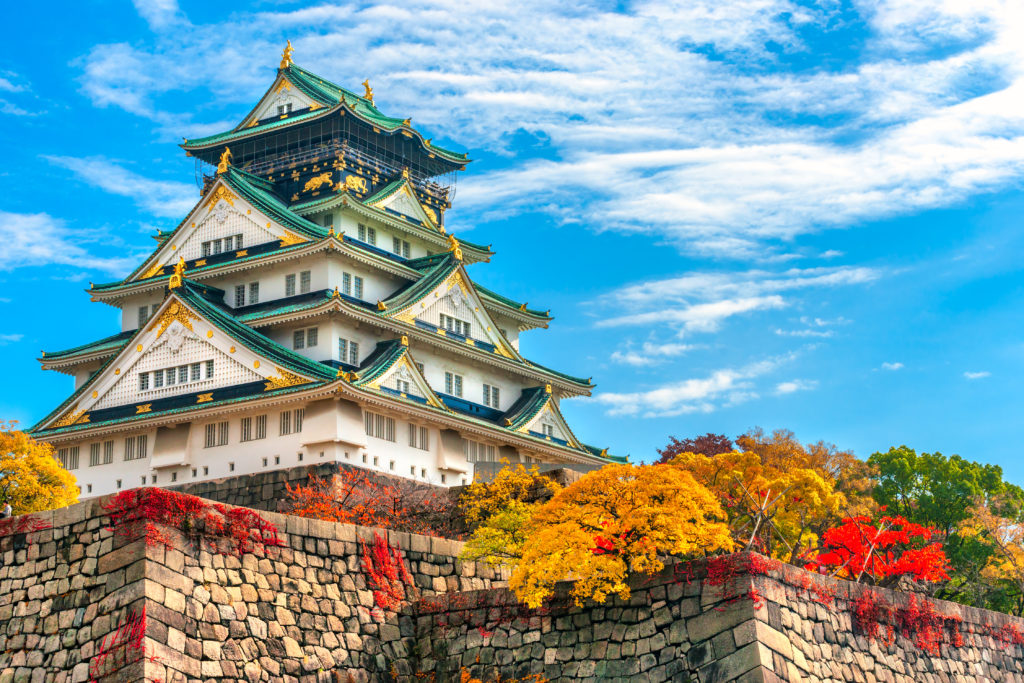 Wearing a kimono is one thing. How would you like to feel like royalty for the day? You can experience the number one kimono experience in Osaka and visit the number one tourist attraction in Osaka.
Maikoya tea rooms and cultural experience have one of the most exciting tourist experiences in Osaka. You will be professionally dressed in your kimono before being whisked away for a private tour of the incredible Osaka castle.

Osaka Castle Tour
You will feel like Japanese royalty as your tour of the ancient castle and its gardens, dressed in a traditional kimono. The ladies will get their hair and make up prepared. Giving you the ultimate Instagram experience. As you pose for pictures against the backdrop of one of the most beautiful castles in Japan.

Maikoya Kimono
You will learn the history of the Osaka castle. You can pose for pictures, eat lunch, and drink tea. Making this a truly unique and beautiful experience. The Kimono Rental and Osaka Castle Tour are top-rated experiences with Trip Advisor.

Maikoya Osaka Map Click For Directions
A visit to the Osaka Museum of Housing and Living gives tourists the opportunity to learn about traditional and modern ways of living in Japan. You can learn about the history of housing in Osaka while getting the opportunity to dress in a kimono.
The museum is small with many recreations from Japan's famous Edo period. This is the time in history when the samurai roamed the land. You can dress in a traditional Japanese kimono and explore these historic streets. This is an excellent family activity that children will love.

Osaka Museum of Housing and Living
The Osaka Museum of Housing and Living is a fascinating place filled with fantastic photo opportunities. Your family can dress in period style Japanese kimonos and pose for pictures using the backdrop of a traditional Japanese home.

Osaka Museum of Housing and Living
If you are attending a high society event or special occasion, Flora Isabella is the place to visit and rent a kimono. Many Japanese women visit Flora Isabella when they have a special occasion and want the perfect kimono.
Tourists can also visit Flora Isabella and rent a kimono for the day. This will give you the chance to explore the historic streets of Osaka dressed in a traditional Japanese kimono. This is fantastic fun and a great way to explore the city.
With stores in every major city in Japan. Kyoto Kimono Rentals Wargo, is a budget kimono rental company. With Kyoto Kimono Rentals Wargo what you see is what you get. They have a full stock of traditional and modern kimonos at budget prices.

Kimono Day In Kyoto
This is a great place to go for locals who are looking to save some money. However, Kyoto Kimono Rentals Wargo is not as tourist-focused as we would hope. When you compare Kyoto Kimono Rentals Wargo to other tourist-focused kimono rental experiences. The rental shop does not offer any of the trimmings, such as tea ceremonies, photographs, or private tours.
If you want to just try a kimono and take a small walk around Osaka Kyoto Kimono Rentals Wargo can be found HERE. Their website is in Japanese but can be translated through Google.