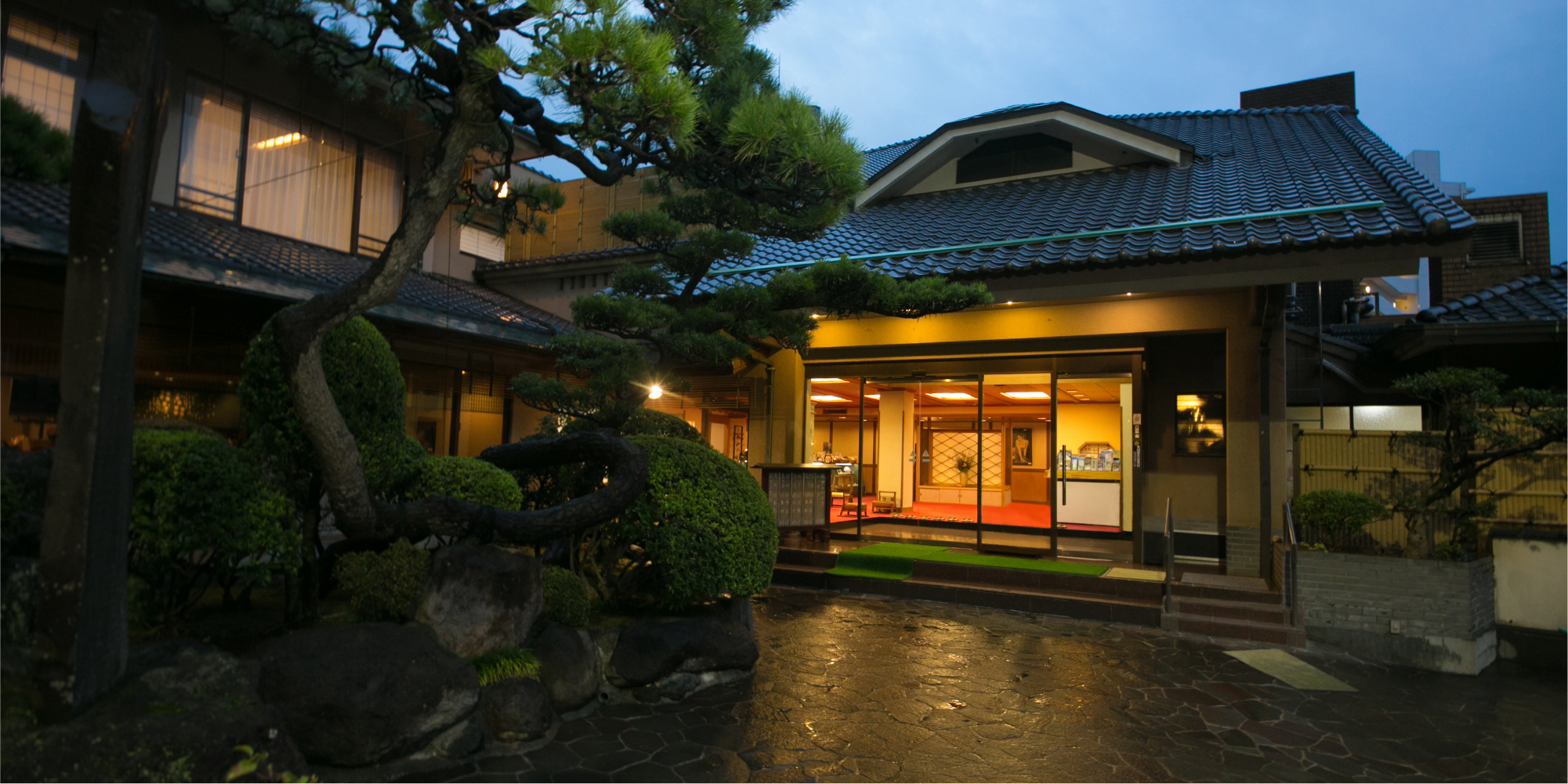 Furuya Ryokan is a Japanese inn located in Atami, Shizuoka, with a long history spanning over 200 years from 1806, and is considered the oldest ryokan in the Atami hot springs area.
The inn features 26 traditional Japanese rooms fitted with tatami mats and paper screen windows and doors, as well as low furniture and futon beds. They are also equipped with an LCD television, air-conditioning, and an en-suite bathroom. Some rooms will have their private hot-spring bath attached. One night's stay can range from 50,000 to 85,000 JPY.
In addition, Furuya Ryokan also provides large communal hot spring baths, separately for men and women with open-air and indoor options.
The inn also provides other facilities such as a club and a souvenir shop.
Furuya Ryokan also serves kaiseki dinners with dishes featuring seasonal ingredients. Meals are served in the guest rooms.
Furuya Ryokan can be accessed by JR Shinkansen from Tokyo Station or Shinagawa Station. The inn is operating normally with safety measures in place and limited acceptance to prevent the spread of infection.
Traditional ryokan – historical architecture
An inn that has been in business for over two hundred years.
Number of rooms
26 rooms.
*The open-air baths in the rooms are hot spring baths.
Rooms with open-air baths
Available
Onsen Area
Atami
Is this place ryokan only or ryokan with an onsen?
Onsen Ryokan
Does this ryokan have private onsen (hot spring)?
Yes
Is there a communal shared public bath?
Yes
Are there additional rental options?
With open-air tubs 0 With indoor tubs 0 With both indoor and outdoor tubs 0
In or near
Tokyo
Price range (yen)
50,000 – 85,000
The price includes one dinner and one breakfast
Furuya Ryokan
zoshi
●●●●●
Top Ryoken in Cute Location
We only stayed one night in a room with a private Onsen. It was delightful. There was no difficulty communicating, although the staff had limited English, and our Japanese is limited to please and thank you. The kaiseki dinner and breakfast highlighted the seafood of Shizuoka and Atami in particular. The little town is obviously a favourite with local tourists. Although an old ryoken set amongst much newer development, it has a lot of charm and beauty. A small sign with the name in romanji would have made it a little easier to find on foot, but it is an easy wander through the shopping streets down the hill from the train station.
---
VanCityCharlie
●●●●●
Wonderful staff, Clean rooms, comfortable onsen.
This was the first Onsen experience I have ever had, so I wanted it to be special. The Furuya Ryokan was beyond exceptional! Just amazing!!! Upon arriving we were greeted by the friendliest staff. We do not speak much Japanese, and none of the staff upon our arrival spoke much English, but we were able to communicate enough through hand signals and short phrases in Japanese and English. I would definitely recommend this place to westerners (as long as you are willing to learn a few words in Japanese before coming! It helps!) I got a room with a private onsen. The bath looked just as beautiful in person as it did in the photos. We were greeted by a lovely woman in a kimono. She brought us tea and snacks, and showed us around the room. She was incredibly helpful. She didn't speak any English at all, but I didn't mind. She was one of my favourite people that I met in all of Japan! She brought us pamphlets in English and even a newspaper in English. The room was immaculate! For how old it is, it has obviously been well cared for. The meals were FANTASTIC! It was far too much food for me to eat, I wish I could have devoured it all, but we stayed for 2 days and had 11 course meals for breakfast and dinner, so we were quite well fed during our stay there. The woman who was tending to us during our stay would show me all the little details about our food which we should appreciate. Everything from the presentation of the dishes, to the dishes themselves. Each meal setting used artisan plates, cups and bowls, each had such intricate details to be admired. The food was all presented with such care. The food was cooked right at our table, and I was taught how to cook and eat each item properly. It was a wonderful lesson in culture, manners, and rituals for me. And the Onsen!!! It was unimaginably soothing!!! The water made your skin feel smooth and clean. I was expecting the onsen to smell like sulfur, but it didn't! The water was so pure and clean and full of minerals. I fell in love with Onsens right then and there!! The staff was wonderful at communicating with us (even though they only spoke in Japanese). They planned out our times for breakfast, tea, housekeeping, and dinner. It was all carefully timed and wonderfully planned. Any time we decided to come or go from the ryokan, we were greeted by at least 3 staff members. They were all very helpful. As for local attractions, we went to Atami Castle up on the hill. You take a cable car to get up there. There is a trick art museum and a sex museum up there as well. The trick art museum is great for taking photos, the sex museum was quite entertaining to walk through. Atami castle had some interesting artifacts and a wonderful view of the city. Closer to the onsen, there is a nice beach. It was cold and cloudy on the days we were visiting, so we didn't make much use of the beach, but it was soft and sandy and probably would be wonderful on a sunny day. We walked around the city and enjoyed the ocean view instead. I would definitely spend the money to visit this ryokan again!!! The in room bath was amazing. The food was incredible. The staff was superior to any other hotel staff I have ever met before. I wish I could have hugged the woman who tended to us during our stay. She was really a wonderful person who definitely appreciated us trying to immerse ourselves into her culture. I will recommend the Furuya Ryokan to everyone I know who will visit Japan, because it was such a unique and amazing experience.
---
Happy2020
●●●●○
Very good Onsen water quality
Because Onsen water quality is so good , I didn't need to put any lotion on my face after bath . My skin was super moisturized after took bath . Inroom bath also the same water . 客室内バスタブも温泉も同じ湯質でした。湯上りのお肌はしっとりで化粧水などは全く必要ありませんでした。
---
Tad L
●●●●●
Impeccable facility and service
I was a bit worried about the price, but the Japanese-language reviews were good, and my wife and I wanted to treat our daughter and son-in-law to a top-shelf onsen ryokan and kaiseki dinner experience, so we chose Furuya Ryokan. We were not disappointed. In fact, everything was better than we dared hope for. From the minute we walked through the main gate and were greeted by name by three different employees, until the minute we were escorted out and thanked profusely for our business, the amenities and service were exceptional. Huge indoor and outdoor mineral onsen baths, incredible 8-course dinner served in our room, private open-air onsen bath in our room, and an amazing Japanese-style breakfast to complete our stay. We had a larger suite with private onsen bath, and the room itself was incredible. And the service was simply amazing from start to finish. At around $850 for the four of us for one night, we felt like it was worth every penny. My wife is Japanese, and commented that she has never experienced a meal like the one they served us. We were very happy that we elected to spend a bit more on the nicer room and the extravagant dinner. Thank you Furuya Ryokan for a fantastic experience; my wife and I will definitely be coming back again.
---
blank878
●●●●○
Onsen, yes please
So my parents wanted to add a one night onsen stay during our Tokyo trip, something with short travel time...so I found Atami is 50 min bullet train ride and the hotel is a 5 min taxi ride, perfect. Let's try Furuya Ryokan, a 200+ year old establishment. My theory is if it can last this long there must be a reason. We booked the 23,900 Yen per person package for 3 people but my mom needs a bed instead of tatami and they did arrange one bed while the other two slept on the tatami. The room is very very small and the TV is an antique (you've got to be kidding)... The good thing is the 2 meals were good and so are the onsen, 2 each for men and women, one inside and one outside. The one modern thing is free wifi throughout the hotel. I would not say this is good value because at this price the room should be much more comfortable and spacious and modern electrical equipment should be provided. Overall I would say we would not be returning to this establishment but will shop for another onsen hotel instead.
---