In the northeastern base of Izu Peninsula, there is a resort town called Atami. With a variety of resorts and inns built from its most popular decade in the 80s, the town has a charming retro vibe.
In addition to its popularity, Atami also has a number of museums and cultural heritage sites under its belt. "Atami", literally meaning "hot ocean", is a reference to the town's well-known onsen. The town was proclaimed as an "International Tourism and Culture City" by the Japanese Government in 1950, a catalyst to the rapid growth of the tourism and development of resort-hotel establishments.
Atami is also known for its "Onsen Geisha", women who were trained in traditional Japanese arts and work in onsen resorts or towns.
As Atami is dominated by narrow roads, it is best to explore the area on foot. However, there is a sightseeing bus, "Yu-Yu Bus" that provides a good alternative to visitors who would rather stay off their feet, or the Atami Ropeway for an aerial tour of the area. From the Atami Ropeway, one can take a short stroll to Mount Hachiman, which not only offers beautiful views of Sagami Bay and the Boso Peninsula, but is also home to the "Hihokan" or the House of Hidden Treasures, one of the last remaining sex museums in the country.
One of the museums in the area is the MOA Museum of Art. It features a collection of pieces from around Japan and Asia, and holds six National Treasures, including "Red and White Plum Blossoms" by Ogata Korin in the Edo Period. Another, is the Ikedamasuo Memorial which is considered a landmark museum in Atami because of its distinct brown and yellow facade. The museum features the works of Masuo Ikeda, spanning from oil paintings, sculpture, ceramics, and film.
Tourists can also visit the Atami Castle that overlooks Sagami Bay. Built in 1959, the castle replicates a traditional castle tower that offers a panoramic view of the city, and guests can don Edo Period costumes and solve Japanese riddles.
One of the more spiritual destinations in Atami, Kinomiya Shrine is home to a two-thousand-year-old tree, the Okusu, where visitors come to circle the tree with the belief that it will extend their lives, as well as try the Raifuku sweets. 
There is also the Akao Herb and Rose Garden, which spans over 66 hectares and features 12 themed gardens, and a coffee shop where visitors can have a treat, like their signature rose ice cream while looking over the gardens and Sagami Bay.
Alternatively, one can opt to visit Atami Baien, or plum garden. It first opened in 1886 and is home to 472 plum tree varieties, some of which are over 100 years old. Here, a plum festival is held from January to early March each year when the plum blossoms bloom, and the Momiji Festival during autumn.
In the city, tourists can explore the Atami Ginza Shopping Street, dotted with quaint coffee shops and nostalgic atmosphere from the Show-era (1926-1989). In the shopping district, one can also find the Atami Pudding Cafe and the specialty Atami Pudding served in a retro-style milk bottle.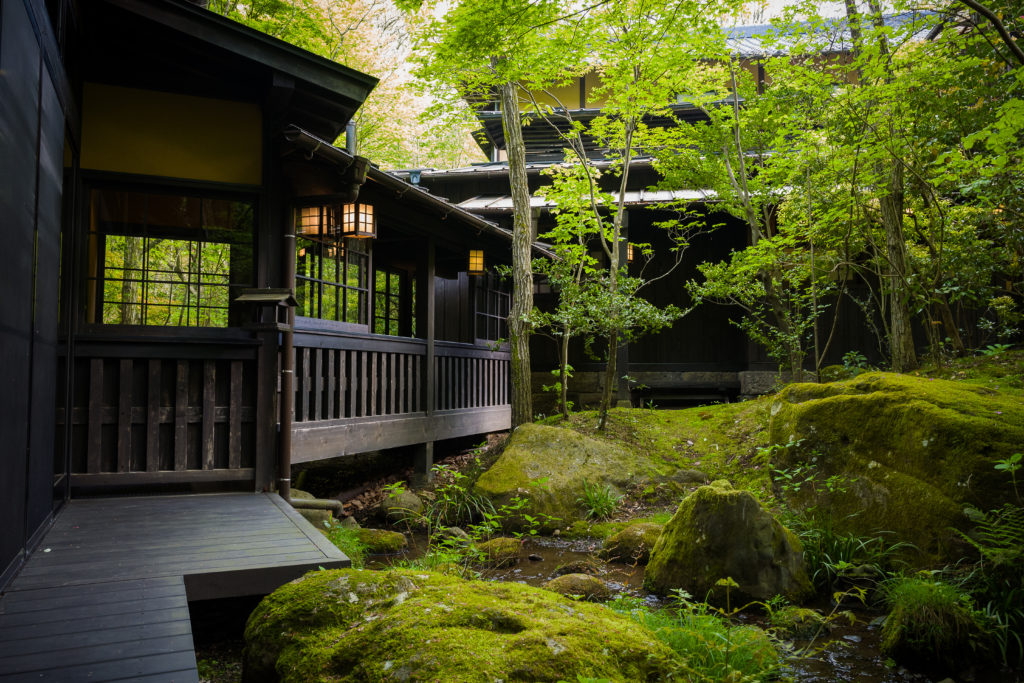 Tourists and local visitors come to Atami Onsen to take in the view of Sagami Bay. Either by staying by the beach and going for a swim or sitting in the baths while enjoying the ocean view–with some resorts offering rooftop communal baths overlooking the bay. It's the most indulgent vacation spot where guests will be able to breathe in the ocean air and bask in the beautiful view or enjoy the fireworks display at night.
Atami can be accessed directly from Tokyo Station.
Famous Onsen Ryokans
While there are many city attractions in Atami, it also offers many accommodations since its economic growth and tourism in the 1950s. Atami is also home to some old, established onsen ryokans, with histories that span over hundreds of years.

Atami Fufu is a high-end modern Japanese inn in the Atami seaside area, a short distance away from Marine Spa Atami, and Atami Water Park. It has Japanese and Western elements in its guest rooms which are all equipped with their own private open-air baths.
In addition to the private baths in the guest rooms, there is also a large communal bath that comes with a dry sauna. Guests may also enjoy the other facilities on the property, such as the lounge area, "Taka", the souvenir shop, the terrace, and the restaurant, "Yumeon". To add to the guests' relaxing experience, there is also a spa, "Sisley" where one can take care of their physical and mental health.

Shukaen Yunohanazen is a seaside Japanese inn just in front of Atami Harbor. The inn offers Japanese-style rooms as well as Western style rooms, all of which come with a seaside view. There are multiple hot spring bath options to choose from–indoor baths and open-air baths with views of the sea, and public communal baths as well as private ones that can be reserved in advance, in addition to the en-suite hot spring baths.
Shukaen Yunohanazen offers other facilities as well, such as a souvenir shop "Hanazakari", a lounge area, and a banquet hall. Meals are served in the guest rooms, each dish featuring seasonal ingredients. Breakfast is also served in the rooms, with a chef sometimes preparing the food in the presence of the guests.

Furuya Ryokan is a Japanese inn with a long history spanning over 200 years from 1806, and is considered the oldest ryokan in the Atami hot springs area. The inn features 26 traditional Japanese rooms fitted with tatami mats and paper screen windows and doors, as well as low furniture and futon beds. Some rooms will have their private hot-spring bath attached.
In addition, Furuya Ryokan also provides large communal hot spring baths, separately for men and women with open-air and indoor options. The inn also provides other facilities such as a club and a souvenir shop.
Furuya Ryokan also serves kaiseki dinners with dishes featuring seasonal ingredients.

Atami Sekitei is a quaint ryokan that features ancient hot-spring baths that have been used for centuries. The property offers Japanese cottages with a view of the garden. Some units come with their own outdoor bath. The cottages are fitted with tatami mat following and shoji screen doors and windows.
Atami Sekitei also provides a gender-segregated outdoor hot-spring bath, as well as a reserved private hot-spring bath, with a view of nature and the gardens in the ryokan.
There is a cafe and lounge for the guests to enjoy, and a garden to stroll through, and a dining room where guests are served Japanese cuisine.

Shin Kado Ya is a hilltop ryokan with a history spanning over 120 years. It boasts of unique rooms with varying floor plans, "Ichikaku Ichitei", and private indoor baths and open-air baths.
Shin-Kadoya also provides its guests with an open-air bath on the rooftop, as well as large communal indoor baths for men and for women. Other facilities include a lounge, a club, a banquet hall and a terrace. Kaiseki dinners are served featuring seasonal ingredients as well as special high-class dishes such as lobster and abalone. Meals are served in the guest rooms or in the dining room, depending on the chosen accommodation.
Atami Onsen Video
Atami Onsen Location
Onsen Manners and Etiquette