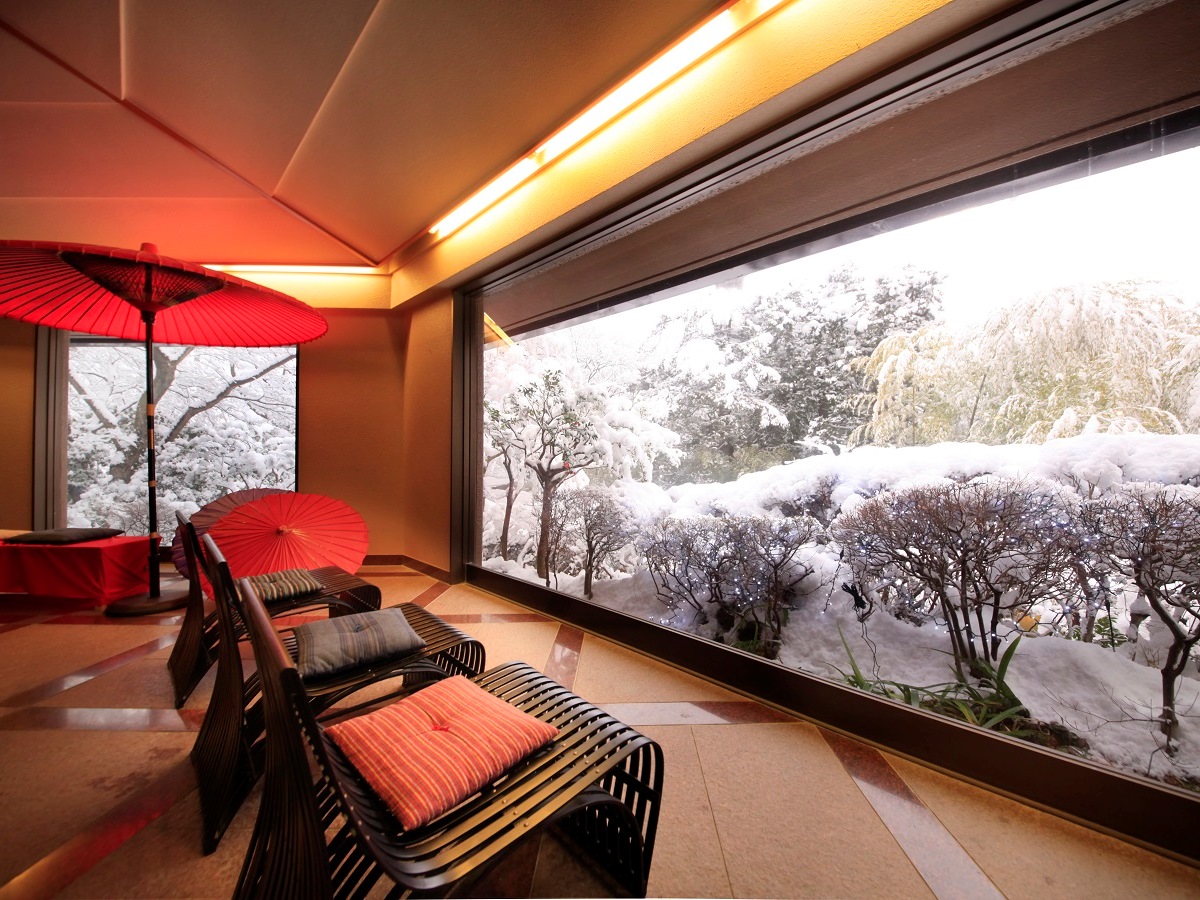 Yutorelo-an is a modern Japanese inn located in Hakone Onsen, in Kanagawa Prefecture. It is situated on a hill, giving guests a view of the landscape and the surrounding area.
There are 34 guest rooms with wide windows looking into the mountain range of Hakone and the woodland surrounding it. Two types of rooms available to choose from–Japanese, and Japanese-Western.
Each room is fitted with a flat-screen television, an electric kettle, and a refrigerator, along with some basic amenities. One night's stay can range from 8,000 to 40,000 JPY. Guests are also invited to choose from 5 kinds of colorful yukata robes for the duration of their stay.
Private hot spring baths are available upon reservation, as well as large gender-segregated hot spring baths with waters sourced from two different hot springs. A footbath is also provided on the terrace, free of charge, as well as massage chairs in the break area that are positioned to face a window looking out into the scenery.
There is also an on-site restaurant in Yutorelo-an that serves seasonal kaiseki courses and dishes that are unique to the area.
Guests can go sightseeing in the nearby tourist attractions such as Lake Ashinoko, Hakone Shrine, Owakudani, Sengokuhara Pampas Grass Field, and the Hakone Open-Air Museum.
Yutorelo-an is accessible by taking the Odakyu Limited Express from Shinjuku Station to Hakone-Yumoto Station, then Hakone Tozan Railway to Naka-Gora Station. The inn is operating normally with safety measures in place and limited acceptance to prevent the spread of infection.
Top hot spring resort – Hakone, Tokyo suburbs
This is a popular hot spring area with great access by car and train, at 1and a half hours from Tokyo. Enjoy your favorite atmosphere, with an assortment of everything from long standing ryokan facilities that are of an important cultural asset class to hot spring ryokans of the resort hotel type. This area has a history stretching almost 1300 years as a hot spring.
Japanese ryokan food, dinner and breakfast – a ryokan providing local foodstuff
Tea ceremony dishes, Kaiseki Japanese traditional multi-course, made with local seafood products and vegetables.
Number of rooms
34 rooms.
Rooms with open-air baths
Available
Onsen Area
Hakone
Is this place ryokan only or ryokan with an onsen?
Onsen Ryokan
Does this ryokan have private onsen (hot spring)?
Yes
Is there a communal shared public bath?
Yes
Are there additional rental options?
With open-air tubs 4 With indoor tubs 0 With both indoor and outdoor tubs 0 Hours 15:30 – 24:00, 06:30 – 10:00 Price 3,240 yen / 45 minutes How to book Reserve upon check-in
In or near
Tokyo
Price range (yen)
8,000 – 40,000
The price includes one dinner and one breakfast
Yutorelo-an
razorbagel
●●●●○
friendly, helpful staff at a traditional japanese ryokan
location: yutorelo-an is perched high on a steep hill just above the quaint little town of gora, which is perched high on a steep hill above the lovely town of hakone-yumoto. you'll want to catch a cab up the hill from gora station when you arrive - the fare is cheap and your legs and luggage will both thank you. yutorelo-an is about a 20 minute, very scenic, not for the faint-of-heart bus ride up twisty mountain roads from hakone-yumoto - the tozan railway was not in operation during our stay. the views from our room at yutorelo-an were splendid! this would be a lovely place for one of the festivals with the mountain bonfire. gora park is just a few steps down the [again, very steep!] street, and gora station's connections to the rest of the hakone area are only a few more steps from there! room: our group of four booked two king-bed [western bed] rooms. the beds were low and the mattresses were exceptionally firm, though the bedding was fluffy and warm. the rooms had tatami mat flooring (lovely!) and a separate, tiny vanity area for face-washing and teeth brushing. the WC was very, very small. there is a bar-type table along the large window with two stools that did not seem up to the task of our 6' american selves, so i found myself mostly sitting on the low bed. our room had a TV and some little cabinets, including a fridge. there was a spare futon in a cupboard. bath: our room did not have an indoor shower area! this is fine - there was a lovely outdoor tub which was large and deep enough that even my 6'5" husband could fit both his shoulders and knees under the water! he was delighted to sit outside and watch the sunrise each morning. there is a public onsen which we did not try, though our friend gave it a go our last morning there and had a splendid time. we had a reservation each night for 45 minutes in the private onsen baths (one 'session' per room per night), and that was a lovely experience, though i wish the outdoor showers didn't have an auto-shutoff feature - it made it very hard to get clean before hopping in the delightful bath. dining: the food was lovely, and there was a lot of it! we had four meals and each one was completely different. at some points, the food was almost overwhelming in both quantity and quality. the orange juice at breakfast was, hands down, the best orange juice i've ever had in my entire life. the kind staff who helped us during breakfast and dinner were patient while explaining each dish and were very gracious and wonderful. we felt extraordinarily welcome. as a note, those who like to get up and go early in the morning may feel restricted by the ryokan's breakfast schedule - the earliest time available during our stay was 8am, and breakfast is very hearty. i wish there were an option to either have a to-go breakfast or to get an earlier start! staff: in addition to the lovely staff in the restaurant, the front desk was nothing but helpful, from check-in our first afternoon to helping us with luggage forwarding on our departure day. the staff member there spoke very good english, as did most of the other staff we encountered, and those who didn't were still welcoming and kind. overall, yutorelo-an was a lovely experience! i am glad that this was our first ryokan experience and that we had such a good time. thank you, yutorelo-an, for your warm welcome and your patience and kindness during our stay!
---
ProJ09
●●●●●
Traditional Japanese hotel
Booked a night at Yutorelo-an. Had to climb 800 metres of mountains but the views along the way are amazing. Very traditional hotel. The beds are tatami beds and the tables are very short, just like the typical Japanese hotels. There are public and private onsens. I loved that. Very nice view from the balcony. You can see the beautiful mountains.
---
Ivanna J
●○○○○
dO NOT GO!!!!!!!!!
Stay away from this hotel ! It is a scam, the room with private baths are not real! All the wit baths are same small size not big enough for 2 people! We booked a luxury room with huge bath that when we arrived were told was not available! The hotel is dated and very old- looks nothing like the pictures! WiFi doesn't work and there is no free shuttle running as they advertise! Book somewhere else
---
gravysf
●○○○○
Very expensive and very disappointing
This is both our first trip to Japan and, of course, our first trip to Hakone. Our travel agent booked our stay at this ryokan. Our experience was similar to another trip advisor review of this hotel. We felt that the service was rigid, inhospitable and verging on rude. Upon our arrival, we mentioned that we were lactose intolerant. The front desk person told us that they needed to know about dietary restrictions at least 3 days prior to arrival so they would not be able to accommodate our needs. Our travel agent knew about our dietary restrictions and communicated this to a previous hotel where we stayed so I am not sure how that information was lost. The restaurant served us items with lactose, and we avoided them. On our second evening, neither my partner nor I were feeling well enough to eat, so we cancelled our dinner with the full knowledge that we would not be refunded for that meal. Because we were not feeling well, we just wanted to have some ginger ale to help our stomachs. We had some ginger ale in the restaurant the night before so we asked the front desk if we could get some more seeing as we were not feeling well. The receptionist told me that they could not get it from the restaurant and that one could only have it if eating in the restaurant. I went to the restaurant to ask them directly if we could have some ginger ale. I was met by the same person who answered the phone at the front desk (according to her) and that it would be too much trouble for the restaurant staff to bring me ginger ale. I reminded her that we paid for an expensive meal that we were not going to have in the hotel because we were sick and she said that she could not help me, looked away from me and started to help someone else without any apology. That was the end of our conversation. There were some other disappointing aspects for such an expensive hotel experience. The shower in the hotel room was hooked up to the sink faucet so the pressure was very weak. There was an outdoor bath and shower on our room balcony which great though. The private onsens had nice gardens but the water in one of them was visibly not clean. There were also cobwebs in the dressing area. Hakone is a very special place and I hope to return there some time. But overall, this was not the ryokan experience we expected for the price we paid. I would not recommend this place especially if this is your first time in a Hakone.
---
simH-80
●○○○○
expensive & unfriendly & uncooperative staff
We arrived at 14:00h. Check in time is 15:00h. Instead of offering to keep our luggage (like it was done at every other plache we stayed in Japan) we were simply told to wait. The girl at the front desk then simply turned around and left us there. After being insistant that we would not wait for 1 hour they finally held our luggage so we could explore the area. Upon our return, when we asked for a vegetarian dinner we were told that this is not possible as they have to be informed about special requests at least 3 days in advance. We didn't know about this as either our travel agent screwed up or the hotel didn't inform the travel agent to ask us. What annoyed us the most was, that they insisted on not being able to adjust to our nutritional needs or being somehow flexible and giving us anything other than the rice and salad that are part of the regular dinner. So now we will have to fast for dinner and breakfast... This ryokan is very expensive and does not meet the standard you would expect! There is also no shower in the bathroom. If you want to wash, you are forced to go to the public onsen (bath). There is a private one, but there you are limited to a single 45min visit. I DO NOT RECOMMEND STAYING HERE!
---