Hakone is a part of the Fuji-Hakone-Izu National Park in Kanagawa Prefecture. It is a mountainous area to the west of Tokyo and is a halfway point before Kyoto. Famous for its hot springs and the view it offers of Lake Ashi and Mount Fuji, Hakone is one of the most popular destinations for travelers as a hot spring resort for hundreds of years up to this day, with its 17 hot spring resort towns–one of which is Gora, on the mountainside on Mount Kamiyama, the highest peak in Hakone. 
Gora Onsen, developed from a grassland in 1918, sits at a central location in Hakone. Since then, the town has prospered and restaurants, shops, and many traditional and modern ryokan have appeared. Gora hotels and resorts are popular among visitors, and have had Western influence in the interiors and architecture. Gora Onsen is famous for the five different kinds of water sources, all of which have taken on pastel hues. Hence, the town is also known as the pastel-colored onsen. These waters are known to have various positive effects on the body.
Most people who have read the "The Little Prince" in their younger years can revisit the memory in The Little Prince Museum, where visitors can learn more about the author and the book while surrounded by French architecture. Another popular spot is Owakudani, where travelers can visit the smoky valley and try a famous delicacy–black eggs cooked in the sulfuric hot spring waters, which are said to extend one's lifespan by 7 years. Another iconic spot in Gora is the Hakone Shrine, where many samurai warriors used to visit and have its main buildings hidden in the forest. 
For a quick sightseeing tour, tourists can also ride the Tozan Train or the Hakone Ropeway that will take riders on a scenic route around the area. There are also museums worth a visit–Hakone Open Air Museum, which is designed like a park with multiple sculptures and pieces scattered around, and Pola Museum of Art, a modern building that is built to adapt to the nature around it. One can also take a stroll through the French-style gardens of Gora Park with its rose and herb gardens situated on a hill, and craft houses that offer classes like learning how to make glass. A more famous attraction among locals is the Ashinoko Warship Boat Cruise, where one can get ferried across the lake or get a tour around the area. Many of these boats are actually warships, complete with sails and cannons.
Travelers, local and international alike, enjoy the scenic mountainside of Gora Onsen, especially in the spring when the cherry blossoms are in full bloom while soaking in any of their choice baths. It's a perfect end to a day of sightseeing around Hakone or hiking along Lake Ashi and Mount Kamiyama. Gora Onsen in Hakone can be accessed through the Hakone Tozan Train.
Famous Onsen Ryokans
As a popular tourist destination, Hakone Gora is home to a wide variety of accommodations from luxury to budget-friendly and a mix of traditional and modern. The numerous ryokan in the village pays appropriate tribute to traditional Japanese culture as well as the onsen-ryokan practices in the area. Local and international tourists come back to visit the area year after year to be able to indulge themselves in the spirit of Japan.
Gora Kadan Hakone is a perennial traditional Japanese inn that can be located on the mountains of Hakone. In the present day, it is part of the Fuji-Hakone-Izu National Park. Its past served as a weekend cottage, both owned and a favorite of the Kaninnomiya Family in a village named Gora, which sits in the Kanagawa Prefecture. During the 1950s, Gora Kadan was introduced as an inn and as time passed, has evolved its design from classic Japanese interiors to modern accommodation.
Gora Kadan Hakone features traditional Japanese guest rooms with private open-air baths with traditional Japanese gardens. Other suites feature open-air baths, varying in the material used. The inn highlights its communal bath with its waters drawn from Hakone's natural source, giving benefits both to one's health and skin.
Located in Hakone Gora, Gora Hanaougi is a Japanese-style luxury ryokan-hotel, a combination of traditional and modern designs. All the rooms are also inclusive of a private open-air bath with a view of Gairin Mountain and the surrounding woodland. Each room has its own dining area, where guests can enjoy traditional full-course Japanese meals, with seasonal ingredients sourced fresh every morning.
In addition to the private en-suite hot spring baths, there are also public baths featured in the hotel, with indoor and outdoor options for men and women, separately. The outdoor baths are surrounded by views of nature and the mountainside.

Established in 1951, Hakone Ginyu is a spa resort located in the mountains of Hakone. The ryokan has traditional Japanese guest rooms, each equipped with open-air hot spring baths and terraces where guests can enjoy the view of nature. A rental bath is also available for private use. The inn is operating normally with added precautionary measures against the spread of infection.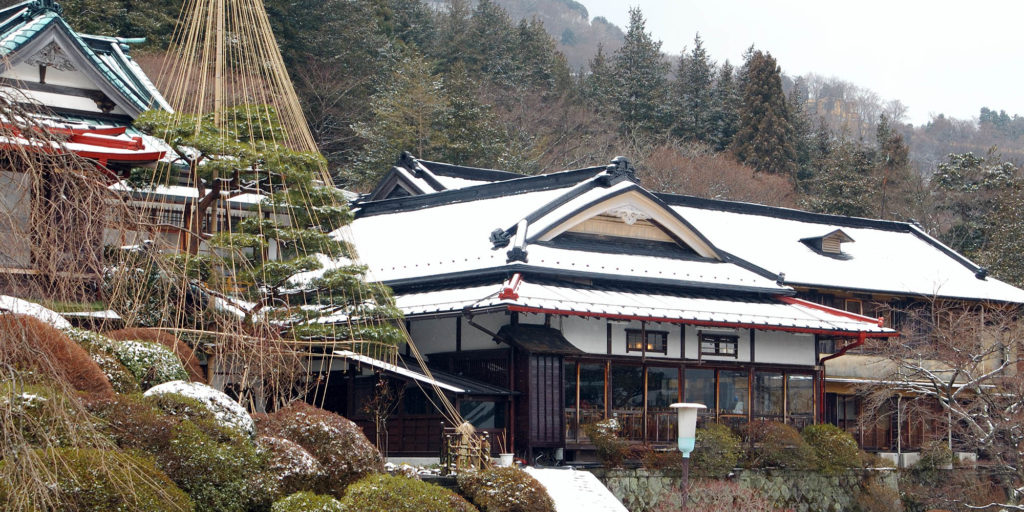 Mikawaya Ryokan is a traditional Japanese inn established in 1883. It is surrounded by forests near Mount Hakone, making it ideal for the countryside retreat. The guest rooms feature traditional Japanese designs, along with a balcony and hot-spring baths. 
In addition, there are also communal baths available, both indoor and open-air. The inn also has a restaurant and lounge that overlooks the landscaped garden. 

Tensui Saryo is a modern ryokan that incorporates traditional Japanese elements, making it a comfortable place for long stays. Some guest rooms come with their own open-air hot spring baths, overlooking the view of the mountainside of Hakone.
In addition to the private hot-spring baths in the rooms, there are also gender-segregated indoor baths, as well as an open-air bath that is open to the public. Private hot-spring baths are also available for reservation, with indoor and outdoor options.


Kansuiro Ryokan is a traditional Japanese inn built in 1919 but has a  400-year history beginning in 1614. There are 22 rooms on the property, each fitted with tatami mat flooring and low furniture along with family rooms that are attached to a sun terrace, some with a private hot-spring bath.
Kansuiro Ryokan has indoor and open-air hot spring baths for the guests to enjoy. The open-air baths can be reserved for private use.


Hakone Kowakudani Mizunooto is a traditional Japanese inn that features more contemporary-style rooms. Guests are invited to relax in their hot spring baths, which can also be reserved for private use.
If onsens are full, visitors can get a massage treatment instead, provided with an additional fee. Hakone Kowakudani Mizunooto has also a restaurant where their dishes feature seasonal ingredients and seafood specialty. 
Hakone Gora Onsen Video
Hakone Gora Onsen Location
Onsen Manners and Etiquette